---
Several Gloucester Athletic Club road runners were in action at the weekend in Half Marathons around the region.
Locally, the Cheltenham event was the main focus. Muggy and wet conditions greeted the field of over 3,000 runners. James Walters led the Gloucester contingent home, placing 11th in a new personal best time of 1:17:51, 54 seconds quicker than his previous best. Lee Smith was running his first half marathon for three years and was pleased with his run, coming home in 31st place in 1:22:31.
Max Sheppard is currently enjoying a revival in his running career after an injury-strewn two seasons, setting personal bests over a range of distances. This was his first half marathon since 2013 and he reduced his personal best by six and a half minutes, or the equivalent of nearly one mile, to 1:25:35 as he came home in 51st place.
Dave Gresswell was the next City runner home. Having set himself a target time of 1:30 as he continues his rehabilitation from a bad hamstring injury in the summer, he found the new twisting course challenging and came home in 139th place in 1:32:46.
Suzanne Harding had only decided to run the race at relatively short notice, having concentrated on 800 metres on the track during the summer, so she was delighted with her new personal best 1:34:22 in 186th place, as was Nick Bishop who lowered his personal best by 25 seconds to 1:35:21 in 203rd place. Peter Jeffery was the final Gloucester club runner to finish, placing 627th in 1:46:28.
Amy Walker was the first-placed Gloucester runner at the Cardiff Half Marathon, clocking 1:40:32. Afterwards she said "I had to work really hard every step of the way today and didn't enjoy it at all. I think the Gloucester Half and Great North Run took a lot out of me and I'm still getting back into racing and training after giving birth last year. I've got the Stroud Half in a couple of weeks' time and then I'll be taking a long break from racing to get my energy and fitness levels back for the Spring."
The Davis brothers were locked in personal battle for the family honours. For the first time, Graham beat his brother Chris as they clocked 1:42:06 and 1:43:47 respectively. In her very first half marathon, Vicky Earls clocked 2:31:35.
Gloucester Athletic Club were well represented at Saturday's Midland Counties Autumn Relays at Sutton Park in Sutton Coldfield as over 300 teams descended on the iconic road racing circuit for an excellent day's racing.
The Club fielded teams in the U15 Girls, U17 Ladies and both senior men's and senior ladies' races – the first time they have managed to achieve that feat – and it was the youngest group who were first off over a 3.88 km course.
Katherine Mills ran the competitive opening leg and ran strongly to come home in 15th place in 15:38. Scarlett Pegler took up the running on a very tough second leg and despite losing a few places, put in a typically determined run to clock 18:30 to hand over to Tilly Ashley on the last leg. The diminutive youngster clocked the squad's fastest leg, 15:30, to haul them up to a final position of 19th of the 38 teams that completed the event, a highly satisfactory performance in their first appearance in the event.
The Under 17 Ladies race saw the Gloucester trio of Briony Bishop, Natalie Ashley-Towell and Laura McPeake running together for the first time since last year. Briony took on the responsibility of the opening leg and came home in 13th with the squad's quickest time of the day, 15:45. Natalie took over on leg two and ran strongly to clock 17:10 in 17th place. Laura took over on the final leg and brought the team up to their final position of 12th with a 16:26 run.
The senior ladies race saw the Club field two complete teams and one incomplete team to give their reserves a run-out. Katie Davenport ran the opening 4.33 km leg for the scoring 'A' team, clocking the team's fastest leg of the day, 17:53 in 37th place. Chrissie Horak pulled back seven places as she clocked 18:00 on leg two, while Beth Wells made up a further seven places on the third leg with an 18:24 clocking to hand over to Suzanne Harding who, on the final leg, clocked 17:57 to make up another place and bring the team home in 22nd place. Grace Vido ran the opening leg for the 'B' team and clocked 18:04 in 40th place, Kirsty Reid clocked 20:13 on the second leg to bring the team back in 48th place while Helen Davies ran 23:20 on leg three to hand over to Trudy Wells in 65th place. Trudy clocked 22:28 on the final leg to bring the team home in 67th place of the 102 complete teams. For the reserves Hannah Bennett ran a 24:14 leg and Vicky Earls, 27:00.
Over 100 teams started the senior men's race of six legs, each of 5.88 kms, with the City Club fielding one complete and one incomplete team. Jeremy Mower led the 'A' team off and came home a very respectable 56th in 21:26 to hand over to youngster Harry Wells who made up nine places as he clocked 20:27, the team's fastest time of the day. Austin Blackburn took over and came home in 47th place with a 22:21 leg, handing over to Simon Fortnam who pulled back a place as he clocked 21:40. Lee Smith took over on the fifth leg and clocked 21:45 in 46th place while James Walters ran a 21:18 final leg to make up one place and bring the team home in 45th place of the 101 finishers. For the reserve squad, Steve Haines ran 23:55, Arthur Daley ran 30:00, Clive Poole 25:31, Aaron Bennett 27:04 and Amar Patel 30:56.
Afterwards, team captain for the day James Walters said: "I'm pleased with the results today as everyone clearly ran their hardest and tried their best which is all you can ask for. It was good to see some new faces in the senior teams as well as our up-and-coming youngsters."
Elsewhere, several Gloucester club members were in racing action on Sunday.
Youngster Toby Scott was the first Club runner home in the Apperley Quarter Marathon when he placed 8th in 41:54. Anna Midgley placed 30th overall and 3rd lady in 45:19, Katie Davenport placed 36th in 46:16, just one day after a strong run in the Midland Road Relays event, Chris Davis placed 49th in 49:01, Peter Jeffery placed 54th in 49:38 and Dave Spackman placed 96th in 53:43.
A bit more further afield, Graham Davis travelled up to Nottingham for the Robin Hood Marathon, one of the country's most established events. Determined to banish the memory of a disappointing run in the summer's Gloucester Marathon, he was on course to beat his 4-hours target up until the 20-miles mark when he hit the dreaded 'wall', the moment when the body runs out of its natural energy supplies, and suffered cramps in his legs. After slowing to a walk for the best part of two miles, he recovered to finish in 4:09:26 a personal best by nearly 40 minutes.
Clive Poole was another Gloucester club runner who raced on Sunday after turning out for his Club at the Midland Road Relays on the Saturday, when he placed 102nd in the Forest of Dean Half Marathon in 1:41:22. Clubmate Stephen Shields placed 158th in 1:46:11.
Finally, the Fishpool family competed at the Piper Piper races at Highnam. In the 10km event, U17 Owen placed in a new personal best 38:10, beating his dad Adrian who placed 11th in 44:19, also a personal best. Youngest son Adam won the one kilometre race for juniors.
Steve Millward ran a perfectly paced race to place fifth in Sunday's Worcester 10K road race. Lying in 9th place at the half way stage, passed in 16:28, the Gloucester athlete moved through the field as those around him faltered to cross the line in 33:00, his fastest time for four years and one he hopes will be good enough to earn him a place on the England team that will compete in November's Home Countries Masters Cross-Country International in Northern Ireland.
Afterwards, Millward said "The conditions were perfect for today's race and I was pleased with the way the race went. My only disappointment was not breaking 33 minutes, but I put that down to having a sore foot from somehow managing to kick a door on the Saturday!"
Dave Gresswell used the run as part of his rehabilitation from a hamstring injury. Setting a pace that would get him back in 40 minutes, he stuck to the task to finish in a niggle-free 39:56.
In the supporting half marathon, Chrissie Horak had to work hard over the second half of the race that included a long uphill drag to place 7th lady in 1:32:21.
Meanwhile, Jeremy Mower made a 380-mile round trip to compete in the Lancaster marathon where he placed third overall and first M50 in 2:57:12, his fastest time since he set his personal best time of 2:51:31 five years ago. On a generally flat course with a steep uphill finish over cobbles, the Welsh international used his experience and racing nous to hold back from challenging for an unlikely second place, choosing instead to conserve his strength over the closing stages knowing that a group of six runners were less than one minute behind him. He said "I remembered what my fellow countryman Steve Jones once said in that you run hard for the first 20 miles, then start racing. There was a bunch of runners not far behind me, so I needed every last ounce of energy over the final 400 metres." His prize for his efforts? A slow cooker.
Arthur Daley made the long journey north to race in the British Masters 10,000 metres track championships at the Monkton Stadium in Jarrow on Sunday. In changeable weather conditions, which varied from warm drizzle to sunshine, plus a gusting wind, the Gloucester runner ran a well-paced race to win the M65 title in 41:28.98, over two and a half minutes ahead of the next M65 athlete.
Amy Walker was the sole Gloucester Athletic Club runner in this year's Great North Run where she placed 2,765th in 1:39:47, her fastest clocking since returning to racing after giving birth to a baby boy last year. She said "I was pleased to break 1:40 and although it's well down on my best time of 1:33, my training is now going well and I'm slowly regaining my fitness."
This Saturday, the Gloucester club will be fielding teams in both the ladies and men's events at the Midland Road Relays at Sutton Park.
Gloucester Athletic Club strengthened their hold on the City's road running scene in an emphatic manner at the inaugural Elmore 4.3 mile Road Race on Tuesday evening.
The race replaces the now extinct, but once hugely popular, Tredworth Road Race and the Gloucester club were keen to make an immediate impression.
The three early leaders were Harry Wells of Gloucester AC and two members of the host Club, Severn AC, Chris Brown and James Rose but it was the youngster Wells who prevailed to win his first senior road race title in 24:09.
Brown took second place in 24:25 with Rose third in 25:21.
Gloucester's Simon Fortnam ran strongly to place fourth overall and first M45 in 26:09 with clubmates Austin Blackburn and Andrew McPeake following behind in fifth place (26:21) and eighth place (26:53) respectively.
Harry's sister, Beth, completed a family double when finishing 12th overall and first lady in 28:32 to secure her first win on the senior road running circuit. Katy Davenport was the second senior lady home, placing 15th overall in 29:10, while Lindsey Lyes secured a top 20 finish in 19th place in 32:35. Trudy Wells placed 27th in 37:15.
+++++++++++++++++++++++++++++++++++++++++++++++++++++++++
Gloucester Athletic Club were the dominant force at the final part of this season's Gloucestershire county track and field championships held at Blackbridge last Friday (1st) with relays, 10,000 metres and one mile titles up for grabs.
The Club's well-drilled sprint relay squads were dominant in their respective categories. The senior ladies team was impressive throughout the 2017 Midland League season and despite being at less than full-strength, the quartet of LJ Phillips, Sophie Temple, Kirstie Constable and Erin Macfarlaine was still too good for the opposition here, coming home the clear winners in 52.7 seconds. Such was the City Club's dominance, their 'B' team made up of endurance runners Anna Midgley, Lindsey Lyes, Kirsty Reid and Tina Wickens showed a surprising turn of speed to take the silver medals.
The Club's U15 Girls team of Ellie Luff, Tricia Stanfield, Grace Manley and Ellie Wheeler-Smith were similarly impressive, as their 52.7 seconds clocking brought them home nearly five seconds clear of their closest rivals.
For good measure, the U13 Boys team of Sulaiman Ouiles, Ben Darlow, Scott Stanfield and Sam Barnett were also victorious in their category, clocking 61.9 seconds.
The 4 x 400 metres event saw another convincing win for the senior ladies squad of LJ Phillips, Kirstie Constable, Erin Macfarlaine and Sophie Temple to complete a successful evening for the squad.
Douglas Wright of Cheltenham & County Harriers was a runaway winner of the 10,000 metres 'A' race, finishing 90 seconds clear of his nearest rival. However, behind him there were some pleasing performances by the Gloucester runners.
Jeremy Mower clocked his best time for the distance on the track, 36:39.6, placing fourth overall and first M50, while in his first track 10K for three years, Simon Fortnam came home seventh overall and first M45 in 37:33.4.
In the 'B' race, George Daly clocked a personal best time of 38:25.6 in third place while Arthur Daley placed 6th overall and first M65 in 41:20.3, a time which ranks second on the UK age group rankings for the season.
Several City athletes made the most of the rarely-run one-mile track races to post new personal best performances. Steve Millward admitted to being short of speed training as he placed second in the main race, clocking a personal best 4:34.3 behind winner Will Ferguson of CLC Striders. "Much of my training in recent weeks has been geared to 10K and I just didn't have the basic speed to go with Will on the final 600 metres" said Millward afterwards.
The second race saw another promising run by George Daly, coming home the victor in a personal best 5:13.2, while there were personal best times by three Gloucester club runners in race three as Anna Midgley (5:50.6), Clive Poole (6:02.8) and Tina Wickens (6:09.8) all posted new marks. Tina's time ranks her 12th on the UK rankings in the W45 category for 2017. In race four, U15 Girl Sophie Johnson placed 6th in 6:49.1 and M70 Dave Spackman placed 10th in 7:15.0.
+++++++++++++++++++++++++++++++++++++++++++++++++++++++
Gloucester Athletic Club's Joel Townley won the triple jump at the Sainsburys Schools Game in Loughborough on Friday with a jump of 14.24m. Afterwards he said "I was much happier with that series today as I was well below par in the previous weekend's English U17 Championships, despite winning." Joel's training partner Ollie Keitley produced the second best-ever triple jump of his career when winning the U15 Boys triple jump at last Tuesday's Cardiff Open Meeting with 11.88 metres.
+++++++++++++++++++++++++++++++++++++++++++++++++++++++
Gloucester Athletic Club's Jacqui Holloway placed second in the British Masters Heptathlon Championships at Sheffield the weekend, her first national championship.
Competing in the W35 age group, she opened up with 20.70 seconds for the 100m hurdles and followed that up with a personal best 1.37m in the high jump to improve her own club age record. She had a solid shot putt, throwing 7.28m, before setting another personal best 31.45 seconds in the 200 metres. Day two opened with a 3.81 metres long jump, followed by 17.84 metres for the javelin and concluded with a personal best 2:52.7 in the 800 metres to complete an outstanding debut in the event.
+++++++++++++++++++++++++++++++++++++++++++++++++++++++
Gloucester club members had a busy day's racing last Sunday, competing in a range of events around the region. 
In his second 10K race in three days, Jeremy Mower competed in the Cardiff road event which was being used as a selection race for the Wales team for this autumn's Home Countries Masters cross-country international. Mower placed 95th overall and second Welsh M50 in a season's best 36:22 which should be good enough to earn selection for the second consecutive year.
Steve Millward won the Ross-on-Wye 10K multi-terrain event along the banks of the River Wye. He went to the front of the field from the gun and was never headed, winning by over three minutes in 34:45. His wife, Kim, won the ladies race by over a minute in 43:06 to complete a family double.
The heavy rain made the going tough for runners at the Woodchester Trail 8-miles multi-terrain race near Stroud which saw Nick Bishop lead a small Gloucester AC contingent home, placing 25th in 61:45. Anna Midgley produced another strong run to place 30th and second lady in 64:10, holding off Clive Poole who placed 31st in 64:42. Tina Wickens placed 39th in 72:03, Den Evans placed 40th in 72:26 while Amy Walker recovered from being led off course to place 43rd in 72:43. Liz Usedon placed 70th in 81:36 and newcomer Amar Patel placed 74th in 82:48 in his first race in club colours.
In the Meteor Mile race held on the runway at the Gloucestershire Airport, Laura McPeake placed 41st and first lady in 6:04.6 while brother Andrew placed 6th overall in 5:10.5.   
Chris Davis placed 625th of the 2076 runners in the Swindon Half Marathon, clocking 1:49:57.
+++++++++++++++++++++++++++++++++++++++++++++++++++++++
Gloucester Athletic Club bring the curtain down on a very successful 2017 track and field season this Sunday when they host the final Avon League fixture of the year at their Blackbridge home.
There are races for all age groups, starting at 11:00am.
Gloucester Athletic Club's Joel Townley won the U17 Men's Triple Jump at Saturday's England Athletics Age Group Championships at Bedford on Saturday.
Going into the competition, Joel was a clear favourite having jumped a full one metre further than his nearest rival this season, but his form had dipped in recent weeks due to his already having had a long season and with his main target (the English Schools Championships) successfully behind him. A recent family holiday would not have aided his preparations for this championship, but a carefully drawn-up programme by his coach Jo Willoughby ensured he was still comfortably better than the rest of Saturday's field.
And so it proved, but it was a very close fought affair as Joel battled throughout against Cardiff AC's Thomas Atkinson, to win with 13.99 metres against Atkinson's 13.93 metres. Dacorum & Tring's Josh Woods took the bronze medal with 13.04 metres.
Afterwards, Joel was delighted, saying: "It wasn't the best performance as I was way down on my season's best, but I'm delighted to have won and can now look forward to settling down for the hard winter's training ahead of next season"
Before that, however, he will be competing for the Midlands Team in the Sainsburys Schools Games at Loughborough this coming weekend.
Joel Townley's outstanding achievement in winning the England Athletics U17 Men's Triple Jump at Bedford was the highlight of another of fine performances by Gloucester Athletic Club's track & field athletes.
Ellie Wheeler-Smith made her first appearance at the England Championships, competing in the 100 metres. She buried the demons of a disappointing run at July's English Schools Championships by running a strong heat at Bedford to qualify for the semi-finals where she placed 5th in 12.66 seconds, just 5/100ths of a second down on her lifetime electronically-timed best. Afterwards, she said "This has gone a long way to make up for the disappointment of the English Schools race. I was determined to get through the heats and make the semi-finals, so I'm much happier."
Harry Wells knocked a massive four seconds off his 1500 metres personal best when clocking 4:02.7 in 5th at the British Milers Club Regional Meeting at Tipton on Saturday, a season's improvement of 12 seconds over the distance.
Sprinter Sophie Temple was less than one tenth of a second outside her personal when clocking 26.89 seconds for the 200 metres in the Brierley Hill Open Meeting on Sunday and followed this up with a 13.3 seconds clocking in the 100 metres. At the same meeting, Ollie Keitley won the U15 Boys triple jump with the second-best jump of his career, 11.84 metres, just 10 cms down on his best.
Tomorrow (Friday), the Blackbridge track in Podsmead hosts the final instalment of the 2017 County Track & Field Championships and will incorporate the Jubilee One Mile event, 4 x 100 metres for all age groups, 10,000 metres and finish with 4 x 400 metres. Entries will be taken on the night and the first race is at 6pm.
Gloucester Athletic Club's young guns were in medal-winning form at Sunday's South-West Inter-Counties Championships in Exeter.
With the end of the track & field season in sight, this was one of the few remaining chances the athletes had to win medals before they head into the long, hard slog of winter training and they made the most of the opportunity.
Harry Wells has firmly established himself as the Club's leading middle-distance runner during the summer, with an excellent competitive record over 800 and 1500 metres which has seen a considerable improvement in his basic speed. He chose to race the longer distance at Exeter and came away with the gold medal in the U20 Men's race, holding off rival John Howorth of Wiltshire and clocking 4:08.75, the second-fastest time of his career.
Sprinter Ellie Wheeler-Smith has been setting the local tracks alight in this, her first serious competitive season, which has seen her rank in the nation's top 10 over 100 metres for the Under-15 Girls age group. Despite having a long season in which she has had over 30 races, she still had the strength and stamina to cruise to wins in the U15G 100 metres and 200 metres in 12.61 and 27.01 seconds respectively.
Further medals went to Chloe Jones who interrupted a family holiday to win the silver medal in the U20 Women's discus with a best throw of 35.89 metres, and Ollie Keitley who set an excellent new personal best of 11.94 metres to take second place in the U15 Boys triple jump, missing out on the gold medal by just three centimetres.
Although finishing out of the medals, youngster Tricia Stanfield produced some encouraging performances to reward the hard work she has put in over the past 12 months, setting a new personal best 13.70 seconds in the U15 Girls 100 metres and an electronic-timed best of 28.56 seconds in the 200 metres.
Club spokesman Richard Blackwell said: "These youngsters are just the tip of what is a very large iceberg in the Club. There have been some outstanding performances throughout the Club by our junior athletes over the summer months and we hope that with the help of our dedicated coaches they can realise their tremendous potential."
Last Saturday saw the latest running of one of the County's oldest races, the Cranham Boundary Chase.
Gloucester Athletic Club has organised the event since the 1940s and in that time, the race has had many guises with two distances on offer to the entrants this year, a 5km and 10km event with steep, challenging climbs in both.
Perfect running conditions greeted the runners for the mid-afternoon start and the 5km race saw Rob Bowery of Black Pear Joggers take a commanding lead from the start and he was never headed, coming home the winner in 21:08. Austin Blackburn of the host Club was second runner home, clocking 22:40 while Charlotte Hall placed 4th overall and first lady in 27:30.
The two-lap 10km race resulted in a convincing win for 10km race resulted in a convincing win for Douglas Wright of the Almost Athletes club in 40:53. Mark Thrall was the first Gloucester club runner to finish, clocking 49:23 in 16th place, while Liz Usedon placed 49th in 63:06.
A quartet of Gloucester Athletic Club runners took part in Sunday's Standish Woodland Chase, a 10-mile multi-terrain race that takes in areas of the Cotswold Way.
The recent heavy rain had given way to warm, sunny and dry conditions which suited most of the 150 runners.
Russell Langley continued his return to competitive racing and led the Gloucester contingent home, placing 13th in 70:06 while the next runner back was Christina Horak who, in her first race since last month's Snowdon Fell Race, placed 23rd overall and second lady in 74:11.
Clive Poole crept into the top 40 with a 38th place in 79:17, with Den Evans completing the group in 62nd place in 89:18.
Gloucester Athletic Club's senior track & field team are the new Midland Athletics League Division Four Champions.
Whilst most of the eyes of the athletics world were on the events in London, the Gloucester team were going about their business and aiming for the top-two finish in Saturday's final match at Stourport-on-Severn which would secure promotion from the division they had dropped down to last year.
So effective was the performance that not only did they win the match, but they also overhauled league leaders Tipton's points total to win the Division overall by the equivalent of football's goal difference, an unlikely result following their sixth place of the seven teams in the opening fixture back in May.
Saturday's performance was based on exceptional teamwork, with several athletes stepping into unfamiliar events at short notice to earn points for their team – points that were to prove the difference at the end of the match.
Team manager Richard Blackwell had asked for some big performances from the team's major points winners and they responded in splendid fashion.
For the ladies, Kate Davies, Helen Pritchard, Chloe Jones and the sprint squad were again the backbone of the team. Kate won the 'A' string 100m Hurdles and javelin events and took additional top three places in long, triple and high jumps as well as the shot putt. Helen won the 'B' string 100m Hurdles and backed this up with podium places in the 400m Hurdles, long and triple jumps and the pole vault and Chloe took three second places in the discus, shot putt and javelin.
The lady sprinters have been dominant throughout the season, setting numerous personal bests along the way. On Saturday, both Sophie Rowe and Erin MacFarlaine won their 100m and 200m 'A' and 'B' string races while LJ Phillips and Sophie Temple produced season's bests to take second places in their respective 400 metres races. All four combined to record impressive wins in both the 4 x 100m and 4 x 400m relays.
In support, there were solid track performances from Rachel Vines in the 1,500m and 3,000m,
Suzanne Harding, Hayley Winters, Beth Wells and Bethan Moor who all earned much-needed points for the team.
For the men, team captain Steve Millward and Tom Beckett led the way as Millward took victories in the 400m Hurdles and 3,000m steeplechase 'A' string races and the 110m Hurdles 'B' string and third places in the high jump 'B' string and the 3,000 metres, while Beckett won the 'A' string 110m Hurdles and long jump as well as the 'B' string triple jump.
Further stand-out performances on the track came from Harry Wells who ran a well-judged race to win the 800 metres, Andrew McPeake who filled in the 400m, 800m and 1500 metres events, sprinter Ian Beard and newcomer Simon Meadows who stepped in at the 11th hour to compete in his first track races for the Club, despite running the Gloucester Half Marathon the day afterwards.
Further excellent performance in the field events came from Joel Townley, who won the 'A' string high jump and triple jump and the 'B' string long jump, and thrower Tim Williams who comfortably won the 'A' string hammer before going on to take second places in the javelin and shot putt.
Youngster Luke Coghill set a new personal best when placing second in the 'B' string discus, while more mature athletes Paula Whitcher and Mike Curneen answered the Club's call to turn out for their Club and provided valuable support in the throwing events, before turning their hand at officiating.
Afterwards, Richard Blackwell said: "I asked for some big performances from our athletes today and they excelled themselves. We knew we had to work hard to win promotion as the situation was tight going into the match but I never thought we could actually overhaul Tipton and win the title. This is a wonderful result for some very talented athletes and they should all be very proud of what they have achieved."
Match result: Gloucester AC 465 points; Tipton 424; Kidderminster & Stourport 376; Bromsgrove & Redditch 307; Solihull & Smallheath 288; Leicester 285; Corby 74.
Final League standings: Gloucester AC 23 league points (1606.7 match pts); Tipton 23 (1590.2); Broms & Redditch 18 (1356.2); Solihull & SH 18 (1263.2); Kidd & Stourport 16; Leicester 14; Corby 4.
+++++++++++++++++++++++++++++++++++++++++++++++++++++++
Jo and Ian Willoughby met with mixed success in the second half of the European Masters Athletics Championships in Aarhus, Denmark.
Jo followed up her British W50 record in the triple jump when striking gold as a member of the Great Britain team that won the W50 4x100 metres title.
Husband Ian qualified for the final of the M60 100 metres Hurdles but was unable to re-produce his best form as he placed fifth in 17.98 seconds.
+++++++++++++++++++++++++++++++++++++++++++++++++++++++
This Saturday is another busy day for the Gloucester club.
Between 11:00am and 4:00pm, the Club is staging an All-Ability Day at the Blackbridge track in Podsmead where there will opportunities for everyone to take part in wheelchair races, adapted cycling and race-running, jumping, throwing as well as foot-races.
Gloucester AC's lead Disability coach Bob Purcell says "This event has been inspired mainly by last month's Para-athletics World Championships in London which again brought disability athletics to peoples' attention. Gloucester AC has recently been awarded an "Inspirational Club" honour by England Athletics and we're keen to expand the interest beyond our own thriving group." 
The event is open to anyone with any form of disability and people can turn up at any time on the day.
Saturday afternoon sees the annual running of one of Gloucestershire's oldest race, the Cranham Boundary Chase in conjunction with the Cranham Village Feast.
Over the years, the race's format has changed many times from the original 'Boundary Chase' to its latest incarnation, an option of a 5K or 10K multi-terrain race. Entry is on-line at www.gloucesterac.co.uk. The races start from the cricket club at 4pm.
Starting at 3:30pm, there is a range of races for U11s, U13s and U16s, with entries being taken on the day.
+++++++++++++++++++++++++++++++++++++++++++++++++++++++
Gloucester Athletic Club members competed in Sunday's Half and full Marathon events, achieving the following results:
Half Marathon – Simon Meadows 1:25:35; Mark Keeling 1:26:17;  Nick Bishop 1:36:29; Katie Davenport 1:36:45; Grace Vido 1:37:41; Adrian Fishpool 1:43:28;  Chris Davis 1:47:03; Lindsey Lyes 1:59:48.
Marathon – Steve Haines 3:39:48; Amy Walker 3:40:53; Clive Poole 3:57:18; Nicola Waters 4:04:11.
Despite setting new personal best performances in their respective events, Gloucester Athletic Club's husband and wife duo, Ian and Joanne Willoughby, just missed out on medals at the European Masters Athletics Championships in Aarhus, Denmark.
First on was Joanne in Saturday's W50 triple jump, the event in which she headed the UK rankings for the year, and despite producing a new personal best leap and new UK age-best of 10.17 metres – the first W50 Briton over 10 metres - she narrowly missed a podium place when finishing fourth.
She returned to the arena on Monday (31st) to contest the long jump and produced her best performance since joining the masters ranks, a 4.79 metres leap to place fifth.
Sandwiched in-between, husband Ian qualified as a fastest loser from the heats of the M60 300 metres Hurdles with a season's best 49.50 seconds clocking. In Sunday's final, he recorded his fastest-ever electronic time of 48.91 seconds to place fourth.
+++++++++++++++++++++++++++++++++++++++++++++++++++++++
Gloucester Athletic Club's young sprinters used last week's Midsummer Open Meeting in Cheltenham to record new personal best times over the rarely-run 150 metres.
Ellie Wheeler-Smith has concentrated on the 100 metres this season, reaching the English Schools Championships along the way, but gave further indication that she is better suited to the longer 200 metres when she equalled the Club's U15 Girls record of 19.3 seconds in the third heat, just edging out training partner Sophie Rowe by one tenth of a second.
Kelly Constable ran in heat two, a mixed race, and clocked a season's best 19.0 seconds.
U15 Girl Tricia Stanfield held on to win heat five in a personal best 20.6 seconds, while heat seven saw Malika and Sulaiman Ouiles renew their sibling rivalry with Sulaiman narrowly beating his sister in 22.0 to 22.1 seconds.
Tricia Stanfield later clocked another personal best 46.6 seconds in the 300 metres.
The 800 metres saw another U15 Girl, Tilly Ashley, knock a massive seven seconds off her personal best when clocking 2:30.5, just ahead of Beth Wells who clocked 2:32.9 as she continues her return to racing.
Charlotte Hall dropped down from her usual 5km distance to race in the 800 metres and led her heat into the home straight before being overhauled in the final 50 metres. She was rewarded with an eight second improvement on her previous best time, clocking 2:45.2. Club endurance coach Kerry Newell also ran a new personal best, clocking 2:51.6.
The pole vault again saw Sulaiman and Malika Ouiles in combat. Sulaiman came out on tops, setting a new Club U13 Boys record of 1.90 metres, 10 cms ahead of Malika.
Ollie Keitley won the U15 Boys triple jump with a jump of 11.40 metres and there were wins for Andy McKenzie in the M55 Shot Putt and hammer, Tim Williams in the senior men's hammer with 60.59 metres and Jonathan Jones in the U20 men's hammer with 60.60 metres.
+++++++++++++++++++++++++++++++++++++++++++++++++++++++
Gloucester athlete Tom Beckett made his decathlon debut in the recent South of England Combined Events Championships at Oxford, placing 14th with 4,261 points.
He set electronically-timed bests in the 100 metres, 110m hurdles and 1500 metres, as well as new personal bests for the pole vault, high jump, discus and javelin.
+++++++++++++++++++++++++++++++++++++++++++++++++++++++
Gloucester Athletic Club's senior track & field team go into their most important fixture of the season this Saturday knowing that another big performance could secure them promotion from Division Four of the Midland Athletics League.
The team travels up to the final match of the league season at Stourport-on-Severn currently lying in second place in the table on 16 league points, just one point behind league leaders Tipton Harriers and one point ahead of Solihull & Smallheath and Bromsgrove & Redditch.
Team Manager Richard Blackwell says "We've got to hope that our big guns again perform to their capability. We've got a well-balanced team with several big points-earners and every single point will be crucial on the day."
Gloucester Athletic Club's Chloe Jones produced her best discus series of the season when she improved on her personal best no fewer than three times when winning the Under-20s discus at the Cheltenham Midsummer Open Meeting last Wednesday (19th).
Chloe (18), a member of Lorraine Shaw's throwing group at Blackbridge, went into the competition with a personal best of 37.10 metres, but she finished with a massive new mark of 38.79 metres which ranks her 17th in the UK this season in her age group. The next mark for the Gloucester youngster is now the 40-metres barrier and with several competitions remaining before the season's end, who is to say she can't achieve that?
The discus event was dominated by Gloucester athletes as Ben Campion continued his domination of the local scene by winning the U15 Boys category with 34.72 metres while younger sister Christen won the U13 Girls event with 23.38 metres.
Ian Willoughby completed his preparations for next week's European Masters Championships by winning the 80 metres hurdles in a new Gloucester M60 record 13.6 seconds.
Additional victories in the evening meeting went to Tricia Stanfield (U15 Girls 100 metres, 14.0 seconds) and Sulaiman Ouiles (U13 Boys 100 metres, 14.4 seconds).
Gloucester thrower Tim Williams fell just short of his personal best and senior men's Club record when he placed 9th in the hammer event in heavy rain at the Loughborough EAP Meeting on Saturday with a best throw of 63.11 metres, 17 cms down on his best. Training partner Craig Murch placed 4th with 68.29 metres.
+++++++++++++++++++++++++++++++++++++++++++++++++++++++
Gloucester Athletic Club members met with success at the Bourton One Mile Road Races, incorporating the County Championship, winning two titles.
Jeremy Mower produced another fine run on the eve of the Midland Athletics League track meeting, placing 14th overall and first M50 in 5:10, whilst Dave Spackman was victorious in the M70 category when placing 110th overall 7:12.
Medals also went to Arthur Daley, who placed 64th overall and second M60 in 6:12, and Suzanne Harding who ran a new Club W40 record 5:52 when placing 50th overall and 3rd W40.
Husband and wife Mike and Vanessa Anderton placed 150th and 166th respectively in 8:56 and 10:58.
+++++++++++++++++++++++++++++++++++++++++++++++++++++++
Gloucester Athletic Club will be staging an All Ability Day at the Blackbridge track on Saturday 12th August.
The aim of the day is to spread the awareness of Disability Athletics and comes on the back of the City Club's elevation to 'Inspiration Club' status by England Athletics for its work with athletes with a disability.
Anyone who is interested should contact Bob Purcell on 01452 417990.
Gloucester Athletic Club's senior track & field produced another fine all-round performance to win a nail-biting match in the third round of this season's Midland Athletics League at Tipton on Sunday.
The team was locked in a two-way battle with the hosts throughout the match, with the lead changing hands on several occasions, and it was only thanks to a series of excellent runs by the relay teams that the City club ran out the winners by just three match points.
The result moves them up to second place in the League table, just one point behind Tipton Harriers and with the Solihull & Smallheath and Bromsgrove & Redditch teams a further one point behind Gloucester, the City team knows they will have to be at their very best in the final match at Stourport in August if they are to secure one of the two promotion places.
Team manager Richard Blackwell was delighted with the result, saying "To go and beat a very good Tipton team on their home track is a great achievement by the team. We have brought several new youngsters in this season and they haven't disappointed as they are showing a maturity way beyond their years. The real test, though, is to do all this again at Stourport."
English Schools Intermediate Boys triple jump champion, Joel Townley, flew across the Irish Seas at the weekend to represent the English Schools team in the home international fixture in Dublin. Townley placed second with 14:19, just three centimetres behind the winner, Stephen MacKenzie of Scotland.
+++++++++++++++++++++++++++++++++++++++++++++++++++++++
Four intrepid Gloucester Athletic Club members travelled to North Wales to take part in one of the toughest mountain races in Europe, the 42nd running of the International Snowdon Race, a 10-mile multi-terrain race from Llanberis to the summit of the highest mountain in Wales and back down.
For two members, Christina Horak and Dave Gresswell, it was a return to a race they had both run 10 years ago, this time they were joined by Aaron Bennett and Simon Barnes, both experienced long distance, off-road runners.
Gresswell was in two minds whether to race or not, having suffered a minor hamstring injury two weeks before, but the atmosphere and local support convinced him to tackle the arduous climb and descent, made all the more treacherous by several hours of rain leading up to the start.
By the halfway stage, Gresswell had opened up a lead on his colleagues, despite taking a fall which resulted in two broken fingers, reaching that point in 63 minutes, ahead of Horak (67 minutes), Bennett (75 minutes) with Barnes a further two minutes back.
The runners then started on the downhill descent and whilst the leading international runners at the head of the field threw caution to the wind, the Gloucester quartet were a little more reserved as they worked to stay on their feet.
Gresswell led the group home, clocking 1:45, Horak closed the gap to one minute, while Bennett and Bennett completed the race in 1:58 and 2:04 respectively.
Although all four felt battered and bruised by the end, all had a great sense of achievement having completed such an iconic event made all the more enjoyable with the hosts' evening's hospitality.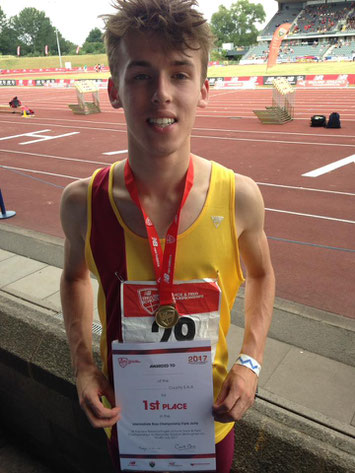 Joel Townley secured the win of his athletic career to date when he struck gold to win the Intermediate Boys triple jump final in the English Schools Track & Field Championships at Birmingham last Friday.
The 16-year old Crypt School pupil from Hucclecote went into the competition as the leading jumper in the country with a season's best 14.73m, but knew that he had to be at the very top of the game with no room for error if he was to even make the medal podium and although he could not quite repeat that distance, his winning leap of 14.46m was still 80 cms further than second-placed Matthew Bondswell of Nottinghamshire Schools.
The Gloucester AC youngster will now travel to Dublin with the English Schools team for the Schools International Athletics Board match this weekend.
A total of six Gloucester club members had qualified for the Championships and all competed with great distinction.
Joel's training partner, Ollie Keitley, only took up the triple jump in the winter, so his qualification for the English Schools event in less than six months is a remarkable achievement. He acquitted himself well and was just two centimetres down on his personal best as he placed 14th in the final with a best jump of 11.73m.
Sprinter Ellie Wheeler-Smith was hoping of a semi-final spot in the Junior Girls 100 metres but found herself in a tough heat and she was eliminated after placing 4th in 12.94 seconds. Training partner Rory Cawkwell was always going to struggle to progress from the difficult qualifying rounds in the Senior Boys 200 metres, but he had every right to be pleased with a new personal best time 22.43 seconds, the fastest time by a Club runner for 12 years.
In her last chance to compete in the Championships, Chloe Jones performed well when placing 12th in a very competitive Senior Girls discus final, throwing 35.16m while another discus thrower to perform well was Ben Campion who, in his first Championships, placed 11th in the Junior Boys final with a best throw of 35.36m.
+++++++++++++++++++++++++++++++++++++++++++++++++++++++
The stiflingly hot and humid early morning conditions were not particularly welcomed by the 700-plus runners who competed in Sunday's Gloucester 10K road race around the City centre.
The conditions and a difficult, twisting course that includes stretches run on gravel did not encourage fast times but a large Gloucester Athletic Club contingent featured among the prizes.
First runner home for the City club was Simon Meadows, a novice in only his first summer of competitive running, who placed 5th in 38:01. One place behind, in sixth overall and first M40 was club mate James Head, who clocked 38:17, while Mark Keeling made a welcome return to racing to place 11th overall and first M50 in 40:43.
Another runner new to competitive racing was the next Club man home. Like many locals, John Withers' running has been limited to Park Runs but in this, his first official race since joining the Club, he placed 19th overall and 2nd M50 in 41:26, just ahead of Steve Haines who, in his first race for three months, placed 23rd in 41:40.
Hayley Winters led the City ladies home as she placed 40th overall and 2nd lady in 42:59, with Arthur Daley placing 41st and 1st M60 in 43:10 and Andrew McPeake 46th in 43:27.
The next five Club runners had run together for much of the race before Anna Midgley pulled clear to place 50th overall and 3rd lady in 43:39, just ahead of Nick Bishop (51st in 43:44), Katie Davenport (52nd, 43:44), Grace Vido (56th overall and 1st W45 in 44:09) and Clive Poole (58th, 44:40) while just one week after his run in the Belfast 24-hour race, Paul Corderoy placed 69th in 45:50.
Other Gloucester AC finishers were:
84th Charlotte Hall 46:55; 96th Amy Walker 47:44; 104th Stephen Shields 48:21; 108th Lilian Sakutombo 48:34; 128th Laura McPeake 49:59; 153rd Kirsty Reid 51:01; 208th Chris Davis 53:30; 24th Paul Loveridge 54:10; 252nd Amanda McPeake 55:34; 325th Hannah Bennett 59:34; 481st Vicky Earls 67:28; 525th Lindsey Lyes 69:00; 582nd Gary Fraser 71:58.
Six Gloucester Athletic Club youngsters travel to Birmingham this weekend for the biggest competition of their careers to date, the English Schools Track & Field Championships.
The Championships are the fourth biggest athletics event in the world, attracting many hundreds of athletes and are run to military precision.
This year, the Gloucester club is represented by Ellie Wheeler-Smith (Junior Girls 100 metres), Chloe Jones (Senior Girls discus), Ollie Keitley (Junior Boys triple Jump), Joel Townley (Inter Boys Triple Jump) and Rory Cawkwell (Senior Boys 200 metres).
Of these, only Townley has competed at the Championships before, placing 9th in last year's triple jump final. This year, he goes to the event as the outstanding performer in the country having jumped a clear metre further than his rivals. However, like every single competitor who shall be present, he knows that pre-competition form counts for nothing and he shall have to be at the very top of his game if he is to even win a medal.
Of the other City athletes travelling to Birmingham Ellie, Ben and Ollie are still in their first season of proper competitive athletics making their selection a remarkable achievement. Rory is now in his third full season while Chloe's selection comes as a fitting reward for many years of hard training and competing in what will be her last opportunity to compete in the Championships.
Club spokesman Richard Blackwell says: "Competing at the English Schools Championship is the pinnacle of every young athletes' career and these youngsters fully deserve the opportunity. Their work ethic and attitude is fantastic and we are all very pleased for them. We wish them the very best of luck."
+++++++++++++++++++++++++++++++++++++++++++++++++++++++
Joanne Willoughby continued her recent good form when she took a double victory in the Inter-Area Masters match at Solihull on Sunday. Competing for the Midlands team, the recently-crowned British Champion won the long jump in W50 4.63 metres and the triple jump in 9.78 metres. She was also a member of the Midlands team that won the 4 x 100m sprint relay.
+++++++++++++++++++++++++++++++++++++++++++++++++++++++
The warm evening conditions clearly suited Gloucester Athletic Club's Jeremy Mower as he led his team mates home in Monday's Frampton 10K road race, placing 12th overall and first M50 in 37:05.
Behind him was newcomer Simon Meadows who, in his first 10k race, placed 15th in 37:26 while Max Sheppard continued his return to racing following a series of injuries by running his fastest-ever time when clocking 38:25 in 23rd place.
Matt Powell was next home, just creeping into the top 50 with a 41:04 clocking in 50th place, with Anna Midgley leading the Club's ladies home when placing 79th in 43:30. Clive Poole kept to his race plan and came away with a season's best 44:01 in 87th place, while Amy Walker also ran her fastest 10k of the year as she clocked 44:07 in 91st place.
Tina Wickens was just four seconds outside her best time when placing 94th in 44:37, Lindsey Lyes placed 151st in 48:09 and Simon Barnes, treating the event as a training run, 369th in 59:42.
Also on the roads, Gloucester Athletic Club members came away from the final Aztec West Fast 5K road race of the summer with series wins in two age groups and a second place in another.
On the night, Jeremy Mower was the first Club runner, placing 36th overall and first M50 both on the night for the whole series in 17:49.
Arthur Daley was the second age group winner, placing 87th overall and first M65 on the night and for the series in 20:14 which was almost identical to the 20:13.13 which he clocked in the British Masters track event two days before.
Nicola Waters placed 154th overall and 3rd W55 on the night in 24:06, but her placing was good enough to clinch second place in her age group for the series.
One of the features of the series is the awarding of a 'spot prize' in each race. This time, the award went to Gary Fraser who placed 76th overall in a personal best time of 19:30, 33 seconds faster than his previous best mark.
Gloucester Athletic Club's young athletes completed their National Youth Development League programmes with the final round of fixtures at Swindon.
The lower age group for the U15 and U13 athletes has seen a marked increase in numbers competing this year, showing that the Club's 365 Academy is beginning to bear fruit as, once again, they were able to field a full quota of athletes in nearly all of the events on the programme.
The U13s have all adapted well to the concept and responsibility of team competition with many in their first competitive season, while there were some outstanding performances by U15s Ellie Wheeler-Smith and Ben Campion who remained unbeaten in the League in the sprints and throws respectively.
With more youngsters coming through the Academy, the future is certainly looking very bright for the team.
By comparison, the upper age group team for U17 and U20s has struggled in that all of the athletes have had to fit their sport around studying for important exams and the timing of the league fixtures has done nothing to support the athletes. However, there have been some encouraging performances during the league season with several athletes making a significant breakthrough in competition.
Both teams will now turn their attention to the Avon League which commences in a week's time.
While the City's youngsters have been embarking on their athletics careers, the Club's elders were meeting with success at the British Masters Championships at Birmingham's Alexander Stadium.
Jo Willoughby overcame a bout of heat exhaustion two days beforehand to set a new Masters personal best of 4.74 metres when winning the W50 long jump and was just two centimetres off the British W50 age group when she jumped 9.90 metres to win the triple jump. Husband Ian won the M60 100 metres hurdles in a season's best 16.72 seconds and placed second in the 300 metres hurdles in a season's best 51.76 seconds.
Steve Millward claimed his fourth British Masters steeplechase title as he won a slow, tactical M35 event in 10:22.56, admitting afterwards "Yes, it was a slow time but today was all about winning." Club mates Simon Fortnam and Jeremy Mower both won silver medals in the M45 and M50 categories respectively and Marion Loveridge added to her impressive tally of National Masters medals when she won the silver medal in the W50 hammer with a best throw of 38.94 metres.
Suzanne Harding had set herself a target of running sub-2:40 for the 800 metres at these Championships and she stuck to her race plan to finish strongly in a season's best 2:38.76 and place 5th in the W40 event. Arthur Daley found himself in a tactical M65 5,000 metres race, eventually missing out on the bronze medal and placing fourth after being out-sprinted over the final 100 metres.
+++++++++++++++++++++++++++++++++++++++++++++++++++++++
Away from the track, Clive Poole travelled down to the Gower to compete in Sunday's Swansea Half Marathon. A strong gusting wind over the first half of the course and a challenging hill climb over the final mile put paid to his aim of setting a new personal best time, but he ran a consistent pace throughout and held on to place 454th of the 6,123 runners in 1:37:49.
At the Boddington 10K race near Staverton, Max Sheppard reduced his personal best time by 16 seconds to place 5th overall and first M40 in 38:44. Hayley Winters made a welcome return to racing and placed 10th overall and first senior lady in 42:45, just ahead of Katie Davenport who ran strongly to place 12th and second senior lady in 42:54, and Tina Wickens who placed 13th and 1st W40 in 44:33. Charlotte Hall placed 17th in 47:19.
Gloucester Athletic Club's leading youngsters enjoyed a successful day at Saturday's South-West Schools Championships in Exeter as they staked their final claims for places in the county team that will compete at next month's English Schools' championships in Birmingham.
Joel Townley had another brilliant day's competition. He started by winning the Intermediate Boys long jump with a Championship Best Performance 6.78 metres before destroying the opposition in the triple jump as he improved his one-week old personal best with a leap of 14.73 metres. He now leads the UK ranking list for his age group by over one metre and will go to the Nationals as a firm favourite.
Sprinter Ellie Wheeler-Smith is another huge talent finding her way in the sport and despite this being only her first full season, she has established herself among the nation's top 10 U15 Girl 100 metres sprinters. She travelled to Exeter with a string of impressive performances under her belt and once again delivered, winning the Junior Girls 100 metres title in 12.75 seconds. She followed this up with a silver medal in the 200 metres with a 26.18 clocking and was rewarded for a fine afternoon's work with confirmation that she will be going to Birmingham.
Ollie Keitley is another tremendous prospect in his first season of athletics. He won the silver medal in the South-West Junior Boys triple jump to add to his county title and will join his Club mates on the coach to Birmingham.
Rory Cawkwell has established himself as the leading sprinter in the County, dipping under 11-seconds for the 100 metres in the recent county Schools event, and whilst he couldn't repeat that performance at Exeter, his fourth-place 11.14 seconds was good enough to earn selection for the Nationals.
Joining the quartet in Birmingham are Ben Campion and Chloe Jones whose hard work over the winter earned them both bronze medals in the Junior Boys and Senior Girls discus events respectively.
Elsewhere, there were some very noteworthy performances from Harry Wells, who lowered his 800 metres personal best by a massive three seconds and to dip under the two-minute barrier for the first time with 1:58.16 when placing fourth in the Intermediate Boys 800 metres, and from Sophie Temple whose season has been slow to start. She ran well to place fourth in the Intermediate Girls 200 metres, clocking 26.82 her fastest-ever electronic time.
+++++++++++++++++++++++++++++++++++++++++++++++++++++
In the Mason Trophy Inter Counties Schools Championships at Birmingham, Briony Bishop placed 7th in the 3,000 metres in 11:35.92, a performance which she hopes will gain her selection for the Hereford & Worcester team that will go to the National Schools event.
Hammer thrower Tim Williams improved his own Gloucester club record when throwing 63.28 metres to win at the Charnwood Open Meeting at Loughborough last week. Club mate Jonathan Jones placed 6th in the English U20 hammer event at Bedford at the weekend with a throw of 61.53 metres.
Harry Wells followed up his personal best over 800 metres at the South-West Schools championships with another sub-2 minutes clocking when winning his race at the BMC Gold Open Meeting at Tipton on Tuesday evening in 1:59.9.
+++++++++++++++++++++++++++++++++++++++++++++++++++++++
Joanne and Ian Willoughby were in gold medal-winning form at the South-West Masters Championships at Exeter on Sunday. Jo won the W50 long jump in 4.49 metres and the triple jump in a Championship Best Performance 9.77 metres while Ian won the M60 100 metres Hurdles in 20.6 seconds, the 300 metres Hurdles in 50.06 seconds and the 100 metres in 14.26 seconds.
+++++++++++++++++++++++++++++++++++++++++++++++++++++++
The exceptionally hot and humid conditions were the winners at many road races around the county at the weekend.
At Sunday's Cheltenham Challenge events, the conditions were compounded by marshalling errors which caused many runners to veer off course in both the 10K and half marathon events.
The Half Marathon saw Nick Bishop place 17th in 1:53:45, with Tina Wickens placing 84th in 2:13:21 and Russell Kirby 86th in 2:13:49.
In the 10K race, Owen Fishpool and Gary Fraser were both affected by the marshalling failures, causing them and several others in the leading group to lose several places as a result. Fortunately, they all recovered and Owen placed 4th overall and first junior in 47:11, while Gary placed 6th in 48:34.
Jeremy Mower led a quartet of Gloucester Athletic Club runners home in Saturday's Humph's Hilly Half Marathon at Bourton-on-the-Water, placing 6th overall and second M50 in 1:28:13. James Head placed 13th in 1:31:10, Dave Gresswell clocked 1:36:19 in 22nd place while Chris O'Carroll continued his preparations for the Run to the Stones 100K race by placing 138th in 2:37:34.
Six Gloucester club members tackled the Malvern Hills when competing in the recent Malvern 10K multi-terrain event from Welland.
In warm conditions, the runners faced a long climb on road, field and rough tracks. Dave Gresswell led the group through the early stages with Matt Powell trying valiantly to stay in touch while behind them, Ian Summers and Anna Midgley were having their own private battle as were husband and wife Aaron and Hannah Bennett.
Gresswell held on to lead the City team home, placing 13th in 43:30, Powell rallied to place 20th in 45:10, Summers fought off Midgley to place 34th in 46:53 with the latter placing 36th in 47:02, while Aaron Bennett placed 66th in 50:48 with wife Hannah placing 221st in 66:25.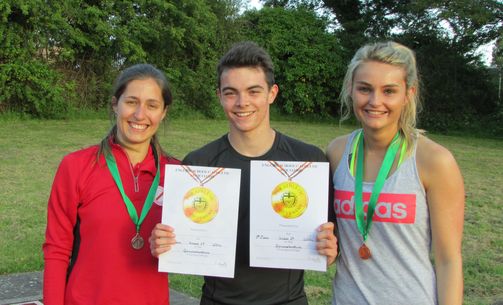 Gloucester Athletic Club members were in excellent form at the weekend as they secured several titles and medals at the Midland Senior Championships and the County Schools Championships.
Sophie Rowe and Kelly Constable have established themselves as the Club's leading senior sprinters this season, producing a series of fine results in League and open meetings, and justifiably went into Sunday's Midland Championships at Nuneaton in a confident mood of winning medals. Rowe took advantage of the blustery conditions to win her 100 metres heat in a wind-assisted 12.12 seconds, the equal fastest time of the day. In the final, she produced a blistering start and ran strongly to the line to win the silver medal in a stunning 12.01 seconds, just 7/100ths of a second behind the winner, Dionne Samuels of Birchfield Harriers.
Despite running some fast 100 and 200 metres races, Constable has struggled to find her best form over 400 metres so far this season but she went into Sunday's one-lap final hopeful of a medal. Running hard throughout, she clocked a season's best 60.63 seconds to win the bronze medal. She followed this up with a 5th place finish in the 200 metres,
Both Rowe and Constable were delighted with their performances, as was Steve Millward who battled through the strong winds to take the silver medal in the 3,000 metres steeplechase in a season's best 9:51.83, the second fastest time in the M35 age group in the UK this year.
Hammer thrower Tim Williams overcame a very early start to win the bronze medal with a best throw of 60.92 metres. The gold medal went to Craig Murch of Rugby who coaches the Gloucester club's growing group of pole-vaulters.
The previous day, many of the Club's youngsters were competing at the County Schools Championships at Cheltenham, where sprinter Rory Cawkwell and jumper Joel Townley took advantage of the very favourable windy conditions to produce outstanding performances.
Cawkwell, a member of Garry Hunter's talented sprint group at Blackbridge, has been lowering his personal best times over the 100 metres, hovering around the 11 seconds mark and it was only a matter of time before he dipped below that barrier. This he achieved, with a stunning victory clocking 10.9 seconds. He later lowered his personal best time for the 200 metres, winning comfortably in 22.5 seconds.
Townley has been in dominant form this season, establishing himself as the UK's leading triple jumper in the U17 age group in the country this year, winning all each of his competitions to date. He extended his unbeaten record in spectacular fashion as he increased his best distance by 20 cms to win with 14.44 metres. He also won the long jump with ease, jumping a new personal best 6.87 metres.
Both will head to this weekend's South West Schools Championships hoping to produce the kind of performances that will take them to next month's National event.
Several other Gloucester club members will be hoping to impress the selectors at the South-West championships in a final push for selection for the county team at the Nationals. U15s sprinter Ellie Wheeler-Smith was a clear winner of the 100 metres at Cheltenham, winning in a windy 12.5 seconds, Sophie Temple stormed to victory in a season's best in the 200 metres and Oliver Keitley was a double winner of the 200 metres and triple jump. Harry Wells produced a strong finish to take 2nd place in the U20 800 metres while throwers Ben Campion and Chloe Jones took gold and silver respectively in their discus events, Chloe throwing a new personal best 36.10 metres in the process.
Other Club medallists were Ellie Wheeler-Smith (silver, 200 metres), Julia Johnson (bronze, long jump) and Luke Coghill (bronze, discus).
In other athletics news, Jeremy Mower placed 13th of the 192 finishers in the recent Dartmoor Discovery ultra-race, a 32-mile course starting and finishing at Princetown, Devon taking in some of the toughest climbs on the iconic moor. Despite picking up a knee injury in the latter stages, Mower clocked 4:20.06. Charlotte Hall was pleased with her latest outing over 10k when she placed 1,272nd in the Vitality 10K road race in London on the Bank Holiday weekend, clocking 45:29, while youngster Niamh Powell placed 8th overall and first lady in the Northleach 10k multi-terrain event, clocking 45:21.
Gloucester Athletic Club's senior track & field team produced a much-improved all-round performance to win second round of this season's Midland Athletics League division four at Corby on Sunday.
Despite several fine individual performances in the opening match last month, the City team found themselves languishing in sixth place of the seven teams in the division leading to team manager Richard Blackwell laying down the gauntlet for his athletes to step up a gear.
The team showed their true grit and responded with the type of spirited performance Blackwell knew lay within; they were also helped by the return of multi-event athletes Kate Davies and Tom Beckett who both led by a fine example as they earned massive points for the team. Davies won the 100m hurdles and javelin 'A' strings and, for good measure, took second place in the high jump and a third place in the shot putt. Beckett showed his worth to the team as he won the 110m hurdles, high jump, long jump and triple jump 'B string events, the latter three as support to Joel Townley who enjoyed an outstanding day, setting three new personal bests in the long, triple and high jumps.
The field events proved to be the more productive for the team as, in addition to Davies, Beckett and Townley, there were many valuable performances from the likes of Jonathan Jones and James Etheridge, who again improved their personal bests in the hammer and pole vault, Chloe Jones in the throwing events and an excellent senior debut for Piper Holmes who set new personal bests in the long and triple jumps before winning the 'B' string high jump. Another youngster making his debut was Luke Coghill who acquitted himself well in his first discus competition throwing the senior weight. The youngsters received solid support in the field events from masters Mike Curneen, who set a new personal best in the shot putt, Andy McKenzie in the hammer, discus and shot putt and Alex Purcell, who improved her W35 Club age group records when winning the 'B' string 100m hurdles and triple jump.
The sprinters have all showed much-improved form this season. For the ladies, Sophie Rowe took another sprint double as she won the 100m 'A' and 200m 'B' string events, while Kelly Constable ran her best 200 metres of the season to take second in the 'A' race. There was a first win at this level for youngster Erin Macfarlaine who, in only her second senior match, won the 100m 'B' string and these three were joined by LJ Phillips for the relays and stormed to a clear win in the 4 x 100m and a surprise 3rd place in the 4 x 400m event. For the men, Rory Cawkwell found himself in very competitive fields and ran well to take a hard-earned 4th in the 100 metres and 5th in the 200 metres.
In the distance events, Steve Millward was a clear winner of the 3,000 metres steeplechase, while Simon Fortnam made his first appearance for the team for 12 months to win the 'B' string steeplechase before giving useful support to Chris Driskell in the 3,000 metres and Millward in the 1,500 metres. Rachel Vines was the team's sole representative in the ladies' middle distance events and ran strongly in both the 1,500 and 3,000 metres races; her efforts deserve more support in the remaining fixtures.
Afterwards, team manager Richard Blackwell said: "The whole team worked very hard for this win today and were shattered at the end. I've never known the team bus to be so quiet on the way home! We have a young team and had a large number missing due to exams but I will expect them all to be available for the remaining matches."
+++++++++++++++++++++++++++++++++++++++++++++++++++++++
Gloucester Athletic Club members enjoyed a successful time in the strong winds and heavy rain at the Midland Masters Championships at Nuneaton on Sunday, winning a total of nine medals of which seven were gold.
Jo Willoughby led the gold rush, winning a trio of F50 titles in the 100 metres (14.4 seconds), long jump (4.29m) and the triple jump with 9.83m, the furthest by a UK F50 this season.
Marion Loveridge was victorious in the F50 hammer, with a best throw of 33.67 metres, and there was another gold medal for Suzanne Harding who won the F40 800 metres in 2:41.9.
For the men, Ian Willoughby won the M60 100 metres hurdles in 16.9 seconds and the 300 metres hurdles in 52.2 seconds, backed up with a silver medal in the 100 metres in 14.3 seconds. Arthur Daley ran a consistently paced to win the bronze medal in the M65 5,000 metres in 20:09.8.
+++++++++++++++++++++++++++++++++++++++++++++++++++++++
Gloucester Athletic Club's Tim Williams travelled to the Hungarian capital, Budapest, to compete in Saturday's Budapest open meeting, placing 9th in the senior men's hammer with a best throw of 61.72 metres. On the previous Monday, he had thrown a season's best 62.97metres when placing 5th in the Bedford Jumps and Throws Fest.
Gloucester youngster Harry Wells lowered his personal best time for 800 metres when winning his heat at the BMC Open Meeting at Tipton in 2:01.2.
+++++++++++++++++++++++++++++++++++++++++++++++++++++++
Six Gloucester Athletic Club members travelled to Dursley last Wednesday to take on the Dursley Peaks Challenge. With five testing climbs giving a total assent of 318m over 10.3km (equivalent to a Category 2 fell race), it was not one for the faint hearted. Added to that, the very warm and muggy evening air made each climb a lung-busting struggle to the top.
Dave Gresswell lead the Club challenge up the first climb of Cam Peak, with Ian Summers, Christina Horak, Anna Midgely, Lindsey Lyes and Kirsty Reid in pursuit.
Gresswell pulled away further on the second climb of the evening, Cam Long Down, which led to a fast descent to a short road section, and on towards the next hill, Uley Bury. Once at the top, a relatively flat lap and a half around the top was completed, before being directed off the edge, and another steep descent.
However, whilst racing in a small group, Gresswell missed a turning which led to an extra half mile, and an extra climb back to the correct route. Summers made no such error and, followed by his clubmates, moved ahead of Gresswell before the next climb, Downham Hill.
Gresswell managed to pull a few places back and eventually caught Midgley at the bottom of Downham Hill before pulling away up the re-climb of Cam Peak. Despite being a 'runnable' hill in normal circumstances, tired legs led this climb to be a mixture of running and speed walking, whilst being cheered on by a group of spectators at the top taking in the views of exhausted runners. Once at the top of Cam Peak, a descent followed down a slope not unlike the Coopers Hill cheese-rolling spectacle two days' previously, with a short section of road to the finish line.
Summers and Horak held on for first and second finishers for the club, with Gresswell recovering from his earlier error to settle for third club finisher. Midgley was not far behind, closely followed in by Lyes and Reid.
Jeremy Mower once again led the Gloucester Athletic Club contingent home in last week's Aztec West Fast Five road race in Bristol, placing 40th overall and first M50 in 17:49. Holly Tugwell held off Lee Smith to place 61st in 18:32, with Smith placing 62nd in 18:33. Arthur Daley placed 101st and 1st M65 in 20:11, while Kirsty Reid placed 124th in 21:29. Nicola Waters placed 146th in 23:52.
Gary Fraser headed north to his native Scotland to compete in a 5K race as part of the Edinburgh Marathon Festival on Saturday 27th May. The route circled the iconic Arthur's Seat, an extinct volcano comprising a 1km hill climb. Fraser placed 16th overall and 3rd M35 in 20:36.
+++++++++++++++++++++++++++++++++++++++++++++++++++++++
Gloucester Athletic Club's junior athletes produced one of their best-ever team performances in last week's National Youth Development League for the U13 and U15 age groups at Blackbridge.
Team manager Matt Holloway has stressed the importance of competing if the youngsters want to improve and his young charges responded with of podium places and personal bests to earn the team fourth place in the match, ahead of strong teams from Worcester and south Wales.
On an afternoon of many excellent performances from the City squad, two athletes stood out. Ellie Wheeler-Smith was a class above the opposition in the U15 Girls sprints as she stormed to a double win in the 100 metres before blowing the field away in the 200 metres with a new Club age group record of 26.10 seconds. She finished off her afternoon by anchoring the sprint relay team to a convincing win. Ben Campion enjoyed another successful day in the U15 Boys throwing events, claiming wins in the hammer, discus and shot putt.
Afterwards, Matt Holloway said: "This was a great team effort. Yes, we have a couple of outstanding athletes in the squad, but every one of the athletes competing today did themselves and their coaches proud. We have a really promising group of athletes coming through and we'll be watching their progress over the next few years."
+++++++++++++++++++++++++++++++++++++++++++++++++++++++
The Dymock Hilly Half Marathon certainly lived up to its title as the tough, undulating course and Sunday's warm temperatures tested the runners resolve.
In his first race since last month's London marathon, Gloucester Athletic Club's Clive Poole was using the race to test his recovery progress from that race and he was pleasantly surprised as he completed the course in 1:45, well under his 8:00 minute per mile target. Afterwards he said "I just wanted to see how much the London race had taken out of me, so I'm pleased with today's run. My next targeted race is next month's Swansea Half Marathon so I'll be hoping for a personal best there."
Club mate Stephen Shields clocked 1:50 and there was a personal best for Graham Davis, who recorded 1:54.
There was success for Gloucester Athletic Club's Fishpool family at the recent Speech House Skechers races in the Forest of Dean. Youngsters Adam and Owen won the 1km and 5km races, while dad Adrian placed 30th in the 10km event in 47:59.
+++++++++++++++++++++++++++++++++++++++++++++++++++++++
The Gloucester club's ladies' cross country captain, Anna Midgley, has been in excellent form in recent weeks, setting personal best times for the half marathon and 10k.
She continued that form on Sunday when she was the first lady home in the Brecon Tower 10k trail event over a very challenging course around the Brecon Beacons, clocking 51:00.
Gloucester Athletic Club's Jeremy Mower travelled up to Patrington Haven near Hull to represent Wales in the Anglo-Celtic 100km road race on Sunday.
This was Mower's 13th consecutive appearance in the event and he has now completed the event more than any other runner by some margin. He went through the marathon distance in a very respectable time for the 26 miles 385 yards of 3 hours 13 min and the 50 kms stage in 3:52. With temperatures hovering around the 18 degrees mark for much of the race, the heat began to take its toll on the runners and many struggled in the second half of the race. Mower battled on gamely to place 14th in 8 hours 44 minutes and 8 seconds.
Gloucester's top lady sprinter Sophie Rowe was competing in the most prestigious event of her career when she was invited to compete in the guest 100 metres race at the Loughborough International on Sunday.
Rowe has been in sparkling form in the early part of the season, lowering her personal best 100 metres time 12.1 seconds. At Loughborough, against a quality field, she placed 5th in 12.46 seconds. The race was won by former Gloucester AC sprinter Catherine Hardy who now runs in the colours of Cardiff AC, in 12.17 seconds.
Gloucester Athletic Club met with multiple success across a wide range of events and age groups at this year's County track & field championships at Cheltenham's Prince of Wales Stadium at the weekend.
The hammer throw has long been one of the Club's flagship events, thanks to the wonderful example set by coach and former Commonwealth gold medallist, Lorraine Shaw, and the trend continues as no fewer than five county titles went to Gloucester club members. Tim Williams put his recent run of indifferent form behind him as he won the senior men's title with a season's best effort of 60.94 metres while training partner Jonathan Jones won the U20 Men's title, throwing the lighter 6kg weight 59.62 metres.
In the Masters age groups, Marion Loveridge was just down on her season's best but still produced another consistent series to win the W50 event with 39.62 metres and Andy McKenzie won the M55 title with 27.78 metres.
There was further success in the younger age groups as Ben Campion won the U15 Boys title with a personal best throw of 27.78 metres and, for good measure, Vikki Kirby took the silver medal in the U17 Womens' event with 33.69 metres. Ben was the outstanding young male thrower in these Championships as he also took the gold medal in both the shot putt and discus events, with Serafeim Apostolakis winning the silver medal in the latter.
Mike Curneen (M45) and Chris O'Carroll (M70) won their categories in the shot putt and there was a silver medal for Chloe Jones in the U20 Ladies discus.
Joel Townley currently heads the UK's triple jump ranking for the U17 Mens category so it came as no surprise to see him retain the title he won last year. Particularly pleasing for his coach, Joanne Willoughby, was to see his training partner Ollie Keitley win the U15 Boys triple jump with a personal best leap of 11.43 metres, good enough to rank in 11th in the UK this season. To keep her young charges on their toes, Joanne won the W50 long jump title, while another Masters long jump win went to Chris O'Carroll who won the M70 category and youngsters Holly Attwooll and Julia Johnson won the silver and bronze medals in the U15 girls category. In the high jump, there was a silver medal in the U17 Ladies event for Piper Holmes.
The Club's sprinters have been in impressive early-season form, setting personal bests almost at will and they demonstrated their new-found confidence with a series of dominant displays in these Championships. Rory Cawkwell was a clear winner of the U20 mens 100 and 200m titles, the latter in a personal best time of 22.7 seconds, while Sophie Rowe (Senior Ladies), Kelly Constable (U23 Ladies) and Ellie Wheeler-Smith (U15 Girls) all won double golds to highlight the Club's superiority and LJ Phillips took the silver medal in the senior ladies 100 metres.
Elsewhere on the track, Ian Willoughby won double gold in the M60 300m Hurdles and the 80m Hurdles and there was a silver medal in the U20 Men's 800 metres for Andrew McPeake.
In recent seasons, wheelchair racing has become established in these Championships, with the young Gloucester AC group to the fore. In the 100m races, the trio of Vicky Broom, Josh Freeman and Daniel Morgan all took gold medals in the Senior Ladies, U15 Boys and U13 Boys categories. Josh and Daniel both head the UK rankings for their classifications and Vicky is 3rd ranked.
The Club's junior endurance group met with considerable success. Briony Bishop has had a busy start to the new season and can add the County U17 Ladies 3,000 metres title to her growing collection while Toby Scott confirmed his position as the Club's top male distance runner with victory in the U15 Boys 3,000 metres in a personal best 10:41.1. He returned on day two of the Championships to set a new personal best in the 800 metres. Tilly Ashley and Katherine Mills missed out on medals in the U15 Girls 1500 metres but both knocked substantial chunks off their personal bests while youngster Sophie Izon produced a blistering finish to overhaul a 15-metres gap to win the U13 Girls 1500 metres title. Emma Tillott was a clear winner of the U13 Girls 800 metres event, with Amelia Newell picking up the bronze medal. Emma then showed her versatility by winning with 200 metres.
Christen Campion was determined not to be outdone by her older brother Ben and she added to the family's medal haul by winning the U13 Girls 70m hurdles, in which club mate Emily Heron took the silver medal, and the discus.
Further medals in the U13 events came from Phoebe Jones (gold in the shot putt and silver in the high jump), Sulaiman Ouiles (gold, javelin), Ella-Grace Edwards (silver, 100 metres), Cerine Bouchireb (silver, discus), Sam Barnett (silver, 100 metres). 
The youngest age group saw Arnold Margretts take first place in both the U11 boys long jump and 60 metres and a second place in the 600 metres, while Ula Mohammed and Winifred Margretts performed strongly in the U11 girls events.
Club vice-Chairman Richard Blackwell said after the competition: "There was a much healthier attendance from our athletes here than there has been in recent years. It's great to see our established athletes perform well and very encouraging to see many of our younger members compete as it gives them their first taste of a championship environment which is very different to just about anything else they would have experienced before."
+++++++++++++++++++++++++++++++++++++++++++++++++++++++
There was an exciting tussle between three of Gloucester Athletic Club's leading road runners at the Berkeley 10k road race on Monday evening.
Muggy conditions with heavy drizzle greeted the field of just over 400 runners that included James Walters and James Head, both of whom had recently run personal best marathons, and Jeremy Mower who this year has been of the Club's most prolific races over distances ranging from 400 metres hurdles to 40 miles.
In the end, it was James Walters who led the trio home, placing 8th in 36:27. Mower placed 9th in 36:35 and Head crossed the line in 11th place in 36:45.
Dave Gresswell recorded his fastest 10k time since reaching the M50 age group, 38:22, in 23rd place while Gary Fraser knocked nearly three minutes off his previous best when clocking 40:53 in 55th place. Arthur Daley placed 59th overall and first m65 in 41:16 and there was another massive personal best for Anna Midgley in 71st place as she reduced her best time by 1:47 to 42:00.
Paul Loveridge placed 97th in 44:26, Charlotte Hall lowered her personal best time for the distance by two and a half minutes when clocking 44:29 in 100th place and Dave Spackman placed 207th in 50:26.
Three Gloucester Athletic Club members competed in Sunday's Tewkesbury Half Marathon where the warm and sunny conditions were certainly to Katie Davenport's liking as she ran a well-paced race to place 96th in a personal best time of 1:36:57. Amy Walker ran strongly to place 124th in 1:40:06 and Chris Davis placed 313th in 1:54:22.
Finally, four Gloucester Athletic Club members braved a cold and extremely windy, early May Wednesday evening to compete in the annual Stroud Beer Race, a 7.2 mile, 3 lap, hilly course around Minchinhampton Common with all four winning category prizes,
Simon Fortnam, who was on his home turf, living just a mere mile from the race venue, lead the quartet home in 5th place overall, and 1st MV40, Dave Gresswell was hot on his tail for the first two miles before Simon slowly pulled away in the second half of the race.  Gresswell stayed strong working up the hills, and secured 9th place overall and 1st M50.
Having only transferred from Stroud AC, the race host club, to Gloucester AC at the beginning of the month, this was the first race in her new club colours for Christina Horak and she did not disappoint, placing 15th overall and first senior lady. 
Tina Wickens was the fourth member home, placing 23rd overall and 3rd senior lady, 
For Christina and Dave this was one of several hilly build up races as part of their preparation for the Snowdon Fell Race later this summer.
The opening match of Gloucester Athletic Club's Midland Track & Field League season at Solihull on Saturday proved, if any proof were needed, that there is a huge amount of young talent in the Club's ranks waiting to burst onto the senior scene.
Over recent seasons, the Club has used this League to give their talented youngsters their first taste of senior competition and many of these are now established team members and on their way to successful athletic careers.
The cold and often blustery conditions were hardly ideal for the season's opener or conducive for good performances but the sprinters, in particular, put these to one side and rose to the occasion. 
Sophie Rowe (nee Lambert) has been in scintillating early-season form and is clearly on a high following her recent wedding. She opened up the day with a 26.0 clocking in the 200 metres, her fastest for three years, before smashing her previous 100 metres best time by a massive three tenths of a second, taking victory in 12.1 seconds, the fastest time ever by a Gloucester senior lady. Afterwards, she said "I'm ecstatic! My training and racing has been going very well over the past few months and I was hoping to beat my 100 metres best time at some stage during the season, but didn't expect to break it so early on, or by so much. In the space of one week I've got married and have run my fastest 100m in a 17-year athletics career, so I couldn't be happier!"
As the Club's senior sprinter, Sophie is a mentor to many of the younger members in the squad, one of whom, Erin Macfarlaine, was making her debut in the senior team on Saturday. Erin, who has worked hard over the winter to overcome injury which curtailed her 2016 season, responded by knocking nearly a full second off her 200 metres best time with a 27.6 seconds clocking before shaving one-tenth off her 100 metres best time.
The ladies were not the only ones setting the track on fire, In only his second season of competing for the senior team, Rory Cawkwell gave glimpses of his potential with two personal bests, 11.1 seconds and 22.9 seconds over the 100 and 200 metres to establish himself as the Club's leading male sprinter at the early stage of the season.
LJ Phillips and Ian Beard provided solid support in the relay squads as did Kirstie Constable, who set two new personal bests in the long jump and non-scoring 200 metres.
Joel Townley is another young athlete with great potential. He won the high jump with a 1.80m clearance before moving on to his preferred event, the triple jump, where he won with a huge personal best leap of 13.88 metres to remove the previous club U17 mark, set by the great Donovan Smith 40 years ago this summer, from the record books and to move to the top of the UK U17 ranking lists at the early part of the season. There was a personal best, also, for James Etheridge who cleared 2.75 metres in the pole vault to improve her previous best by 35 cms.
Chloe Jones is still only 17 but is now an established member of the member of the team. On Saturday, she competed in four throwing events and set two new personal bests in the javelin and shot putt. She said later "I'm pleased with the personal bests but I really wanted to set new marks in the discus and hammer, which are my favourites. I'm happy with the day and will aiming to improve over the season."
Another youngster making her senior team debut was one of the Club's top junior cross-country runners, Briony Bishop, who ran a well-judged race to win the ladies 'B' string 3,000 metres race, while another young middle distance runner, Harry Wells, produced a much-improved run to come home 3rd in the men's 800 metres 'A' race.
Some of the team's more mature stalwarts added some much-needed points as they all competed in a range of events to keep the youngsters' feet firmly on the ground.
Jeremy Mower set two new Club M50 age group records in the 2,000m steeplechase and 400m Hurdles, while Alex Purcell set three new ladies W35 Club bests in the 100m Hurdles, 400m Hurdles and Triple Jump.
Helen Pritchard celebrated her birthday by gaining excellent points with a win in the 100m hurdles and a second place in the pole vault as well as securing good places in the 400m hurdles and long and triple jumps.
Team captain Steve Millward was a clear winner of the 2,000m steeplechase 'A' string and added good points in the 400m hurdles, javelin, discus and high jump.
Team manager Richard Blackwell was delighted with the performance of his youngsters, saying "They are the future of the Club and have set a standard that all of our young athletes must aspire to. The more established athletes showed they still have what it takes to succeed at this level and set a great example to the younger members. I'm really pleased with the attitude and approach of the whole team and we can only move on from here."
+++++++++++++++++++++++++++++++++++++++++++++++++++++++
The Club's Young Athletes teams have also opened their National Youth Development League seasons.
Challenging conditions greeted the athletes at the Upper Age group competition for U20s and U17s at Hereford, where Chloe Jones set new personal bests when winning the hammer and discus events, as well as the javelin in which she took second place. Fellow thrower Jonathan Jones was a class above the rest when winning the hammer event and Vikki Kirby was leading the U17 ladies hammer until the very last throw of the competition when she was relegated to second place.
Over the winter months, the Club has established a promising pole vaulting group. James Etheridge is a product of the group and set a personal best 2.40 metres when placing second. Kirstie Constable and Piper Holmes secured good points in the long and high jumps respectively, while Beth Gardiner won the shot putt.
Sophie Temple, Erin Macfarlaine and Kirstie Constable produced strong performances to secure podium places in the individual sprints and the 4 x 100m relay, while Rory Cawkwell showed he is due a good season when placing 1st and 3rd in the 100 and 200 metres races.
In the middle-distance events, Briony Bishop and Jade Gough each took double victories in the 1500 and 3000 metres and there was a new personal best for Owen Fishpool in the U17 3000 metres.
The lower age group fixture for U15s and U13s at Newport in south Wales showed that the Club's 365 Academy is beginning to bear fruit as the team fielded its biggest-ever team in this competition.
For many of the youngsters, this was their first competition and many new standards were set for them to challenge in the coming weeks as they took 11 event victories and a further 14 podium places during the afternoon.
Team manager Matt Holloway said "There was a very encouraging turn-out by the youngsters, even more so when we consider there were maybe 10 athletes missing due to other commitments. The next match is at Gloucester next week, so I'm expecting even more support."
+++++++++++++++++++++++++++++++++++++++++++++++++++++++
Gloucester AC's Kate Davies was in record-breaking form when representing the combined Oxford & Cambridge team against Harvard & Yale in the annual universities match. This year, the fixture took place over in New Haven, Connecticut, and Davies rose to the occasion as she won the ladies javelin event with a brilliant throw of 43.82 metres, adding over two and a half metres to her year-old Club record.
Clubmate Jacob Lange placed second in the hammer event with a best throw of 58.91 metres.
Steve Millward was a convincing winner of the Angels 10K road race at Ashleworth on Sunday. This year's race, run over a challenging course that included several tough climbs, is one of the County Road Race series events and attracted a field of 150 runners.
Millward was one of several runners in the leading pack, before pulling away at the half-way stage to come home a clear winner in 34:20, nearly 90 seconds ahead of the second placed Chris Krzywiec. James Head was the next Gloucester runner to finish. Just one week after his personal best run in the London Marathon, he placed 5th in 37:40.
Jeremy Mower extended his age group winning streak, placing 8th overall and first M50 in  37:57, while Steve Haines held off Dave Gresswell as they placed 14th and 15th in 40:09 and 40:18 respectively. Paul Corderoy placed 30th in 42:58, while Anna Midgley produced perhaps the run of the day by a club member as she set a big new personal best time of 43:47 in 34th place.
Further back, Paul Loveridge and Stephen Shields were having their own private battle with Loveridge prevailing to come home in 46th place in 46:26 as his club mate finished just two seconds down in 47th place. Kirsty Reid is another club member enjoying a good run of form and she placed 52nd in 47:31, ahead of Chris Davis (56th in 47:51) and his brother Graham (61st in personal best 48:39).
Dave Spackman placed 75th overall and first M70 in 50:49, Helen Davies placed 118th in 57:58 and Hannah Bennett placed 126th in 59:26.
Earlier in the week, a group of Gloucester Athletic Club members travelled down to Bristol to compete in the 'Aztec West Fast Five' 5K road race series.
The race will be remembered by many of the entrants for the torrential hailstorm that bombarded the athletes during the second of three laps, but several of the group still managed to produce new personal best times.
Harry Wells was the first Club runner to finish. In his first 5k race on the road, he placed 32nd in 17:30, just one second ahead of clubmate Jeremy Mower who again won the M50 category. Simon Fortnam ducked under 18 minutes again as he clocked 17:59 in 42nd place while Lee Smith, in his first 5k race for four years clocked 18:46 in 62nd place.
Andrew McPeake placed 78th in 19:21, ahead of training partner Bethan Moor whose 19:27 in 81st place was a personal best by five seconds. Another runner making his first appearance in a 5k road race was Gary Fraser and he just missed a sub-20 minute clocking when placing 94th in 20:03.
Arthur Daley has not quite regained the form he was showing at the tail end of 2016, but his 20:32 in 101st place was still good enough to win the M65 category and keep him at the top of that age group in the series.
The next three Club runners all set new personal best times. Katie Davenport placed 108th in 20:44, Kirsty Reid placed 119th in 21:41 just ahead of Charlotte Hall who improved her best time by over 30 seconds when clocking 21:43 in 120th place.
Next to finish was Nicola Waters, 137th in 22:54, while Hannah Bennett reduced her previous best time by five seconds when placing 155th in 26:31.
+++++++++++++++++++++++++++++++++++++++++++++++++++++++
The senior track & field team open their 2017 campaign at the Midland League Div Four match at Solihull on Saturday. A full report on this match and a round-up of the Club's early season track & field season fixtures will appear in next week's report.
Five Gloucester Athletic Club members completed the 37th running of the London Marathon on Sunday.
In near-perfect conditions and leading the Club home in what is generally regarded as the world's biggest and best marathon, was James Head. Unlike last year, when his training was disrupted by a serious bout of bronchitis, he has enjoyed a relatively smooth training programme since the turn of the year. He was running strongly at the half-way point, which he passed in 1:23, and at the 20-mile marker which he reached in 2:04. However, it is the final six miles that take their toll and he slowed from 6:20 per mile pace to 6:50 as he battled through to the finish, which he reached in a new personal best 2:50:24. Afterwards, he said "I had a great day. My training had been going well and while it would have been nice to run 2:49, I'm happy with 2:50 which was an improvement of five minutes on my previous best."
Matt Flynn's training and racing through the winter months had been going well and he was on target to run under three hours. Unfortunately, a viral infection caught in the days leading up to the event hampered those chances but he paced himself sensibly through the first 19 miles and, like Head, hung on to shave two minutes off his year-old personal best with a 3:05:16 clocking. Afterwards, he said: "I'm disappointed with the time as I know that there's more to come, but given the fact that I have been on antibiotics for the past few days, I have to be pleased with just getting round. I'm so grateful to my family and my coach Kerry Newell for their support over the past six months."
Lindsey Lyes was the next City runner to cross the famous finish line. After suffering huge disappointment at having to pull out of last year's race when picking up a stress fracture just weeks before the event, she was determined to hold back on her training and make sure she was fit and well for Sunday's race. Having clocked 4:30 in her first marathon at Gloucester last year, she was aiming for a sub-4 hours time here and was, therefore, delighted with her 3:48:31 run. She said: "Thanks to the coaching and advice at the Club from Steve Millward and Ian Summers, I was confident I could smash my previous best. It was really hot out on the course, but I was so pleased with the race and the time and really proud to wear my Gloucester AC vest down the Mall!"
Clive Poole's training and race preparation had also gone well and he was hoping to run well under four hours in his first 'London'. All was going well until the 18-mile stage when, like so many fellow competitors, his form took a sharp dip and he had to dig deep into his reserves to make sure he finished within the four-hour mark, which he achieved with a 3:57:07 time. He said: "Maybe it wasn't as quick as I had hoped or planned, but I hadn't reckoned on the final stages being as tough as they were. The Club's coaches have been great in getting me to this stage and I really enjoyed the day as the support and sights were amazing."
Claire Manley, one of the coaches at the Club's 365 Academy, ran the race as one of the Kingsway Runners group and in, her very first marathon, clocked 4:56:50 to complete a grand day out for the City Club.
+++++++++++++++++++++++++++++++++++++++++++++++++++++++
At Tuesday's open meeting at a very cold Worcester, Sophie Lambert continued her excellent start to the new season, winning the senior ladies 100m in 12.63 seconds. Club mate and training partner Kelly Constable dropped down from her usual 200/400m to place third in 12.75 seconds. This was Sophie's last race before she gets married this Saturday, from when she shall be Sophie Rowe.
Gloucester Athletic Club members were busy over the Easter weekend, competing in a range of races far and wide.
James Walters crossed the pond to compete in one of the running world's great events, Monday's Boston Marathon. Walters has enjoyed an excellent winter's racing, establishing himself as one of the Club's most consistent performers on the road and cross-country and a fine run in last month's Gloucester 20-mile road race, in which he recorded a personal best 2:04:45 suggested that another good run was on the cards in Boston. and that he might even challenge his marathon personal best of 2:52:56.
He started strongly, covering the first 10km in 38:32 and the half way mark in 1:22:17 to start raising hopes that his personal best of 2:52:56 set in last year's Manchester event might come under threat. The closing stages saw the Gloucester runner hit the dreaded 'wall', the point when fatigue and a loss of energy overtakes the body, and his mile split times slowed dramatically to put paid to any chance of a personal best. However, he recovered over the final mile to cross the line in a very respectable 3:06:13.
Matt Powell completed the annual Algarve Challenge, three races on consecutive days over the Easter weekend on the Portuguese coast. Race one was a 5km cross-country race, held on Good Friday in very warm conditions. The following day saw the runners transfer to the beach for a 6km energy-sapping race on the sand, before Sunday's finale, a half marathon when the conditions reached the mid-20s. Powell completed the final race in 1:37 which, given the heat and the fact that it was his third tough race in three days, was more than satisfactory and earned him 5th place overall in the M40 category.
Much more closer to home, a quartet of Gloucester club members made the short trip up the Tewkesbury to compete in the Bushley One Mile Road Race on Easter Monday where sunny, but chilly conditions greeted the 50 runners.
Max Sheppard led the group home, clocking 5:33. Kirsty Reid and Suzanne Harding were locked in a private tussle to become the first lady finisher. Suzanne attacked from the start whilst Kirsty bided her time, running a more conservative first half, before striking as they hit the steep incline over the final 200 yards to come home first lady in 6:09. Suzanne finished second lady in 6:19 while Hannah Bennett clocked 8:10.
Finally, Aaron Bennett and Colin Westbury competed in the most unusually-named race of the weekend, the Gilwern Grunt 7.5 mile fell race over the industrial south Wales terrain in Blaenavon. The warm weather and firm underfoot conditions made this a particularly challenging race which saw Aaron place 69th in 1:13:08 and Colin place 155th of the 206 finishers.
+++++++++++++++++++++++++++++++++++++++++++++++++++++++
Gloucester Athletic Club members face a busy weekend, with several heading to the capital to compete in the Virgin London Marathon.
Sunday also sees the first track & field league fixture of the 2017 season when the Club's youngsters will travelling down to Newport, Gwent, to compete in the National Youth Development League, lower age group match.
Gloucester Athletic Club's senior men battled gamely in the National 12-stage Road Relays at Sutton Park in Sutton Coldfield on Saturday as they came up against the very best road runners in the country.
Injuries and non-availabilities meant this was a very different team from that which had performed well in the Midlands qualifier a couple of weeks ago, but they still gave a good account of themselves as they came home in 62nd place.
The race was run in glorious weather which was probably warmer than the runners would have wanted and saw Jeremy Mower run the highly-competitive first long leg of 5.38 miles and came home in 60th place in 31:56 to give the City squad a solid start.
Late replacement Lee Smith ran the second leg, a shorter route of 3.16 miles. Still on the comeback trail, having missed much of the winter through injury, he held his own as he came home in 62nd place with a 19:36 clocking. Jack Evans had a storming run on the third leg, making up three places as he came in in 59th position with a 30:55 clocking, some one and a half minutes quicker than his time at the qualifier. Dave Gresswell took up the running on leg four, having only just returned from a warm-weather training trip in Portugal. He clocked 19:26 to come home in 61st place to hand over to Harry Luckhurst who held the position with a 34:49 clocking on the long fifth leg.
Arthur Daley took over on leg six and produced another reliable performance as he maintained the team's position with a 21:59 clocking. Simon Meadows ran a very respectable 32:47 on the seventh leg to keep the 61st place, which Simon Barnes and Steve Haines both held on to as they completed the eighth and ninth legs in 22:46 and 34:54 respectively. Clive Poole ran 22:31 on leg 10 to come home in 62nd place while team captain James Walters (32:01) and another late replacement, Aaron Bennett, (23:27) completed the line-up to bring the team home.
The Club's ladies were unable to field a complete team but Kirsty Reid came home in 55th place with a 42:58 leg. Hannah Bennett ran 28:40 for the second leg as she came home in 51st place and Helen Davies improved to 48th place as she clocked 29:31 on the third leg.
Afterwards, team captain James Walters said: "We had a mish-mash of a team today with injuries and non-availabilities, but it was great to complete a team in the men's national event for the first time in several years. We've now competed in two national championships in the past three months and whilst we aren't kidding ourselves that we can win these events, it's a statement of the Club's intent that we want to aim for the best events on the calendar."
+++++++++++++++++++++++++++++++++++++++++++++++++++++++
Gloucester's leading lady sprinter, Sophie Lambert, is showing tremendous form in early season races. She set two new personal bests and senior ladies Club records in the Stourport Open Meeting last week and continued that rich vein of form with two more excellent runs in the Yate Sprint/Hurdles meeting on Sunday.
She clocked a wind-aided 7.78 seconds for the 60 metres before running a legal 12.56 seconds for the 100 metres, less than two-tenths down on her personal best.
Meanwhile, hammer throwers Tim Williams and Jonathan Jones were also in good early-season form at the Alan Bartram Spring Memorial Throws Meeting at Loughborough. Williams placed fourth in the 7.26kg event with a best throw of 59.47 metres, while Jones set an excellent new personal best of 63.97 metres when winning the 6kg event.
A small group of Gloucester club members braved the heat and the hills to compete in the demanding Chedworth Roman Trail 10 Mile multi-terrain event around the Cotswold village and surrounding woodland.
Despite suffering a badly bruised foot early on, Matt Powell led the group home placing 26th in 1:14:43. Nick Bishop was next home, placing 70th in 1:21:13, while Tina Wickens placed 113th in 1:27:44. Lindsey Lyes placed 120th in 1:28:27 and Stephen Shields came home in 156th in 1:31:34.
A little further afield, Tania Hamilton clocked 4:28:37 for the Brighton Marathon.
+++++++++++++++++++++++++++++++++++++++++++++++++++++++
A group of Gloucester Athletic Club members competed in last week's Pendock Chicken Run multi-terrain races.
In the 5km race, Owen Fishpool placed 2nd in 19:57, ahead of Gary Fraser who placed 6th overall and first senior man in 21:45. Laura McPeake placed 11th overall and first senior lady in 23:09, with team mates Natalie Ashley-Towell coming home in 13th place in 23:29 and Amanda McPeake 30th in 27:17.
The 10km race saw Andrew McPeake place 16th in 43:08, Colin Westbury 60th in 49:55 and Adrian Fishpool 65th in 51:06.
+++++++++++++++++++++++++++++++++++++++++++++++++++++++
Gloucester Athletic Track Management, the charity that runs the Blackbridge track, will be holding their Annual General Meeting at the Royal British Legion Club in Hardwicke on Weds 3rd May, starting at 7pm. All members of the public are welcome to attend.
Gloucester Athletic Club's Sophie Lambert was in sparkling form at the Stourport-on-Severn Open Meeting on Sunday, storming to two new personal bests and Club senior ladies records, to suggest she will enjoy a successful summer season. In warm and sunny conditions, she opened up with a clear win in the 150 metres in 19.1 seconds and then blew the field away in the 80 metres, coming home with another win in 10.2 seconds. She said "I raced at Blackbridge in the winter warmer meeting a few weeks ago and felt good then, so I was hoping for some fast times today. I'm really happy to set a couple of personal bests and Club records!"
Club mate and training partner Ian Willoughby also showed a good turn of speed, clocking 21.1 seconds for the 150 metres and a new Club M60 record of 11.6 seconds in the 80 metres. He finished with a 47.7 seconds clocking in the 300 metres.
+++++++++++++++++++++++++++++++++++++++++++++++++++++++
Three Gloucester Athletic Club members headed north on Sunday to compete in the Manchester Marathon. M50 Nigel Nash ran a very even-paced which resulted in his passing nearly 400 runners over the second half of the race as he reduced his previous best time for the distance by eight minutes, clocking 3:18:55, which will gain him qualification for next year's London Marathon under the 'good for age' rule. Denise Evans also qualified for next year's London race under the same ruling as she clocked 3:51:54 while Sharon Nash ran a strong final six miles to come home in 4:10:18. 
Four Gloucester Club members headed down to Bristol last week for the latest Aztec West Fast 5K road race, with three of the group winning their age categories. Jeremy Mower continued his excellent run of form to lead the quartet home, but he was pushed all the way by Simon Fortnam who is returning to fitness. Mower went off hard from the gun and built up a sizeable lead over his club mate, before Fortnam started to close the gap over the closing stages with his trademark strong finish. Mower held on to place 46th overall and first M50 in 17:35 while Fortnam placed 49th and first M45 in 17:43, his fastest for four years. Arthur Daley was down on his best time over this course but was still two minutes clear of his nearest challenger in the M65 category as he placed 119th overall and first M65 in 20:36. Nicola Waters placed 154th overall and 4th W55 in 22:53. 
At the first Dave McNamee Memorial 10k race at Temple Guiting, Jack Evans placed 6th in 36:50. Christina Horak placed 24th in 43:46 and Stephen Shields placed 35th in 46:07. 
Lindsey Lyes continued her preparations for the London Marathon with an encouraging run at the recent Berkeley 20-mile road race. Perfect racing conditions greeted the 350-strong field and the Gloucester runner was delighted with her 110th placing in 2:46:37. Afterwards, she said "I had to pull out of the 2016 London event due to injury, but I've trained hard throughout the winter to build up my strength and I felt good during the race."
+++++++++++++++++++++++++++++++++++++++++++++++++++++++
Gloucester athletes produced some excellent performances at the final Winter Warmer meeting at Blackbridge.
Jonathan Jones opened up his season with a personal best hammer throw of 51.66 metres to break the 50m barrier and add over two metres to his previous best. Andy McKenzie spent all of the 2016 season trying to break the 30m barrier for the event. Here, he threw 31.02 metres in the first round for a new personal best and club M55 record. He followed that up with another personal best and club record in the discus with a best throw of 21.88 metres. Ellen Thrall threw the 4kg hammer 44.86 metres and Marion Loveridge threw the 3kg implement 39.68 metres, five centimetres further than she threw when winning the bronze medal at the recent British Masters Championships. In the discus event, Chloe Jones threw 31.86 metres in her first competition of the year and youngster Sulaiman Ouiles threw 17.25 metres.
The big breakthrough, however, came in the U15 Boys triple jump where Oliver Keitley recorded 11.20 metres in his first ever competition to rank 7th in the UK for the year. Having only taken up athletics in the autumn, the Club shall be watching his progress and prodigious talent with great interest.
There were two more Club records at the meeting as Malika Ouiles and Piper Holmes cleared 1.50 metres and 1.40 metres respectively to set new marks in the U15 Girls and U17 Women's pole vault.
+++++++++++++++++++++++++++++++++++++++++++++++++++++++
Gloucester's top young cross-country runners brought their season to a close at the English Schools Cross-Country Championships at Norwich.
Bethan Moor has enjoyed a tremendous season, establishing herself as the Club's top runner over the country. She was hoping to repeat her excellent run at the English club Championships event at Nottingham just a few weeks previously when she placed 50th. In this, her last English Schools race, she found the short, flat course not to her liking and came home in 87th place. Not down-hearted, she said that she enjoyed the race and was pleased to lead the county team home. Bethan's clubmate Niamh Powell placed 188th in the Inter Girls race to complete her best-ever season.
Gloucester 365 Academy member Arnie Margretts was selected to represent the county at the English Primary Schools Championships at Prestwold Hall,Loughborough.
Despite suffering a last-minute withdrawal due to an injury to one of their athletes, Gloucester Athletic Club's senior men gave a good account of themselves in last Saturday's Area 12-stage Road Relay at Sutton Park in Sutton Coldfield, and with the ladies producing a series of strong results in their competition, the Club enjoyed another good day at the region's premier road relay event.
Over 70 runners lined up for the opening leg of 5.18 miles around this famous course in warm and pleasant conditions, with Jeremy Mower given the responsibility of leading the team away. The Welshman has been in impressive form in recent weeks over a range of distances and came home a very commendable 33rd in 31:31, the fastest time by an M50 category runner all day.
Jack Evans took up the running on the second long leg and clocked 32:21 to come home in 37th place, to hand over to team captain for the day, James Walters, who made up two places with a 32:01 clocking. Newcomer Simon Meadows was making his debut in this event and ran a well-judged race to clock 33:01 to come home in 36th place.
Leg five saw the first of the shorter legs of 3.16 miles and another first timer, Harry Luckhurst, ran strongly to make up three places to come home in 33rd place with a 18:29 leg. Simon Fortnam was next up and, in his first appearance in this event for several years due to injury problems, ran a strong 18:30 for the shorter leg to maintain 33rd spot before handing over to another athlete on the comeback trail, Paul Barlow, who ran a solid 19:24 to make up two places and bring the City team to within touching distance of a coveted top 30 spot.
Glen Balmer was the next runner on and, in his first race for 12 months, showed his class as he made up a further two places when clocking an 18:41 for the eighth leg. Steve Millward has enjoyed a good winter, consistently leading the Club home in cross-country events when his work commitments have allowed. Here, he produced the team's fastest short leg of the day when clocking 16:37 to haul the team up to 27th place. Steve Haines and Dave Gresswell both maintained that placing with respective 19:18 and 19:56 timings on the 10th and 11th legs to hand over to late replacement Clive Poole who interrupted his London Marathon preparations to step forward and run the final leg for the team. His 22:49 clocking brought the top home in 30th place and, with it, a place in next month's national final at the same venue.
For the reserves, Paul Corderoy ran 41:29 on leg one, Russell Kirby ran 39:45 on leg two, Arthur Daley clocked 37:56 for the fastest M65 time all day on leg three and Simon Barnes clocked 40:08 on the fourth leg.
Afterwards, team captain James Walters was pleased with his team's performance, saying "Everyone had good races on the course today because it was warm and sunny, there was a stiff breeze around the course that slowed the times. It was good to see several runners come back to run in the relays for the first time in a few years and it was good to give some of our new runners their first chance at the event. As always, it was so important that we had some back-up runners and I'm grateful to them."
In the ladies 6-stage event, the Gloucester team put in another performance that was typical of their fighting spirit this winter. Team captain Anna Midgley set the ball rolling on leg one, coming home in 25th place in 37:28. Youngster Bethan Moor produced the best time of the day when she made up no fewer than six places with a splendid 20:23 clocking on the short second leg, while Kim Millward also had a fine run to make up a further four places with a 36:30 timing on the third leg. Harriet Langley made her team debut in the event and clocked 23:14 on leg four to come home in 17th place. Grace Vido maintained that position with a 22:34 clocking and Kirsty Reid clocked 23:41 on the final leg as the team came home in a very promising 21st place.
For the reserves, Nicola Waters ran 41:32 on leg one and Helen Davies ran 28:41 on the second leg.
Gloucester Athletic Club's runners performed over almost the whole range of disciplines this weekend with performances almost from the youngest to oldest.
Two cross country events were held on Saturday with several of the younger aged athletes representing Gloucestershire in the Schools' National Cross Country Championships. Bethan Moor ran her last schools race coming 87th over a flat and short course whilst she prefers hillier and longer one.
Further north in Liverpool Arthur Daley competed in the British masters Cross Country Championship running a steady race over a similar but muddier course enabling him to pull though the field but missing his targetted 3rd place by 25 sec to come 6th in the M65 age group.
In the Forest Of Dean Trail half Marathon Matt Boon made a welcome return to racing under Gloucester colours to finish 36th in 1:26:02. Martin Hobson finished in  267th with 1:38:54. Harriet Langely in her first race for the club completed the hilly race in 1:47:40 in 499th closely followed by Amy Walker, another returning runner in her first half marathon after giving birth in 535th position with 1:48:35. Max Shepherd completed the team of finishers in 1:51:57 for 643rd place.
Gloucestershire premier 20 mile race was organised by Gloucester AC with  the strongest club performance for several years. The 31st running of this event, used by many to prepare for a spring marathon, saw James Walters finish  6th in 02:04:45 giving him confidence that his preparation for his next marathon is on track. Jeremy Mower in 02:08:52 for 11th place won the M50 prize, closely followed by James Head who set out to run 6;39 pace and achieved that with 02:09:27 (14th.) Matt Flynn raced at faster than his target marathon pace for 18th in 02:12:12 and completed the winning Gloucester AC team. 
Simon Meadows in his longest race to date took 2:36:01 (120th) to finish ahead of Clive Poole and Stephen shields for battled for most of the race with Poole finishing in 2:43:56 (163rd) and Shields in his longest ever race 29 secs and 2 places behind. Paul Corderoy ran in 170th with 2:45:26 with Colin Westbury also preparing for a marathon running on the unfamiliar - to him - tarmac in 2:59:11 for 258th.
Not far behind was Chris Davis (3:02:31 for 277th)  with a 5 minute PB which was unusual on a day with slow times caused by the wind. Sharon Harris - both preparing for marathons - raced in 3:11:18 (318th) and Sharon Nash 3:17:58 (340). Pam Storey the oldest Gloucester finisher completed the 3 lap course in 4:1:28 for 431st place.
Gloucester Athletic Club members were busy over the weekend, competing in a range of events around the region.
Simon Fortnam led the Club's contingent home in Sunday's Minchinhampton 10K event when placing 3rd in 39:22. Nick Bishop was the next City runner home when placing 34th of the 587 runners in 45:11, the fastest time he has recorded on the course, while Anna Midgley was the Club's first lady home, placing 47th in 46:03.
In her first 10k since joining the Club, Tina Wickens placed 55th in 46:29, ahead of Clive Poole (58th in 46:41), Amy Walker (59th in 46:52) and Paul Loveridge (78th in 48:24).
In the supporting 'mini-Minch' race, Chloe Houston, a member of the Gloucester club's 365 Academy, was 5th girl finisher and second in the U10 category.
+++++++++++++++++++++++++++++++++++++++++++++++++++++++
Further down the road, James Head set a new personal best time of 1:18:51 when placing 120th in the Bath Half Marathon while Sue Higgins placed 1,600th in 1:41:27.
+++++++++++++++++++++++++++++++++++++++++++++++++++++++
Like a fine wine, Gloucester Athletic Club's Welsh international ultra-distance runner, Jeremy Mower, seems to be improving with age. At the Barry 40-mile track race on Sunday the 51 year-old set a new personal best time of 4 hours, 53 minutes and 19 seconds, a new Welsh national age group record by over six minutes.
Mower was locked in a battle with rival Ken Caulkett all day, with both runners exchanging positions throughout. Finding the early pace too fierce, the Gloucester athlete let his younger rival move ahead and relied on his strength to pull him through over the second half of the race as he moved ahead of Caulkett to come home in third place overall, first in the M50 age group and second in the Welsh Championship.
This was the ninth occasion that Mower has competed in the event and in that time has won a record two gold, four silver and three bronze medals over a range of age groups. Afterwards, he said: "I'm really pleased with the run and the personal best was totally unexpected as I had run a personal best over 50kms just a few weeks ago."
+++++++++++++++++++++++++++++++++++++++++++++++++++++++
A small number of Gloucester Athletic Club members were representing the County at the CAU Inter-Counties Cross-Championships at Loughborough on Saturday.
Following her fine run in the National Championships at Nottingham where she placed 50th, Bethan Moor was aiming for another top finish against girls two years her senior in the U20 Ladies race. She was delighted with her 47th placing and will go to her final race of the season, this weekend's English Schools Cross-Country Championships in Norwich in very good spirits.
Niamh Powell is another who will be heading over to East Anglia this Saturday in excellent form. In the U17 Ladies race, she put in another good afternoon's work to place 77th overall, while team mate Natalie Ashley-Towell placed 250th.
James Walters has been the Club's most consistent racer this winter and he brought the curtain down on his cross-country season with a hugely satisfying 251st in the senior men's race, a great way to finish only his second season of cross-country racing. Club mate Steve Haines has been unable to train since the National due to sickness, but he honoured the County's call to place 282nd.
As mentioned, some of the Club's most talented youngsters have been selected to represent the County in the English Schools Cross-country Championships in Norwich this Saturday.
Accompanying Bethan Moor and Niamh Powell will be Bethan Powell (Junior Girls), Cressie May and Natalie Ashley-Towell (Inter Girls) and Harry Wells (Senior Boys).
+++++++++++++++++++++++++++++++++++++++++++++++++++++++
Gloucester Athletic Club's Jo and Ian Willoughby were in title-winning form at the British Masters Indoors Championships at Lea Valley, north London. Jo retained her W50 Triple Jump crown with a best jump of 9.44 metres before withdrawing from the competition after only the second round after damaging her ankle when landing awkwardly. Husband Ian won the M60 60m Hurdles by just 1/100th of a second in 10.02 seconds.
In the outdoors throws competitions, Marion Loveridge won the bronze medal in the W50 Hammer Throw with a best throw of 38.63 metres. Afterwards, she said: "I'm really pleased with that as training has not been going well recently and I was in to minds whether to compete here or not. I'm glad I did!"
+++++++++++++++++++++++++++++++++++++++++++++++++++++++
There were some encouraging performances from Gloucester sprinters in the latest Winter Warmer series at the Blackbridge track on Saturday, as they all showed they have wintered well.
The friendly atmosphere and warm and sunny conditions made for some excellent racing as the athletes began their transition to summer racing fitness from their heavy winter programmes.
Ellie Wheeler-Smith set two new personal bests for the 100 metres (12.6 seconds) and 200 metres (27.2 seconds), while Kelly Constable and Sophie Lambert ran their fastest season-opening times for several years as they both recorded 12.6 seconds for the 100 metres and 26.3 and 27.0 seconds respectively for the 200 metres.
Ollie Keitley showed potential over the sprints in his first recorded outdoor races, while Tricia Stanfield, Ellie Luff, Piper Holmes and LJ Phillips all showed the benefit of having a full winter's training behind them.
Away from the sprints, Briony Bishop was a clear winner of the 1500 metres as she opened her track season with a 5:25.2 clocking while another member of Kerry Newell's training group, U15 Boy Toby Scott, won his first-ever 5,000 metres track race in 18:17.2 ahead of more senior club mates Dave Gresswell (19:21.0) and Steve Shields (20:47.4).
Endurance runner Charlotte Hall dropped down several distances to race in the 400 metres and came away with a 74.0 seconds personal best.
Emily Heron, Phoebe Jones, Ella Mansfield, Benjamin Darlow, Scott Stanfield and Max Holmes are all members of the Club's junior 365 Academy and gained valuable racing experience in the low-key meeting.
The meeting organisers used the event to stage races for the Club's growing wheelchair and disability group. Vicky Broom won the 100 metres in 35.0 seconds, a time that ranks her number one in the country in the T34 category for 2017, with Josh Freeman placing second and Daniel Morgan third. Broom then went on to win the 200m in 75.8 seconds.
Afterwards, meeting co-ordinator Bob Purcell said: "The number of athletes here today and their performances shows how useful these meetings are and fully justifies our decision to stage them. The transition from winter to spring and summer is a vital part of all athletes' training programmes and these meetings are going to be a regular part of our fixture list."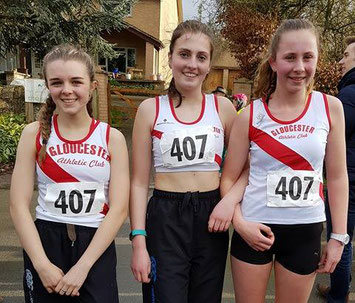 Gloucester Athletic Club were among the medals at last Saturday's Gloucestershire County Road Relays which were held on a new course around Haresfield.
The Club's M50 'A' team of Dave Gresswell, John Withers and Jeremy Mower was never headed as Gresswell established a clear lead on the opening 5km leg, running 19:14. Withers consolidated the lead with a 19:25 clocking before handing over to Mower who ran the fastest time of the day, an excellent 17:57, to claim the title for the team.
The M50 'B' team rang strongly for second place as Steve Shield (20:56). Paul Corderoy (21:12) and Mark Thrall (20:12) ensured a clear one-two for the City club.
Russell Kirby ran as a guest for the CLC Striders team and clocked 22:57 for his leg. 
In the senior ladies race, Tina Wickens, making her first road relay appearance for the Club, ran a tactically sound opening leg and finished strongly to clock 21:00. Anna Midgley ran a strong opening mile before slowing on the closing stages but still clocked 21:00 for her leg, while Kirsty Reid ran 22:12 on the final leg to bring the team home in 3rd place.
The U17 Ladies (photo) were clear winners of their category, confirming their status as the leading squad in the area. Briony Bishop followed up her excellent run in the previous week's National cross-country championships, with a 22:19 opening leg. Natalie Ashley-Towell clocked 22:49 on the second leg before handing over to Cressida May, who was untroubled as she ran the final leg in 23:26 to bring the team home to an emphatic win.
+++++++++++++++++++++++++++++++++++++++++++++++++++++++
A small group of Gloucester club members travelled down to Bristol for the latest round of the Aztec Fast 5K series.
Jeremy Mower extended his unbeaten run in the M50 category, producing another consistent run of 17:46 to finish 42nd overall and first M50, while further back Charlotte Hall and Nicola Waters had a ding-dong battle as they overtook each other several times. Charlotte finished the stronger to place 150th in 23:07, with Nicola placing 152nd in 23:15.
+++++++++++++++++++++++++++++++++++++++++++++++++++++++
Gloucester Athletic Club's Lindsey Lyes was the first lady home in last week's 9km Devil Mud Run in Cheltenham, clocking 69:00 minutes.
+++++++++++++++++++++++++++++++++++++++++++++++++++++++
This Saturday sees the third of Gloucester Athletic Club's 'Winter Warmer' open meetings at the Blackbridge track. First event starts at 11:00 am. Entries need to registered with Bob Purcell no later than 7pm Friday, to e-mail rpurc16751@aol.com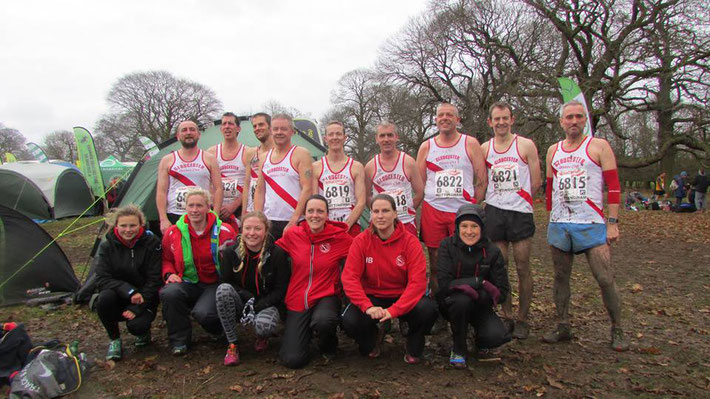 Gloucester Athletic Club sent their largest squad for several years to the Saucony English National Cross-Country Championships at Wollaton Park in Nottingham on Saturday (25th).
The 'National' is the pinnacle of every cross-country runners' season and, in many cases, their career and most of the country's leading runners ensure they are geared up and prepared for the oldest cross-country event in the world.
This year, some 8,116 runners from the length and breadth of the country descended on Wollaton Park for the final running of the event at this iconic venue.
Conditions for the first race, the U17 Women's event, were generally firm underfoot but areas of boggy ground ensured this was a going to be a real test of strength and stamina over the 5km course. Two Gloucester club members were in the field of over 250 starters and soon established themselves in the middle of the huge park. Briony Bishop produced her best-ever run in the Championships as she improved her position of last year by 150 places to finish in a career-best 154th. Clubmate Laura McPeake has raced sparingly this winter but still managed to finish in 193rd place.
Next up for the Club was Toby Scott in the U15 boys race, run over 4.5 kms. Still in his first year in the age group, he acquitted himself well and placed very credible 199th of the 375 finishers.
Bethan Moor has established herself as one of the area's top junior cross-country runners this winter and she carried her form into the U20 Ladies race where she ran strongly to place 50th.
By the time the U17 Men's race was underway, conditions had become much heavier underfoot but this did not deter Harry Wells as he produced his best run of the winter to place 55th, an excellent run given he has missed several races due to injury.
The U15 Girls race saw Julia Johnson in her first National and she followed the example of her club mates in the previous races to secure an encouraging 336th placing.
The senior ladies race over 8kms featured two tough climbs and given the now difficult conditions which were made worse by the driving rain, Anna Midgley's 331st placing was commendable. Lindsey Lyes put a recent injury behind her as she produced a strong run to place 438th, while Hannah Bennett put in another gutsy performance to come home in 741st place.
The senior men's race provided a fitting finale to a rousing day of top quality competition and the Gloucester men produced their best team performance in this event for many years.
This winter has seen Steve Millward produce his best form over cross-country for several years and he was hoping for a top 250 finish. Though he ran strongly throughout the testing 12 km course that featured several challenging climbs, he finished just down on that target, placing 266th. James Walters has been one of the Club's most consistent and improved performers this winter and he produced possibly the best run of his career as he placed 514th, an improvement of 200 places on his position last year.
Steve Haines is another who has been a mainstay of the Club's teams in recent seasons and he ran well to place 761st in his first National. Clubmate Mark Keeling last ran in the Championship some 17 years ago and was keen to support the Club's effort to compete in the event again as he finished in 912th position, as was Paul Barlow who came out of semi-retirement at the tail end of last year when he heard the Club had entered the event, and placed 1034th.
Ian Summers found the course to his liking as he placed 1163rd to complete the scoring six, bringing the team home in 72nd of the 135 finishing teams.
Dave Gresswell placed 1300th, Simon Barnes placed 1455th and the squad was completed by Clive Poole in 1551st place.
Afterwards, team captain Aaron Bennett said "This is what Gloucester AC is all about. The National cross-country championships represent the very best this sport has to offer and we want to be a part of it. By competing here today, we made a statement of what we stand for as a Club and everyone who made the trip to compete said that they had the time of their lives. We can't wait for next year."
+++++++++++++++++++++++++++++++++++++++++++++++++++++++
There was a large number of Gloucester Athletic Club members among the 520 finishers of Sunday's High Bridge Jewellers Bourton 10K road race.
The flat, fast course is popular among many county runners with many targeting the race as an early season test.
Jeremy Mower's race preparations had not been helped by a cold, but he managed to finish ahead of his colleagues as he placed 20th overall and first M50 in 36:50, the same time but one place ahead of club-mate Matt Flynn who knocked over a minute off his previous best time in 21st place, while Simon Fortnam placed 26th in 37:14. 
Max Sheppard was the next city runner home, clocking a new personal best time of 39:04.0, while Hayley Winters made a return to racing after a break to place 94th overall and 3rd lady in 40:39.
The Club's second age group prize was won by Arthur Daley who showed that he is getting over a heel injury as he placed 100th overall and first M65 in 40:48.
Other Gloucester AC finishers were:
Gary Fraser (143rd in 42:42), Nigel Nash (152nd in 43:18), Amy Tucker (185th in 44:38), Tina Wickens (204th in 45:08), Harriet Langley (222nd in 46:00 - pb), Sue Higgins (230th in 49:20), Michelle stark (232nd in 46:22), Charlotte Hall (247th in 47:07 – pb), Dave Spackman (252nd in 47:21), Simon Barnes (302nd in 49:19), Sharon Nash (358th in 51:58) and Vicky Earls (478th in 63:06).
+++++++++++++++++++++++++++++++++++++++++++++++++++++++
Young sprinter Beth Gardiner competed in the U17 women's 60 metres in the English Indoors Championships in Sheffield on Saturday and placed 7th in her heat in 8.42 seconds.
In the Inter-Area Masters indoors match at the Lea Valley Stadium in north London, Ian Willoughby placed 3rd in the M60 400 metres in 63.70 seconds before anchoring the Midlands team to victory in the 4 x 200 metres.
+++++++++++++++++++++++++++++++++++++++++++++++++++++++
At the recent Weston-Super-Mare 5-mile road race, Simon Fortnam placed 25th overall in 29:47, his fastest time for three years. 
The curtain came down on the 2016-17 Gloucestershire Cross Country League season on Saturday with the final fixture at Pittville Park in Cheltenham.
Gloucester Athletic Club have had an indifferent season with competing numbers down on the previous campaign, though it should be said that the 2016-17 season was their most prolific for many years.
However, there were still many positives to take from this season, with both men's and ladies squads giving several runners their first taste of competition at this level, though it was three of their established runners who led the men home in Saturday's race.
James Head has had another consistent season and his 37th placing on Saturday was a season's best, earning him 10th place overall in the M40 category overall for the season. Steve Haines continued his return to top form by also achieving his highest placing of the season in 52nd. Behind them, Dave Gresswell placed in the top 100 for the first time this season and his 70th place finish was his highest in four seasons.
Two of this season's newcomers were next to finish as Matthew Dewey and Gary Fraser came home in 81st and 117th respectively while, appropriately it was left to one of the elder statesmen of the Club, Arthur Daley, to complete the scoring six, in 123rd place.
Clive Poole was next home, placing 144th, ahead of Stephen Shields in 145th place, as the team placed 9th on the day.
The senior ladies race saw the season's top newcomer, Katie Davenport, achieve her highest-ever placing in this League as she crossed the line in 24th place. Just six days after running the Barcelona Half Marathon, Grace Vido finished in 29th, while team captain Anna Midgley placed 31st to complete the ladies 'A' team and secure 6th place.
Charlotte Hall continued her fun of improved form, placing 39th, as two more newcomers Tina Wickens (43rd) and Lilian Saktombo (56th) completed the 'B' team as they came home in 13th place. 
The 'C' team was led home by Nicola Waters (66th), and with Emma Jeffery in 111th and Hannah Bennett in 122nd, the team placed 31st.
The U17 Ladies race saw the top two runners in the League, Gloucester's Niamh Powell and Jade Littlechild of Bath, go head to head with the winner likely to emerge victorious in the overall league standings. As always, Powell gave it her all and produced another gutsy run but had to concede to the Bath athlete who came home the winner. The Gloucester girl finished in second place on the day and in the League placings.
Briony Bishop ran strongly to place third on the day and fourth for the season as the city's girls took the overall team silver medal.
An injury sustained early on hampered Scarlett Pegler's progress in the U15 Girls race, but she carried on to finish in 22nd place and 10th in the League while the overall title for the season went to her team-mate Bethan Powell who, safe in the knowledge that she had secured the League win, was away on a skiing trip.
In the U13 Girls race, Tilly Ashley ran another well-judged race to place 4th on the day and take the overall silver medal. Katherine Mills was just outside the top 10, finishing in 11th place while Lucy Jeffery placed 23rd, as both girls finished the League season in 9th and 25th respectively. In her first League race, Amber Spackman placed 36th in this, her first League race.
Seren Jones continued her dominance of the U11 Girls age group, coming home a clear victor on the day as well as the overall League title. Two more youngsters made their league debuts, as Chloe Houston and Chloe Shephard placed 21st and 46th.
The other age group to see Gloucester representation was the U15 Boys race where Toby Scott continued his return to racing fitness following injury to place 7th on the day and 13th overall, and Owen Fishpool placed 14th on the day and 10th in the League standings.
+++++++++++++++++++++++++++++++++++++++++++++++++++++++
Several of Gloucester Athletic Club's track & field athletes took a break from their winter training to compete in the Birmingham Games Open Meeting at the Barclaycard Arena on Sunday (19th).
Long jumper Joel Townley looks to be heading for a good season as the promising youngster produced his second furthest-ever jump to win the U17 men's event with 6.47m, the fifth best in the country this year.
There were plenty of Gloucester club vests to be seen in the 60 metres. Sophie Lambert produced a trademark blistering start and was never headed as she won the senior ladies event in 8.17 seconds and there was another win for Ellie Wheeler-Smith in the U15 Girls race in 8.42 seconds. In her first for six months following injury, Kelly Constable dropped down a distance to run in the senior ladies event where she placed 6th in 8.24 seconds, while younger sister Kirstie clocked 8.62 seconds when placing 4th in the fourth heat of the U17 Ladies event. In race five of the U17 Ladies race, Sophie Temple placed 3rd in 8.56 seconds, with club-mate Erin MacFarlaine placing 5th in 8.75 seconds. Newcomer Oliver Keitley adapted well to his first competition, placing 6th in the U15 Boys race in 8.15 seconds.
Much of the group's winter training has been geared to the longer sprints thus far and this was evident with some very encouraging showings in the 200 metres. Ellie Wheeler-Smith took another victory in her U15 Girls race, recording a personal best 27.96 seconds and there was another win for the squad as Erin MacFarlaine finished strongly in heat seven of the U17 Ladies race in 28.79 seconds, her best run since coming back from injury. Kelly Constable placed 3rd in the senior ladies race in 26.79 seconds, while the U17 Ladies events saw second places for Sophie Temple, 27.36 seconds in race 4 and Kirstie Constable who ran 28.60 in race 6, just ahead of Piper Holmes who placed third in 28.97seconds. Oliver Keitley placed second in the u15 Boys race in 26.16 seconds.
Finally, Piper Holmes enjoyed a much-improved high jump competition as she cleared a season's best 1.52m.
Afterwards, coach Richard Blackwell said "It was good for the group to blow the cobwebs away and race today. Winter training can be a long slog with little specific speedwork so it made a nice change to get their racing heads on and see how they're progressing. They should all be happy with their performances."
Gloucester Athletic Club's senior men achieved their best points score of the season when they took 10th place in the final Birmingham Cross-Country League race of the season at Coundon Hall Park, Coventry on Saturday (11th).
The biting cold wind, occasional snow and heavy, muddy course that included wooded sections combined to make this a very testing 9km race.
In the absence of Steve Millward and Jack Evans, both of whom have been in excellent form in recent weeks, James Walters took on the responsibility of leading the team and produced his best-ever League run to place 39th of the 250 finishers.
Nathan Smith marked his welcome to return to competitive running with a strong 49th place, while the ever-consistent James Head placed 72nd just ahead of Harry Luckhurst who completed his League season with a 78th placing.
Steve Haines produced another strong run to finish in a season's best 93rd, with Mark Keeling returning from illness to complete the scoring six in 103rd place as the team scored 434 points.
Further down the field, Dave Gresswell placed 154th, Arthur Daley 195th and Simon Barnes 217th to complete the Gloucester squad.
The League season saw the City club place 13th in the division overall.
Team Results:
1st University of Warwick AC 76 pts; 2nd Leamington AC 110; 3rd Trentham RC 172; 10th Gloucester AC 434.
Overall League placings:
1st University of Warwick 429 pts; 2nd Leamington AC 463; 3rd Trentham RC 689; 13th Gloucester AC 1976.
Hundreds of runners will head over to Pittville Park in Cheltenham this Saturday for the final Gloucestershire Cross-Country League fixture of the 2016-17 season, with a number of the Gloucester club's runners in with a chance of winning overall league medals in their respective age groups.
Bethan Moor has been in outstanding form since the turn of the year and currently lies in second place in the U20 Ladies standings. Niamh Powell and Briony Bishop are both well-placed in the U17 Ladies individual category, with the Club on course for medals in the team competition. Bethan Powell will be aiming to overcome the disappointment of missing out on selection for the National Schools Championships by taking the U15 Girls county crown, as will Tilly Ashley in the U13 Girls category. The first race starts at 12:00 noon.
+++++++++++++++++++++++++++++++++++++++++++++++++++++++
Steve Millward produced his fastest 5km time on the road for several years when he placed 7th overall in the recent Aztec West Fast Five in Bristol. Millward has focused on the track and cross-country in recent seasons, so this race was very much a case of seeing how his training has been progressing. The strong winds and heavy rain did not make for fast times but Millward stopped the clock in 15:47, his quickest in over five years.
Jeremy Mower continued his good form of late when he placed 57th overall and first M50 in 17:38, just eight seconds down on his fastest time of the winter with James Head just behind, placing 59th in 17:42. Next home was Matt Flynn, whose 18:04 in 73rd place was a six second improvement on his previous best time set last summer. Simon Fortnam has struggled with injuries over the past two years, but he is finally starting to string some reasonable performances together. His 18:13 clocking in 76th place was not his quickest time of the year but, given the conditions, he will have been satisfied as he continues on the road to full fitness and regular racing.
Arthur Daley was hampered by a heel injury, hence his slowest time for three years, but his 20:18 in 138th place strengthened his grip on the M65 title in the winter series. Charlotte Hall placed 196th overall and 3rd senior lady in 22:51 and Nicola Waters completed the Gloucester group, placing 200th in 23:05.
In considerably sunnier climes, Grace Vido broke her personal best time for the Half Marathon when clocking 98:16 in Sunday's Barcelona event.
+++++++++++++++++++++++++++++++++++++++++++++++++++++++
The need for more volunteers to help ease the pressure and workload of the willing few, was the overriding theme at the recent Gloucester Athletic Club AGM. A well-attended meeting heard the reports from Andy McKenzie (Chair) and Paul de-Camps (Secretary) praising the excellent efforts and performances during 2016, but also warning that the Club is no different from any other voluntary organisation in that it relies heavily on more people stepping up to help in a range of activities and roles across the board. Treasurer Andy Beckett reported another successful year with the Club enjoying a healthy bank balance.
The following Officers and committee members were elected to serve for the next 12 months:
Chair – Andy McKenzie; Secretary – Paul de-Camps; Treasurer – Andy Beckett; Membership Secretary – Alison George; Coaching Co-ordinator – Garry Hunter; Cross-Country & Road Running Rep – Dave Gresswell; Track & Field Rep – Steve Millward; Officials Co-ordinator and Properties Manager – Ian Willoughby; Volunteers Co-ordinator – Helen Hoy; Social Secretary – Hannah Bennett; Publicity/PR Officer – Richard Blackwell; Additional committee members – Jeanette Lange Jo Willoughby and Norman Wilson.
Also at the meeting, Lorraine Shaw was elected the President of Gloucester AC. The former Great Britain record-holder and 2002 Commonwealth Games champion for the hammer takes up the prestigious position following the death last year of Norman Tincello.
Gloucester Athletic Club's Bethan Moor produced another strong run in the torrential rain and heavy mud to place 7th in the Senior Girls race at the South West Schools Cross-country Championships down in Truro last Saturday (4th).
Since progressing as a talented youngster from Kerry Newell's junior endurance group to work with Paul de-Camps' senior group at Blackbridge, Bethan has gone from strength to strength and this latest performance was just reward for the many months of hard work she has put into her training and racing. She marked her last appearance at the South-West Schools event with her highest-ever placing and her 7th place should guarantee her selection for the county squad for the English National Schools Championships in Norwich next month.
Club mates Niamh and Bethan Powell experienced differing fortunes in their respective races at Truro. In the Inter Girls race, Niamh overcame an early fall to place 27th overall and first Gloucestershire runner home to qualify for the Nationals. Younger sister Bethan was suffering from a groin strain picked up earlier in the day, but nevertheless ran strongly against the weather conditions in the Junior Girls race to finish just out of the top six county placings so will not feature in the squad for the Nationals. Her main objective now for the remainder of the season shall be to win her age group in the County Cross-Country League.
+++++++++++++++++++++++++++++++++++++++++++++++++++++++
Welsh international ultra-distance runner, Jeremy Mower, was in record-breaking form at the Gloucester 50K road race around the Quedgeley, Elmore and Longney area of the City on Sunday (5th), as he set a new personal best and Gloucester club record.
Mower's time of 3:34:56 was a new personal best and new Club record by over four and a half minutes, beating his previous mark set in 2008 as he placed fifth overall and first in the M50 category.
Over the years, Mower has learnt that pace judgement in ultra races is paramount and so it proved in this race as he realised the pace being set by the leading pair of runners was too fast to sustain. As he expected, these two dropped out leaving Mower to push on and finish strongly for a highly credible 5th place.
In her first 50K race, Nicola Waters judged the pace well to place 25th overall and 7th lady in 4:52:10, a new Club W50 age group record, while Paul Corderoy placed 26th overall in 5:17:18.
+++++++++++++++++++++++++++++++++++++++++++++++++++++++
The Mayhill Massacre event has become a favourite event among many local runners in recent years, with dozens taking on the nine miles of mud and hills up, down and around the famous county landmark.
Owen Fishpool was the first Gloucester club runner to finish, placing 49th in 1:25:32, just ahead of club mate Nick Bishop, whose 1:25:35 clocking in 50th place was a personal best time for the event by six minutes, while Anna Midgley hauled herself out of her sick bed to place 86th overall and 5th lady in 1:31:39.
+++++++++++++++++++++++++++++++++++++++++++++++++++++++
Away from the mud and rain, two Gloucester Athletic Club members at the opposite end of their careers were in action in the indoor Grand Prix meeting at the Cardiff Met University on Sunday.
Ian Willoughby set two new M60 age group records, clocking 8.65 seconds in the 60 metres and 66.92 seconds in the 400 metres, taking second place in both races. U20 Rory Cawkwell placed 4th in his heat of the 60 metres in 7.34 seconds.
Gloucester Athletic Club members enjoyed a good outing at Sunday's Staverton 10-mile road race, organised by CLC Striders, where cool conditions with light drizzle and a weak breeze made for good running.
In recent seasons, the aim of many of the Club's runners has been to beat the 60-minutes barrier for this once classic distance and four of their number achieved that distinction on Sunday.
A quartet of Gloucester runners, Jack Evans, James Walters, James Head and Jeremy Mower, went off hard from the gun and at the half way stage were among little groups all trying to make up ground on the one ahead.
Evans acquitted himself well in his first-ever 10-mile race and although he was overtaken in the final 50 yards came home in a very credible 10th place, clocking 58:14, one place ahead of team-mate James Walters who will have pleased with his personal best 58:23 clocking as it will boost his confidence for future half marathons.
James Head was the next runner home, placing 14th overall and 2nd M40 in 59:25, a personal best time by over four minutes, while the fourth City runner to finish inside one hour was Jeremy Mower whose 59:57 was good enough for 16th place overall, the first in the M50 category and a time that ranks him 2nd on the UK age group listings for the year.
Newcomer Simon Meadows had a promising run, clocking 62:55 in 24th place in his debut 10-miler, just ahead of Steve Haines whose 63:04 in 27th place was also a new personal best. Injuries have caused Max Sheppard to race sparingly over the past two years but he produced a new best time of 65:34 in 39th place, while Dave Gresswell placed 43rd in 67:23.
Mark Thrall has been fitting pole vault training around his running schedule this winter, but he still managed to clock 70:18 in 64th place, while little separated newcomer Stephen Shields (67th) and Clive Poole (68th) in personal best times of 71:13 and 71:34.
In her first race over the distance, Katie Davenport gave further cause for optimism as she placed 72nd overall and 3rd senior lady in 72:24.
Other Gloucester finishers were: Chris Davis (82nd, 74:13 pb), Lindsey Lyes (89th, 76:10 pb), Harriet Langley (97th, 77:04 pb), Dave Spackman (112th and 1st M70, 80:32), Graham Davis (135th, 87:17 pb).
Gloucester Athletic Club's top junior female cross-country runners were in action at Cardiff on Sunday (22nd) in the British Athletics Cross Challenge and produced another series of fine performances.
Bethan Moor has established herself as the Club's leading cross-country runner this winter, finishing ahead of her team-mates in the county championships and league races. She extended her excellent run of form in the U20 women's race when she placed 20th overall and 1st in the South-West Schools challenge, leading the Gloucestershire team to victory.
The Club's leading Under-17 runner this year, Niamh Powell, produced a typically gutsy run to place 29th overall in her age group and 2nd in the Schools event. Briony Bishop, showing few signs of fatigue after having raced in the Hereford & Worcester schools trials the previous day where she placed 10th, placed 40th overall while Cressie May, on the comeback trail after a long injury lay-off, placed 44th. Natalie Ashley-Towell placed 54th.
In the U15 Girls race, Bethan Powell ran strongly to place 41st, while in the U13 Girls event two youngsters who are just starting their competitive careers will have learnt plenty. Emma Tillott placed 23rd and Sophie Izon 28th in their first outing at this level. 
+++++++++++++++++++++++++++++++++++++++++++++++++++++++
Gloucester Athletic Club will be staging four open athletics meetings at the Blackbridge track during February and March.
There will be selective track events for the meetings on 11th February and 11th March, and the meetings on 25th Feb and 25th March will feature field events.
Full details are available from the promotions co-ordinator, Bob Purcell, via e-mail rpurc16751@aol.com.
Gloucester Athletic Club's Steve Millward produced his best run in recent seasons when he took third place in Saturday's Birmingham Cross-Country League race at the Lilleshall National Sports Centre in Staffordshire. Millward's run helped the team amass their best points total of the season, assuring them a mid-table finish with one race remaining.
Conditions underfoot were difficult as recent rain and snowfalls combined with heavy mud and, with a testing climb, this was a cross-country course for the purists.
Millward was among the leading pack throughout and it was only over the latter stages that Paul Ward of the host club, Telford AC, pulled away to claim victory. Millward stuck to his guns and came home in third place, just 30 seconds behind the winner.
Jack Evans was a welcome late addition to the squad. Just before heading back to resume his studies at Cambridge University, he ran a strong race to finish in 42nd place.
James Walters has been one of the team's most improved athletes this winter, consistently achieving higher placings than last season, and he continued that run with a fine 62nd place. Steve Haines was the next City runner home, just missing out on a top 100 place with a 106th finish.
Harry Luckhurst is in the running for the top newcomer accolade this winter, regularly securing a place in the scoring 'A' team in his first season for the Club. He repeated the feat again on Saturday as he placed 117th, while the scoring six was completed by Dave Gresswell who finished in 145th position, securing 11th place overall for the team.
Arthur Daley produced a strong run to place 172nd, ahead of Aaron Bennett (183rd), Clive Poole (197th) and Simon Barnes (204th).
Afterwards, Steve Millward said: "I'm really pleased with that run. For the first time in a couple of years I have been able to string together several months of training with no injury or illness problems and I felt really good throughout the race."
Team captain Aaron Bennett said: "The performances of Steve and Jack really made the difference today as it pushed us up the table. We'll be looking for more of the same in the final round and hope we can get a couple more runners finishing in the top 50. It's a big challenge, but they're capable."
Match results:
1st Warwick Uni 115pts; 2nd Telford AC 122; 3rd Trentham RC 129; 11th Gloucester 475.
League placings after three rounds:
1st= Warwick Uni 353pts; 1st= Leamington AC 353; 3rd Trentham RC 517; 13th Gloucester 1542.
+++++++++++++++++++++++++++++++++++++++++++++++++++++++
Jeremy Mower led the Gloucester Athletic Club contingent home in Sunday's Linda Franks 5-mile Road Race around the lanes of The Reddings and Up Hatherley, placing 6th overall and 1st M50 in 28:38, a personal best over the distance, beating many younger athletes.
James Head was the second Club runner home, two places behind Mower in 29:07, just three seconds down on his two-year old best set on the same course.
Newcomer Simon Meadows, in his first race for the Club gave an indication of his potential when placing 19th in 30:13, ahead of Matt Powell who placed 26th in 31:14. Chris Davis was just outside his personal best time when placing 49th in 33:27 and Dave Spackman placed 102nd overall and first M70 in 37:36.
Afterwards, Mower said: "Training has been going well recently so I felt a fast run was on the cards. I'm delighted with the time as it takes me top of the UK 5-mile M50 rankings for the season."
+++++++++++++++++++++++++++++++++++++++++++++++++++++++
The winter indoors season opened at the weekend with several Gloucester Athletic Club youngsters producing some encouraging performances.
In the Midland Counties Open Meeting at the Alexander Stadium, U17 sprinter Beth Gardiner showed that her winter training is going well as she first equalled and then improved her 60 metres personal bests, setting a new best mark of 8.17 seconds.
At the same meeting, Piper Holmes set new indoor bests of 1.45 metres for the high jump and 4.13 metres in the long jump.
At the Cardiff indoor meeting, that incorporated the South-West age group championships, Rory Cawkwell struck gold when winning the U17 60 metres in a personal best 7.31 seconds.
Joel Townley set three new personal bests over 60 metres (7.76 seconds), triple jump (12.53 metres) before obliterating his absolute best in the long jump with a best jump of 6.49 metres, over 20 cms further than he had ever jumped indoors or out.
There were also several Masters races featuring Gloucester athletes. In a rare outing on the track, Jo Willoughby took a break from her normal long and triple jumping to compete in the 200 metres, placing 2nd in 29.70 seconds. Husband Ian was a clear winter of his heat of the M60 200 metres in 28.98 seconds. Suzanne Harding bravely led for 760 metres of the W40 800 metres before being closed down over the final stages, placing 2nd in 2:47.00.
Gloucester Athletic Club's junior ladies were the star turn at last Saturday's Gloucestershire Cross-country Championships, winning four of the six titles up for grabs plus one individual and two team silver medals as the Club enjoyed one of their most successful championships for years.
This year's Championships were held for the first time on a hilly and challenging course around the Old Down Country Park, Tockington in the south of the county which, thanks to the very heavy overnight rain, tested all of the runners' strength and balance.
Seren Jones started the ball rolling in the first race of the day, the U11G event. A member of the Gloucester club's 365 Academy, she has been a dominant force in local league races this winter and ran the only way she knows – from the front – coming home a clear winner to win her first county title. Team-mate Milly Newell came home in fifth place.
Sisters Niamh and Bethan Powell controlled the combined U17W and U15G race with another display of courageous front-running. Coping with the slippery conditions better than their rivals Bethan won the U15G race by just five seconds while Niamh took the U17W title by over 75 seconds. Natalie Ashley-Towell and Briony Bishop placed 7th and 8th in the U17s race to earn the silver medal for the Gloucester club in the team competition.
Bethan Moor produced another excellent performance as she placed 5th overall and 1st U20 in the senior race, leaving many good-quality seasoned racers in her wake to earn the Club its fourth title of the afternoon.
Although the individuals stole the limelight, there were some excellent supporting runs across the board.
The senior ladies continue to find their way at this level, with several of their number still being inexperienced in cross-country racing. Katie Davenport is in her first season with the Club and is improving with every race. In this, her first Championship race, she ran well to take 14th place while Kirsty Reid placed 23rd to earn fourth place overall for the team. Hannah Bennett worked hard to place 40th overall.
There were more medals in the U13 Girls race as Tilly Ashley finished runner-up, just ahead of team-mate Sophie Izon in third place. Katherine Mills placed 8th to earn the squad the silver medal in the team standings.
The senior men's race was dominated by a very strong Cheltenham & County Harriers contingent who filled eight of the top 10 finishers and took the first three team placings.
However, The Gloucester club were still able to win another age group category as Jeremy Mower produced his best run of the winter to lead the City squad home in 17th place overall and first in the M50 category.
James Walters was the next home, placing 20th, while Steve Haines also had his best run of the winter to come home in 21st place. James Head placed 29th, Matt Powell 35th and Aaron Bennett 42nd to earn the team fourth place. Mower, Haines and Head combined to take second place in the masters team category.
Clive Poole and Simon Barnes provided the reserve back-up, placing 53rd and 60th respectively.
In an otherwise disappointing turn-out by the Gloucester men, youngster Edward Glanville enjoyed another good run when placing 8th in the U11 Boys race to further underline his potential in this discipline.
+++++++++++++++++++++++++++++++++++++++++++++++++++++++
A trio of Gloucester youngster travelled down to Cardiff on Sunday to compete in the Welsh Athletics Indoor Open Meeting that incorporated the South-West England Junior Age Groups Championships and all came away with new indoor personal best performances.
Sulaiman Ouiles had a successful afternoon, setting two a new club indoor record in the U13 Boys 60 metres, shaving 3/100ths of a second off the previous mark with a 9.64 seconds clocking in his heat, before setting another record in the U13 Boys 60m Hurdles of 11.38 seconds for third place in the final of the SW championship.
Sulaiman's sister, Malika, also set two new personal bests, clocking 9.35 seconds when placing third in her heat of the U15 Girls 60 metres and 5.41 metres in the shot putt.
Scarlett Pegler set a new indoor personal best when placing 8th in her heat of the U15 Girls 800 metres, clocking 2:44.21.
+++++++++++++++++++++++++++++++++++++++++++++++++++++++
Several members of Gloucester Athletic Club's 365 Academy have been selected to represent the County in the regional inter-county Sportshall Athletics Competition later this month.
Holly Attwool, Ella Edwards, Tamera Leach, Serafeim Apostolakis, Alfie Manley, Arnie Margretts and Sulaiman Ouiles are all part of the popular group that caters for youngsters between the ages of 8-13 at the Club.
+++++++++++++++++++++++++++++++++++++++++++++++++++++++
Gloucester Athletic Club's 2017 Annual General Meeting shall take place at the Royal British Legion Club, Green Lane, Hardwicke, Gloucester GL2 4QA on Monday 6th February.
The meeting starts at 7:30 pm and all members over the age of 16 are invited to attend.
+++++++++++++++++++++++++++++++++++++++++++++++++++++++
Entries are coming in at a rate of knots for Gloucester Athletic Club's major race of the calendar year.
The Gloucester 20-mile road race, which is run around the lanes of Haresfield and has become a firm favourite over the years with runners who are preparing for spring marathons, shall be staged on Sunday 19th March.
Entries are on-line at www.gloucesterac.co.uk