---
Gloucester AC has an enviable history in the world of ultra-running - events longer than the marathon.
From the late '70s to the mid '80s, the club produced some stunning performances. Peaking from around late 1979 to mid 1983, and spearheaded by the prolific ultra runner Martin Daykin who ran 53 marathon and ultra distance events in this time (winning 20 of them), and multiple world record breaker Dave Dowdle, the Gloucester AC ultra-running squad became one of the most feared and respected in Europe. In the mid '80s, Christine Barrett set numerous world records, and competed in the longest race ever done by a Gloucester AC member, the 1005Km (624 miles) Sydney to Melbourne race.
Daykin was a world-class ultra-runner - he competed in 88 ultra events in his career, winning 45 of them and finishing in the top three in 63 of them.
This page will seek to set out these achievements, from the seminal times of the mid '70s to the current day where Welsh international Jeremy Mower is continuing the tradition.
Thank you to Rob Cytlau for lending me his huge collection of back issues of Athletics Weekly, and to Ken Leyshon for the loan of a large amount of accumulated press reports and race paraphernalia
Further material will be added as it comes to light.
02/04/2014 - page first uploaded
02/02/2018 - corrections to one of the race results
06/02/2018 - year headings changed
20/02/2018 - Ken Leyshon London to Brighton 1976 certificate added
I'll shortly put links to each year here to enable easier browsing of this page
1976    1979    1980    1981    1982    1983    1984    1985    1986    1987    1988    1989
1990-1999    2000-2009    2010-2019
---
The club's initiation into ultra history can probably be traced back to 1976. Ken Leyshon, who joined the club in the summer of 1974, completed the 54 mile London to Brighton Road Race on 26th September in 8h04m16s for 50th place and was subsequently awarded a medal by the club in recognition of this feat.
For a comprehensive history of the London to Brighton race, see here
Leyshon took a break from distance running after his London to Brighton, but returned to compete in many further ultra distance races. On the way, he ran the Milton Keynes Marathon in 1978 where he beat a certain Toshihiko Seko who went on to win the 1986 London Marathon.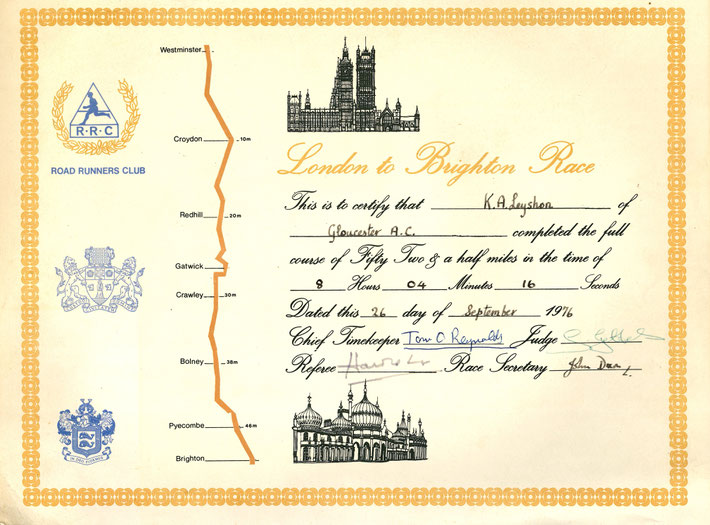 ---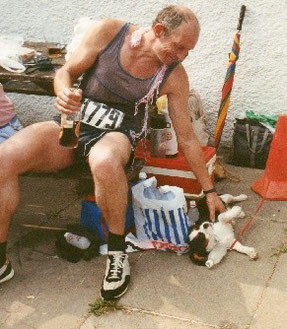 The club's elevation into the upper echelons of ultra running was spearheaded by Martin Daykin. Martin Daykin was competing on the county road and cross-country circuit ever since he joined the club in the spring of 1976, then realised that these events were far too short for his liking and he decided to prepare for the marathon. His training regime increased until he was regularly running over 100 miles per week and he made his marathon debut at Rugby on 3rd September 1978, clocking 2hrs 48mins 45 seconds.
However, Martin considered even the classic marathon distance of 26 miles 385 yards to be "on the short side" and he took an interest in the 'Ultra Distance' craze that was sweeping Europe. After running his second marathon in France on 25th March 1979 (in 2,34.50) and drinking a lot of beer, he made a bet with his team-mate Ken Leyshon. On 25th August 1979 he ran in Scotland's most famous ultra-distance event, the 36-mile Two Bridges Race across the Firth of Forth, placing ironically fourth in 3,38.26. Ken Leyshon was 24th in 4,07.08.
25 Aug 1979 - 36 mile road race (Two Bridges) - Rosyth, Scotland
4 Martin Daykin 3,38.26
24 Ken Leyshon 4,07.08
For a comprehensive history of the Two Bridges race, see here
Race report from RRC Newsletter, as featured on scottishdistancerunninghistory.co.uk:
        Cavin Woodward, unbeaten on this course, was hot favourite. Two interesting entrants were Bermuda Marathon winner Andy Holden and Alan McGhee, the 1977 Fell Runner of the Year. Five miles (27:14) and ten miles (55:18) were passed by Heron, McGhee, Graves, Paul Livesey, Cavin Woodward and Ross MacDonald, with Andy Holden a few yards behind. Holden, Heron, Livesey and McGhee zoomed past 15 miles in 84 minutes, with Woodward and Graves not far behind. Woodward was forced to stop temporarily with leg problems. Heron and Holden were edging away at 20 miles (1:52:19) but were locked together in the lead at 25 miles (2:21:04). By the marathon distance (2:27:57) they were three minutes clear of McGhee. Woodward was beginning to make up ground, ahead of Graves. Livesey had retired. By 30 miles, Holden (2:49:51) had opened up a gap on his fellow red-head, Heron (2:50:32). Woodward (2:54:43) and Graves (2:57:28) had overtaken a tiring McGhee, who was now being pressed by Smith and Daykin. Holden extended his lead past 35 miles (3:19:07) and finished two and a half minutes clear of the unfortunate Heron who was runner-up for the third time. Woodward was a gallant third, well clear of fine debuts from Daykin and Smith. Holden, the former UK 3000m steeplechase record holder, displayed a fine sense of pace throughout unlike Alan McGhee (only 21 years old) who had the consolation of leading his Bolton comrades (Graham Bennison, 13th in 3:51:36, and Tommy Parr) to team victory.
        1. Andy Holden (Tipton Harriers) 3:25:34; 2. Rab Heron (Brighton and Hove AC) 3:28:05; 3. Cavin Woodward (Leamington) 3:31:36; 4. Martin Daykin (Gloucester AC) 3:38:26; 5. Alan Smith (Burton AC) 3:38:38; 6. Ian Graves (Fife AC) 3:39:14; 7. Mark Pickard (Epsom and Ewell 3:42:01; 8. Stephen Wright (unattached) 3:42:49; 9. Dave Attwell (Altrincham and District) 3:46:10; 10. Dave Francis (1st local, Fife AC) 3:50:05
        First team: Bolton United Harriers; First veteran: Tommy Parr (Bolton) 15th 3:54:08. 70 runners finished.
30 Sep 1979 - 54 mile road race - London to Brighton
2 Martin Daykin 5,45.06
20 Ken Leyshon 6,18.31
21 Dave Dowdle 6,19.46
Team: 1 Gloucester AC
Five weeks after his ultra debut, on 30th September, Daykin was on the start line by Big Ben for the world's most prestigious and longest-running ultra, the famous London to Brighton 54 mile road race, where he made another spectacular debut, finishing second in 5,45.06 and leading the Gloucester AC club to a team victory with Ken Leyshon 20th in 6,18.31 and Dave Dowdle 21st in 6,19.46.
Race review from History of the London to Brighton Race from Ultramarathon World:
        In 1979, a record 140 set off across Westminster Bridge, including several from abroad. Three women ran unofficially, with Leslie Watson reaching the Aquarium in 6:55:11. Ritchie retired with cramps, leaving Heron in the lead, but he was overtaken by Allan Kirik of New York, again on the stretch to Dale Hill. Kirik became the first American to win the Brighton. Martin Daykin was a surprise second with his club, Gloucester, winning the team race. At 54 miles, 460 yards, this was the longest Brighton to that date.
---
06 Apr 1980 - 50K road race - Niort, FRA
1 Martin Daykin 2,58.47
8 Dave Dowdle 3,17.28
21 Ken Leyshon 3,38.28
Team: 1 Gloucester AC
(2nd, Bernard Gaudin (Fra) 3,00.50; 3rd, Don Ritchie (Forres) 3,05.44)
18 May 1980 - 100K road race - Montpellier, FRA
1 Martin Daykin 7,18.00
07 Jun 1980 - 50K track race - Altrincham
3 Martin Daykin 3,02.10
15 Ken Leyshon 3,32.58
10K splits:
Daykin - 34.20, 35.46, 36.28, 38.19, 37.17
Leyshon - 37.26, 39.37, 41.52, 44.00, 50.03
Marathon split:
Daykin - 2,33.52
Leyshon - 2,53.00
Race report by Wilf Richards from Athletics Weekly, 28th June 1980:
        Jeff Norman, Altrincham AC's marathon and fell running star, knocked almost 2 1/2 minutes off Don Ritchie's world best for 50Km when easily winning his club's second track race at this distance at Timperley on June 7th. It was in Altrincham's previous race that Ritchie brought the record down to 2:50:30. A total of 21 turned out, and there were 16 finishers, with 14 completing the 125 laps within the stipulated time limit of 3 1/2 hours.
        Norman was soon leading the field, lapping at a steady 80 sec with never more than a second or two's variation for almost the entire distance. He passed through the marathon stage in 2:30:53 and went on to set new world best performances for 30 miles (2:42:00) and 50Km (2:48:06).
        Tom O'Reilly, winner of the 1979 Barnsley marathon, moved into second place at 10Km and held that position to the end. Martin Daykin established himself in third place but was overtaken by Paul Kilbey who made 2 1/2 minutes up on him between 30Km and 40Km. But Daykin then found new life and in the closing laps pulled back into third place.
        1, J Norman (Alt) 2,48.06; 2, T O'Reilly (S&SH) 2,57.50; 3, M Daykin (Glouc) 3,02.10; 4, P Kilbey (Alt) 3,02.46; 5, T Bentley (Mor) 3,16.59; 6, D Attwell (Alt) 3,17.53; 7, K Gill (Ex B) 3,19.25; 8, J O'Brien (Man) 3,20.01; 9, D Weir (Sale) 3,21.01; 10, S Townsend (Liv Poly) 3,23.18; 11, D George (Sale) 3,23.56; 12, G Bennison (Bol) 3,25.21; 13, B Slade (Exe) 3,25.38; 14, C Bent (Buxt) 3,28.04.
22 Jun 1980 - 100K road race - Grantham (Harlaxton to Lincoln and back)
3 Dave Dowdle 7,06.09
Martin Daykin retired at 49 miles
Race report by Harold Lee from Athletics Weekly, 12th July 1980:
        Road races at this distance are common enough, but the Lincolnshire Sports Council and the Road Runners Club felt it was time to have one here. It attracted over 90 entries, with 65 starting: Cavin Woodward and Don Ritchie both numbering in the withdrawals as neither was fit.
        Martin Daykin, second in last year's London to Brighton, led nearly all the way to Lincoln, when he was passed by Michael O'Brien and Jan Knippenberg (Netherlands). The Dutchman led for a while, but O'Brien soon took up the running and was never headed. In the closing stages Mike Newton, running his usual even pace, and Dave Dowdle both caught Knippenberg, and Newton, in fact, began to challenge O'Brien, but the Welshman's tenacity kept him over a minute clear at the tape.
        Leslie Watson, the only female competing, ran her usual unruffled (despite heavy showers) race in almost even 10Km splits, to finish 17th overall in 8:15:50.
        1, M O'Brien (Wrex) 6,59.13; 2, M Newton (SLH) 7,00.39; 3, D Dowdle (Glouc) 7,06.09; 4, J Knippenberg (Neth) 7,15.51; 5, C Hunn (SLH) 7,16.32; 6, D Goodwin (Thet) 7,36.23; 7, M Pickard (E&E) 7,37.26; 8, D Hayward (Bris) 7,41.22; 9, F Thomas (Chelm) 7,46.05; 10, G Archer (Hill) 7,48.05; 11, C Birch (B'mth) 7,56.53; 12, H Mikkers (Neth) 8,03.58; 13, J Towers (East Hull) 8,06.12; 14, B Slade (Exe) 8,07.46; 15, D Weir (Sale) 8,12.04; 16, G Reynolds (Leam) 8,14.37; 17, L Watson (LOAC) 8,15.50; 18, W Humphreys (SLH) 8,20.11; 19, R Meadowcroft (Sal) 8,32.30; 20, P Hart (Leam) 8,39.03. Teams: 1, S London 8; 2, Leamington 19; 3 East Hull 21.
12 Jul 1980 - 40 mile road race - Woodford to Southend
1 Martin Daykin 4,00.24
27 Jul 1980 - 100 mile road race - Ewhurst
Martin Daykin retired at 92 miles
23 Aug 1980 - 36 mile road race (Two Bridges) - Rosyth, Scotland
3 Martin Daykin 3,34.07
6 Dave Dowdle 3,42.05
39 Ken Leyshon 4,30.7
Race report from RRC Newsletter, as featured on scottishdistancerunninghistory.co.uk:
        The usual enthusiasm was evident as soon as we clocked in again at the Rosyth race headquarters, with all the runners welcomed like old friends, no matter whether fast or slow. 75 started. The early leaders through five miles (29:36) were Rab Heron, Mick Orton, Andy Holden, Martin Daykin and Ian Graves. The pace hotted up: 10 miles (58:18) and along to the outskirts of Grangemouth (15 miles) where Holden and Heron clocked 1:26:38, with Daykin and Graves (1:28:20) and Francis and Bennison (1:29:43). Colin Youngson looked dangerous in the next place in 1:30:58, with newcomer to the distance, John Lamont, another Aberdonian now living in London.
        On past the oil refineries and 20 miles was hit in 1:53:24 by Heron and Holden, with Orton in 1:55:59, Daykin and Graves (1:58:08) and Youngson moving up in 1:58:49. Out of Bo'ness and on to the hilly section. Holden made his break, reaching 25 miles in 2:20:43 to Heron's 2:21:35 a long way clear of Orton (2:27:02) with Youngson now fourth (2:27:59) and Daykin moving away from Graves. Holden passed the marathon distance in 2:27:27, just outside record pace. He was moving really well now, with successive five mile splits from 20 to 35 miles of 27:19, 27:28 and 27:27, incredible running in the second half of the race, which brought him back inside record schedule. His 30 mile time was 2:48:11 with Heron 2:50:27 and Daykin running strongly in third (2:57:54), Youngson (2:58:07) and Orton (2:58:46). Holden passed 35 miles in 3:15:38 (Heron 3:20:22, Daykin 3:27:37, Youngson 3:30:56 and Orton 3:32:42)
        So we had a new record from Andy Holden in 3:21:46, with Rab Heron second in a fine 3:26:54, and Martin Daykin third. Dave Dowdle came through late in the race to take sixth place and John Watkins had a good run for SLH. There was a keen tussle for the veteran award with George Kay remaining two or three minutes in front of John Cock of Epsom and Ewell. Everyone's a winner in this race. None more so than Ken Shaw (Cambridge AC) who was feted in the evening for having run and finished in all thirteen races. Thanks again to the organiser Ernie Letley and his gang. we can pore over Raymond Hutcheson's detailed Result Brochure of the race before we gather again next year.
        1. Andy Holden (Tipton H) 3:21:46; 2. Rab Heron (Brighton and Hove) 3:26:54; 3. Martin Daykin (Gloucester AC) 3:34:07; 4. Colin Youngson (ESH) 3:38:23; 5. Mick Orton (Tipton) 3:40:25; 6. Dave Dowdle (Gloucester AC) 3:42:05; 7. John Lamont (Aberdeen AAC) 3:44:13; 8. Dave Francis (Fife AC) 3:44:23; 9. John Watkins (South London H) 3:44:34; 10. George Kay (1st veteran, Stafford AC) 3:45:31
        First Team: Tipton Harriers.
13 Sep 1980 - 100K road race - Winschoten, NED
1 Martin Daykin 6,35.05 (world's fastest time in 1980)
01 Oct 1980 - 54 mile road race - London to Brighton
Dave Dowdle dropped out after 47 miles
Ken Leyshon dropped out
Race review from History of the London to Brighton Race from Ultramarathon World:
        There was an excellent entry in 1980, including a women's race for the first time, won by Leslie Watson in 6:56:10. Ian Thompson, A.A.A., Commonwealth and European marathon champion, showed his class by winning at a record pace. Allan Kirik tried hard to retain his title, and although he ran 10 minutes faster than the previous year, could not hold Thompson, who was leading at Crawley. However, there was some compensation when his club, Central Park T.C., was the first team home.
22 Nov 1980 - 50K track race - Montataire, FRA
1 Martin Daykin 3,03.07
---
04 Apr 1981 - 50K road race - Niort, FRA
3 Martin Daykin 2,54.27 (course was short)
11 Apr 1981 - 100 mile road race - Gloucester
1 Martin Daykin 12,16.46
2 Dave Dowdle 12,17.09
6 Chris O'Carroll 15,21.07
10 Ken Leyshon 16,25.08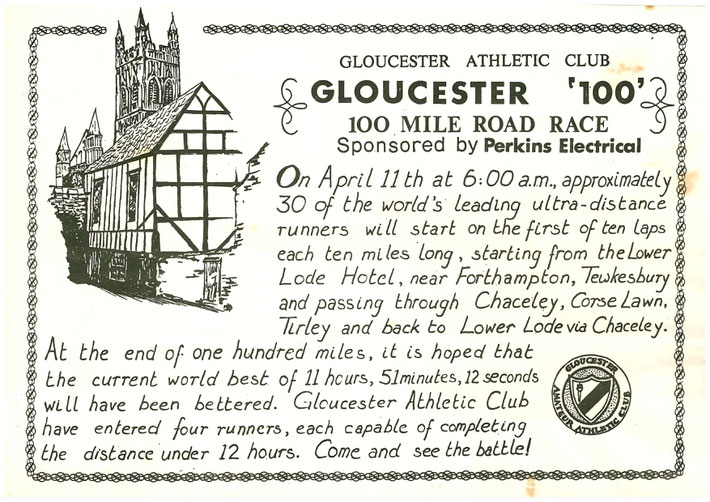 On Saturday 11th April 1981, Gloucester AC organised a 100 mile road race, only the third race of this distance held in this country since 1960. This was based at the Lower Lode Hotel, Forthampton, and consisted of ten 10-mile laps on flat roads in a loop passing through Chaceley, Tirley and Corse Lawn. 33-year old Gloucester AC member Martin Daykin was instrumental in organising the race as he felt he could break the world record of 11 hours, 51 minutes, 12 seconds, set in New York on 15th June 1977 by Scotsman Don Ritchie.

31 runners lined up for the 6.00 am start. Gloucester AC had four runners – Martin Daykin, Dave Dowdle, Chris O'Carroll and Ken Leyshon. From the start, Daykin, Dowdle and Royal Marine Vince Phillips pulled away from the rest of the field. Phillips retired at 40 miles. Daykin was 2 minutes ahead of Dowdle at this point and increased this to 3 minutes 49 seconds by 50 miles, running average 6 min 50 sec miles to time 5 hours 42 minutes 8 seconds at half way, inside the world record schedule pace. The third place runner (Mark Pickard) was 30 minutes behind. Chris O'Carroll and Ken Leyshon were at the 40-mile stage, in 11th and 12th places respectively.

Daykin began to struggle and stopped just after 70 miles, nearly collapsing at the feed station. He needed 15 minutes for a leg massage and, with that, his chance of the world record was effectively gone and 26-year old Dowdle took over the lead. Daykin could hardly get moving again after his massage but, a pint of beer later, he dragged himself to his feet and pressed on. He got back into his stride and slowly began to close the gap on Dowdle, finally overtaking him at 84 miles, only to struggle again at 88 miles letting Dowdle back into the lead. Dowdle led by 2.02 at 90 miles only for Daykin to close the gap and, with a determined effort on the only small hill on the circuit, come past at 94 miles. Dowdle kept in touch but Daykin held on to win in 12 hours 16 minutes 46 seconds, Dowdle finishing just 23 seconds behind, the pair recording the world's second and third fastest times ever.
Daykin was spent at the finish though Dowdle seemed remarkably fresh. Daykin had probably over-reached himself with a hard 50Km race in France the previous weekend. Mark Pickard (4th) ran the Finchley 20 the next day in 2:04!

Out of the 31 starters, only 13 finished, including O'Carroll, who collapsed at the finish and had to be rushed to hospital with hypothermia and dehydration, 6th in 15,21.07 and Leyshon, 10th in 16,25.08. The last man home was Ken Shaw from Swindon who finished just before midnight after nearly 18 hours of running.
1, M Daykin (Glouc) 12:16:46; 2, D Dowdle (Glouc) 12:17:09; 3, D Goodwin (Thet) 14:07:42; 4, M Pickard (E&E) 14:13:50; 5, J Towers (East Hull) 14:21:01; 6, C O'Carroll (Glouc) 15:21:07; 7, B Slade (Exe) 15:38:34; 8, S Jordan (Liv P) 15:43:41; 9, C Dixon (Unatt) 16:19:42; 10, K Leyshon (Glouc) 16:25:08; 11, A Smith (Leam) 17:16:11; 12, M Campbell (Notts) 17:18:28; 13, K Shaw (Camb H) 17:48:37.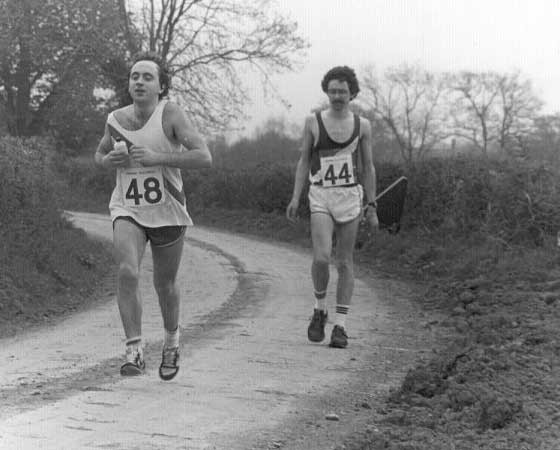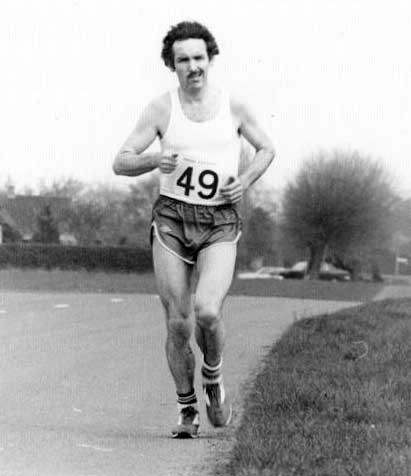 The inside story of a race which turned into a classic and completely rewrote the world all time best ranking lists - by Chris O'Carroll
      It all started way back in December 1980. Four of Gloucester Athletic Club's runners were discussing future road races for 1981: Martin Daykin 33 years old, Chris O'Carroll 37 years old, Ken Leyshon 32 years old, and Dave Dowdle 26 years ld. They were tossing around the idea of competing in a 100 mile road race, just to see if they could do it. It wasw quickly discovered that there were no 100 mile fixtures anywhere in the UK, or even Europe.The English, being an inventive breed, soon found a solution to the problem. Martin remarked rather casually "Just have to promote the race ourselves!" This crazy idea slowly sunk in to the others. "Yeah, why not" said Ken, Chris and Dave, nodding in agreement. So befan a whole series of events which were to create road running history and add a bit more folklore to future legends.
      The Gloucester Athletic Club and Committee (rather surprisingly) quickly fully supported the idea and were to back us all the way. Nobody had any experience of either running 100 miles or organising one! What the hell! Who cared, the mountain was there to climb and we were determined to climb it. We were on our way.
      Top of the priorities was a suitable course. Poring over the maps, going over the terrain in cars, even running over various courses, suddenly, as if guided from above, there it was, a rather flat 10 mile loop, at one end of it a big hotel with outbuildings. Two problems solved at once: A, the course; B, chamging accommodation. We approached the hotel proprietor and outlined our whole idea to him. He thought we were all nuts but siad "Ok, you can have the run of the place." The course was quickly surveyed in, down to the last inch. The start and finish of each 10 mile loop would be at the hotel itself, ideal, 10 x 10 mile laps. A date was fixed for the race, 11 April 1981, more daylight and warmer weahther then. The race was quickly advertised in UK and Europe. Astonished to receive 52 entries from all over the UK, 3 from West Germany. While all this feverish activity was going on, the four Gloucester runners were getting down to the serious business of training. Sixteen weels preparation before the race. Martin, 6" 1 1/2' tall 168 lbs quickly built up to 140 miles per week. The mileage was held for ten weeks up to the end of March, am 14 miles, pm 8 to 14 miles. Long runs on Sunday, 4 hours or more. Dave, 5"5' tall 144 lbs built up to 190 miles per week (one week 194!), this he also held for ten weeks to the end of March, am 10 miles, pm 15 to 20 miles, long runs on Sundays. Chris, 5"10' 158 lbs, and Ken, 5"9' 154 lbs, averaged 120 miles per week, am 5 to 10 miles, pm 10 to 15 miles, long runs on Sundays. All four were regularly running well over 4 hours every Sunday, Daykin recording 62 miles on one run. Although all four were the best of friends when not racing, there was no love lost between them when racing, and a lot of local rivalry was building up. Half of Gloucester were tipping Dowdle to win, while the favourite for the race, Daykin, was hotly tipped to run away with it.
      By the end of March the Gloucester camp knew they were ready for anybody and geared up for a crack at the current World Record (held by Don Ritchie of Scotland). One week to go, everybody was beginning to get keyed up, the week seemed to drag. Then all too soon Friday night (pre-race night) arrived. The race was due to start at 6am that Saturday. Friday night turned into a food orgy night, anything hat had a high carbohydrate content was devoured on sight. The local radio station gave the weather forecast (the one factor that could ruin the race): low cload, overcast, high temperature, no wind (hooray!). Not perfect weather conditions, there would be a high humidity factor which indicated dehydration problems. The Gloucester squad reckoned on consuming at least 4 gallons of fluids each for the whole trip.
      All drinks were carefully measured, bottled and labelled. Packed away into boxes ready. Spare shoes, socks, kit, etc. all double checked and packed. 8pm, off to bed to grab some sleep. Nobody could sleep, tossing and turning, wondering, finally dropping off almost, it seemed, just as the alarm goes off at 5am! No lie-ins today. Up, washed, toilet, breakfast, kit quickly checked, packed into the car (enough kit to go on holiday for 6 months!), into the dark unknown. There would be no turning back now.
      All are at the start by 5.40am, "Chris, you there?", "Yes", "Martin here?", "Yes", "and Ken?", "Dave?", "All here OK". "Good". A bit worried about the drinks getting mixed up in the dark. "Don't worry, there is a car to each different feeding station." Feeding stations every 2 1/2 miles, "Think its enough?" "Hope so." Too late now if it isn't. More and more figures looming out of thedark, constant hub-bub of voices, cameras popping, the local TV crew light up the scene as they begin to film. "5 minutes to go" shouts an obscure voice. Give the warm up a miss! A few easy stretches, back to the toilets again. "One minute to go, line up please." Timekeepers ready. Watch it now, keep the nerves under control, careful not to end up shooting down the road in a flood of adrenalin, bottle it down, keep calm.
      Of the original 51 entries, 30 actually lined up for the race. Bang goes the gun. One moment blinded and deafened by the TV lights, cameras, cheers and shouts of the crowd, and the next moment enveloped by the quiet peaceful half-darkness again. The soft patter of running shoes vanishing into the awakening dawn, the accompaniment of the dawn chorus of birds singing.
      It didn't remain peaceful for long.
The Race
0-10 miles - lap 1
      Straight from the gun this was a showdown between Daykin and Dowdle of Gloucester. A bunch of four runners with both daykin and Dowdle broke away from the main pack, opening up a gap of half a minute. First 10 miles covered in 67 mins 19 secs by Daykin with Dowdle going through in 67 mins 26 secs. Four runners all inside world record schedule.
10-20 miles - lap 2
      The front bunch were still locked together, Dowdle breathing down Daykin's neck. The main pack a further 13 minutes away. At the 20 mile turn Daykin is through in 2 hours 14 minutes 14 secs, Dowdle right alongside, both well inside world record schedule. Two other Gloucester runners, O'Carroll and Leyshon, through with the main pack in 2 hrs 48 mins 06 secs. Nothing much happening but still a long way to go.
20-30 miles - lap 3
      Four runners up front including Daykin and Dowdle. Marathon mark reached in 2 hrs 56 mins 35 secs. Both Gloucester runners togeher, no quarter given, none asked for. Both clocked in at the 30 mile mark in 3,23.20 with Brown of Cheltenham Harriers and Phillips of the Royal Marines still with them. Well inside world record schedule. Back down the field Mark Pickard of Epsom and Ewell and Alan Smith of Leamington Spa were in 5th and 6th positions, 3,38.47, with the rest of the field through, the last one in at 5,07.12.
30-40 miles - lap 4
      Daykin at last made his move. With the temperature rising Dowdle was stopping to take drinks; a gap quickly opened up; piling on the pace Daykin had dropped Dowdle by 2 minutes. The race was on. Daykin clocked in at the 40 mile turn in 4,33.29. Next guy in 10 minutes behind. What everybody in the know had expected had now happened. Both Gloucester runners were well clear of the field several minutes inside world record schedule. With weather conditions deteriorating and still 60 miles to go, the question was could Daykin maintain his world record pace and resist the challenge of Dowdle?
40-50 miles - lap 5
      By now big crowds were beginning to gather at the start of every lap at the hotel. Everyone eagerly waiting to see who would appear on the horizon first. Would it be 6' 1 1/2" Daykin with his big aggressive stride and head-rolling action, or the economical pitter patter short dtriding style of little Dowdle, 5' 5", both instantly recognisable a long way off. Suddenly a cry from the crowd, "Still Daykin's ihn front", "Dowdle still there", bigger gap though. Daykin swept into the turn, quick stop for drinks, out again, time at 50 miles 5,54.08, still on for the world record; Dowdle hit the 50 mile mark in 5,45.57. With cries of "Get after him Dave", "Don't let him get away" ringing in his ears, he snatches up drink bottles in both hands and away back up the road frantically trying to close a 3 minutes plus gap.
      More cheers from the crowd as the third Gloucester runner O'Carroll comes in. He had picked his way up to 6th position; several minutes later the fourth Gloucester runner, Leyshon, was in and out again. People really buzzing now. With the field cut down to 24, four Gloucester runners still in there giving the Gloucestershire crpwd plenty to shout about at the half way stage.
50-60 miles - lap 6
      Air temperature was rising, so was the humidity; it was beginning to wreak havoc on the runners battling against dehydration problems. The three short hills on the course seemed to take on enormous dimensions. The faces of the runners contorted into grimmer outlines as they ran on with knowledge of 50 miles still to go. All the runners now had to dig deep within themselves for qualities other than sheer physical fitness. Call it heroic courage, stubborn refusal to quit, grittyness, call it what you like, these qualities now had to be drawn out and used to the full. The race to survive was on. Daykin was in trouble, he had slowed off the pace, was taking drinks much more frequently, but Dowdle couldn't do much about it, he too was suffering. 60 mile mark reached by Daykin in 6,56.12, Dowdle 7,02.28, now past midday. In the next few hours the temperature would rise again. For the first time both Gloucester runners were slipping away from world record schedule - not surprising considering the weather conditions. The race was still very much alive though. The field was down to just twenty. All four Gloucester runners still in the race.
60-70 miles - lap 7
      100 km (62.1 miles) Daykin clocked 7,12.44 with Dowdle past at 7,19.42, 3rd place Pickard of Epsom and Ewell at 8,04.30. Daykin was now going through a really bad patch. His wife Liz, by now accompanying her husband on the bicycle realised he was dehydrating rapidly; pedalling furiously to the enxt feed station, grabbing all the drinks she could, she pedalled back to her husband to give him the life-saving fluids. People began to worry in the Gloucester camp - had he gone too fast? Considering the conditions, nobody could help him, he was on his own. Dowdle began to close. At the urn the crowd suddenly erupted, Daykin weaving from side to side, staggering in. Almost hidden behind the large frame of Daykin came Dowdle, he had closed up to only 2 1/2 minutes behind. Daykin collapsed onto a chair muttering to humself, his head buried into his chest, a towel was quickly draped across his shoulders. He just sat there not moving at all, unable to. The crowd fell deadly silent, surely Daykin wasn't calling it a day, not one of the most feared ultra distance runners in Europe (ranked No 1 at 100km in world rankings in 1980); Daykin's time at 70 miles 8,19.09. Dowdle's time 8,22.18. With Daykin stopped dead, Dowdle now seized his chance, another quick pit stop for drinks and away to the cheers of the crowd into the lead for the first time, running for all he was worth, trying to open up as big a gap as possible. Both Daykin's parents and his wife frantically tried to get him back on his feet again; cajoled him, shouted at him, all manner of drinks were given to him - even a couple of beers! After what seemed an eternity (but only about 10 minutes) he got to his feet. With the crowd and his wife Liz yelling encouragement to him, he started running again. Big sighs of relief from the crowd. The crowd was soon to be on its feet again as Gloucester's third and fourth runners, O'Carroll and Leyshon both went through. So at the 70 mle mark, incredibly, there were still four Gloucester runners in the race out of only seventeen left standing.
70-80 miles - lap 8
      With all the drama of the last lap people were really breathless. Dowdle was now in the lead, trying all he knew to increase it. The temperature, thank God, was now beginning to drop. But Daykin wasn't going to drop! He began to work on the gap between himself and Dowdle, looking a lot fresher than he had on the last lap. Dowdle was still holding on to his lead as he came into the turn at the 80 mile mark, 9,37.07. No sooner was the time announced than all eyes swept up the road again as Daykin came thundering in. "He's closed the gap" gasped the crowd. Dowdle couldn't believe it. Ten miles earlier he had left a lifeless Daykin limp on a chair. He had run himself into the deck to get away and here was Daykin back again clocking in at 9,39.10 only 2 minutes 3 seconds behind him! No time to waste, Dowdle was up and off, face grimacing with the sustained effort of trying all he knew to keep his hard earned lead. Looking anxiously over his shoulder, his heart nearly stopped; daykin was after him, no long rest this time, he was doing a Dowdle, a drinks bottle in each hand and off up the road. What arace! 80 miles covered and both Gloucester runners in a neck and neck struggle, world class times were on too. With only 20 miles still to go, would one or the other blow up? Would they run each other into the deck? The crowd could hardly contain its excitement. Some of the local inhabitants who had never seen a road race or such scenes before just couldn't believe what was happening. One local when informed about the 100 mile road race asked what kind of cars they were using!
      With constant press and radio coverage, people were beginning to gather at every vantage point, roar after roar of encouragement going up as runner after runner struggled on. Incredibly, four Gloucester runners were still in there trading punches. 16 runners only now remained.
80-90 miles - lap 9
      Could such drama and scenes go on. Several runners were running themselves into road-running history. Another chapter to add to road-running folklore. Word came back by radio that Daykin was ahead again. At the drinks stop at 87 1/2 miles, Dowdle had again passed Daykin - ahead for the second time and so it was at the turn. Dowdle was still there, sweat stricken face glancing over his shoulder. Daykin loomed larger than life it seemed behind him. Dowdle hit the 90 mile mark to a deafening reception in 10,56.08. Daykin was in at 10,58.10. Dowdle had held him at bay and only lost a second on the last lap. Like two boxers coming out for the last round thundering body blows into each other they set off on their last lap. The strain on both crowd and runners was immense.
90-100 miles - lap 10
      Yet again the crowds were erupting into great roars of encouragement, Daykin was slowly pulling Dowdle back before their very eyes. Yard after agonising yard. Dowdle, his head up, gasping for air, refusing to give up either to himself or anybody. Daykin, teeth clenched, body rolling, saying to himself over and over again, got to keep the stride pattern, keep the length, trying to ignore the agonising ache in his thighs and calfs. Both runners by now accompanied by cars with headlights blazing, horns blowing, with cavalcades of cars, bikes, and runners behind and in front. Dowdle's lead was being cut still shorter, 300, 200, 150, 50 yards, level. Neck and neck again. Dowdle responds but Daykin refuses to let go. A supreme battle of wills was now going on out there. Who dares wins. Two miles to go, Daykin in front, just. With one mile to go Daykin makes a supreme effort. Dowdle couldn't respond to it, 25, 30, 50, 75 yards gap. Daykin swaying and rolling turns for home not daring to look back, the noise is enough to tell him. The noise gets louder, Dowdle is coming back at him. Daykin responds to hold the gap. 300 yards to go, Daykin spots the finish and pounds down to it. Dowdle turns for home and starts sprinting, to everyone's amazement. Just cannot believe it. Daykin with only 200 yards to go has got to fight for his life. After 99 miles 1565 yards he has still got to try to fight off this 26-year-old terrier Dowdle who just won't quit. Throwing his head back, arms and legs pumping with one last ditch effort Daykin maintains the gap, crashes over the line and collapses into a heap. Dowdle crosses the line into the arms of a tearful mother overcome by the whole affair. Daykin's time an incredible 12,16.46, Dowdle 12,17.09. A mere 23 seconds difference bore witness to one of the most enthralling ultra distance road races ever. Nearly two hours later the 3rd place runner finishes, Dave Goodwin of Thetford Harriers, in a world class time of 14,07.42; 4th was Mark Pickard of Epsom and Ewell in 14,13.50; 5th to finish was John Towers of East Hull Harriers, 14,21.01; 6th Chris O'Carroll, third Gloucester runner, 15,21.07. To complete Gloucester's day, their fourth runner, Ken Leyshon, completed the course in 16,25.08. Only 13 runners finished.
      Amid all the noise and confusion the timekeepers were still going about their expert business and came up with the following results:
1st
Martin Daykin
Gloucester AC
12,16.46

2nd all time world best

English record

2nd
Dave Dowdle
Gloucester AC
12,17.09
3rd all time world best
3rd
Dave Goodwin
Thetford AC
14,07.42
20th all time world best
4th
Mark Pickard
Epsom & Ewell
14,13.50
21st all time world best
5th
John Towers
East Hull Harriers
14,21.01
23rd all time world best
6th
Chris O'Carroll
Gloucester AC
15,21.07
33rd all time world best
7th
Bruce Slade
Exeter Harriers
15,38.34
39th all time world best
8th
Steve Jordan
Liverpool
15,43.41
15th all time British best
9th
Colin Dixon
Unattached
16,19.42
16th all time British best
10th
Ken Leyshon
Gloucester AC
16,25.08
17th all time British best
11th
Alan Smith
Leamington AC
17,16.11
20th all time British best
12th
Malcolm Campbell
Notts AC
17,18.28
21st all time British best
13th
Ken Shaw
Cambridge Harriers
17,48.37
 
      Quietly reflecting on the race later the four Gloucester runners admitted that mistakes were made and valuable lessons learned by all.
      But who who have guessed that that informal meeting back in December 1980 would result in Gloucester Athletic Club proudly boasting on 12th April 1981 one of the most powerful ultra distance running squads in Europe. The Gloucester squad hope to be going over to the States sometime in the future and will be seen in action in Europe later this year. They now have a proud reputation to keep up. No doubt we shall be hearing a lot from them in the future.
After race comments
Martin Daykin:  "Ready to quit after 70 miles, knew world record wasn't on. But how could I pack in with three Gloucester clubmates still running? I would have had to emigrate if I had quit."
Dave Dowdle:  "Thought I had the race sewn up 20 out. Still, first attempt. Can't believe I'm suddenly 3rd fastest ever. With better weather conditions and a flatter course next time out sub-12 is on, even the world record."
Chris O'Carroll:  "I ran and watched a great race by my two clubmates in front. Pleased with finishing. Time a bit slow though. Have to knock an hour or two off it next time out."
Ken Leyshon:  "First half okay, second half suffering with badly swollen, blistered feet. No way was I quitting, not with three of my clubmates all finishing. Have to be better prepared next time. Proud we all finished in one piece."
INTERMEDIATE TIMES
10 miles
 
20 miles
 
Marathon
1
Daykin
1.07.19
 
1
Daykin
2.14.14
 
1
Daykin
2.56.35
2
Brown
1.07.19
 
2
Brown
2.14.14
 
2
Brown
2.56.35
3
Phillips
1.07.19
 
3
Phillips
2.14.14
 
3
Phillips
2.56.35
4
Dowdle
1.07.28
 
4
Dowdle
2.14.14
 
4
Dowdle
2.56.35
5
Slade
1.15.02
 
5
Smith
2.27.51
 
5
Smith
3.12.00
6
Pickard
1.16.23
 
6
Pickard
2.27.51
 
6
Pickard
3.12.00
7
Smith
1.16.23
 
7
Slade
2.30.22
 
7
Slade
3.23.00
8
Burbidge
1.17.16
 
8
Burbidge
2.35.02
 
8
Goodwin
3.24.00
9
Goodwin
1.18.44
 
9
Goodwin
2.36.45
 
9
Towers
3.24.00
10
Towers
1.18.44
 
10
Towers
2.36.46
 
10
Burbidge
3.25.00
11
Mytton
1.21.45
 
11
Simpson
2.40.20
 
11
Simpson
3.30.00
12
Simpson
1.21.48
 
12
Mytton
2.41.26
 
12
Mytton
3.31.00
13
Dixon
1.21.52
 
13
Hoggett
2.43.14
 
13
Dixon
3.33.00
14
Hoggett
1.22.06
 
14
Dixon
2.44.00
 
14
Buckle
3.35.00
15
Buckle
1.24.14
 
15
Randall
2.46.47
 
15
Heaford
3.35.00
16
Heaford
1.24.14
 
16
Turner
2.46.47
 
16
Randall
3.36.00
17
Leyshon
1.24.47
 
17
Buckle
2.47.08
 
17
Turner
3.36.00
18
O'Carroll
1.24.47
 
18
Campbell
2.47.14
 
18
Leyshon
3.37.00
19
Turner
1.25.00
 
19
Heaford
2.47.22
 
19
O'Carroll
3.37.00
20
Randall
1.25.00
 
20
Leyshon
2.48.05
 
20
Campbell
3.37.00
21
Hayward
1.25.00
 
21
O'Carroll
2.48.06
 
21
Hoggett
3.40.00
22
Thornton
1.25.36
 
22
Hayward
2.51.43
 
22
Hayward
3.45.00
23
Soul
1.26.30
 
23
Tiplady
2.52.38
 
23
Soul
3.47.00
24
Campbell
1.26.48
 
24
Soul
2.52.40
 
24
Tiplady
3.52.00
25
Shaw
1.26.51
 
25
Werner
2.55.36
 
25
Werner
3.52.00
26
Tiplady
1.28.06
 
26
Jordan
2.58.30
 
26
Jordan
3.54.00
27
Werner
1.28.06
 
27
Thornton
2.58.30
 
27
Thornton
3.56.00
28
Alexander
1.28.07
 
28
Alexander
2.59.00
 
28
Shaw
3.56.00
29
Jordan
1.28.07
 
29
Shaw
2.59.25
 
29
Alexander
4.05.00
30
Richardson
1.36.53
 
30
Richardson
3.21.40
 
30
Richardson
4.30.00
 
 
 
 
 
 
 
 
 
 
 
30 miles
 
40 miles
 
50 miles
1
Daykin
3.23.20
 
1
Daykin
4.31.15
 
1
Daykin
5.42.08
2
Brown
3.23.20
 
2
Dowdle
4.33.29
 
2
Dowdle
5.45.57
3
Dowdle
3.23.21
 
3
Phillips
4.43.53
 
3
Pickard
6.11.00
4
Phillips
 3.23.24
 
4
Pickard
4.54.08
 
4
Goodwin
6.30.35
5
Pickard
3.38.47
 
5
Smith
4.59.00
 
5
Towers
 6.34.08
6
Smith
3.38.47
 
6
Goodwin
5.13.48
 
6
O'Carroll
6.43.33
7
Towers
3.54.40
 
7
Towers
5.14.24
 
7
Smith
6.46.14
8
Slade
3.54.48
 
8
Slade
5.21.24
 
8
Slade
6.51.47
9
Goodwin
3.54.48
 
9
Buckle
5.22.14
 
9
Leyshon
6.57.08
10
Burbidge
3.59.10
 
10
Mytton
5.24.15
 
10
Dixon
6.59.12
11
Simpson
4.01.10
 
11
O'Carroll
5.24.04
 
11
Mytton
7.10.52
12
Mytton
4.03.24
 
12
Leyshon
5.25.04
 
12
Randall
7.11.52
13
Dixon
4.03.34
 
13
Dixon
5.25.59
 
13
Campbell
7.22.43
14
Buckle
4.05.28
 
14
Randall
5.35.58
 
14
Hayward
7.30.30
15
Heaford
4.05.28
 
15
Burbidge
5.39.25
 
15
Jordan
7.30.30
16
Leyshon
4.05.40
 
16
Campbell
5.41.15
 
16
Werner
7.42.24
17
O'Carroll
4.05.40
 
17
Heaford
5.45.00
 
17
Burbidge
7.48.30
18
Turner
4.06.58
 
18
Hayward
5.49.18
 
18
Shaw
7.54.47
19
Randall
4.07.00
 
19
Simpson
5.58.07
 
19
Hoggett
8.03.40
20
Campbell
4.09.20
 
20
Tiplady
5.58.52
 
20
Tiplady
8.04.20
21
Hoggett
4.17.54
 
21
Jordan
5.59.02
 
21
Soul
8.06.24
22
Hayward
4.18.52
 
22
Soul
5.59.24
 
22
Heaford
8.53.20
23
Soul
4.21.00
 
23
Werner
5.59.55
 
23
Richardson
9.35.27
24
Tiplady
4.21.25
 
24
Hoggett
6.01.31
 
 
 
 
25
Werner
4.26.25
 
25
Shaw
6.11.33
 
 
 
 
26
Jordan
4.28.06
 
26
Richardson
7.04.40
 
 
 
 
27
Shaw
4.32.06
 
 
 
 
 
 
 
 
28
Thornton
4.32.06
 
 
 
 
 
 
 
 
29
Alexander
5.04.58
 
 
 
 
 
 
 
 
30
Richardson
5.07.12
 
 
 
 
 
 
 
 
 
 
 
 
 
 
 
 
 
 
 
60 miles
 
100 Kms
 
70 miles
1
Daykin
6.56.12
 
1
Daykin
7.12.44
 
1
Daykin
8.19.39
2
Dowdle
7.02.28
 
2
Dowdle
7.19.42
 
2
Dowdle
8.21.18
3
Pickard
7.41.54
 
3
Pickard
8.04.30
 
3
Pickard
9.26.10
4
Towers
8.01.10
 
4
Towers
8.21.00
 
4
Goodwin
9.32.00
5
Goodwin
8.04.08
 
5
Goodwin
8.26.43
 
5
Towers
9.32.15
6
O'Carroll
8.14.16
 
6
O'Carroll
8.43.12
 
6
O'Carroll
9.56.20
7
Slade
8.21.12
 
7
Slade
8.54.48
 
7
Slade
10.15.58
8
Dixon
8.33.32
 
8
Dixon
8.55.55
 
8
Dixon
10.20.18
9
Smith
8.40.55
 
9
Smith
9.03.30
 
9
Smith
10.20.22
10
Campbell
8.55.00
 
10
Campbell
9.17.16
 
10
Leyshon
10.38.40
11
Leyshon
9.00.22
 
11
Leyshon
9.21.30
 
11
Jordan
10.48.04
12
Jordan
9.14.21
 
12
Jordan
9.35.23
 
12
Campbell
10.57.31
13
Randall
9.20.54
 
13
Shaw
10.09.52
 
13
Shaw
11.34.03
14
Werner
9.36.14
 
14
Werner
10.10.24
 
14
Werner
11.44.00
15
Hayward
9.40.18
 
15
Hayward
10.06.22
 
15
Hayward
11.45.54
16
Shaw
9.43.08
 
16
Mytton
10.14.04
 
16
Hoggett
12.18.05
17
Mytton
9.43.38
 
17
Burbidge
10.28.56
 
17
Tiplady
12.45.25
18
Burbidge
9.57.43
 
18
Hoggett
10.46.05
 
 
 
 
19
Hoggett
10.13.30
 
19
Tiplady
NTT
 
 
 
 
20
Tiplady
10.19.23
 
 
 
 
 
 
 
 
 
 
 
 
 
 
 
 
 
 
 
80 miles
 
90miles
 
100 miles
1
Dowdle
9.37.07
 
1
Dowdle
10.56.08
 
1
Daykin
12.16.46
2
Daykin
9.39.10
 
2
Daykin
10.58.10
 
2
Dowdle
12.17.09
3
Goodwin
10.58.48
 
3
Goodwin
12.38.00
 
3
Goodwin
14.07.42
4
Pickard
11.06.06
 
4
Pickard
12.45.56
 
4
Pickard
14.13.50
5
Towers
11.11.35
 
5
Towers
12.50.09
 
5
Towers
14.21.01
6
O'Carroll
11.50.05
 
6
O'Carroll
13.33.39
 
6
O'Carroll
15.21.07
7
Slade
12.10.06
 
7
Slade
13.54.45
 
7
Slade
15.38.34
8
Dixon
12.13.22
 
8
Jordan
14.02.00
 
8
Jordan
15.43.41
9
Leyshon
12.17.00
 
9
Leyshon
14.05.11
 
9
Dixon
16.19.42
10
Jordan
12.26.20
 
10
Dixon
14.07.22
 
10
Leyshon
16.25.08
11
Campbell
12.49.10
 
11
Smith
14.37.15
 
11
Smith
17.16.11
12
Smith
12.55.19
 
12
Campbell
14.52.16
 
12
Campbell
17.18.28
13
Shaw
13.26.32
 
13
Shaw
15.32.41
 
13
Shaw
17.48.37
14
Hayward
14.04.34
 
14
Hayward
16.23.46
 
 
 
 
15
Werner
14.21.32
 
15
Tiplady
17.35.10
 
 
 
 
16
Tiplady
15.07.55
 
 
 
 
 
 
 
 
 
FINAL DISTANCES AND TIMES
1
Martin Daykin
Gloucester AC
100 miles
12:16:46
2
Dave Dowdle
Gloucester AC
100 miles
12:17:09
3
Dave Goodwin
Thetford AC
100 miles
14:07:42
4
Mark Pickard
Epsom & Ewell AC
100 miles
14:13:50
5
John Towers
East Hull Harriers
100 miles
14:21:01
6
Chris O'Carroll
Gloucester AC
100 miles
15:21:07
7
Bruce Slade
Exeter Harriers
100 miles
15:38:34
8
Steve Jordan
Liverpool Pembroke
100 miles
15:43:41
9
Colin Dixon
Unattached
100 miles
16:19:42
10
Ken Leyshon
Gloucester AC
100 miles
16:25:08
11
Alan Smith
Leamington C&AC
100 miles
17:16:11
12
Malcolm Campbell
Notts AC
100 miles
17:18:28
13
Ken Shaw
Cambridge Harriers
100 miles
17:48:37
14
Dave Hayward
Bristol AC
90 miles
(16:23:46)
15
Denis Tiplady
City of Plymouth
90 miles
(17:35:10)
16
G Werner
Banberg, West Germany
80 miles
(14:21:32)
17
Geoff Hoggett
Watford Harriers
70 miles
(12:18:05)
18
Dave Mytton
Norwich
100 Kms
(10:14:01)
19
T Burbidge
Verlea AC
100 Kms
(10:28:56)
20
Alec Randall
South London Harriers
60 miles
(9:20:54)
21
R Soul
City of Plymouth
50 miles
(8:06:24)
22
B Heaford
Cheltenham Harriers
50 miles
(8:53:20)
23
G Richardson
Notts AC
50 miles
(9:35:27)
24
Vince Phillips
City of Plymouth
40 miles
(4:43:53)
25
Ken Buckle
Cheltenham Harriers
40 miles
(5:22:14)
26
P Simpson
Liverpool Harriers
40 miles
(5:58:07)
27
Steve Brown
Cheltenham Harriers
30 miles
(3:23:20)
28
Don Turner
Epsom & Ewell AC
30 miles
(4:06:58)
29
Richard Thornton
Salisbury & District
30 miles
(4:32:06)
30
D Alexander
Leicester Coritanian
30 miles
(5:04:58)
 
 
 
 
 
RACE LEADERS
Start to 30 miles
Daykin, Dowdle, Phillips and Brown
 
30 to 70 miles
Daykin
 
70 to 83 miles
Dowdle
 
83 to 88 miles
Daykin
 
88 to 93 miles
Dowdle
 
93 to 100 miles
Daykin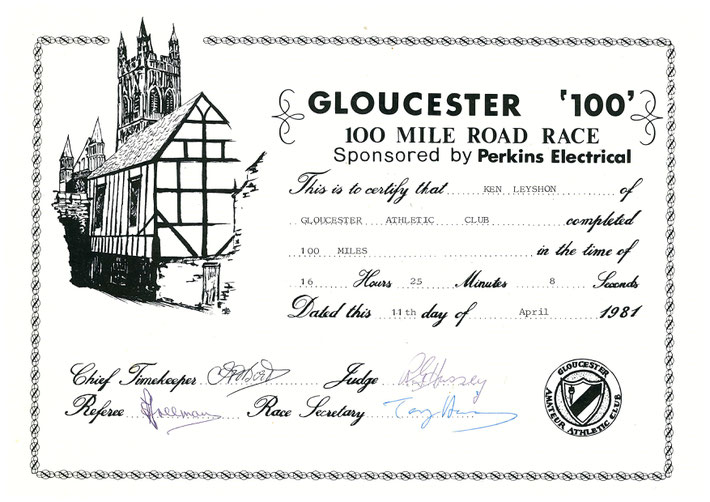 16 May 1981 - 100K road race - Chaudfontaine, BEL
1 Martin Daykin 6,36.05
06 Jun 1981 - 50 mile road race - Oulo, FIN
2 Martin Daykin 5,07.20 (25Km 1,31.19, 50Km 3,04.12, 60Km 3,43.28, 70Km 4,24.15)
Race report from Citizen newspaper, Thursday 11th June 1981:
        Gloucester runner Martin Daykin took part in a 50-mile road race in Oulo, Finland, at the weekend, finishing second.
        Conditions were near perfect for the 70 starters amongst whom were strongly fancied Risto Laitinen, who won last year in 5 hours 3 minutes, and ladies world record holder Leslie Watson, a London physiotherapist.
        Called the "Midsummer Night's Dream Race," the start was at 6pm to enable the majority of runners to run at midnight in daylight. A fast start was made by a local runner, it seemed obvious that he was there to tempt Daykin, the only foreign male entry, into going too fast early on.
        Daykin started at his usual moderate pace and kept with a group of four, one of whom was Laitinen. This bunch slowly overtook the early leader and for about seven miles played cat and mouse tactics. Every time that Daykin slowed, the other three would also slow.
        Soon after this, the Gloucester runner put in a very fast burst which drew Laitinen along but left the other two Finnish runners. This sprint was maintained for about a mile and had the effect of making the lead a two-man duel.
        Both runners now ran side by side, each striving to dominate the pace. At marathon distance, which was reached in 2 hours 33 minutes 42 seconds, Daykin slowed to take a drink. Laitinen increased his pace and soon had opened up a moderate gap.
        It was an even chance that the Finn would either do a very fast time or fail to stay the distance so Daykin at first didn't chase after him. With less than 20 miles left however, Daykin began to go faster. It was to no avail, Laitinen had a lead of nearly a mile and was still increasing it.
        The finish was a formality, with Laitinen sprinting easily in with the fourth fastest time ever recorded. Daykin's time, some nine minutes in arrears was good enough to place him amongst the top 20 ranking list.
        Ladies winner was Leslie Watson, some 20 minutes slower than her record but all the same an excellent run which was 20 minutes ahead of her Finnish rival Hanna Vesteri.
Race report by Matti Hannus from Athletics Weekly, 11th July 1981:
        Risto Laitinen of Finland goes on renewing the 'lay-out' of international ultra-distance running. In Oulu on June 6th the 33-year old research engineer won the 50 mile 'Midsummer Night Dream' for the third time in a row in a superb time of 4:57:28. There are no other winners of this idyllic race (run in the middle of the never-darkening Finnish summer night) that was inaugurated by LSD-Oulu club in 1979.
        Martin Daykin of Gloucester ran an excellent race as well, especially considering he had won a 100 mile race in April, run 100Km in 6:36:05 in Belgium two weeks earlier and got the invitation to Oulo at very short notice - only a week before. Together with Laitinen, he went through the marathon point in ideal conditions in 2:33:42, then had to let the Finn go to finish an untroubled second in a fine 5:07:20.
        Laitinen's feat was no surprise, for only two weeks earlier, in oppressive heat, he had finished 4th in the Finnish Marathon Championship in his best-ever time of 2:23:43. His winning times in the two previous editions of the 'Dream' were 5:19:20 and 5:03:16 and now he has become the fifth runner to break through the magic five-hour barrier and is the fourth-fastest of all time. Only Barney Klecker's 4:51:25, Don Ritchie's 4:53:28 (on track) and Allan Kirik's 4:56:03 are better. Last year Laitinen finished third in the London-Brighton, but he may not be there this time as he will be selected to wear the Finnish vest in the European Cup Marathon in France.
        Leslie Watson became the pet of enthusiastic spectators by finishing 15th out of 70 competitors. Her time of 6:22:40 was amazing, considering she has run marathons almost weekly this year and posted a women's world best of 6:02:37 in the USA only five weeks earlier. Hanna Vesteri of Oulo lost by a mere 20 minutes - some running from a 26-year-old novice who started only two years ago!
        1, R Laitinen 4:57:28 (25Km - 1:31:19, 50Km - 3:02:15, 60Km - 3:39:25, 70Km - 4:15:25); 2, M Daykin 5:07:20 (1:31:19, 3:04:12, 3:43:28, 4:24:15); 3, M Moilanen 5:40:43; 4, T Ihonen (Vet) 5:52:17; 5, J Riihinen 5:52:57; 6, J Koistinen (20) 5:55:16 ..... E Pikkarainen (O/50) 6:04:33. Women: 1, L Watson 6:22:40 (1:50:11, Mar - 3:07:55, 3:44:45, 4:30:29, 5:24:50); 2, H Vesteri 6:42:10.
13 Jun 1981 - 100K road race - Migennes, FRA
1 Martin Daykin 7,11.21
Race report from Citizen newspaper, Thursday 18th June 1981:
DAYKIN WINS TOP FRENCH RACE
        Gloucester Athletic Club's star distance runner Martin Daykin won the Migennes 100-kilometre road running race, held in the south-east of Paris, finishing 10 minutes ahead of his nearest rival.
        Besides Daykin, the Gloucester club was represented by Chris O'Carroll and Ken Leyshon. The race was the premier event in the French long distance calendar, there being an entry of over 300.
        The race began at 5pm to avoid the worst of the day's heat, but with the temperatures still in the 70s, Dutchman Bronswyck went straight into the lead. A cluster of six formed behind him, settling for a more conservative early pace. Amongst the six were the Gloucester trio and the only other Englishman in the field, Goodwin from Thetford.
        After 10 miles, Daykin broke away from this group and began to slowly catch up Bronswyck. By 20 miles he had the lead, but had to relinquish it for a short period when he began to suffer from the less pleasant effects of eating a surfeit of plum jam prior to the start.
        By the marathon mark, Daykin's lead was two minutes and second place was taken by O'Carroll. Leyshon found the oppressive heat too much and was forced to retire while in a promising seventh place. O'Carroll, too, succumbed to the conditions and retired along with Bronswyck and many others.
        Second place was now taken by Ansard of Amiens, and he got to within two minutes of Daykin at the 40-mile point. Shortly after this, dusk began to fall and cooler conditions acted like a tonic to the surviving runners. The Gloucester runner took full advantage and increased the gap to 10 minutes.
        The final 22 miles were hilly and as the athletes switched on their torches, the impression was of a glow worm moving silently over the countryside.
        The wildly enthusiastic French spectators continued to give tremendous vocal support to everyone and shortly after midnight Daykin arrived to a tumultuous reception at the large, well lit indoor market hall, still 10 minutes ahead of Ansard.
        A fast finishing Goodwin took third place and a particularly vociferous welcome awaited a wheelchair athlete who not only came amongst the first 20 but managed the incredible time of just over nine hours.
        Result: 1, Martin Daykin (Gloucester AC) 7hrs 11mins 21secs; 2, P Ansard (Amiens, France) 7hrs 21mins 38secs; 3, D Goodwin (Thetford AC) 7hrs 32mins 12 secs.
25 Jul 1981 - 40 mile road race - Woodford to Southend
4 Martin Daykin 4,01.04
29 Aug 1981 - 36 mile road race (Two Bridges) - Rosyth, Scotland
5 Martin Daykin 3,42.03
8 Dave Dowdle 3,43.52
20 Les Davis 3,57.13
38 Chris O'Carroll 4,19.12
39 Ken Leyshon 4,20.28
Team: 2 Gloucester AC
Race report from scottishdistancerunninghistory.co.uk:
        Unfortunately there is no report of this race although the results are available below.
        1. Mark Pickard (Epsom and Ewell H) 3:26:01; 2. Clive Rutland (Banbury H) 3:43:33; 3. Cavin Woodward (Leamington) 3:39:16; 4. Alan Richards (Tipton) 3:41:21; 5. Martin Daykin (Gloucester AC) 3:42:03; 6. John Watkins (SLH) 3:42:59; 7. Frank Thomas (Chelmsford AC) 3:43:46; 8. Dave Dowdle (Gloucester AC) 3:43:52; 9. G Smith (Tipton) 3:46:24; 10. Dave Francis (Fife AC) 3:46:38; 11. George Kay (1st veteran, Stafford) 3:46:45.
        First Team: Tipton H 32 pts; second team: Gloucester AC 33 pts.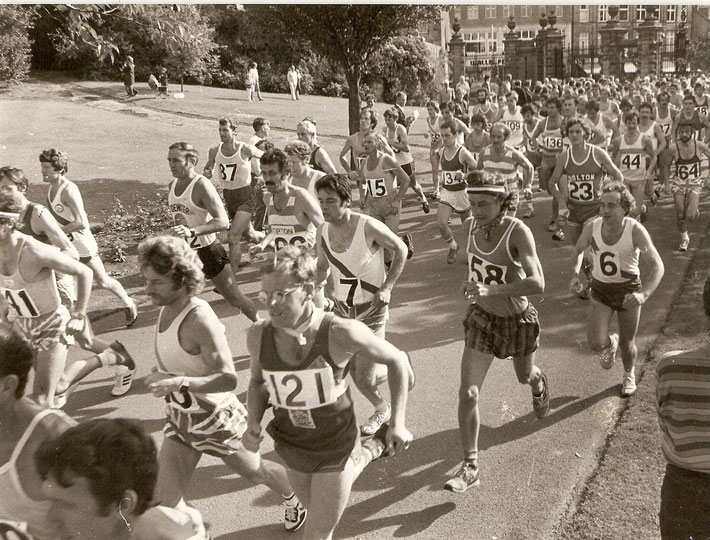 05 Sep 1981 - 50K track race - Montataire, FRA
1 Martin Daykin 3,13.49
12 Sep 1981 - 100K - Winschoten, NED
1 Martin Daykin 6,46.03
16 Chris O'Carroll 7,59.32
17 Ken Leyshon 8,14.28
Team: 1 Gloucester AC
Race report from Citizen newspaper, Tuesday 15th September 1981:
'WORLD' WIN BY DAYKIN
        Gloucester Athletic Club's all powerful ultra distance squad turned in another tremendous performance in a 100 kilometre (62.2 miles) road race in Winschoten, Holland.
        Martin Daykin led the world class field home, with the Gloucester squad of Chris O'Carroll, Ken Leyshon and Dave Dowdle taking the team prize.
        Runners from Poland, Belgium, West Germany, France, Switzerland, Holland, USA and Britain took part in the race.
        The race started in ideal conditions at 5am, and by 10 kilometres, the Gloucester squad had stamped their presence on the race.
        Daykin was in the leading trio, with Dowdle close behind and the other City runners in the chasing group. After 20 kilometres, Daykin was in second place and Dowdle in fifth, and by the half-way mark, Daykin had opened up a two minute lead with Dowdle fourth, O'Carroll 16th and Leyshon 17th.
        After four hours on the road, things were looking good for Gloucester but then the weather took a turn for the worse and it became hotter and hotter.
        This created havoc with the field and runners began to retire. All the Gloucester men were having problems and at 85 kilometres Dowdle, who was having a fine run, pulled out with cramp and dehydration.
        Daykin ran on strongly to finish his great run in six hours, 46 minutes, three seconds - the second fastest time in the world this year.
        O'Carroll fought off a Polish and Belgian runner to finish in 16th place in a time of 7 hours, 59 minutes, 32 seconds, 44 minutes better than his personal best.
        The third Gloucester runner Leyshon also improved his best time over the distance by a staggering 59 minutes. He finished in 17th place in eight hours, 14 minutes, 28 seconds. The Gloucester squad was given a fine ovation for their tremendous performance in a sport which is extremely popular in Europe.
26 Sep 1981 - 100K - Amiens, FRA
1 Martin Daykin 6,48.36 (ARRS UK Record)
27 Sep 1981 - 54 mile road race - London to Brighton
7 Dave Dowdle 5,46.56
Race review from History of the London to Brighton Race from Ultramarathon World:
        The 1981 race, which attracted a record entry of 175, reverted to a distance of 53 miles, 856 yards. In the previous two years, a diversion from the A23 owing to road construction at Gatwick, had added an extra 1366 yards.
        Bruce Fordyce of Witwatersrand University, Johannesburg, a British passport holder who had won the Comrades Marathon earlier in the year, was the winner over Mark Pickard and A.J. Roper. Fordyce bided his time, but was a clear leader at Pyecombe, the highest point crossing the South Downs. The race organiser was faced with the problem of finding new facilities in Brighton for the competitors. The Aquarium baths, a few yards from the finish, a happy haven which had provided for the needs of the weary runners for 30 years, had been closed down.
10-11 Oct 1981 - 24-hour track race - London
15 Martin Daykin 130Km at 10,37.24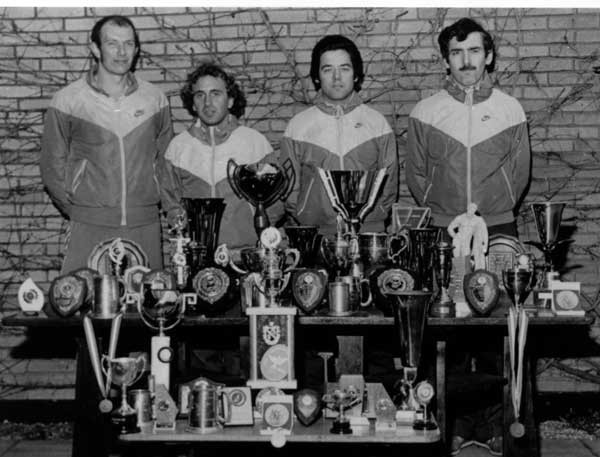 ---
18 Apr 1982 - 100K road race - Montpellier, FRA
1 Martin Daykin 6,57.00
19 May 1982 - 100K road race - Steenwerck, FRA
Martin Daykin retired at 78K
22-23 May 1982 - 24 hour track - Gloucester
1 Dave Dowdle 274.480Km (170 miles 974 yards)
3 Chris O'Carroll (141 miles 1254 yards)
4 Ken Leyshon (133 miles 1343 yards)
8 Martin Daykin 199.600K (124 miles 482 yards) (16,20.46), 12,52.10 at 100 miles
In 1982 Gloucester AC staged a 24-hour track race in which Dowdle set a world best for the distance covered. Daykin's target was a new world best for 200K and he set about achieving that goal from the gun. As he entered the final 20K Daykin, always a staunch Gloucester club man, donned his club vest as he stormed to what everyone thought would be a new world best by over 30 minutes. It was only much later in the day, after the race was over, that a lap-counting error was discovered and Daykin had run 400m short.
Dowdle had trained hard for the event, his training peaking at 240 miles/380km a week. His life prior to the race had consisted for many months of just running, eating, and sleeping, apart from when he was not putting in a full day's work as well. The race took place in May, and as part of preparation he had covered over 3000 miles/4800km since the previous Christmas. As a result this training he was able to complete the race without significant breaks, moving at nine minute mile/5.6 minute kilometre pace.
Pre-race report from Citizen newspaper, Friday 21st May 1982:
        Gloucester's reputation for producing some of the best ultra-distance runners in the world has attracted the strongest field ever seen for one of the most gruelling events - the 24 hour track race which starts tomorrow.
        At 10.00 am, a field packed with record holders and world ranked performers at several astonishing distances and races, will start out on one of the athletic world's pinnacles of effort and achievement.
        Leading the top-class runners will be Frenchman Jean Boussiquet - the world's best over 24 hours on the track and road.
        Boussiquet has run 164 miles on the track, but race organiser Chris O'Carroll said this record could go.
        "One hundred and 70 miles is feasible and the Gloucester lads are dying to have a go. We are all well known on the continent where this sport is very big and this has resulted in such a strong field," he said.
        Runners are coming from as far away as America and Australia as well as the top Britons, to run in the Gloucester event, but Chris said the strongest challenge could come from the crack Gloucester ultra-distance squad of Martin Daykin, Dave Dowdle, Ken Leyshon and himself.
        "We have a great tradition with some of the best training grounds in the world in the local hills. In the 100 miles event, you look at the world rankings and see four from Gloucester in the top 50 with two right at the top."
        The race has taken months of organisation and during the 24 hours, a back-up team providing food and drink for the competitors is vital.
        Runners will be taking liquid every 15 minutes and it has been estimated that during the course of the event, an athlete's intake will be an incredible five gallons.
        "Most of the runners will stop for meals, a rest and to change clothes and shoes during the night. But Boussiquet just sets up a reclining chair by the side of the track and never changes during the course of the race.
        "It is going to be a very close run thing and we want as many people as possible to come down and watch this unique event. Food and refreshment is available throughout the night," Chris added.
        Two women from London are in the field and they are confidently expected to break the United Kingdom record.
        For the 27 competitors this event is something special, one which even extremely fit athletes would find far too daunting. Only a select band are confident enough to contemplate running such distances.
        Chris O'Carroll summed up the race's appeal: "It is the athletics equivalant of climbing Everest."
        The effort begins at the City Athletic Club's Blackbridge headquarters at 10.00 am. The race ends on Sunday morning.
Race report from Citizen newspaper, Monday 24th May 1982:
DOWDLE BEATS WORLD - RACE RECORDS TUMBLE
        Gloucester's ultra-distance running star Dave Dowdle took on the world and won yesterday in the most gruelling and body sapping event ever held in the City.
        Dowdle set a new world best for the 24 hour track race beating the old figure of 169 miles by almost two miles.
        In a day of triumph for Gloucester athletes, Martin Daykin shattered the world record for 200 kilometres by more than 21 minutes.
        But the Gloucester achievements were not the only landmarks in this mindboggling event. Lyn Fitzgerald from London set a new best for women over 24 hours and on her way set new world best times at 150 kilometres, 50 miles and 200 kilometres as well as a European best at 100 kilometres.
        The second woman in the race, Roz Paul, also shattered the old world record - which now stands at 133 miles.
        A triumphant, but obviously shattered, Dowdle said afterwards "I'm shattered but really, really pleased to have won and taken the world record."
        He paid tribute to the spectators who braved pouring rain to cheer the runners on to the finish and said he was relieved to see the end.
        Daykin was another who was delighted, but surprised to have set a new best. "I really just came to run with my mates, but things went really well. When I run usually I have no discipline or patience but this time the pace was just right"
        Daykin warmed up for this event with a 100 kilometre race in France last week and said that helped his preparation and fully tested out an injury he suffered in the Norwich Marathon a few weeks ago. "To beat the record by 21 minutes is something I am delighted with," he added.
        The one disappointment was the withdrawal after about 70 miles of the former world record holder Jean Gilles Boussiquet from France.
        He was expected to mount a big challenge to protect his record, but became ill during the race and was forced to pull out.
        Mark Pickard (Epsom and Ewell), the British and Commonwealth record holder, came in second having covered 157 miles while the race organiser Chris O'Carroll was third and another Gloucester runner Ken Leyshon was fourth.
        O'Carroll enthused: "It was tremendous. We took on the world's best and took them apart."
        Every one of the 19 runners was a hero to even attempt this distance and the crowd who had been soaked by the driving rain certainly appreciated their efforts as the race drew to a close.
        The race was a highly successful event and no more so than for Dowdle and his Gloucester clubmates.
        Positions: 1 Dave Dowdle (Gloucester), 2 Mark Pickard (Epsom and Ewell), 3 Chris O'Carroll (Gloucester), 4 Ken Leyshon (Gloucester), 5 Lynn Fitzgerald (Highgate Harriers), 6 Bruce Slade (Exeter Harriers), 7 Roz Paul (Barnet), 8 Martin Daykin (Gloucester), 9 Bob Holmes (Notts AC), 10 Malcolm Campbell (Notts AC), 11 Ken Shaw (Cambridge Harriers), 12 John Towers (East Hull Harriers), 13 Bromley Clarke (Berryhill AC), 14 Richard Thornton (Salisbury), 15 Joe Record (Australia), 16 Paul Collins (Highgate and Canada), 17 Herb Groom (USA), 18 Jean-Gilles Boussiquet (St Pierre D'Amilly, France), 19 Don Choi (USA).
        Dowdle also won a trophy presented by the Citizen for the Gloucester runner who ran the furthest in the race.
Race report by Andy Milroy from Athletics Weekly, 3rd July 1982:
        Despite a blustery wind and heavy rain in the last hour, the 24-hour track race on May 22nd/23rd at Blackbridge, Gloucester, was perhaps the most remarkable such event yet. Among the 19 starters at 10am were two female runners, Lynn Fitzgerald and Roz Paul, who had finished first and second in the Women's London to Brighton race. Favourites among the men to win were Jean-Gilles Boussiquet, holder of the world best performance, Mark Pickard, British record holder, and two strong competitors from Gloucester AC, Martin Daykin and Dave Dowdle. Martin is regarded as perhaps the most formidable 100Km runner in Western Europe and Dave showed his quality by recording the third best road 100M time ever behind Martin last year.
        After a rather bunched start Pickard eventually took the lead, with Daykin, closely followed by Dowdle, second. Joe Record and Boussiquet, fourth and fifth, were running at a more moderate pace which, for the latter, is his normal practice. However, this was not to be his day as he was troubled by stomach upsets and retired at 70M.
        Pickard passed 50M in 6:10:39 followed less than nine minutes later by
Daykin and Dowdle. Fifth though was Lynn Fitzgerald, moving so well that her time was a new world best for women of 6:41:58; Roz Paul was not far behind her with 7:09:42. Lynn then pressed on to improve the female 100Km best with 8:39:10 - a good day's work for anyone, but she wasn't finished by a long way.
        Meanwhile back with the men, shortly after 70M Daykin took the lead, running powerfully. By the 100M mark he had opened a gap of 18 minutes on Pickard, who was slowly being caught by Dowdle, the three leaders passing that point in 12:52:10, 13:10:43 and 13:31:29. Chris O'Carroll, in fourth, went through in 14:19:10, with John Towers half an hour behind him.
        Attention switched back to the ladies. Lynn, after setting her third world female best, this time at 150Km (14:34:02), was attempting to lower the last of Marcy Schwam's world marks - 15:44:27 for 100M. She seemed to be tiring visibly and in the last few laps before the '100' she was forced to walk. She still managed an excellent British best of 15:58:15. She looked exhausted - everybody thought that was the end of her race. Roz was forging on and achieved the third best female 100M time ever, of 16:33:36, and looked set to tackle the 24-hours. However, after a few more miles she succumbed to a leg injury and seemed to have retired. Whereupon a walking figure, striding out at 4 mph was seen - Lynn Fitzgerald was back.
        At the front of the race there had been some change. Daykin continued to blast on in front, despite a heavy fall, but the pattering feet of Dowdle had carried him into second. He was soon to be first, for Daykin stopped at 200Km with what was thought to be a new world best. Tragically it later transpired that a lap recorder error had credited him with an extra lap and he stopped in fact at 199.6Km.
        Dowdle continued his even pace running, which apart from a slight decline in the 20th and 21st hours he maintained to the end. The 20th hour also marked the re-emergence of Roz, who began to pound round the track gaining on Lynn all the time. She gained some four or five laps before Lynn began to run, and from then on it was certain which woman would finish ahead. But Roz's constant pressure, forcing Lynn to greater efforts, pushed both women through the previous world best for 200Km; so much faster were they that Roz broke the mark by nearly an hour, and Lynn by 80 minutes.
        With about 3 1/2 hours to go Dowdle began to find the strain of the drive to the world best beginning to tell, and for half a lap he walked. We were then treated to the unique sight of two great 24-hour runners, Jean Boussiquet and former record holder Ron Bentley, virtually push Dowdle into a running pace. Then with help and encouragement from Joe Record, Dowdle began to revive, and the prospect of a new world best performance became a reality. With 9 1/2 minutes to go he passed Boussiquet's Lausanne mark of 169M 704Y. As the final seconds ticked away the small figure of Dowdle led the charge of competitors as they strained to cram in that extra yard. Dowdle finished with 170M 974yd for a new world, UK National and all-comers best performance. Pickard, perhaps not yet back to his form of last year, still went over 157M, while two more Gloucester AC runners, O'Carroll and Ken Leyshon, achieved very respectable distances in their first 24-hour race in fourth and fifth places. In sixth was Lynn Fitzgerald, adding over seven miles to the old female record, her fifth world best performance of the race. The experienced 24-hour runner, Bruce Slade, at last cracked 130 miles, while less than a mile behind him Roz Paul had run further than any other woman prior to this race.
        A remarkable race. Dave Dowdle had made a superb debut and one wonders what he will be capable of with a little more experience of the event. After the great performance by Anne Sayer at the Nottingham 48-hours, and now Lynn and Roz's great runs, British women have shown that they can compete with great distinction over the ultra-distances.
        1, D Dowdle (Glouc) 170M 974y; 2, M Pickard (Epsom & Ewell) 157M 515y; 3, C O'Carroll (Glouc) 141M 1254y; 4, K Leyshon (Glouc) 133M 1343y; 5, Lynn Fitzgerald (Highgate) 133M 939y; 6, B Slade (Exeter) 130M 485y; 7, Roz Paul (Barn) 129M 651y; 8, M Daykin (Glouc) 124M 482y; 9, R Holmes (Notts) 119M 1375y; 10, M Campbell (Notts) 117M 831y; 11, K Shaw (Camb H) 110M 538y; 12, J Towers (East Hull) 107M 1093y; 13, B Clarke (BH) 102M 1673y; 14, R Thornton (Salis) 102M 98y; 15, J Record (Aus) 101M 367y; 16, P Collins (Highgate) 99M 1048y; 17, H Groom (US) 79M 1393y; 18, J Boussiquet (Fra) 69M 1044y; 19, D Choi (US) 65M 1085y.
06 Jun 1982 - 100K - Rambouillet-Paris, FRA
1 Martin Daykin 6,15.42 (course short 2-3K for first few runners)
8 Chris O'Carroll 7,36.20
16 Dave Dowdle 8,01.40
Team: 1 Gloucester AC
Race report from Citizen newspaper, Wednesday 9th June 1982:
DAYKIN'S WORLD RECORD
        In a race filled with drama, Martin Daykin, one of Gloucester's ultra distance stars, set a new world record in winning a 100 kilometres (62.2 mile) road race in Paris.
        Daykin was first home in a field of 350 and set a new world best of six hours, 15 minutes, 40 seconds. After battling it out with French champion Bernard Gaudin, Daykin pulled away and won in the hot, gruelling conditions by more than eight minutes.
        Gloucester won the team prize, but there were some anxious moments for the squad, when Dave Dowdle, the world's best over 24 hours, went off course.
        Second City man home was Chris O'Carroll, who is slowly moving up into world class, finishing in eighth place and knocking 23 minutes off his personal best in a time of seven hours, 36 minutes, 20 seconds. This was despite going off the course at one point due to bad race directions.
        The Gloucester team anxiously awaited their third man home, but word got around that Dowdle had got hopelessly lost and was spotted running off down the main Paris motorway.
        Ken Leyshon, the fourth Gloucester runner, who had earlier pulled out with stomach trouble, went into action on a rescue mission. He got a lift to Dowdle and directed him back onto the right route.
        Both of them were suffering due to lack of drinks, but team manager, Phil Hoddy, Tony Daykin and Martin's wife, Liz, got out to Dowdle and Leyshon with drinks and sponges just in time.
        Despite suffering, Dowdle managed to hobble in to finish in 16th in eight hours, one minute, 40 seconds. This gave Gloucester the team prize with a record score of 25 points and it was a proud day for the club as they received their trophies from the French Minister of Sport.
        Their efforts were all the more remarkable as they were still recovering from their exertions in the City's 24 hour race two weeks ago.
Race report from Athletics Weekly, 14th August 1982:
WORLD BEST FOR MARTIN DAYKIN?
        Gloucester AC ultra-distance star Martin Daykin won the Division Leclerc 100Km road race from Rambouillet to Paris on June 6th in 6:15:42 which, if the course is accurate, represents a world best for a road race at this distance. Martin writes: "I should have run that race in about 6:35 with the warmish conditions later in the race and the slightly undulating nature of the course. However I was in a BAD mood (because of various problems with the organisation etc) and that time was achieved on sheer venom and a determination to succeed in spite of everything."
        1, M Daykin (Glouc) 6:15:42; 2, B Gaudin 6:23:17; 3, A Guignard 6:57:00; 4, R Lesavre 7:01:58; 5, M Pickard (E&E) 7:02:52 ..... 10, C O'Carroll (Glouc) 7:42:08; 11 J Towers (East Hull) 7:45:20; 16 D Dowdle (Glouc) 8:08:26; 17 D West (Sale) 8:09:37.
What the reports do not cover is the fact that the leading few runners were dragged down a shortcut near the finish due to the lead car cutting the route short, resulting in Martin's time not counting as a world record. Had the lead car followed the true route, Martin would have broken the record by around 2 minutes. The record stood at 6,26.05 to Cavin Woodward, set on 10th June 1978 in Migennes, France.
Comments from Martin himself:
"The Rambouillet - Porte d'Orleans was definitely short. The organisers wanted a world record and I was well on target after an epic battle with the French champion, but to make sure, the lead car deliberately cut the course near the end and my 13 minute final 5 kms showed it was about 2kms short. All this was witnessed by the organiser of the Amiens race, who was following behind in his car and wrote a stinging letter in the French Spiridon magazine, berating the organisers for their underhand tactics and depriving me of a genuine world record.
The Amiens race (4th September) on the course I ran is suspected of being short, but I am fairly confident it was right. The organiser was the president of the French ultra distance running society and he was responsible for course accuracy, so I doubt he would leave his own course short and would have measured it in an approved manner. I ran particularly well that day and am happy that this was my fastest time over 100 kms."
12 Jun 1982 - 100 mile road race - Ewhurst
Martin Daykin retired at 67 miles
31 Jul 1982 - 40 mile road race - Woodford to Southend
2 Martin Daykin 4,11.45 (course 1 mile long)
28 Aug 1982 - 36 mile road race (Two Bridges) - Rosyth, Scotland
2 Martin Daykin 3,29.08
6 Les Davis 3,43.20
16 Ken Leyshon 3,55.26
Team: 1 Gloucester AC
Race report from scottishdistancerunninghistory.co.uk:
        A record field of 115 started. Immediately, Charlie Trayer, the strong challenger from Reading RRC, USA, set off alone followed by a group of five - Daykin, Johnston, Watkins and the Fife AC pair of Ian Graves and Bob Pemble. This group reached 5 miles in 28:25 with Trayer 13 seconds ahead. In the run through Culross to Longannet against a strong west wind, the chasing group dropped Pemble but by 10 miles (56:59) had been joined by Clive Rutland and Chris O'Carroll of Gloucester AC. Over the Kincardine Bridge and now with a following wind, by 15 miles (1:26:07) the pace had increased. Johnston and Daykin forged ahead, the former reaching 20 miles in 1:53:18, a minute in front of Daykin, with Watkins, Rutland, Graves and Trayer 3 minutes adrift.
        The first steep hill widened the gap, when Tim Johnston, the former international track and marathon star, now a veteran of 41, took a two and a half minute lead over Martin Daykin at 25 miles and reached the marathon distance in 2:28:17. Maintaining a sensible pace, Johnston went on to reach 30 miles in 2:50:54, still two and a half minutes ahead. Further back both Dave Francis and Les Davis were making a strong move forward. Watkins' third place was being threatened by Trayer. Crossing the Forth Bridge it looked doubtful if the leader would become the first veteran winner, as Daykin was gaining with every mile and finishing strongly. However Tim did hang on to reach the Rosyth Civil Service Sports Centre just 32 seconds in front of Martin, who has now filled the 5th to 2nd places in four successive years. John Watkins held on to 3rd place, 3 minutes ahead of Charlie Trayer, who becomes the highest placed overseas competitor in this event, with Dave Francis 5th and Les Davis 6th.
        1. Tim Johnston (1st veteran, Portsmouth) 3:28:36; 2. Martin Daykin (Gloucester AC) 3:29:08; 3. John Watkins (South London Harriers) 3:35:16; 4. Charlie Trayer (USA) 3:38:18; 5. Dave Francis (Fife AC) 3:34:06; 6. Les Davis (Gloucester) 3:43:02; 7. Clive Rutland (Banbury) 3:44:13; 8. M Reid (VPH) 3:46:08; 9. Richard Dalby (Harrogate) 3:47:44; 10. George Kay (Stafford AC) 3:48:25.
        First team: Gloucester AC (Daykin, Davis, Ken Leyshon 16th in 3:55:26). 104 finished.
04 Sep 1982 - 100K road race - Amiens, FRA
1 Martin Daykin 6,32.59 (marathon - 2,37.28, 50Km - 3,06.59)
(Second place was F Thomas (Chelm - Vet) in 6,54.34)
11 Sep 1982 - 100K road race (European Championships) - Winschoten, NED
1 Martin Daykin 6,39.08
4 Dave Dowdle 7,05.01
7 Chris O'Carroll 7,12.40
12 Ken Leyshon 7,47.57
Team: 1 Gloucester AC
Race report from Citizen newspaper, Monday 13th September 1982:
CITY FOUR CONQUER EUROPE
        Gloucester's ultra distance quartet of Martin Daykin, Dave Dowdle, Chris O'Carroll and Ken Leyshon have conquered Europe.
        Without the official backing of the English Athletics Board, Gloucester's record breaking foursome lifted the European 100 kilometre Championship in Winschoten, Holland, at the weekend.
        England have yet to recognise the distance as a national sport but that did not prevent Gloucester's hungry foursome from capturing the title.
        All four finished in the first 12, with Martin Daykin winning in six hours, 39 minutes, 8 seconds. It was Daykin's second major win in the space of seven days.
        His nearest challenger, Hans Kleu of West Germany, finally crossed the finish line with a time of 6,51.17 - over 12 minutes behind the Gloucester runner.
        Daykin has now won the event on three occasions, but this is the first time that the championships have been officially recognised on the continent.
        Next home for Gloucester was World 24-hour record holder, Dave Dowdle. The Longlevens runner powered into fourth place with a personal best of seven hours, five minutes, one second.
        Dowdle now looks well on the road to recovery after his tiring exploits last May in the Gloucester 24 hour race.
        Chris O'Carroll kept the momentum going. He crossed the line in seventh place with a time of seven hours, 12 minutes, 40 seconds.
        A superb run from Ken Leyshon gave Gloucester, if not England, the title. He smashed his personal best by over half an hour, storming home in seven hours, 47 minutes, 57 seconds.
        Leyshon, from Coney Hill, was accompanied by his daughter Sonya for the full 100 kilometres. She cheered her father home on her bicycle, in what were very humid conditions.
        Not even the strong host country, including Henk Bronswijk, the only foreign athlete ever to beat Martin Daykin, could contain Gloucester's four runners.
        "It was a tremendous run for the whole team. Although our own sports body did not officially recognise the event, we ran with our country very much in mind," said Daykin.
Race report from Athletics Weekly, 13th November 1982:
MARTIN DAYKIN'S 'ULTRA' DOUBLE
        The Winschoten 100Km road running race held in Holland on September 11th was to have been a full blown European championship, but despite the efforts of the organisers and several people in this country the BAAB could not be persuaded to recognise this race as an international event and consequently there was no English or British national team. However, the organisers did allow the four Gloucester AC runners to unofficially represent England and they created a major surprise by winning the event for England. Hopefully, an official national team will be sent next year, for the benefit of the ultra-men in this country who run vast distances in training but receive minimal recognition for their efforts despite leading the rest of the world.
        Martin Daykin was after a fast time but following a hard race of similar length the previous week he could only manage 6:39:08. The other three Gloucester lads all ran exceptionally well, and recorded personal bests in 4th, 7th and 12th places in the 102-strong field.
        1, M Daykin (Glouc) 6:39:08 (3:13:30 at 50Km); 2, H Kleu (FRG) 6:51:17; 3, H Bronswijk (Neth) 6:55:04; 4, Dave Dowdle (Glouc) 7:05:01; 5, F Bozanich (USA) 7:05:53; 6, H Vybiral (FRG) 7:10:42; 7, Chris O'Carroll (Glouc) 7:12:40 ..... 12, Ken Leyshon (Glouc) 7:47:57.
25 Sep 1982 - 100K road race - Santander, ESP
2 Martin Daykin 6,44.50 (certified accurate)
(Race winner was Don Ritchie (Forres) in 6,28.11)
26 Sep 1982 - 54 mile road race - London to Brighton
9 Dave Dowdle 6,09.09
Race review from History of the London to Brighton Race from Ultramarathon World:
        Fordyce returned the following year and stamped his authority on the race earlier than in 1981. He led by over a minute at Crawley to win by the largest margin ever of 24 minutes, 37 seconds. Two other South African based Britons took second and third places. Ann Franklin finished in just over 7 hours on a very windy day.
16 Oct 1982 - 100K road race - Hamm, GER
1 Martin Daykin 6,41.32
31 Oct 1982 - 100K road race - Montlucon, FRA
1 Martin Daykin 6,36.43
---
 13 Mar 1983 - 50 miles track race - Copthall
2 Dave Dowdle 5,20.40
4 Richard Dalby 5,24.51
8 Chris O'Carroll 5,59.45
Ken Leyshon retired after 2,29.18 at 35.6Km (22miles 212yards)
Race report from Citizen newspaper, Tuesday 15th March 1983:
DOWDLE SECOND IN 50 MILER
        Dave Dowdle, a member of Gloucester's crack ultra-distance running squad, turned in a fine performance in the annual 50 mile track race at Copthall Stadium, London.
        Dowdle finished second to Scotsman Don Ritchie in a world class field and moved him into ninth position in the world all time list. Ritchie's winning time was a new world record.
        At the 20-mile mark Gloucester, consolidating their position as the leading ultra distance team in Europe, had four of the leading ten runners. But Ken Leyshon sustained a leg injury and was forced to retire.
        Dowdle's finishing time was five hours, 20 minutes, 40 seconds. Richard Dalby, a new member of the Gloucester team, also had a fine run coming in four minutes behind Dowdle and his run put him into the world rankings.
        To round off a great day, Chris O'Carroll came in eighth in five hours, 59 minutes, 45 seconds.
        These results will boost the confidence of the squad as they prepare for their next test - the 24 hours, four man Crack Cancer Campaign Relay Race at the Prince of Wales Stadium, Cheltenham, on April 2nd.
        Martin Daykin will join the team and they will be hoping to crack the record, currently set at 234 miles and held by the Kentucky Track Club, United States.
        The Gloucester squad hope to break this mark in style and push past 250 miles, but they will also be up against some of the best teams in Britain, who are likely to push them all the way.
02-03 Apr 1983 - 24-hour track relay - Cheltenham
Race report from Citizen newspaper, Tuesday 5th April 1983:
NEW WORLD RECORD FOR CITY RUNNERS
        Gloucester's crack ultra distance squad added another world record to their growing tally when they shattered the four-man 24 hour relay record at Cheltenham over the weekend.
        The team of Chris O'Carroll, Martin Daykin, Ken Leyshon and newcomer Richard Dalby pounded around the Prince of Wales stadium for a total of 246 miles (396Km) - 12 more than the previous best set in Kentucky four years ago.
        Each member of the team ran 61 1/2 miles in one mile legs at a remarkable average of five minutes, 51 seconds a mile.
        Compared to the 24 hour individual marathon in Gloucester last May, this run was slightly easier although the extremes of weather gave considerable problems.
        The runners had to contend with a blinding snowstorm in the early stages, freezing conditions during the night, and hot sun in the closing hours of the run.
        A team from the South London Harriers also set a new World record for a team of only three men - they set a new mark of 229 miles.
        This event heralds a season of competition when the Gloucester team, plus other talented runners like World individual 24 hour champion Dave Dowdle, will once again be taking on the best runners in the World.
10 Apr 1983 - 78K road race - Marseilles, FRA
1 Martin Daykin 4,59.36
16-17 Apr 1983 - 24-hour track race - Vienna, AUT
4 Martin Daykin 212.105Km
13-15 May 1983 - 48-hour track race - Gloucester
1 Dave Dowdle 384.050Km (238 miles 1122 yards)
5 Ken Leyshon 283.623Km (176 miles 20 yards)
18 Richard Dalby 110.400Km (68 miles 1055 yards)
19 Martin Daykin 109.600Km (68 miles 180 yards)
Mid-race report from Citizen newspaper, Saturday 14th May 1983:
DOWDLE PASSES 100 MILE MARK
        The expected clash between Gloucester's top ultra long distance runners Martin Daykin and Dave Dowdle in the 48-hour international track race at Blackbridge has come to nothing.
        For although Dowdle was in the lead this morning at the 15 hour mark, Daykin was out with a back injury, and unlikely to complete any more laps.
        Dowdle reached 100 miles at world record pace, and stopped for a sleep, but he was fast being overhauled by Jean-Pierre Haec of France, who had taken a shorter amount of time out to rest.
        Statistician in charge of the event, Andy Milroy, said the event and others like it were very much a matter of strategy. "The runners have to pace themselves carefully the whole time just to be able to keep running," he said. "If they don't, they will be out through injury long before the end of the 48 hours."
        Any time the runners take off for sleeping, they are not covering distance, and since the object of the race is to cover the longest distance in the time allowed, many simply slow down to a walk rather than stopping.
        Behind Haec at 15 hours was Dave Cooper of Cambridge Harriers, 15 miles adrift, and behind him was Dutchman Henk Noor Veenweg.
        The next Gloucester runner was Ken Leyshon, 5th, who had covered 80 miles.
        Conditions have not ben perfect for the run, with blustery winds and heavy showers, but the organisers hoped that there would be a good crowd on Sunday afternoon to help the runners towards the finish.
Race report from Citizen newspaper, Monday 16th May 1983:
RECORDS TUMBLE TO DAVE - DOWDLE IS ON TOP OF THE WORLD!
        Diminutive Dave Dowdle has conquered the world again. Running in the Gloucester 48 hour race he broke three world records, adding to the one he already holds over 24 hours.
        In his most astonishing run to date, the Longlevens athlete covered just over 238 miles, almost two miles further than the previous 48 hour record distance held by the Frenchman, Jean-Gilles Boussiquet.
        The average motorway driver would need to be on the road for around four hours to match Dowdle's distance - the equivalent of running from Gloucester to Manchester and back.
        Dowdle was offered no scenic route. His 200 mile slog had to be negotiated in heavy bouts of thunder and lightning, a fact which kept the sports record breaking lady, Lynn Fitzgerald, away from Blackbridge.
        Cheered on by the locals, Dowdle shattered both the 300Km (reached in 35h, 27m, 03s) and 200 mile (reached in 38h, 34m, 16s) world record times before eclipsing Boussiquet's 48 hour distance with a gentle canter.
        Frenchman Jean-Pierre Haec challenged strongly for the lead on Saturday night.
        "He had kept me going. When he dropped out it almost destroyed me. It was very difficult to raise myself, knowing I was now out on my own," explained Dowdle.
        Haec, who had entered the race late, took a four hour rest on Sunday morning and it cost him the chance of top honours. His finishing distance of 368.368Km left him just one lap short of clinching third place on the world all time best list over 24 hours.
        Two French records at 300Km and 200 miles and second place at Gloucester gave Jean-Pierre some consolation.
        Records certainly went crashing. After a miserable start in which the weather threatened to 'nobble' the runners, the race ended up producing 15 record holders, three world bests and 12 national records.
        Cambridge Harrier Dave Cooper set a British veterans' record at 300Km, 200 miles and 48 hours, finishing third overall with a distance of almost 352Km.
        American ultra-distance runner Marvin Skagerberg broke his own United States veterans' record, completing 290Km in 48 hours.
        Dutchman Henk Noor set new Dutch records at 100 miles, 24 hours and 48 hours and local Gloucester runner Ken Leyshon was unlucky not to enter the record books after finishing fifth overall with a magnificent run of 283.663Km.
        It was not all joy for Gloucester AC. Martin Daykin withdrew from the event 15 hours after the start after injuring his back helping to unload camping equipment. He had been a strong favourite to take the 200Km world record and had led until his injury.
        Clubmate Richard Dalby was another casualty. He had to pull out with a groin strain after 100Km 
        "The race had looked a disaster on Saturday afternoon. The weather had been terrible, Lynn Fitzgerald the ladies' world record holder had not turned up, Martin Daykin was out of the race and Dave Dowdle was only lying seventh," recalled the race secretary, Chris O'Carroll.
        "That we should produce 15 new records is unbelievable. What is particularly pleasing is that those people who travelled from abroad also broke records. The French, Dutch and Americans were all rewarded. It was nice that the honours should be shared around."
        Runners were quick to congratulate Gloucester AC for their organisation of the two day event. Responding to that praise, club officials thanked all those who volunteered as lap scorers during the 48 hours.
Race report by Chris O'Carroll from Athletics Weekly, 25th June 1983:
THREE WORLD BESTS FOR DAVE DOWDLE
        There was a glut of record breaking performances at Blackbridge track, Gloucester, on May 13-15th, as Dave Dowdle led the way with a world's best performance of 238M 1122yd / 384.050Km, in Gloucester AC's 48-hour invitation track race. 21 runners started, including one woman - Anne Sayer, although pre-race favourites, Richard Dalby and Martin Daykin, were both early casualties.
        Many people thought that Dowdle's 24-hour world best was a one-off fluke, but he proved the cynics wrong by setting world best marks at 300Km (35:27:03) and 200M (38:34:16) en route to his 48-hour total. Runner-up was Parisian, Jean-Pierre Haec, who set French records at 300Km (40:19:07) and 200M (42:57:09) and placed third on the all-time list with his final achievement of 228M 1574yd (368.370Km). If the Frenchman hadn't overslept, Dowdle might have had a battle on his hands to win the race!
        Third place went to Dave Cooper, a Vet, who ran a great tactical race - race walking, running and resting throughout - to notch up 218M 1149yd, with world Vets bests at 300Km (41:31:01) and 200M (44:24:08) on the way; and, behind him, Marvin Skagerberg improved US Vets marks throughout to finish with 180M 565yd (290.198Km).
        1, D Dowdle (Glouc) 238M 1122yd (384.050Km); 2, J Haec (Fra) 228M 1574yd (368.370); 3, D Cooper (Camb H) 218M 1149yd (351.888); 4, M Skagerberg (US) 180M 565yd (290.918); 5, K Leyshon (Glouc) 176M 20yd (283.263); 6, K Shaw (Camb H) 167M 720yd (269.410); 7, H Noor (Neth) 160M 529yd (257.979); 8, M Campbell (Notts) 148M 1550yd (239.600); 9, B Slade (Exe) 148M 112yd (239.200); 10, T Burbridge (Ver) 146M 192yd (235.139); 11, R Lawton (Holm) 137M 1604yd (221.947); 12, C Van Der Kooy (Neth) 134M 735yd (216.324); 13, R Thornton (Salis) 122M 1723yd (187.915); 14, J de Roquefeuil (Fra) 114M 195yd (183.643); 15, G Stenger (Fra) 84M 891yd (136.000); 16, F Van Bruchem (Neth) 78M 78yd (125.600); 17, K Buckle (Chelt) 72M 139yd (116.000); 18, R Dalby (Glouc) 68M 1055yd (110.400); 19, M Daykin (Glouc) 68M 180yd (190.600); 20eq, P Collins (Can) & Ann Sayer 62M 241yd (100.000).
04-10 Jul 1983 - 6-day road race - New York, USA
5 Dave Dowdle 719.716Km (447 miles 371 yards)
15 Ken Leyshon 590.217Km (366 miles 1310 yards)
23 Chris O'Carroll 408.650Km (253 miles 1626 yards)
Race report from Citizen newspaper, Wednesday 13th July 1983:
DOWDLE'S PAINFUL SECRET
        Gloucester's top ultra-distance runner Dave Dowdle covered 447 miles in a prestigious six day track race in New York, but through his pain Dowdle believes he has discovered the secret to even greater mileage.
        In frightening temperatures, recorded in mid-week at 116F (47C), Dowdle was reduced to a hobble in the last few days of the race, suffering from tendonitis.
        Treatment off the track from a top US specialist revealed that Dowdle has a very high foot arch. Without a special corrective shoe, Dowdle has been putting untold stress on his legs.
        "It perhaps needed a race like this to show up the problem," said a fatigued Dowdle back at home in Gloucester yesterday. "I have always suffered a lot of swelling in the legs after racing, but hopefully with a pair of orthotic running shoes these problems will disappear."
        Dowdle was forced to hobble round the New York track for a further eight laps to hold on to fifth place, after being pressed by Canadian Trishul Cherns, American Don Choi and fellow Briton Colin Dixon.
        Dowdle knew that by adding a further eight laps to his total at the end of day six, he would force Cherns to run 10 miles in the final hour.
        Even so, the finishing order from fifth to eighth was desperately close. Just five miles separated Dowdle, Cherns, Choi and Dixon, with Longleven's multi-world record holder winning fifth spot.
        Eventual race winner Siegfried Bauer shattered the American all-comers record with a distance of 511 miles. However, Bauer had been hard pushed by Dowdle on day one. Just 15 miles separated the two runners, but Bauer's superior heat acclimatisation widened the gap.
        All four runners to beat Dowdle came from countries with a more comparable climate to the extremes of heat faced in New York, a significant fact according to the Gloucester ultra-distance squad.
        All three members of the squad, Dowdle, Ken Leyshon and Chris O'Carroll were making their debut in the sport of six day track racing.
        Leyshon, who finished 14th with an impressive mileage of 366, confessed that he was amazed by his achievement.
        "After the Gloucester 48 hour race, I have only been doing 50 miles training per week, just to keep things ticking over, and yet I ran the race of my life."
        O'Carroll, the third team member, covered 253 miles, but sacrificed his chances to help Dowdle. Early in the week, race essentials like food and drink supplies had been overlooked amid the usual American razzmatazz.
        Dowdle said that he was disappointed not to have won, but revealed that his mental preparation had not been good enough.
        "I was not confident about the race. I had done only 90 miles training a week after the Gloucester 24 hour race. Racing is very much a mental thing, if you know in your mind that you have trained hard, then that is one less area you need worry about."

Race report by Andy Milroy from Athletics Weekly, 20th August 1983:
       The six-day race (ending on July 10th) at Randall's Island, New York City, put on by the New York RRC, was an international affair. The field included Siegfried Bauer (New Zealand), Jean-Gilles Boussiquet (France), Dave Dowdle (UK), Joe Record (Australia) and Trishul Cherns (Canada) as well as several of the top Americans. The New Zealander has great experience in multi-day runs and races. He won a 950 mile race in South Africa some years ago and has also run the length of New Zealand and across West Germany. The weather was very hot - 91F on one day. Different competitors adopted different strategies to combat the heat - Boussiquet wrapped himself in a white sheet, while one of the lady competitors wore a thin nightdress over her running kit which she kept wet.
        1, Siegfried Bauer (NZ) 511M 1440yd (823.691Km) (5th on all-time list); 2, Stu Mittleman (US) 488M 1331yd (786.576) (US best - 7th all-time); 3, Joe Record (Aus) 470M 277yd (756.644) (8th all-time); 4, Jean-Gilles Boussiquet (Fra) 468M 1692yd (754.720); 5, Dave Dowdle (UK) 447M 371yd (719.716); 6, Trishul Cherns (Can) 445M 265yd (716.400); 7, Don Choi (US) 443M 1631yd (714.430) (10 days after his 460 miles US record at Pennsauken!); 8, Colin Dixon (UK) 442M 1580yd (712.774) ..... 11, Lorna Richey (US) 401M 919yd (646.187) (2nd best performance by a woman to Ros Paul's world mark); 13, Malcolm Campbell (UK) 386M 1152yd (622.260) (10 days after his 314.75 miles at Pennsauken); 15, Ken Leyshon (UK) 366M 1310yd (590.217); 16, Geoff Richardson (UK) 364M 1690yd (587.346); 19, Bruce Slade (UK) 328M 435yd (528.262); 23, Chris O'Carroll (UK) 253M 1626yd (408.650).
31 Jul-06 Aug 1983 - 6-day track race - Nottingham
15 Ken Leyshon 536.406Km (333 miles 540 yards)
27 Aug 1983 - 36 mile road race (Two Bridges) - Rosyth, Scotland
19 Dave Dowdle 4,05.41
30 Ken Leyshon 4,18.02
38 Richard Dalby 4,26.46
Race report from scottishdistancerunninghistory.co.uk:
        A record number of 126 started. There was bright sunshine, high humidity, and the prospect of a keen duel between ultra greats Don Ritchie and Cavin Woodward. For the first 5 miles, Dave Francis moved out in front followed by Woodward, Ritchie and Sam (or Ian) Graves but by 10 miles (58:11) all four were together. However on the Kincardine Bridge, Woodward and Ritchie broke away. By 20 miles (1:56:30) 25 miles (2:26:37) and 30 miles (2:57:55) the two leaders matched stride for stride and were now six minutes ahead of Graves, Francis and Jim Ulvestad (USA). The strong east wind on the Forth Road Bridge was troublesome and it was here that Don Ritchie made the first positive move forward, breaking away to become the first Scot to win this event since 1974, some 31 seconds in front of Cavin Woodward, who had dominated the ultra-marathon events so far this year. Meanwhile Allan Hardy produced a stirring finish to move up four places in the last four miles to finish third. The Fife AC pair stayed together to clinch fourth and fifth in front of another strong finisher, Bruce Robinson, who passed his tiring team mate to take sixth place. When Ian Mitchell appeared in 33rd position, the Fife AC team stole the team prize from the Americans, thus becoming the first Scottish winners since 1974. First lady was Mary Williams (Washington RC, USA) in 4:47:50.
        1. Don Ritchie (Forres Harriers) 3:34:39; 2. Cavin Woodward (Leamington) 3:35:10; 3. Allan Hardy (Burnham Joggers) 3:44:04; 4. Samuel (Ian) Graves (Fife AC) 3:46:15; 5. Dave Francis (Fife AC) 3:46:15; 6. Bruce Robinson (Washington RC, USA) 3:49:41; 7. Paul Taylor (Woodstock H) 3:51:09; 8. James Ulvestad (Washington RC) 3:52:26; 9. Graham Smith (Tipton H) 3:55:04; 10. Eric Ratcliffe (Bingley H) 3:55:34; 11. Vic Gutteridge (1st veteran, Hillingdon AC) 4:00:36. A record 109 finished. First team: Fife AC (Graves, Francis, Ian Mitchell)
11 Sep 1983 - 40 mile road race - Bolton 40
4 Richard Dalby 4,34.00
25 Sep 1983 - 54 mile road race - London to Brighton
22 Dave Dowdle 6,15.50
76 (3rd lady) Christine Barrett 7,25.16
Race review from History of the London to Brighton Race from Ultramarathon World:
        Bruce Fordyce won the 1983 Brighton in the outstanding time of 5:12:32, only a minute outside the best time for the race, thus achieving the double of the Comrades and Brighton for three consecutive years. His remarkable career continued with a total of nine Comrades wins.
        Graeme Fraser was again second and Don Ritchie, who had contested the lead before Crawley, was third. The race was notable for the high standard of performances. Fourteen finished within six hours, and Fordyce was credited with a world best road performance of 4:50:21 for 50 miles. Ann Franklin recorded 6:37:08, eighteen minutes less than the previous best time by a woman.
Short extract from Athletics Weekly, 8th October 1983:
(Controversy surrounded this year's London to Brighton due to some unnofficial South African runners, breaking the IAAF's Anti-Apartheid policy, taking part)
        .....As a result, several Fleet Street news sleuths, not normally up at that hour and certainly not for the 'Brighton' were visible when the runners assembled on Westminster Bridge waiting for Big Ben's first stroke of seven as the 'off'. No signs of a demo, though, as the official field of 136 moved away, among them the striking Christine Barrett, the triathlon enthusiast, who was including the run in her build up for this month's Iron Man contest in Hawaii. An overnight car drive from Gloucester hardly seemed right preparation for this one; but it's obviously not a sport for softies. .....
29-30 Oct 1983 - 24 hour track race - Coatbridge, Scotland
2 Richard Dalby 237.918Km (147 miles 1470 yards)
Race report by Alan Spence from Athletics Weekly, 26th November 1983:
RECORDS ALL THE WAY IN 24 HOUR RACE
       Scotland's first ever 24 hour race, organised by Sri Chinmoy AC, took place at Coatbridge on October 29/30th and provided as exciting an event as had been anticipated, with Don Ritchie notching up yet another world best performance (at 200Km) and Vet Dave Cooper pacing himself steadily to win the race.
        A couple of late withdrawals meant that 20 runners lined up on the track at noon on the Saturday, the weather cold but bright and clear. The first surprise was that Ritchie did not go out in front from the gun as he has in previous 24 hour efforts. Could he be pacing himself with Dave Dowdle's 24 hour record in mind? In any case, the early pace was set by Richard Dalby, followed by a pack including Dave Francis, Jimmy Shaw and Ian Goodwin. Ritchie was looking comfortable in sixth place, with Cooper well back and moving easily. That was how it stayed for the first hour, the leaders playing cat-and-mouse. Then, as they dropped off the pace one by one, Ritchie moved to the front, and there he stayed!
        Hour after hour he kept on, determined and remorseless, maintaining his rhythm. 50M in 5:52:54, 100Km in 7:25:47, 150Km in 11:41:41. He moved through the 100M point in 12:44:14, and ran on into the night. By this time he was well ahead of Cooper, who had eased into second place, with the rest of the field straggled out behind. In the small hours the weather took a turn for the worse, high winds and cold driving rain making life difficult. Ritchie, still running in T-shirt and shorts, commented that he "liked a bit of adversity!" As he drew close to Mike Newton's world best mark for 200Km, he had to draw on all his reserves, battling the elements and in obvious pain. But break the record he did, knocking ten minutes off Newton's time with 16:32:30. And cheering him on was Newton himself, there as a spectator.
        The effort had taken its toll on Ritchie however. Shaken and sick, he stopped to rest, then decided to sleep for a couple of hours. This gave Cooper the chance to gain on him and eventually take the lead, moving steadily as he had all along. But the race was by no means over, for moving up behind Cooper was Richard Dalby who had set that cracking early pace, and with some 22 hours gone, Dalby threw in a few laps at sub-6 minute mile pace. Cooper refused to panic. He kept his rhythm, broke through the 150M barrier and eventually won with 151M 1098yd, which put him 24th on the all-time world list for the event. Dalby finished second with a creditable 147M 1470yd and Ritchie, showing tremendous grit, returned to the track late on in the race to walk a few more miles and notch up 131M 419yd for third place. The first 13 finishers broke 100 miles, including John Keogh (106M 333yd), who had never previously run further than a marathon!
        1, D Cooper (Hav) 151M 1098yd (244.015Km); 2, Richard Dalby (Glouc) 147M 1470yd (237.918); 3, D Ritchie (Forr) 131M 419yd (211.208); 4, B Iddon (Chor) 124M 1441yd (200.877); 5, B Mist (Alt) 123M 265yd (198.192); 6, D Rosen (Th H&H) 115M 1755yd (186.680); 7, D Francis (Fife) 109M 208yd (175.609); 8, J Keogh (EAC) 106M 333yd (170.895); 9, D Downs (Nun) 103M 957yd (166.638); 10, E Dobson (Bord) 101M 1754yd (164.148); 11, J Shaw 101M 973yd (163.434); 12, A Slack (S in A) 101M 723yd (163.205); 13eq, M Campbell (Notts) & R Lawson (Holm) 100M 513yd (161.587); 15, I Goodwin (Pit) 86M 1319yd (139.610).
        Dave Cooper's final distance was a Scottish all-comers' best for 24 hours, whilst Don Ritchie set the following Scottish native and Scottish all-comers' bests en route: 50M - 5:52:54, 100Km - 7:25:47, 150Km - 11:41:41, 100M - 12:44:14 and 200Km - 16:32:30, which is also a world best.
---
Martin Daykin joined his local club Hereford Couriers, however he retained his life membership of Gloucester AC.
Richard Dalby left Gloucester AC and joined his local club Bolton Harriers AC.
04-05 Feb 1984 - 24 hours road indoor - Milton Keynes
16 Ken Leyshon 167.934Km (104 miles 614 yards)
Race report by Andy Milroy from Athletics Weekly, 3rd March 1984: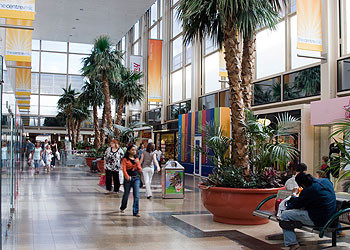 It was dark, rain threatened and the wind was blustery when the latest RRC promotion, sponsored by McDonalds and Spenco, started at 8pm on February 4th. The 31 runners, though, were unconcerned by such weather conditions - they were indoors. Now that ultra long distance track races are a relatively common occurrence, the RRC Council had decided to use its expertise to put on the kind of race that probably only they could organise - an indoor 24 hour race around a 969yd / 890m course in the largest indoor shopping centre in Europe, at Milton Keynes.
        Once, indoor races had been common. Between the 1870s and 1913 such venues as music halls, agricultural halls, swimming baths, tents, aquariums, even the Albert Hall, had been used by eager promoters. Tracks were marked out, the smallest being a 55 yard circuit in a music hall. Since those dizzy days, apart from a brief spate of six day relays and indoor marathons in the 1930s, races under cover have been few and far between. In the last ten years, three indoor 24 hour events have been held in the States and two six day races undercover in France. The Milton Keynes course was probably the largest circuit ever laid out indoors.
        The field to tackle this novel event was, on paper, very strong; the best ever to contest a '24 hours'. Six men had 150 miles-plus to their names and a further half dozen had covered over 130 miles. Dave Cooper, Terry Edmondson and Brian Harney, between them winners of all five 24 hour races held last year, were there. Mike Newton, second in four previous 24 hour races, was aiming for his first win in the event. An intriguing last minute entry was former world record holder Ron Bentley, the only man in the field who had covered 160 miles in a day.
        The leaders set off at a brisk pace - Richard Dalby clocking 3:10 for the first circuit. He was followed closely by Alan Fairbrother. These were to contest the race for the first 50 miles, seldom being more than five minutes apart. The veteran Fairbrother had taken the lead by the 100Km mark (8:32:31), but decided to rest some ten miles later. Dalby had already paid for his fast early pace.
        The warmth of the centre soon dissipated when the heating was turned off, and the cold began to affect the runners. The period from 2.00 to 4.00 am is always the toughest in a 24 hour event, and more and more runners chose to rest. They were finding the surface of the shopping centre hard going. The marble slabs were very hard and unresilient. As they tired, the long 350m straights must have seemed endless.
        The experience of Mike Newton began to tell as he moved remorselessly into the lead. He was challenged briefly by Henry Marston, but by 100 miles - 14:51:33 - he had a half hour lead. Mike's 100 miles was notable for another reason: - it was the 11th time he had run under 16 hours for 100 miles! Third place man, Gordon Bentley, was a further 40 minutes back, but fourth place was incredibly close - only 19 seconds separated Cooper and Fairbrother!
        Eleanor Adams, holder of the female track records at 30 and 40 miles, was running steadily, passing 50 miles in 7:47:24, and 100Km in 10:19:42. She was seventh at the 100 miles in 18:26:06 and was actually to improve on this position by the finish.
        Round and round this unique glass and marble course the runners trudged or ran, past familiar High Street shops, past open snack bars and pubs, past more exotic landmarks like palm trees and giant cacti. A couple of runners were tempted into the inviting McDonalds, perhaps to see if the boasted fast food would do anything for their tired legs! Another tried liquid refreshment from the course-side hostelry!
        At last the final whistle went. The hard surface had exacted its toll. Distances were well down on what might have been expected from such a field. Newton had won his first 24 hour race and the Percy Cerutty Cup. His distance was 144M 1178yd, just under a mile ahead of Marston. Fairbrother and Cooper were still fairly close together some nine miles back. The veteran of the six day event, Colin Dixon, had set a pb of 126 miles-plus, while Eleanor Adams had become the first woman to run over 120 miles indoors.
        The Milton Keynes '24' was the second ultra race indoors this year so far. There is another such indoor 24 hours to be held at Barcelona, Spain, in April. The message seems to be: if you want variety in your distance running try an 'ultra'. Distances from 30 miles to six days are on offer, on the road, in stadium or shopping centre, indoor or out. Stop trying to hammer out those 26 miles, relax and enjoy something different.
        1, M Newton (SLH) 232.823Km (144M 1178yd) (world indoor best); 2, H Marston (Roth) 231.051Km (143M 1000yd); A Fairbrother (S in A) 217.309Km (135M 52yd) (world indoor M45 best); 4, D Cooper (Hav) 213.714Km (132M 1400yd); 5, C Dixon (East Hull) 204.216Km (126M 1573yd); 6, Eleanor Adams (S in A) 195.891Km (121M 1268yd) (world women's indoor best); 7, G Bentley (Tip) 195.841Km (121M 1214yd); 8, M Guichard (Dart) 194.419Km (120M 119yd); 9, C Brett (Ver) 192.010Km (119M 544yd); 10, D Coffey (Camb H) 191.710Km (119M 216yd) (world M50 best); 11, R Dalby (Bol) 180.340Km (112M 102yd); 13, M Campbell (Notts) 172.565Km (107M 399yd); 14, R Emmerson (Rug) 172.315Km (107M 399yd); 15, T Burbidge (Ver) 170.592Km (106M 1yd); 16, K Leyshon (Glouc) 167.934Km (104M 614yd); 17eq, R Foster (Mil K) & R Bentley (Tip) 161.281Km (100M 379yd); 19, T Edmondson (Chor) 160.934Km (100M); 20, R Lawton (Holm) 147.252Km (91M 876yd).
        Note: Richard Dalby set world best on record indoor marks for 30M - 3:42:35; 50Km - 3:50:32; 40M - 5:15:08 and 50M - 6:32:30. Alan Fairbrother set a world best on record indoor mark for 100Km - 8:32:31. Mike Newton set world best on record indoors marks at 150Km - 13:46:27; 100M - 14:51:33 and 200Km - 19:12:55. Eleanor Adams set world best on record indoor marks at 30M - 4:07:37; 50Km - 4:16:47; 40M - 5:45:17; 50M - 7:47:24; 100Km - 10:19:42; 150Km - 17:26:18 and 100M - 18:26:06. Fairbrother set a best on record Vet mark for 100Km indoors - 8:32:31 and Gordon Bentley a best on record Vet mark for 100M indoors - 16:08:06.
14 Apr 1984 - 100 mile road race - Forthampton
1 Dave Dowdle 13,10.10
2 Christine Barrett 15,07.45 (8,50.17 at 100Km, certified accurate)
Pre-race report from Citizen newspaper, Friday 13th April 1984:
DOWDLE'S BID TO SMASH WORLD DISTANCE RECORD
        Gloucester's top ultra distance runners attempt to crack the 100 mile world record at Lower Lode tomorrow.
        It is the second time City athletes have chased the record. Martin Daykin and Dave Dowdle had a memorable scrap along the same course in 1981.
        Daykin just won with 23 seconds separating the two runners at the finish. Their times of 12 hours 16.46 minutes and 12,17.06 are still the second and third fastest of all time.
        Daykin has since retired from competitive racing, but Dowdle will again be pounding around the five mile circuit on Saturday.
        He has gone on to become one of the top names in long distance racing. Any distance above the marathon is regarded as an "ultra" event, and 24 and 48 hour races are commonplace.
        The latest craze is six day track racing.
        Dowdle recently competed in a six day race at Nottingham. The competitors pinch a few hours sleep during the evenings, but are on the run almost continually.
        Dowdle will be favourite to beat the world record of 11 hours, 51 minutes tomorrow.
        Forty runners are expected to start, including Ken Leyshon, one of Gloucester's 24 hour world record relay team.
        That record was set by Daykin, Leyshon, O'Carroll and Richard Dalby.
        Racing the distance for the first time will be Bill Weller (36) who is better known for his success in local 10 mile, half marathon and marathon races.
        A fourth Gloucester entrant is John Howe from Brockworth. They will be challenged most strongly by Dave Cooper who was second in the Gloucester 24 hour race last year.
        The womens 100 mile record will also be under threat, as Highgate's Lynn Fitzgerald will be running. She is a former record holder and is keen to win back her title.
        The top local entry will be Christine Barrett. She has competed in the gruelling Hawaii quadrathlon, and has a marathon time just outside three hours.
        The race starts from the Lower Lode Hotel at Forthampton at 6.00 am. The fastest runners should finish around 5.30.
Race report from Citizen newspaper, Monday 16th April 1984:
CHRISTINE ON TOP OF THE WORLD
        Brockworth's Christine Barrett collapsed in a heap at the end of Saturday's 100-mile road race near Tewkesbury and well she might... she had just run that distance faster than any other woman.
        She chopped 22 minutes off the previous world record, held by American Donna Hudson, to finish the race in 15 hours, seven minutes.
        Christine said: "I picked up a couple of injuries before the race, the first after competing in a triathlon in October. I had taken two months off to recover. Then three weeks ago I pulled a hamstring. Fortunately it healed quickly."
        Those disruptions meant she had been able to put in only two long runs before Saturday, one of 39 miles, the other 34.
        Compared with Saturday those two must have seemed like a sprint to the corner shop.
        "The longest distance I have ever run before, was 53 miles. That was last year's London to Brighton race, so I really did not know what to expect on Saturday," she said.
        Things went well for the Brockworth housewife. She made a fast start and at one point was on schedule to better the record by a huge three hours.
        With the sun brilliant at midday, there was a fear she might have started too quickly.
        Christine later explained the heat was only a minor problem. Her triathlon experience, including trips to the World Championships in Hawaii, have helped her acclimatise to strong sunlight.
        "Toughest part was the last five miles. It took me 56 minutes to reach the finish."
        Dave Dowdle from Longlevens failed in his record attempt. He had been on schedule after the first 35 miles, but then tired as the temperature rose.
        But he still managed first place overall. His finishing time of 13 hours, 10 minutes, 10 seconds was the eighth fastest, Christine Barrett taking second.
        Of Gloucester's three other runners, Bill Weller dropped out after 55 miles, Ken Leyshon after 50 and John Howe, 50.
20-26 May 1984 - 6 days road race - Stoke
9 Christine Barrett 678.740Km (421.74 miles)
Ken Leyshon 528.320Km (328.28 miles)
Pre-race report from Athletics Weekly, 28th April 1984:
        The longest-standing 'world record' in athletics will come under fire when the finest field assembled this century lines up for the Six Day Race at Trentham Gardens, Staffs, at noon on May 20th. The professional record was set as long ago as 1888 when Britain's George Littewood covered 623 3/4 miles in New York's Madison Square Garden..... that works out at practically four marathons each day for six days in a row! The nearest approach since the sport was revived four years ago has been Tom O'Reilly's distance of 576 miles 675 yards at Nottingham in 1982.
        The race, to be staged on a rectangular course in the beautiful Italian Gardens of Trentham, forms part of the Great Britain Sports & Leisure Festival and has attracted a star-studded line-up. The possible starters include Joe Record (Australia), second on the modern all-time list with 539M; Dusan Mravlje (Yugoslavia), second in the Spartathlon - has run 2000Km in 17 days; Colin Dixon (East Hull), world Vets record holder with 520M; Siegfried Bauer (NZ), winner of the New York Six-Day last year with 511M; Mike Newton (South London), the first man in modern times to top 500 miles (best of 510M); Gerard Stenger (France), a 53-year-old grandfather who won the Nottingham race last year with 483M; Dave Dowdle (Gloucester), world record holder for 24 hours with 171M; Brian Harney (Rotherham), a 2:39 marathoner who is the Pennine Way record holder; Dan Coffey (Cambridge H), 53-year-old headmaster who has covered 447M; Alan Fairbrother (Sutton in Ashfield), 451M in his debut; Malcolm Campbell (Notts AC), veteran of six "sixes"; Bruce Slade (Exeter), best of 401M; Ken Leyshon (Gloucester), who has run 133M in 24 hours; Norman Paul (Hermes), 61-year-old London-Brighton stalwart whose daughter Roz set a women's 6-day world record in 1982; Frank Bozanich (USA), Vietnam veteran who is a former 50 miles world record breaker; Don Choi (USA), the Chinese-American postman who founded the modern six-day race movement and ran in the first ten; Jim Howard (USA), the fastest man - 2:18 marathoner - ever to attempt the distance; and Paul Collins (Canada), 1952 Olympic marathoner, now 57, who lives in Somerset. Richard Crane, winner of last year's Quadrathon after running across the Himalayas with brother Adrian, has yet to decide whether to compete. The female entrants include Eleanor Adams (Sutton in Ashfield), world record holder with 409M; Ann Sayer (Essex Ladies), who has walked 186 miles in 48 hours; and Joy Smith, from Stoke, at 19 the 'baby' of the field.
        The winner of the race will receive a £1000 prize, 2nd - £600, 3rd - £400, down to £100 for 20th. The race will end at noon on Saturday, May 26th. Sponsorship of individual runners costs £900.
Mid-race report from Citizen newspaper, Friday 25th May 1984:
CHRISTINE EATS UP MILES MORE RECORDS!
       Christine Barrett has broken three more world records at the Trentham Gardens Six Day Race in Stoke, taking her tally to five.
        Christine, a member of Gloucester Athletic Club, has now raced faster and further than any other woman over 72 hours, 400 kilometres, 96 hours, 300 miles and 500 kilometres.
        She stands to break another three world records by 3pm tomorrow when the race is due to finish.
        Record number three came 96 hours into the race, after Christine covered 301.10 miles, a new world best for that stage of the race.
        Almost simultaneously she smashed the 300 mile world record, reaching that marker in a rapid 95 hours, 51 minutes, 24 seconds.
        Her latest world record is the 500 kilometre best. She broke that record with a time of 100 hours, 51 minutes, 22 seconds.
        "Christine is still smiling and looking very comfortable, " reported Bob Holmes, the race director, today. "She had some physiotherapy last night and fairly sprinted around the track when she started out again today."
        At 9 am Christine had covered 338.8 miles and was lying joint eighth in the overall race. The men's field is still being led by Mike Newton. He has now covered 418.65 miles, but a world six day record looks to have disappeared. "I think Mike will be happy if he just runs a personal best now," said Holmes.
        Gloucester's Ken Leyshon has pushed his mileage up to 240, but is beginning to struggle said track-side officials. "I do not think Ken has had one of his best runs, but weather conditions have not been ideal," said Holmes.
        The competitors faced heavy rainfall on the first two days and the weather is now fluctuating between strong sunlight and heavy cloud.
Race report from Citizen newspaper, Monday 28th May 1984:
CHRISTINE PUTS HER FEET UP!
        Brockworth housewife Christine Barrett was at home relaxing today after smashing nine world records at the Stoke Six Day Race.
        Not surprisingly, she said that she would not be popping out to do the shopping! "At the moment I am just resting my legs. I am finding it difficult to walk and no wonder. Six day racing makes the ironman triathlon seem like a gentle training session," said Christine.
        Christine first made her name in the triathlon and must have wished that she was out in Hawaii again, where the sport's last world championships were held.
        "The furthest I had ever run before was 100 miles. I did not know that six day racing existed until Bruce Slade, one of the ultra distance runners, mentioned the Stoke event."
        Christine thanked her mother Kiln and twin sister Caroline who were at trackside throughout the six days. "They were absolutely wonderful. They had food and drink ready for me the moment I left the track." After eating Christine was able to take her two and a half hours sleep. On more than one occasion sleep became "instant". She recalls how, on the penultimate day, she had to retire from the track because her feet and knees were aching badly. "I had decided to run all through the early morning to get the six day world record out of the way. But I could not keep going. I had to come off and have ice packs applied to my feet and knees. With everyone around me, I just drifted into a deep sleep. I was out for an hour," recalled Christine.
        The other Gloucester runner, Ken Leyshon, finished strongly to top 300 miles after suffering bad blisters earlier in the week. Overall winner was Mike Newton of London with 516 miles.
Brief race report from Athletics Weekly, 29th September 1984:
       Don Choi, Mike Newton and Christine Barrett were the outstanding stars of the six day race that took place on a 450m track at Trentham Gardens, Stoke-on-Trent, from May 20th-26th. Mike was the eventual winner, recording 516.73 miles to become the only runner in modern times to have bettered 500 miles in six days on three occasions, but if 'records' are what count, then Christine's effort stands unchallenged, as she notched up nine world records - 72 hours, 96 hours, 300Km, 400Km, 300 miles, 500Km, 600Km, 400 miles and six days - on her way to a final distance of 421.75 miles. Final positions were: 1, M Newton (SLH) 516.73M; 2, D Choi (US) 491.58M; 3, A Fairbrother (S in A) 467.51M; 4, R Krolewicz (US) 463.42M; 5, J Dowling 462.41M; 6, T Cherns (Can) 457.52M; 7, C Dixon (East Hull) 435.50M; 8, D Coffey 426.79M; 9, Christine Barrett 421.75M.
Christine's set of records were:
300Km - 
72 hours - 239.82 miles
400Km - 74:33:22
96 hours - 301.10 miles
300 miles - 95:51:24
500Km - 100:51:22
600Km - 123:23:06
400 miles - 134:24:29
6 days - 678.740Km (421.75 miles)
16 Jun 1984 - 100 mile road race - Ewhurst
1 Martin Daykin 14,26.04
28 Jul 1984 - 40 mile road race - Woodford to Southend
2 Martin Daykin 4,08.01
28-29 Jul 1984 - 24 hour track race - Hull
Christine Barrett 172.028Km (106 miles 1572 yards)
12 Ken Leyshon 100 miles
Race report by Andy Milroy from Athletics Weekly, 27th October 1984:
        The report starts with a review of a 24 hour race at Chelmsley Wood in mid-July, won by Terry Edmondson with 147M 940yd.

        A fortnight later, Edmondson lined up for another 24 hours - this time at Hull. His opposition included many of the runners who were entered for the Nottingham Six Day, and many of them were content to use the race as training - if running 112 to 115 miles in a day can be termed training! Patrick Simonnet and Jean-Gilles Boussiquet of France and Alfons Evertz of West Germany offered foreign opposition. It was the women's race, with Eleanor Adams, Lynn Fitzgerald and Christine Barrett, that looked to be a classic. In the end the race was won by Simonnet with 143M 499yd, well clear of Bolton's Richard Dalby, who had looked to be a threat to the Frenchman's lead at one point. Dalby, with 138M 837yd, finished four miles ahead of Edmondson, whose 134M 380yd completed a very solid and competent double. The women's race, after such high hopes, rather fizzled out. Lynn retired after 51M and Eleanor after 83, leaving Christine to win with 106M 1572yd, which was not a true reflection of her abilities.
19-25 Aug 1984 - 6 day track race - Nottingham
3 Dave Dowdle 760.732Km (472 miles 1270 yards)
21 Ken Leyshon 493.236Km (306 miles 849 yards)
Pre-race report from Athletics Weekly, 28th April 1984:
       Tom O'Reilly, holder of the modern-day record, will be running in the Homelink six-day event at Harvey Hadden Stadium, Nottingham, which has been rescheduled to run from August 19th to 25th in order to ensure a top-class field. O'Reilly's opponents will include Mike Newton, Joe Record and Ireland's John Dowling, who recently broke the Land's End - John O'Groats record.
        Nottinghamshire Building Society, sponsors of the event for the fifth year running, have also invited the Australian Tony Rafferty, Dan Brannen (USA), Seppo Leinonen (Finland) and the Belgian, Noel Rogiers. Gerard Stenger of France has already confirmed that he will be competing, alongside Marvin Skagerberg (USA), Edgar Patterman (Austria), Paul Collins (Canada), Dusan Mravlje (Yugoslavia) and a strong British field including the women's world record holder, Eleanor Adams.
Pre-race report from Citizen newspaper, Wednesday 11th July 1984:
DOWDLE WON'T DAWDLE
        Longlevens' multi-mileage runner Dave Dowdle woke up this morning to find that the modern day world record he hopes to crack at Nottingham in August has been raised by a shattering 59 miles.
        The man who has made matters so difficult for Dowdle is a Turk known only by the surname Kouros. He covered a frightening mileage of 635 in the New York race which has just finished.
        Most ultra-distance runners have been content to attack the modern day record held by Tom O'Reilly (576), but Kouros even smashed the legendary run of George Littlewood, who back in 1886 set a mileage of 623.
        A heavy first day in which Kouros clocked up 164 miles, was the key to his record run in New York.
        Reacting to the news Dowdle said: "I will not increase my training load. I have got to be in good shape for Nottingham. It would be easy to blow myself out in training, charged up by Kouros' record." Dowdle suggested he may just try for O'Reilly's British record, at Nottingham.
        New York also brought bad news for Brockworth housewife Christine Barrett. Her World six-day record was shattered by Nottingham's Eleanor Adams. Mrs Adams bettered Christine's 421 by a substantial 41 miles, to finish at 462.
        Christine, who is preparing for the La Rochelle Six Day Race in October, heaped praise on her rival: "That sort of mileage is incredible. As soon as I knew what was happening, I telephoned New York to pass on my best wishes."
        There is still hope that Christine can recapture the record. "The Trentham Gardens race where I set my record marked my debut in the event, so I did not know how to tackle it. That should change as I get more six-day races under my belt," she said.
Race report from Citizen newspaper, Saturday 25th August 1984:
SIX DAY BEST FOR DOWDLE
        Gloucester ultra-distance runner Dave Dowdle finished third in the Homelink six-day race at Nottingham, covering a staggering 472.5 miles, a personal best for the event. The distance was nearly thirty miles longer than his previous best, achieved last year in New York.
        The winner at Nottingham was Ian Fairbrother of Sutton, who clocked up 510.75 miles to beat Cambridge's Dan Coffey by just half a mile.
        Dowdle, who holds world records for 24 hours, 300Km and 200 miles, put all his efforts in to the last half of the race. He took it easy in the early stages and in the last two days has steadily worked up through the field. But he had no chance of catching the race leaders. An amazing run by 53-year-old Dan Coffey, of Cambridge, saw him leading with 465 miles under his belt at 8.00 am, closely followed by Alan Fairbrother of Sutton, just a mile behind. Coffey had already smashed the world six-day veteran record and had an outside chance of topping the 500-mile target.
        Dowdle himself was under some pressure with Essex runner Dave Cooper close behind him in fourth place on 452 miles with his next nearest challenger American Dan Brennan in fifth place, on 428 miles.
Full results, courtesy of Andy Milroy: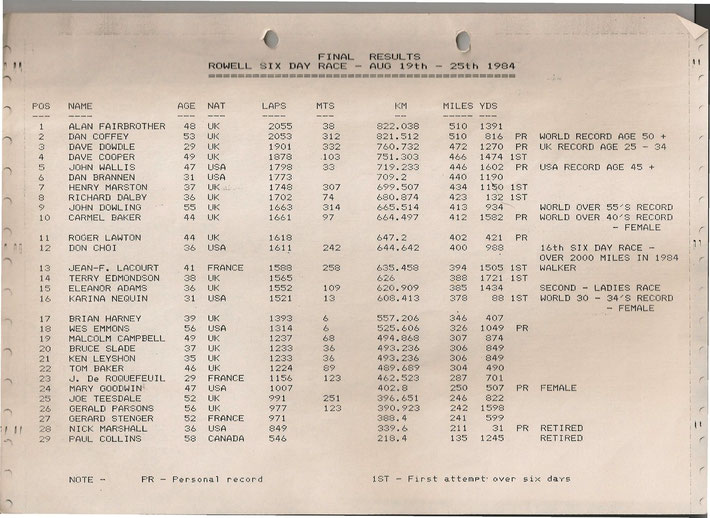 08 Sep 1984 - 100K road race - Solihull
1 Martin Daykin 6,53.17
Race report by Andy Milroy from Athletics Weekly, 27th October 1984:
        This report carried on from the review of the 24 hour race at Hull.
       The first Nike 100Km road race at Solihull on September 8th lasted some 10 hours less. The generous 14 hour time limit enabled every entrant to complete the 62 miles-plus distance. Martin Daykin, following his 14:26 100M at Ewhurst, showed he is still a very fearsome competitor over 100Km. His 6:53:17 (passing 50M in 5:26:06) on a very windy day was a fine performance. Second placed George Kay, a Veteran of 48, finished over an hour behind, in 7:55:05. Edmondson, warming down after his Six Day run, was third with 8:20:09. Interestingly, seven of the first ten were Vets.
        1, M Daykin (Here) 6:53:17; 2, G Kay (Staff) 7:55:05; 3, T Edmondson (Chor) 8:29:09; 4, C Brett (Ver) 8:42:15; 5, J Covell (Bux) 8:43:39; 6, C Hunt (Tip) 8:50:59; 7, N Marshall (US) 8:54:44; 8, W Grew (W&B) 8:57:34 ..... 22, Celia Hargrave (Stone) 11:08:24.
04-10 Oct 1984 - 6 day indoor track race - La Rochelle, FRA
7 (2nd lady) Christine Barrett 718.8Km (446 miles 1129 yards)
Race report by Andy Milroy from Athletics Weekly, 19th January 1985:
        The La Rochelle Six Day Race, held from October 4th-10th, is very different from any other such event currently being staged. It is indoors to start with, on a 200m tarmac track. The race is put on by a newspaper, Sud Ouest, which naturally leads to plenty of media interest. This brings in paying spectators, who were each charged 15 francs. The race, though, does offer the spectators more than just runners, for in the middle of the track is a restaurant, and entertainment is laid on, ranging from table tennis to magicians.
        Fifteen runners were invited in 1984, including Frenchmen Ramon Zabalo, second on the all-time ranking list, Jean-Gilles Boussiquet, former 24 and 48 hours record holder, Patrick Simonnet, winner of the Hull 24 Hours, plus Bertil Jarlaker, holder of the non-stop running record (353 miles in a little over five days), Australian Joe Record, winner last year, Alfredo Uria of Spain, Stu Mittleman of America and Britain's Colin Dixon.
        Nobody tries to copy Kouros' opening day at New York of 163.5 miles, but Boussiquet ran over 135 miles, Zabalo 132.6 and Uria 116, but day two saw two of these leave the race. Uria was retired on doctor's orders after day one, and Zabalo decided to quit after covering 198 miles. Boussiquet was left well in the lead at 48 hours with over 248 miles. Simonnet had moved into second with 212.
        The former world record holder at 24 hours, now a Veteran, was in command from then on. The American, Stu Mittleman, walking a great deal, but also running at a good pace, gradually moved through, and with 24 hours to go was running so strongly that some people thought he might well come through to win. At 120 hours, Boussiquet had 513 miles to Mittleman's 483, but 30 miles is too much to close on an uninjured man in one day, and the Frenchman emerged the winner with the second best performance of modern times - 590M 1188yd, with Mittleman covering 571M 1164yd for a new US best.
        The women had been having their own private battle. Former six day record holder, Christine Barrett of Gloucester AC, had been invited, along with Edith Couhe, a veteran of the Bordeaux - Paris race. Christine was ahead at 400 miles - 118:51:51, nearly seven hours better than Eleanor Adams' world best time, and was 18 hours better than Eleanor's five day best with 404M 1456yd, but then a knee injury brought her low. Edith was only ten miles behind and came through to take the race and the six day best with 472M 1300yd.
        The tarmac track at La Rochelle, laid on concrete, was very hard on the legs, but apart from that the race scored in most other departments from a runner's point of view. Each competitor had his or her own portacabin, two doctors were available throughout, a lap recorder for each runner was on duty all the time, with a reserve standing by ready to take over if necessary, and, of course, food is something the French pride themselves on. The small indoor track and the numerous spectators created a uniquely intimate, yet stimulating, environment, which gave the runners an idea of what the old races must have been like.
        1, J-G Boussiquet (Fra) 950.6Km (590M 1188yd) (M40 best); 2, S Mittleman (US) 920Km (571M 1164yd; 3, P Simonnet (Fra) 872Km (541M 1470yd); 4, T Cherns (Can) 811.8Km (504M 755yd); 5, P Faucheaux (Fra) 765.8Km (475M 1489yd); 6, Edith Couhe (Fra) 760.8Km (472M 1300yd); 7, Christine Barrett 718.8Km (446M 1129yd); 8, B Jarlaker (Swe) 711.8Km (442M 513yd); 9, Colin Dixon 669.2Km (415M 1446yd) ..... 12, Bruce Slade 504Km (313M 301yd).
06 Oct 1984 - 100K road race - Santander, ESP
2 Martin Daykin 6,43.51 (certified accurate, UK fastest 1984)
07 Oct 1984 - 54 mile road race - London to Brighton
11 Dave Dowdle 6,14.33.
Race review from History of the London to Brighton Race from Ultramarathon World:
        Ever increasing traffic over the years had made problems of road safety very evident. In 1984, therefore, the race was re-routed on a course which reduced by half the distance run on the busy Brighton main road.
        The first diversion leaves the A23 at Coulsdon to rejoin the main road some four miles further on. The major re-routing now began at Horley to avoid the urban industrial sprawl which has arisen round Gatwick and Crawley since the race was first held. The new route on country roads led through Balcombe and Cuckfield and skirted Burgess Hill. It was an attractive alternative, albeit more hilly than the main road.
        Peter Sugden led the 1984 race for 35 miles, but was overtaken in the final stages by Barry Heath of the Royal Marines who won in 5:24:15. Don Ritchie was second in 5:28:27 and Sugden third in 5:29:21. The entry of 186 included 27 from overseas. Eleven teams closed in, including one from Rhodesia A.C., Zimbabwe.
20 Oct 1984 - 100K road race - Hamm, GER
2 Martin Daykin 6,58.19
24-25 Nov 1984 - 24 hour track race - Coatbridge
7 Martin Daykin 184.291Km
---
 15-17 Mar 1985 - 48 hour track race - Montauban, FRA
15 (4th lady) Christine Barrett 300.290Km (186 miles 1041 yards)
6h split 66.000Km 9th/2nd
12h split 121.200Km 9th/2nd
24h split 186.800Km 12th/4th
Race report from Citizen newspaper, Tuesday 26th March 1985:
DOWDLE'S RECORD SMASHED
        Phenomenal Greek runner Yiannis Kouros has just broken the world 24-hour track record previously held by Gloucester's Dave Dowdle. Kouros, who has made a huge impact on the ultra-distance scene since entering the Greek Spartathlon 18 months ago, shattered his latest record with an hour and a half to spare.
        "He could have topped 180 miles easily," said popular British runner Bruce Slade who was at the trackside for the Montauban 48 hour race, near Toulouse, France. Kouros eventually clocked 176 miles for the first 24 hours, beating Dowdle's previous world best by almost five miles.
        "As much as I would like to see Dave win back the record, I just cannot see it happening. This man Kouros is very special at the moment, and he is capable of pushing the records up still further," Slade added. He already holds the world records for six day track racing and 24 hour road running.
        In the second half of the Toulouse race, Kouros went on to add a further 110 miles, finishing the 48-hour event with a mileage of more than 280. Kouros' latest feat of stamina means that Dowdle has now lost all of his world records, though he is still the British record holder in the 24-hour event.
       Brockworth housewife Christine Barrett, herself an ultra-distance world record holder, was the fourth lady to finish the Toulouse race. She clocked 186 miles for the 48-hour event, and is now gearing herself towards the Gloucester 100 mile race in April, and the Paris to Biarritz run in May.
Abridged race report by Andy Milroy from Athletics Weekly, 18th May 1985:
        The Montauban 48 Hours Race in Southern France was first held in 1983...... This year's race had been endorsed by the International Association of Ultrarunners as the inaugural World 48 Hours Championships. The race took part on March 15th/17th, and a very strong field had been invited. Substantial prize money was on offer - 10,000 francs to the winner of the men's event and 4,000 for the leading woman. A further 3,000 francs were on offer if the world bests for 48 hours were broken. Not surprisingly, new world best performances were expected.
        The field included Yiannis Kouros, who held the yet to be verified best of over 266 miles for the event, Ramon Zabalo and Jean-Gilles Boussiquet, who were enough to make the race special on their own. To these were added Colin Dixon, British record holder and the third best performer of all time outdoors, Ray Krolewicz, eager to retain his US 48 hours best, and Patrick Simonnet, winner of the Haverford 48 Hours, indoors in January. Another entry that raised a lot of interest was Patrjik Macke, a Briton who lives in Australia. He had finished third in last years's Spartathlon, and has really only flirted with 'ultras' to date. This was to be his first track or road 'ultra' beyond 75Km. The female field was smaller but still very strong. Eleanor Adams was back to defend the world best performance of 202 miles she set last year. Facing her was Edith Couhe, who had briefly dispossessed her of the world six days best last year. There were two other strong British entries, in Christine Barrett of Gloucester AC, the holder of the world road 100 miles best, and Sandra Brown, a 131 miles 24 hours performer. Arlette Touchard, a 126 miles 24 hours runner, Marcy Schwam, fresh from her US 48 hours best at Haverford, and the 60-year-old Francoise Lamothe completed the field. Francoise held the French 48 hours best.
        The hometown runner, Zabalo, took an early lead, but unfortunately was forced to retire early on.....
        Kouros soon took the lead, and passed the marathon point in 2:47. His 100Km time was 6:58, so it was no great surprise when he broke Don Ritchie's 200Km best..... Yiannis has run 177 miles in 24 hours on the road, and he very nearly equalled that performance in the first half of this race. Dave Dowdle had held the world best with 170M 974yd; Kouros covered 176M 388yd before stopping some time before the 24 hours had passed. He then pushed on to pulverise the previous best on record marks for 300Km and 200M. 300Km took a mere 25:30:02 (6:35:18 improvement; 300Km is over 186 miles!), and 200M 27:48:35 (7:08:06 improvement on the old best). At the 24 hour point, Macke was in second place with 254Km/157.8M.....
        Eleanor Adams was always in the lead in the women's race, and on the way to victory set new best on record performances for 300Km - 38:34:28 and 200M - 44:44:08. She was content to break her own world best performance by just five miles, with no one forcing her to go further. It was an all French battle behind her, with Arlette Touchard leading for much of the race, before Edith Couhe came through to claim the runner-up's place.
        Kouros had held the 48 hours best prior to the race with 266 miles, set in the first two days of the New York Six day. In this race, he eclipsed that mark by nearly 15 miles, with a new world best of 281M 48yd.....
        1, Yiannis Kouros (Gre) 452.720Km (281M 48yd); 2, Jean-Gilles Boussiquet (Fra) 408.000Km (253M 914yd); 3, Ray Krolewicz (US) 362.076Km (224M 1731yd); 4, Al Prawda (US) 345.873Km (214M 1611yd); 5, Jean-Claude Gabaud (Fra) 336.840Km (209M 532yd); 6, Dominique Calbera (Fra) 332.875Km (206M 1476yd); 7, Patrick Macke 331.473Km (205M 1703yd); 8, Colin Dixon 327.280Km (203M 637yd) ..... 10, Dan Coffey 306.870Km (190M 1197yd); 11, Richard Brown 302.180Km (187M 1348yd); 13, Malcolm Campbell 255.475Km (158M 1310yd).
        Women: 1, Eleanor Adams 334.038Km (207M 988yd); 2, Edith Couhe (Fra) 313.975Km (195M 167yd) (world O/40 best); 3, Arlette Touchard (Fra) 302.600Km (188M 47yd); 4, Christine Barrett 300.290Km (186M 1041yd); 5, Sandra Brown 273.380Km (169M 1531yd); 6, Marcy Schwam (US) 245.800Km (152M 1290yd).
        One final thought. We normally associate the south of France with sunshine and warmth. Marcy Schwam, the American record holder, obviously did and deliberately went in for heat conditioning to prepare herself. Unfortunately, the weather was somewhat different. During the two days they had to put up with strong winds, snow, hail and rain!!
13 Apr 1985 - 100 mile road race - Gloucester
Dave Dowdle retired at 40 miles
Christine Barrett retired
13 Apr 1985 - 50 mile road race - Gloucester
6 Bill Weller 6,58.40
Race report by Andy Milroy from Athletics Weekly, 8th June 1985:
       The Gloucester Road 100M has established itself over the last few years as an event that produces good performances. This year's list of competitors looked stronger than last year, with such stalwarts as Dave Goodwin, Tom O'Reilly, Tom Glare, Bruce Slade and John Salter. Gloucester AC's own Dave Dowdle and Christine Barrett, both holders of world bests, added further interest. This year, however, the weather was to take a dominant hand. On the 2 1/2 miles dog-leg that made up the five miles out-and-back course, the runners faced very strong winds on the outward journey but benefitted on the return.
        The race started at 4am on April 13th. Dowdle cut out a world record pace for 20 miles, but by 40 miles had retired. It was left to Glare and Goodwin to take it up. Glare slowed dramatically just before 50 miles, but fought back to close on Goodwin between 55 and 65 miles. That, however, was his final flourish. He struggled on for another 25 miles before he called it a day. Slater then moved into second, but he stopped at 80 miles.
        After 12 1/2 hours, only seven runners were left in the race - all but two of those would make it to the finish. James Zarei became the second placed runner with Slater's retirement, but was an hour and twenty minutes behind Goodwin. Taunton's Dave Rudman was running very steadily and was not far behind Zarei. Meanwhile, two of the most experienced 'ultra' runners in the race were running together, intent on finishing. O'Reilly and Slade had been together since 30 miles. Tom has a 100 mile time just outside 12 hours to his name and Bruce has covered the distance in about 15 1/2 hours, but in the wind and cold the 18 hours time limit was challenge enough that day. Goodwin finished with 14:41:46, a good time in the conditions. Zarei was second, tantalisingly close to a sub-16 hours mark - 16:00:14, with Rudman half an hour behind in 16:32:00. The dynamic duo of Slade and O'Reilly came in with 17:12:58 for fourth and fifth places - Bruce was thus able to maintain his record of being the only person to finish all Gloucester's ultra distance promotions.
        For the first time, Gloucester AC held a 50M race in conjunction with their 100 miler. A number of good runners were attracted, including Frank Thomas, one of the few 'ultra' runners to compete over the trails/fells as well as the road, and occasionally the track. Terry Burbridge closely followed by Thomas and Weller of Gloucester AC were together for the first ten miles. The Gloucester runner then pushed on to lead at 25 miles - 2:51:24 - nearly two minutes ahead of Thomas. From then on, the latter's experience at distances beyond the marathon began to tell, and by 30 miles he had a clear lead of four minutes. Tony Lenagen, after a more cautious start, was moving through and gaining steadily on the leader. At 45 miles the gap was less than five minutes, but Thomas's strong finish stretched his lead to nearly eight minutes by the end. Richard Crane finished fifth - he may have found 50 miles a little short after the quadrathon, and the length of the Himalayas run.
        1, F Thomas (Chelm) 6:12:14, 2, A Lenagen (Wig) 6:20:03, 3, R Hamilton (Chelt) 6:41:40, 4, T Timms (Torb) 6:49:20, 5, R Crane 6:50:30, 6, W Weller (Glouc) 6:58:40.
        Incidentally, Frank Thomas's wasn't the fastest 50 miles run on the course that day. Dave Goodwin went through that point in 6:10:20 en route to his 100 miles win, possibly benefitting from the earlier start.
13 Apr 1985 - 100K road race - Ransart, BEL
1 Martin Daykin 7,42.43
Pre-race report from Citizen newspaper, Wednesday 15th May 1985:
        Martin Daykin competes in a French night race tonight. Daykin runs in a 100 kilometre race in Flanders and he said before setting off for France: "It is an exciting event. Most of the time you are running in total darkness and it can be extremely quiet because there are no spectators on the route."
28 Apr 1985 - 100K road race - Solihull
2 Martin Daykin 7,20.44
Christine Barrett 10,02.19
Brief race report by Andy Milroy from Athletics Weekly, 8th June 1985:
        On Sunday, April 28th the 2nd Nike 100Km Road Race was held on a 5Km circuit around the North Solihull Sports Centre, Birmingham. The race was won by Cavin Woodward in 6:57:52, ahead of Martin Daykin (7:20:44) and George Kay (7:43:06). First woman was Christine Barrett (10:02:19). France's Francoise Lamothe, the top O/60 female 'ultra' runner in the world, broke 12 hours to set a new world age-group best of 11:51:03.
Full race report by Andy Milroy from Athletics Weekly, 22nd June 1985:
        Centurion Road Runners 2nd Nike 100Km Road Race, at Solihull (April 28th). It looked to be an intriguing race when the two top British 100Km runners on the 1984 ranking list met for the first time over this classic distance. Martin Daykin had won the inaugural race last year and has a formidable reputation in Europe in the event, carved out by numerous top class performances. Cavin Woodward holds title to the fastest road 100Km yet seen in this country and last year showed an elite field of continental 100Km runners that he was still a very potent force to be reckoned with. At Geneva he had won in the best 100Km track time of the year - 6:46:20. The rest of the field looked strong and experienced. It was good to see Mark Pickard back in an ultra race after a long absence through illness and injury but he could not be said to be fit with a hairline fracture of the leg - he claimed it didn't hurt! George Kay, Alan Fairbrother, Celia Hargrave and Christine Barrett were also running. There was one foreign runner, a French woman. This was, however, no ordinary woman runner - Francoise Lamothe is almost a female Cliff Young. She already held world age group records for over 60 at 100 miles, 24 hours and 48 hours.
        The previous day had been dismal with rain, wind and snow showers, but the day of the race there was sunshine, though there was still a strong breeze. Right from the starting hooter the expected duel between Daykin and Woodward began. Martin and Cavin were together at 10Km (38:02), but a two seconds gap had developed at 15Km, Martin leading with 57:05. Five kilometres later, Martin was away on his own with 1:15:32 to Cavin's 1:15:44 (Cavin was, in fact, having stomach problems which were causing him to dehydrate). In third place, Alan Fairbrother was two minutes behind Martin, with Mark Pickard and George Kay a further six and a half minutes back. By 50Km the race pattern had consolidated. Daykin went through the halfway point in 3:12:23, over two minutes up. Alan Fairbrother was still an isolated third, with Pickard and Kay close together in fourth and fifth. Over the next 25Km the positions stayed the same but Mark and George were slowly closing on Alan. At about 50 miles Martin still held a six minutes lead; George Kay was now third but half an hour behind the leaders. It was at 90Km/56 miles that the leader began to suffer badly from blisters. Martin found running straight all right but tackling the sometimes sharp corners was very painful. As he slowed, Woodward came through strongly. Cavin had been running very steadily from the marathon point onwards as he had thrown off his initial problems. Cavin's final time was the fastest 100Km of the year so far - 6:57:52. After a bad patch between 90 and 95Km Martin rallied to finish in 7:20:44. George Kay ran very well to come in with 7:43:06 - the best road 100Km yet by a Briton over 45. Mark Pickard overtook Alan Fairbrother shortly before 90Km to get fourth and had a realatively trouble-free return to ultra running. Let's hope he manages to get really fit and well again soon, for the British ultra scene needs runners of his quality. Alan Fairbrother was pleased with his pb of 7:57:30 in fifth. It shows that multi-day racing doesn't necessarily have to mean the end of a career in the shorter ultras.
        Celia Hargrave led the ladies' race up to 50Km but then the effects of her London Marathon run the previous weekend began to tell. Christine Barrett came through to set a new course record of 10:02:18, with Celia only 13 minutes slower. Francoise Lamothe had set her eyes on the world O/60 best right from the start and had made a schedule for 12 hours. In the event she finished well inside with 11:51:03, a new world O/60 best. There were 33 finishers inside 13 hours. Although Francoise didn't know it when she was setting her 100Km age best, she had lost her 100 miles and 24 hours best to Helen Klein, a 62-year-old American great-grandmother! Helen had run 22:15:25 for 100 miles and 105M 129yd in 24 hours at Santa Roas, California on March 16th/17th.
15 May 1985 - 100K road race - Steenwerck, FRA
1 Martin Daykin 7,06.02 (798 ran)
16 Jun 1985 - 50 mile road race - Hereford
2 Martin Daykin 5,11.45
19 Christine Barrett 8,10.29
Race report by H Samuels from Athletics Weekly, 7th September 1985:
       35 runners lined up for the first running of the John Tarrant Memorial 50M at Hereford on June 16th, and 20 completed the course. The race began to take shape from the start, with Peter Sugden and Martin Daykin opening a gap of six minutes after 10M (58:00) ahead of a group of three - Mark Pickard, Andrew Battye and Mark Guichard, with Howard Brown half a minute behind. Over the next ten miles, gaps widened, and Sugden began to break away from Daykin, both just inside two hours, but 12 minutes clear of the rest of whom only one had retired.
        At 30M, Sugden had opened up a four minutes gap on Daykin, who was now 15 minutes clear of a group of four, with the rest well spread but still 33 in action. By 40M, Sugden (3:56) was 7 1/2 minutes clear of Daykin, and the next man was now nearly 20 minutes behind. Distance was now beginning to tell, and after three laps of the 12 1/2 miles circuit, only 20 carried on for the last lap. All these completed the course.
        At the finish, Sugden just missed the five hours mark (5:01:29), with Daykin ten minutes back (5:11:45). Mark Pickard (5:41:00) had pulled away from the group, but was still 30 minutes in arrears, with Andrew Battye (5:44:00) pulling away from Mark Guichard (5:53:55) and Howard Brown (5:55:55). Christine Barrett was the only lady to finish, in 19th place (8:10:29).
        The organisers were pleased with the reaction of the runners, who all look forward to next year's event, with a slight change of date to avoid a local clash.
29-30 Jun 1985 - 80 mile trail race - South Downs Way
1 Martin Daykin 9,52.46
Race report from Athletics Weekly 17th August 1985:
       The Burroughs 80M South Downs Way Run attracted a good field on June 29th/30th, and Martin Daykin, Mark Pickard, Sam Lambourne and former winner Martyn Greaves were amongst those that set off from Petersfield on a bright Saturday morning.
        Martin went straight into the lead, passing the marathon point in 2:54 with Sam and Terry Tullett only three minutes behind. At halfway, Martin was timed at 4:26, some 21 minutes ahead of Sam, and by Pyecombe (49M) he had stretched his lead to 40 minutes. Gradually, over the last 20 miles, Sam closed on him, But Martin won in a new course record of 9:52:46, breaking the old mark by over an hour. He left Eastbourne soon after finishing - he had a marathon planned for the following day! Lambourne was second in 10:17:45 and Terry Tullett third in 10:47:45, both inside the old record. The first lady was Jane Baker in 15:52:30. 52 runners beat 15 hours and 301 of the 378 finishers beat 24 hours.
        The organisers have big plans for this race. There will probably be a 24 hour deadline next year, and they hope to attract many European and American runners to their European Challenge Trail Race, over the 80 miles from Petersfield to Eastbourne.
13-14 Jul 1985 - 24 hour track race - Chelmsley Wood
1 Martin Daykin 245.272Km (152 miles 713 yards)
8 (1st lady) Christine Barrett 195.880Km (121 miles 1257 yards)
20 John James 102 miles
Pre-race report by Tom O'Reilly from Athletics Weekly, 13th July 1985:
       The third Nike 24 Hours Track Race, organised by Centurion Road Runners, starts at 10:30 am today (July 13th) at the North Solihull Sports Centre, Cooks Lane, Chelmsley Wood, writes Tom O'Reilly.
        The event promises to be one of the very best in terms of the class of competitors, and amongst a field of 40, the star is Yiannis Kouros, who in less than two years has taken the day records to respectability - 24 hours (176M 388yd) en route to the 48 hours (281M 48yd) in Montauban, France in March this year and over 635 miles in six days in Colac, Australia. His first appearance in the UK depends only on the safe delivery of his first child prior to the race.
        Without the Greek runner, the field still looks to be outstanding - the former holder of the world best performance, Dave Dowdle (170M 974yd) faces strong opposition from Mike Newton (158M 1622yd), Terry Edmondson (UK road O/50 best of over 156M at Preston in May) and Dave Cooper (a world best of over 153M in Paris on June 16th). Two runners with outstanding performances up to 200Km, Don Ritchie and Martin Daykin, will be hoping that they can produce a '24' commensurate with their 'under distance' performances. Ritchie, still holder of the 50 and 100M and 100Km bests, will be looking to at least regain a Scottish best, held by another entrant, Stuart Bennett (141M).
      Race walker Geoff Tranter is making another attempt to improve his best distance. In his previous attempt, at Brighton, he narrowly missed the world best performance.
        The quality of the four lady entrants is without par in one race - Eleanor Adams ran over 131M en route to a 48 hours best of over 207M in the previous mentioned Montauban event, and together with Christine Barrett (100M road best), Lynn Fitzgerald (100M track best and second best 24 hours distance of 133M 939yd) must be looking to increase the distance Roz Paul completed on the first day of the Nottingham Six Day Race in 1982 - 134M 1089yd.
Race report from Citizen newspaper, Wednesday 17th July 1985:
DOUBLE GOLD
        Local ultra distance runners were celebrating a marvellous double in the Third Nike 24 Hour Track Race at Solihull, with wins in both the men's and women's sections of the race.
        Martin Daykin, of Upton Bishop - a stalwart of the Gloucestershire ultra distance scene - took the winner's platform in the men's race with a mileage of 152 - seven ahead of the second place runner.
        To complete a local double, Brockworth housewife Christine Barrett won the women's title with a 24 hour distance of 122 miles, an excellent run which placed her eighth in the overall race - 41 competed.
        Another Gloucester runner John James covered 102 miles for 20th place.
Race report from Athletics Weekly, 17th August 1985:
       A fortnight later, on July 13th/14th, Martin Daykin lined up for an even longer race, this time over a rather different course from the flint and chalk of the South Downs Way. The third Nike 24 Hours Track Race at the Chelmsley Wood Sports Centre, North Solihull, Birmingham had a field of 36 runners. The very faint possibility that Yiannis Kouros would run wasn't realised, but such top British 24 hours runners as Terry Edmondson, Dave Cooper and Eleanor Adams were there, whilst Don Ritchie and Daykin were both going to tackle the event set on achieving respectable distances.
        The early leaders were Gordon Bentley and Eleanor Adams, with Edmonson and Ritchie close behind. Daykin moved through though, and by 100Km led by 17 minutes from Ritchie, but at about 70M he went off for an hour and Bentley took the lead. However, by half time Daykin was ahead again, with 83.5 miles. Eleanor had been running well, but she, along with a number of other runners, notably Don Ritchie and Tom O'Reilly, were badly affected by the early heat, followed by a sharp drop in temperature some eight hours into the race. They suffered from upset stomachs which effectively put them out of the contest.
        The ever steady Dave Cooper was moving through the field, and after Martin reached 100 miles in 14:32:35, he had improved to second with 15:48:13, Bob Emmerson was third (16:13:56) and a new name to 24 hours running, Kevin Dwyer, was fourth with 16:29:57. As the leaders moved on towards 200Km, Cooper attempted to close on Daykin. For lap after lap he struggled to unlap himself, but Daykin stuck close behind him. At 200Km, Daykin had a 57 minutes lead as he went through in 19:00:25. Soon after, torrential rain hit the race, forcing all but the hardiest of runners to seek shelter.
        At the finish, the leader was well content with a 20 miles improvement on his 24 hours pb, and Dave Cooper had produced yet another very good run. Kevin Dwyer was the revelation of the race, as he ran and race walked to third. Christine Barrett also improved her personal best by a huge margin, despite being less than fit following an early season leg operation. Don Thompson, the 1960 50Km walk Olympic champion, walked and ran to 118 miles, and Geoff Tranter race walked to 107 miles.
        The race organisation was excellent, and runners and lap recorders were well taken care of. One unusual feature of the race was the recorders' tent, which actually enclosed part of the track, enabling the runners to run through. Perhaps this was the first outdoor/indoor 24 hours race ever!
        1, M Daykin (Here) 245.272Km (152M 713yd); 2, D Cooper (Hav) 233.421Km (145M 72yd); 3, K Dwyer (Poole) 227.284Km (141M 401yd); 4, R Emmerson (Rug) 212.836Km (132M 441yd); 5, P Sargeant (Dart) 199.246Km (123M 1419yd); 6, D Downs (Cent) 197.949Km (123M); 8, Christine Barrett (Glouc) 195.880Km (121M 1257yd). 22 runners over 100 miles.
10 Aug 1985 - 100K road race - Gravigny, FRA
1 Martin Daykin 6,52.52
15 Sep 1985 - 50K road race - Bailleul, FRA
1 Martin Daykin 3,02.45
02-08 Oct 1985 - 6 day indoor track race - La Rochelle, FRA
11 (2nd lady) Christine Barrett 408.6 miles
Race report from Citizen newspaper, Saturday 19th October 1985:
CHRISTINE HAS SIX APPEAL
        Brockworth housewife Christine Barrett will be putting her feet up for the next few days after completing her third six day race.
        Christine, a former multi-world record holder in the gruelling sport of ultra distance running, took second place in the La Rochelle six day race in France.
        She covered 657.7 kilomteres - well over 400 miles - and made 3,288 circuits of the tight La Rochelle track!
        The lady's race winner was French runner Edith Couhe, who took first place for the second year running with a distance of 771.6 kilometres.
        Christine, whose success is all the more remarkable for her meagre training programme - "If I don't feel like going out for a run I don't" now intends to step up her training to twice a week!
        The reason? An invitation to next year's 48 hour track race in Montauban, France.
        Christine is still the proud owner of the world 100 mile road race record.
Race report from Athletics Weekly, 14th December 1985:
        The first of the year's two Indoor Six Day Races took place from October 2nd-8th at La Rochelle, France, and was organised with great flair by Sud Ouest, a national newspaper. Jean-Gilles Boussiquet, who has held world bests at 24 and 48 hours in his time, set out to regain the French six day best from Ramon Zabalo. He opened with 141M 746yd on the first day, and reached 250M 944yd by the end of day two. By now he had a substantial lead and Patrick Simonnet and Ramon Zabalo seemed unable to do anything about it. Zabalo moved into second place between 48 and 72 hours, but then his challenge faded. Boussiquet finished with 975.200Km - a notable distance in that it made him the second man over 600 miles in modern times. His distance of 605M 1691yd put him over 57 miles ahead of Simonnet in second, who accumulated 548M 305yd. In third place the persistent Canadian Trishul Cherns came through with a new national best of 530M 1145yd, fourth was Al Prawda of the United Staes with 500M 1233yd, whilst Edith Couhe of France set a  new indoor female best of 479M 792yd. Colin Dixon (East Hull) came eighth with 436.9M, Christine Barrett (Gloucester AC), handicapped by injury, was 11th with 408.6M and Malcolm Campbell (Notts) 17th with 312.5M; though Bruce Slade (Exeter) was forced to retire fairly early on.
---
 19 Apr 1986 - 50 mile road race - Forthampton, Gloucester
1 Dave Dowdle 5,45.43
7 John James 7,24.45
Race report from Citizen newspaper, Tuesday 22nd April 1986:
DOWDLE ON COURSE
        Gloucester Athletic Club's Dave Dowdle is delighted with his progress towards an attempt to regain the world 24 hour record in September.
        After an easy victory and a course record by 25 minutes in the club's Lower Lode 50 mile road race at Forthampton, he now aims to concentrate on his training at 160 miles plus a week for the next few months.
        In Saturday's race Dowdle went straight to the front. Running in near perfect conditions he had five miles splits of 31.52, 32.40, 32.12, 31.38, 31.44, 31.47, 32.25. Then at 40 miles the weather suddenly broke and icy rain caused a flare up of back trouble. A lengthy pit stop for massage and a change of clothing, plus the need to warm up again, saw his finish with splits of 36.23, 46.17 and 38.45 for an overall time of 5,45.43, sixth best ever on a loop course.
        Second was Dave Rudman (Taunton) in 6,47.04 after passing third-placed man Steve Drury (Swindon) 6,50.29 in the final mile.
        Gloucester's other finisher, John James, was seventh in 7,24.45 after being second up to 30 miles. Eleven of the 22 entrants finished.
        At Lower Lode in a hastily conceived challenge match between close rivals Cheltenham, Gloucester triumphed in a 5x10 miles road relay after a sporting contest which saw Cheltenham establish an early lead through City marathon winner Dave Catlow.
        This they held to half-way when the City team went ahead to gradually build up a winning margin in a new British best for the event of 4,39.41.
        Details: 1, Gloucester A (Phil Robinson 56.32; Dave Ide 54.26; Ralph Oliver 54.21; Les Davis 56.26; Dave Spackman 57.56).
        2, Cheltenham (Dave Catlow 53.02; Dave McNamee 57.30; Tony Stanton 56.08; Keth Fowler 58.29; Ken Buckle 60.38).
        3, Gloucester B (Adrian Harrison 63.08; Alex Nicol 66.18; Terry Haines 62.40; Mike French 59.25; John Conlon 58.50).
Results from Athletics Weekly, 24th May 1986:
        1, D Dowdle (Glouc) 5:45:43; 2, D Rudman (Taun) 6:47:04; 3, S Dury (Swin) 6:50:29 ..... 5, P Collins (High - V O/50) 7:07:42; 6, Hilary Walker (Serp) 7:15:48.
02-10 May 1986 - 624 mile (1005Km) road race (The 'Westfield' Sydney to Melbourne, AUS) - Australia
9 (3rd lady) Christine Barrett 8 days 22 hours 30 minutes
Selected extracts from Phil Essam's book 'The Story Of The Sydney To Melbourne Ultramarathons 1983-1991':
Christine Barrett was given a day's notice to race in the Westfield. She was invited to join after American, Marcy Schwam withdrew for fear of Terrorist attacks. The irony is that when Christine left London there was an IRA bomb blast in the middle of the city! She has only been running for four years. "I broke my leg and I was told running would help build up strength in it" she said.
The women's first prize for 1986 is $10000 and second place will receive $5000. This is the richest prize money for Ultra-distance women in the world. 
At the end of the first day, Pat Macke was in the lead followed by Dusan Mravlje and Geoff Kirkman. Bloomer was behind Kirkman in fourth. Mravlje was in the lead for most of the day, but as dusk settled, Macke came from the middle of the pack and grabbed the lead.
The second day dawned. Geoff Kirkman now has a 44km lead over Brian Bloomer. Five Aussies are in the top eight. Heavyweight Champion, Joe Bugner joined Geoff Kirkman for a run on the second day of the race. It must have been quite a sight. The big and the small running along the road. Eleanor Adams is leading the women's section and is in tenth place overall. She has covered 238km and has a reasonable lead over Christine Barrett, who is feeling the effects of the hot Australian sun. 
The women are having a great race. Eleanor Adams and Cynthia Cameron have 190 miles (310 kilometres) up at the 48 hour mark with Donna Hudson slowly catching them up. Christine Barrett is only a few miles behind Hudson and is running very easily. 
The race positions in the early hours of May 4th were: 
Geoff Kirkman 342km 
Brian Bloomer 313km 
Joe Record 308km 
Per Lind 304km 
Pat Macke 300km 
Dusan Mravlje 297km 
Eddie Westburgh 282km 
Ross Parker 280km 
Dan Brannen 278km 
Eleanor Adams 267km 
Cynthia Cameron 263km 
Alistair McManus 262km 
Donna Hudson 262km 
Bertil Jarlacker 259km 
Christine Barrett 257km 
Tony Rafferty 251km 
Frank Pearson 239km 
Graham Wilkinson 217km 
Dave Taylor 210km 
After three days of the race, Eleanor Adams was emerging as a threat for overall supremacy. She was in sixth place and leading the women's division. Geoff Kirkman was still in the lead with 403km.
It was late in the third night of the race when tragedy dealt it's evil hand. A 46 year old Albury man was killed when he attempted to overtake an escort vehicle for a runner. Police believe that the mans car collided head on with a steel laden semi trailer. Geoff Kirkman was injured in the accident and taken to Wagga Base Hospital for treatment. The highway was closed to traffic as police worked to clear the wreckage. Kirkman was 3km ahead of Bloomer when the accident occurred. Brian Bloomer took over the lead at the scene of the accident. Dusan Mravlje had moved past Joe Record into second. Per Lind was trotting along comfortably in fourth. Eleanor Adams has a five kilometre lead on Cynthia Cameron. Cameron was set to pounce when the Englishwoman had her next break. 
There were seventeen runners left in the field after the accident. They all put emotion aside and kept going with the task in hand. The top three in the men's was being fought between Bloomer, Mravlje and Lind. The top three in the women's was being fought between Adams, Cameron and Hudson.
Brian Bloomer is still in the lead with Dusan Mravlje and Joe Record hot on his heels. Pat Macke was improving at a great rate of knots and had moved into fourth place. The women were still having a right royal battle with Cynthia Cameron celebrating her 44th birthday on the road. 
Christine Barrett was fortunate enough to meet her first kangaroo yesterday. Unfortunately it was the flat variety. Hopefully she meets a real one by the end of the trip!
It was half way into Day four when Brannen's left knee was extremely swollen and enlarged. The knee locked and he could not move, forcing him to pull out. Cynthia Cameron was to retire shortly after with a similar problem.
It was 48km north of Albury when Dusan Mravlje made his move on race leader, Brian Bloomer. By the afternoon, Mravlje held a 10km lead over Bloomer. Joe Record and Pat Macke were battling it out for third and fourth respectively. Macke was starting to look the stronger of the two runners and was only ten kilometres behind Bloomer. Eleanor Adams was fifth and had a 20km lead over Donna Hudson. Adams had run well during the day and had moved up four places. She is being accompanied on this trip by her twelve year old son, Stephen. He is being a model crew man and has learnt to cook some tasty delights for his mum in the past few days!
Brian Bloomer had a strange encounter when running through Wagga. A cow that had fallen from a nearby truck joined him. The cow joined Bloomer on his run through the city. This caused much amusement to spectators lined up on the side of the road.
Dave Taylor retired after stage two of the staged race whilst Frank Pearson is continuing. The three top placings are taken by Mravlje, Bloomer and Macke. Eleanor Adams has moved into fourth whilst Joe Record is now in fifth. 
Progress results as of 1500 hrs May 7th; 
Dusan Mravlje 723km 
Brian Bloomer 697km 
Patrick Macke 657km 
Eleanor Adams 643km 
Joe Record 631km 
Donna Hudson 626km 
Per Lind 614km 
Cynthia Cameron 601km 
Christine Barrett 583km 
Ross Parker 582km 
Tony Rafferty 578km 
Bertil Jarlacker 571km
Dusan Mravlje was the clear leader in the race when he only had 160km to go. Brian Bloomer was 23km behind him and Patrick Macke had cemented himself in third. Eleanor Adams was in fourth whilst Joe Record had moved back to sixth.
Dusan Mravlje passed through the City Mall at 9pm last night and looked like finishing the race at 10:30pm. He was sixty kilometres ahead of second place Patrick Macke who had earlier in the day taken second from Brian Bloomer who was battling a leg injury. Bloomer had a 45km lead on 4th place Eleanor Adams. Adams had a 15km lead over Record and Hudson. On the final day, there were only eleven of the original 28 competitors still in the field.
Eleanor Adams is still running well. She is fourth overall with plenty of distance between herself and second place female, Donna Hudson. 
Dusan Mravlje celebrated the last 10km by having a pub crawl through the streets of Melbourne. His nearest rival was 60km behind, so as Dusan put it "I had nothing else to drink so I had beer".
Dusan Mravlje finished the race in six days twelve hours thirty eight minutes and thirty seconds and picked up $20 000 for his efforts. Brian Bloomer surprised everyone when he finished second. He passed Patrick Macke who is still making his way through the city.
Eleanor Adams finished five hours behind Macke and Joe Record battled injury to finish fifth. Another four runners were to finish. Probably the most impressive statistic was that 75% of the females finished the race. This is compared to 30% of the males finishing.
1986 Race results: 
Dusan Mravlje 6:12:38 
Brian Bloomer 7:04:53 
Patrick Macke 7:13:02 
Eleanor Adams 7:17:58 
Joe Record 8:01:14 
Donna Hudson 8:06:15 
Bertil Jarlacker 8:15:13 
Ross Parker 8:17:45 
Christine Barrett 8:22:30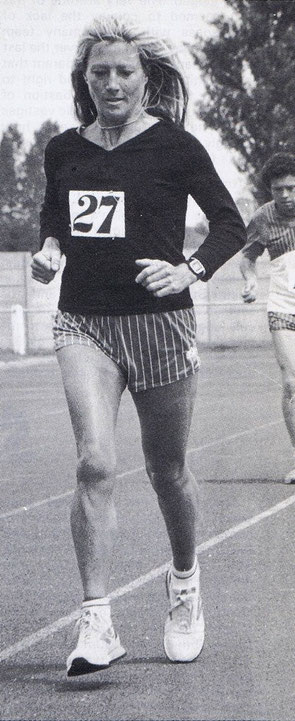 Article written by Christine Barrett following the race - this appeared in Athletics Today magazine:
On Thursday, 24th April, I left my home early in the morning to collect my visa from Australia House, in order to catch the flight to Sydney via Dubai and Kuala Lumpur, that same evening. This 'Aussie experience', was to materialize after having received a phone call only two days earlier, firstly from Malcolm Campbell (and I must say thank you so much Malcolm) and secondly from John Dangar, Westfield Race Administrator, Sydney Australia asking if I'd like to be a participant in the Sydney-Melbourne 1000K road race - after a couple of seconds and realizing this was not a 'little joke', I accepted, talked to John for a further half hour or so and then on putting down the phone, it still hadn't registered what I'd let myself in for. What an honour, a magnificent opportunity to see Australia I thought, but to see it while trying to run 1000K from Sydney to Melbourne on no more than, at most, a couple of weeks mediocre training - HELP! all I can say is, that is after all, the way I have tackled other events, however, this seemed even bigger and indeed longer than those other events. Nevertheless I was thrilled to bits. I already had my case packed to go to France to do a 48 hour event so I kept it that way and with much encouragement from Bruce, Malcolm and of course endless love and encouragement from Richard, my husband, parents, sisters and brother, off I went, fortunate enough to fly over with Eleanor (Adams) and Steven her son for company. We were to be eventually met in Sydney by John Dangar and press and two most beautiful bouquets.
From the second I arrived, a 'stranger in a foreign land' I never felt - in fact the reverse, Sydney became home immediately. John drove us in a roundabout way back to the Travel Lodge, Rushcutters Bay so that e could see some of Sydney and its obvious beauty and after leaving our baggage etc. at the Travel Lodge, we were treated to a wonderful trip up Sydney Tower for some of the most magnificent views one could ever imagine - I concluded that it must be the surrounding water mals and inlets that make it so spectacular. I actually got to see quite a bit of Sydney myself, catching various buses, ferry boats and hovercraft and was in awe of its beauty - a mention must go to the Sydney Opera House and Harbour Bridge too, both spectacular in their own right. My sightseeing excursions were helped enormously by Donna Hudson who had already been there a few weeks, she took me out to Bondi Beach and various other beauty spots - in fact all in all, we had a marvellous few days - fitting in media interviews, press conferences, medicals, pasta parties; sports stadium lap of honour to 25,000, fitting of brand new Nike shoes (for me to wear for the run, which indeed I did); getting an ache out of my calf muscle (not caused by training 'cause I didn't do any, but probably the long flight over); - all these things and more.
However, back at the Travel Lodge, the camaraderie was something very special - moments spent with the other runners, Yiannis Kuoros, Dusan Mravlje, Dan Brannen, Bertil Jarlaker, Per Lind, Patric Macke, Ramon Zabalo, Joe Record, Eleanor Adams and Donna Hudson, l will always treasure - eventually too to meet up with the remaining Australian runners including Cliffy Young at the all important pre-race briefing delivered in such a professional and awe inspiring manner that l then knew that this was going to be my greatest challenge to date.
Every element of anxiety, every question dealt with and every niggling doubt no matter how small was answered in this conference by the extremely efficient and capable race officials - here too, we were to meet our back-up teams, who were to prove the most important people in my life for the next few days. l was so lucky to have such a wonderful team; a lot more will be said about each individual member whom l got to know so very well and indeed they did me, they did everything for me and most important of all were instrumental in keeping me out on the road for 8 days, 22 hours. Race briefing concluded, we were to collect our two vehicles-each athlete had a support vehicle following him/her at all times and another larger vehicle rotating with the support vehicle and it was now up to my crew comprising of Ron, the team manager/driver, Colin my masseur/physio/chiropracter, Dawn my cook and nurse, Tony my multi talented driver, and Warren map-reader and driver, to arrange between them everything necessary for us to complete the World's Greatest Race, for completing it successfully, l was told, is the ultimate challenge of the ultra-distance runner.
Thursday night, the night before race day we were moved to Auburn Travel Lodge approximately 4k away from the start of the race - it was a sleepless one, as I guess it was for most of us, but after a good breakfast, intense media coverage, interviews, smiling, hugging and tears, at 10.30 it started - from that moment on I would give up all thought of time - my objective now was Melbourne. I had complete and utter confidence in my crew this proved itself 100% on the first day, I wanted for nothing, Dawn had already checked my blisters after 23 hours of running and coped with them in such a way that they never needed coping with again. She cooked, had everything ready in minutes and even helped out with the driving stints. Colin, my masseur I relied on so much it was almost unbelievable, I owe. it to him more than anyone, I feel for keeping me on the road as he did. Shin trouble emerged very early on in the race along with a touch of heat stroke on the second day when ice proved invaluable and so did Colin. My immediate goal was to make it to Canberra (approximately 300 k) within 54 hours so as to be kept in the main race rather than join the stage race and to my delight this was achieved - Canberra, what a beautiful town and onward we went. I relied on Colin more and more now to iron out aches and pains before they developed into serious aches and pains — he was always there when I needed him, a wonderful thought, how did they all get enough rest I wondered? Night time running proved even more of a challenge – the highways sometimes quite treacherous with trucks, incidentally the truckers gave incredible encouragement but one had to have one's wits about one and quite a fair handful of courage tool It wasn't too long before we were to learn of a tragic accident involving a couple of cars a truck and what hurt me more than ever, one of the athletes; this snip of news touched me to the extent that I had to take time out to collect my thoughts, it was only when I heard he had been discharged from Intensive care that my mind eased somewhat - I guess this gave even greater concern to race officials who had from the very beginning of the race, been concerned over the welfare of their athletes.
They continually surprised us with presentations of fruit baskets, flowers and wonderful goodies throughout the days and nights of running. The scenic off highway routes never failed to catch my attention with wildlife, gum trees creeks, noises and even one kanga; highway routes kept me alert in different ways, though rests were more often than not taken between 2.30-5.30 a.m. when traffic glare almost enabled me to sleep on the run a couple of times! Rest time adopted a familiar routine which I looked forward to more than words can ever explain - in short easy language a bed, a massage, a feed and having everything done for me while falling asleep. On awakening, another massage, another feed and change of clothing. My poor masseur - I worshipped him now – I dreamt I'd even finished the run and couldn't understand why I was put on the road again and was trying to explain to Colin and Tony that I'd finished the run, - they were so wonderful and when realization set in, I knew for real that I still had quite a way to go. Col was instrumental in helping me with what I soon became very familiar with - mind relaxation - this indeed became very important to me in the later stages of the race.
Now into the sixth day (I think) I had an extra team member - Mark - unfortunately his athlete had to retire as had a number by now - 10 were to finish the entire race. Mark another great attribute, provided many laughs, ran with me giving endless encouragement and also helped do the tasks that Col, Dawn, Ron, Tony and Warren had got down to a fine art. Here, I must add, I never did have an organised race programme or prepared race tactics - I never do - I run 'cause I enjoy the events and I guess for me this is the best way to approach an ultra, this however, doesn't appeal to everyone, I gather most of the athletes do have their own personalized programmes and some seem to be amazingly well self-disciplined – I must admire them for this and maybe it's something I should consider, but I can't honestly see myself sticking to a rigid race plan.
Australia fascinated me more and more - the names of sign posted places became targets for endless mind games; I loved the Aussie accent and even tried to cultivate it myself throwing back "goon on ya mate" replies to all the marvellous people along route - some came out with flowers, others with home baked cakes and one gent appeared on his bike with bottles of Fosters lager (stubbies, I believe they're called) - Oh yes and Melbourne was getting closer – yet another night and this time I suffered enormously from the cold - my crew did the most wonderful thing and placed the witches cap (beacon) on the road along with one of my support vehicles and took me to a Motel for 2 1/2 hours for a hot shower and rest before attempting the last leg of the run, at 2.00 a.m. we drove back to the witches cap and at 2.30 a.m. I was out on the road again now realizing not only what time of night/morning it was but also that the finish was only a matter of 65 k or so away - Oh the bliss of it – a couple more quick messages – dawn breaks, our escort arrives to guide us through the streets of Melbourne and then it seemed a matter of minutes as my ecstatic crew along with others fell in to run the last 10 k with me - a final climb up the hill to cross the finish line at Westfield just gone 9.00 a.m. - feelings now I cannot put into words - we've finished, my crew and myself have finished the Greatest Run, Col, Dawn, Tony, Ron, Warren and Mark, thank you, thank you.
After all the festivities, resting up, being treated like royalty and meeting up with Margaret Smith who gave me an Emu's egg and incidentally is one of only four women ever to complete the Westfield run along with Eleanor Adams, Donna Hudson and believe it or not, now myself, we went to the Zoo, (we being Donna and myself) and were wheeled around in wheelchairs by Ron and Tony - crazy I guess, but then we have to have been a little crazy in the beginning! Three days and many, many friends later, I returned to England rich with memories. Thank you Westfield for such a wonderful experience and thanks to everyone that helped me so much.
P.S. On retrospect, having now read this briefly through once, it doesn't sound like a runner's article does it! Still, I don't class myself as a runner but rather one who enjoys running once in a while along with everything and everyone else!!!
07-08 Jun 1986 - 24 hour road race - Cranwell
Christine Barrett 160.978Km (100 miles 42 yards); 10,17.57 (100Km)
28-29 Jun 1986 - 24 hour track race - Gateshead
3 Dave Dowdle 201.600Km (125 miles 472 yards)
12-13 Jul 1986 - 24 hour track race - Honefoss, NOR
8 (3rd lady) Christine Barrett 189.907Km (118 miles 5 yards)
Abridged race report by Andy Milroy from Athletics Weekly, 1st November 1986:
       Another 24 hours track race was held in northern Europe. At Honefoss, Norway, Per Lind, the race organiser, was fortunate to have a good sponsor. He was able to invite a strong field of experienced competitors to the second Fossen 24 Hours. Patrick Macke and Dusan Mravlje, who had battled in the Spartathlon and the Sydney to Melbourne, were joined by sub-seven hours 100Km runner Rune Larsson of Sweden. The women's battle was promising too, with Eleanor Adams being confronted by Mary Hanudel, who had won their previous contest at the Chicago Indoor 24 Hours earlier in the year. The early leader, as is frequently the case, was Eleanor, and she led for the first four hours before Patrick Macke went to the front. Patrick passed through 100Km in 8:09 with Rune Larsson ten minutes back and a two minute gap to Dusan Mravlje in third. Eleanor went through in 8:35 which is the second fastest time yet recorded for a woman in a track race, and a new British best.
        ..... Eleanor Adams reached 100 miles in 15:25:46, the third fastest time ever by a woman and a new track world best, removing 19 minutes from Lynn Fitzgerald's old mark. She continued at this pace and reached 200Km in 20:09:27, well inside her previous best mark and nearly 1 1/2 hours faster than the ratified best of Lynn Fitzgerald.
        ..... Eleanor, after reaching 200Km, pushed on, but due to a misunderstanding in converting kilometres into miles eased off in the belief that she had fallen too far behind schedule to break her own 24 hours record. She even took time off to have a massage. As a result she finished up four laps short.
        Larsson emerged the winner in his 24 hours debut with a fine 163M 346yd, for fifth place on the world all-time track list. Mravlje covered 151M 644yd for a new Yugoslavian best, while Eleanor produced the second best performance over 24 hours with 137M 787yd. Mary Hanudel had been running a very steady race. She reached 100Km in 10:46, and 100M in 18:00 before finishing very strongly to set a new US 24 hours best of 132M 1299yd. Behind her, Bertl Jarlaker ran 132M 1041yd and Jan Erik Lehne of Norway 130M 87yd. Patrick Macke was seventh with 125M 909yd, Christine Barrett eighth with 118M 5yd and Malcolm Campbell covered 103M 1572yd in 11th.
23 Aug 1986 - 36 mile road race (Two Bridges) - Rosyth, Scotland
8 Dave Dowdle 3,47.41
62 Ken Leyshon 5,0844
Race report from scottishdistancerunninghistory.co.uk:
        105 started. On a warm day the youngest competitor, Bill Evans, dashed into a lead and arrived at five miles in 27:56 followed by a group moving at a more realistic pace including Cavin Woodward, Don Ritchie and Richard Dalby. By ten miles (57:12) the chasing group had been joined by Mike McHale of Pitreavie AC some 16 seconds behind Evans. Woodward was evidently in some difficulty and fell back. Through Grangemouth and on to Bo'ness, Dalby moved up to join Evans with Ritchie just eight seconds behind. However Evans raced up Carriden Brae to take a 50 second lead over Ritchie who was relentlessly maintaining a five and a half minutes per mile pace. The marathon point was reached in 2 hours 33 minutes where Ritchie passed Evans while Dalby was having a bad spell, dropping to fourth as McHale joined Evans. The long haul up to the 30 mile point (2:56:09) saw many changes of position with the experienced Alan Evason of Tipton and Andrew Battye moving into a challenging position. The Forth Road Bridge inspired Dalby to regain second place from McHale. A very large crowd at the finish greeted Don Ritchie who arrived in 3:36:37, followed by Richard Dalby and Mike McHale who was the first local finisher. The youngster Bill Evans found the last six miles very difficult and was passed by his clubmate Alan Evason, Andrew Battye and Dave Attwell, who ran the last ten miles faster than all except the winner. Don Ritchie won the Two Bridges Trophy, the first Scot award and the Veterans Shield. but generously passed the latter on to Alan Evason.
        There was a report in 'Scotland's Runner' about the 1986 race by Bob Holmes an extract of which is reprinted here: "Its origins are classic, its organisation superb and for 19 years a friendly atmosphere has made it the best loved ultra in Great Britain. The Two Bridges 36 miler is a throwback to the good old days when club runners would travel the length of the land to run their guts out for a free beer, an early results sheet and a knees-up afterwards, and in the Kingdom of Fife the Corinthian spirit shows no signs of flagging.
        Nor does Don Ritchie. After driving 160 miles from his Lossiemouth home, the 42 year old Forres Harrier overcame a hamstring injury, a rare spell of indifferent form and the customary challenge from south of the border to take this year's title on August 23rd. The Scot had almost two and a half minutes to spare on the fast finishing Yorkshireman Richard Dalby, while Pitreavie's Mike McHale ran a magnificent debut ultra for third place a minute and a half further back. Altogether 95 runners successfully negotiated the undulating course in traditionally sunny conditions.
        But there could have been no more appropriate winner than the unassuming college lecturer who still holds more world records than Steve Cram and Seb Coe combined yet has received only the briefest mention in dispatches and not so much as a brown envelope in appearance money. And, characteristically, when he was awarded his prizes as overall winner, first Scot and first vet he promptly unloaded what, for him, was an embarrassment of riches to his nearest rivals. If Ritchie's action momentarily turned the presentation ceremony into a session of "pass the parcel" - the recipient of the veteran's award, Alan Evason, immediately handed it on to a Tipton team-mate - it was done in the spirit which the founders of this famous race would have approved. Indeed, it was not entirely inappropriate that a 20 year old van driver, Billy Evans should end up with the old man's prize for he had certainly put years on hanging on to the finish after leading for 27 miles....
        It's not often that the hero of the race is the guy who comes seventh, but I'm sure that none of the first half dozen would argue that the gutsy lad from the Midlands deserves this accolade. Out for a training run, Evans not only found himself in the lead at five miles, but inside the record-breaking pace set by clubmate Andy Holden in 1980. With a marathon personal best of 2:40 and a Birmingham League 800 metres race on the track the following Wednesday, he was not expected to be a threat, but when he had not come back to them by the marathon mark (which he reached in 2:32) the old hands behind were beginning to take him seriously.
        Ritchie finally overhauled him on a hill at 27 miles and from then on a twinge in the Scot's hamstring posed more of a threat than the chasing pack. Experience saw him to his second Two Bridges title, although his 3:36:37 was slower than his previous (1983) winning time and almost 15 minutes outside Holden's record (3:21:46). With Evans finally fading, 35 year old Dunfermline labourer, Mike McHale, ran the race of his life to take third place behind Dalby but Edinburgh-born New York runner, Norrie Williamson, was the only other Scot in the top ten."
        1. Don Ritchie (Forres H) 3:36:37; 2. Richard Dalby (Nidd) 3:39:00; 3. Mike McHale (Pitreavie) 3:40:38; 4. Alan Evason (Tipton) 3:42:50; 5. Andrew Battye (Woodstock) 3:44:44; 6. Dave Atwell (Altrincham) 3:45:03; 7. Bill Evans (Tipton) 3:47:39; 8. Dave Dowdle (Gloucester) 3:47:41; 9. C Woodward (Leamington) 3:49:52; 10. N Williamson (New York) 3:51:03
        1st Woman: Morag Taggart (Pitreavie) 4:40:25. 95 finished.
        First team: Tipton Harriers; Second team: Pitreavie AC
06-07 Sep 1986 - 24 hour track race - Blackbridge, Gloucester
Dave Dowdle 8,03.49 (100Km)
29 Sep-05 Oct 1986 - 6 days indoor track race - La Rochelle, FRA
(1st lady) Christine Barrett 722.000Km
Race report from Citizen newspaper, Saturday 11th October 1986:
CHRISTINE'S TRIUMPH
        Gloucester's Christine Barrett is back in the City after a major ultra-distance athletics victory in France.
        Her triumph came in the six day La Rochelle race when she covered 722 kilometres (448 miles) for victory.
        "I am thrilled," said Christine today, "I have finished second in each of the last two years and one of my main ambitions was to win what is a highly prestigious event."
        Christine's great rival Edith Couhe was second, covering 673 kilometres over the six days.
        After 99 hours Christine was on world record schedule, having covered 559 kilometres, but she faded slightly.
---
 12 Apr 1987 - 100K road race - Martigne Ferchaud, FRA
1 Martin Daykin 7,07.19
30-31 May 1987 - 24 hour road race - Pizen, CZE
5 Martin Daykin 220.508Km
27 Jun 1987 - 80 mile trail race - South Downs Way
1 Martin Daykin M40 10,36.17
19 Jul 1987 - 50 mile road race - Hereford
1 Martin Daykin M40 5,20.41
25 Jul 1987 - 100K road race - Gravigny, FRA
1 Martin Daykin M40 7,12.34
---
 03 Apr 1988 - 10 hour road race - Bar-le-Duc, FRA
9 Martin Daykin M40 100.000Km (7,22.00)
30 Apr 1988 - 12 hour road race - Moreuil, FRA
2 Martin Daykin M40 145.483Km
14 May 1988 - 100K road race - Vendee, FRA
1 Martin Daykin M40 6,50.26
28 May 1988 - 100K road race - Bilovec, CZE
3 Martin Daykin M40 8,16.00 (lost off course for 30 minutes)
25 Jun 1988 - 80 mile trail race - South Downs Way
1 Martin Daykin M40 10,03.48
Race report from Citizen newspaper, Wednesday 29th June 1988:
DAYKIN PUTS EURO STARS FIRMLY IN THEIR PLACE
        Once again, the organisers of the European Challenge Trail Race, an eighty mile cross-country race along the South Downs Way in Hampshire and Sussex, were left scratching their heads to find a way to depose Upton Bishop runner Martin Daykin from the Number One spot.
        They had lured American crack ultra-distance runner Ray Krolewicz from across the Atlantic, as well as Terry Tullett - fastest Briton over 100 kilometres last year.
        Daykin himself had invited the fearsome Vaclav Bednar from Czechoslavakia to join the fray. A battle royal looked inevitable.
        The 9.00 am start saw a full field of 500 runners start their strength-sapping journey, with Daykin and Tullett immediately spearheading the attack.
        Only Walker - second last year - dared to stay with the furious pace. Even he had slowed by the end of the first marathon at Amberley, reached by the two leaders in a fast 2 hours, 49 minutes.
        Every step of the way, the two protagonists probed each other's defences for a weakness, waiting for the slightest sign of a flaw.
        Nearing 30 miles Tullett slowed on one of the steep uphill ascents. It was just the signal Daykin had been waiting for.
        He raised his pace and soon had a five minute lead.
        Sportingly, Tullett's support crew gave Daykin food and drink which enabled him to reach his own service crew some two miles further on. Revitalised, Daykin was able to charge along the final 15 miles to the finish at Eastbourne.
        Tullett meanwhile was in trouble. A suspected ligament injury to his knee caused him to stop for 20 minutes, but gamely he carried on, certain that he was now running for second place.
      Sure enough, Daykin cruised to the finish in 10 hours, three minutes, just 11 minutes outside his record. Tullett fought off a fast finishing Walker to cling to second place by four minutes.
02-03 Jul 1988 - 24 hour track race - Birmingham
8 Martin Daykin M40 193.194Km
17 Jul 1988 - 50 mile road race - Hereford
1 Martin Daykin M40 5,25.00
---
 05 Mar 1989 - 40 mile track race - Barry
1 Martin Daykin M40 3,59.23
Daykin set a world over-40 best for the Barry 40-mile track race in 1989.

09 Apr 1989 - 100K road race - Martigne Ferchaud, FRA
5 Martin Daykin M40 8,10.38
06 May 1989 - 12 hour road race - Moreuil, FRA
15 Martin Daykin M40 108.812Km
24 Jun 1989 - 80 mile trail race - South Downs Way
1 Martin Daykin M40 10,23.40
08-09 Jul 1989 - 24 hour track race - Birmingham
10 Martin Daykin M40 176.551Km
16 Jul 1989 - 50 mile road race - Hereford
1 Martin Daykin M40 5,27.55
05 Aug 1989 - 100K road race - Gravigny, FRA
Martin Daykin retired at 80Km
27 Jul 1989 - 100K road race - Blaisdon
1 Martin Daykin M40 7,12.37
23 Sep 1989 - 40 mile cross-country / fell race - Peak District
3 Martin Daykin M40 5,32.43
---
1990
22 Apr 1990 - 40 mile cross-country race - Mendip Marathon
1 Martin Daykin M40 5,15.00
06 May 1990 - 12 hour road race - Moreuil, FRA
2 Martin Daykin M40 137.180Km
24 Jun 1990 - 6 hour road race - Breuil-Chaussee, FRA
Martin Daykin retired at 48Km injured
26 Aug 1990 - 100K road race - Blaisdon
1 Martin Daykin M40 8,04.13
1991
14 Apr 1991 - 40 mile cross-country race - Mendip Marathon
1 Martin Daykin M40 5,13.00
05 May 1991 - 12 hour road race - Moreuil, FRA
29 Martin Daykin M40 106.670Km
30 Jun 1991 - 6 hour road race - Breuil-Chaussee, FRA
1 Martin Daykin M40 86.700Km
1992
28 Jun 1992 - 6 hour road race - Breuil-Chaussee, FRA
1 Martin Daykin M45 84.900Km
30 Aug 1992 - 100K road race - Blaisdon
1 Martin Daykin M45 7,49.22
1993
08 May 1993 - 100K road race - Marseilles, FRA
4 Martin Daykin M45 7,59.48
27 Jun 1993 - 6 hour road race - Breuil-Chaussee, FRA
1 Martin Daykin M45 83.450Km
11 Jul 1993 - 50 mile road race - Hereford
2 Martin Daykin M45 5,34.31
29 Aug 1993 - 100K road race - Cleder, FRA
1 Martin Daykin M45 7,33.11
Race report from Citizen newspaper, Saturday 11th September 1993:
        Ultra-distance runner Martin Daykin was the toast of Brittany, when he won their championship 100 kilometre / 62 mile race in spectacular fashion.
        A massive field of 454 runners started their two lap race at 5am from Cleder, near Roscoff, in perfect, if nocturnal, conditions. Cycling assistants soon joined their runners, with cycle lights illuminating the way ahead.
        The course passed through the grounds of three fabulous castles, floodlit at night. The early start was to enable the runners to see this enchanting spectacle.
        By daylight, Daykin has established himself in the leading group, but soon had his first surprise when the route suddenly plunged onto the beach for a two mile stretch on the sand.
        There were no complaints, since the spectacular coastal scenery was one of the reasons why such a large number of runners had entered. Halfway at 50 kilometeres saw Serge Flohic leading in 3:31, a minute ahead of Daykin.
        The gap slowly grew to three minutes, but by 55 km the Frenchman was walking and Daykin swept into the lead. Nearing 50 miles, a calorie crisis saw him dive upon one of the well stocked feed stations for cakes and chocolate.
        A car drew alongside, with a concerned radio presenter asking if he required anything further. Little realising that he was broadcasting live to much of France, he replied that a beer and a banana at the finish would be welcome.
        The finish duly came into view, with literally thousands of spectators eager to cheer home the runners, in particular 'their' wacky Englishman, who in his traditional fashion crossed the line with an airborne leap and a crack from his multi-party-popper firing bomb-surprise!
        As the festoons of paper cascaded down, a tray of beer and bananas found its way forward to Daykin, as he heard that his fast 7:33:11 time was over seven minutes ahead of Jean Paul Soleil, the local star, who had knocked 15 minutes off his previous best.
05 Sep 1993 - 50K road race - Blaisdon
2 Phil Whitmore 4,16.04
3 Mike Storey M40 4,24.37
6 Graham Welch M50 4,56.47
Team: 1 Gloucester AC
1995
07 May 1995 - 33 mile trail race - Cornwall Coast Challenge
5 Martin Daykin M45 5,56.00
09 Jul 1995 - 100K road race - Cleder, FRA
Martin Daykin retired at 64Km
1999
05 Jun 1999 - 34 mile trail race (Dartmoor Discovery) - Princetown
Pam Storey F50 6,59.00
28 Aug 1999 - 35 mile road race (Two Bridges) - Rosyth, Scotland
Pam Storey F50 6,19.43
---
2000
03 Jun 2000 - 34 mile trail race (Dartmoor Discovery) - Princetown
Pam Storey F50 6,23.48
26 Aug 2000 - 35 mile road race (Two Bridges) - Rosyth, Scotland
Pam Storey F50 6,10.15
01 Oct 2000 - 55 mile road race - London to Brighton
Pam Storey F50 10,55.10
2001
04 Mar 2001 - 40 mile track race - Barry
Pam Storey F50 6,43.44
28 Apr 2001 - 6 hour track race - Sheffield
Pam Storey F50 35 miles 722 yards
20 May 2001 - 100K road race - Moreton-in-Marsh
Pam Storey F50 11,42.33
2002
03 Mar 2002 - 40 mile track race - Barry
Pam Storey F50 6,44.40
07 Apr 2002 - 100K road race - Moreton-in-Marsh
Pam Storey F50 11,47.50
27 Apr 2002 - 6 hour track race - Sheffield
Pam Storey F50 34 miles 1637 yards
01-02 Jun 2002 - 24 hour track race - Doncaster
Pam Storey F50 65 miles 677 yards
06-07 Jul 2002 - 24 hour track race - Hull
Pam Storey F50 96 miles 1380 yards
01 Sep 2002 - 100K road race (Anglo Celtic Plate) - Cardiff
Pam Storey F50 11,49.28
2003
02 Mar 2003 - 40 mile track race - Barry
Pam Storey F50 6,58.15
31 May 2003 - 33 mile trail race (Marlborough Downs Challenge) - Marlborough
18 - Ian Summers M35 6.59.34
20 - Neil Scowby 7,04.27
28 - Andy McKenzie M40 7,42.29
32 - Jeff Tyndall 8,11.48
33 - George Barwood 8,11.48
Team: 1 Gloucester AC
16 Jun 2003 - 55 mile trail race (Comrades Marathon) - Pietermaritzburg to Durban, RSA
Pam Storey F55 11,13.28
12-13 Jul 2003 - 24 hour track race - Hull
Pam Storey F55 84 miles 1322 yards
23 Aug 2003 - 35 mile road race (Two Bridges) - Rosyth, Scotland
Pam Storey F55 6,43.27
11-12 Oct 2003 - 24 hour track race - Tooting Bec
Pam Storey F55 86 miles 37 yards
2004
27 Mar 2004 - 40 mile trail race (Compton Downland Challenge) - Compton
57 Neil Scowby 7,55.21
22 May 2004 - 33 mile trail race (Marlborough Downs Challenge) - Marlborough
32 - Ian Summers M35 6,06.36
33 - Neil Scowby 6,07.49
52 - Andy McKenzie M40 7,58.40
23 May 2004 - 50K road race - Sutton Park, Birmingham
Pam Storey F55 5,34.27
10-11-Jul 2004 - 24 hour track race - Hull
Pam Storey F55 86 miles 636 yards
31 Jul 2004 - 6 hour track race - Faversham
Pam Storey F55 31 miles 968 yards
09-10 Oct 2004 - 24 hour track race - Tooting Bec
Pam Storey F55 84 miles 1230 yards
2005
23 Jan 2005 - 30 mile road race - Oldbury
9 Jeremy Mower M35 3,36.41
06 Mar 2005 - 40 mile track race - Barry
3 Jeremy Mower M35 5,12.18
15 May 2005 - 12 hour track race - Tipton
Pam Storey F55 55 miles 3 yards
31 Jul 2005 - 50K road race - Boddington
Pam Storey F55 5,25.03
08-09 Oct 2005 - 24 hour track race - Tooting Bec
23 Pam Storey F55 126.178Km (78 miles 710 yards)
2006
09 Mar 2006 - 40 mile track race - Barry
Jeremy Mower M40 5,11.29
06-07 May 2006 - 24 hour track race - Hull
Pam Storey F55 65 miles 351 yards
13 Aug 2006 - 50K road race - Boddington
Pam Storey F55 6,04.01
02 Sep 2006 - 6 hour track race - Boston
Pam Storey F55 28 miles 890 yards
16 Sep 2006 - 50K road race - Winschoten, NED
Pam Storey 6,22.04
14-15 Oct 2006 - 24 hour track race - Tooting Bec
39 Pam Storey F55 110.803Km (68 miles 1496 yards)
2007
14-15 Jul 2007 - 24 hour track race - Hull
Pam Storey F55 72 miles 1673 yards
25-26 Aug 2007 - 12 hour track race - Boston
Pam Storey F55 42 miles 246 yards
06-07 Oct 2007 - 24 hour track race - Tooting Bec
41 Pam Storey F55 90.800Km (56 miles 745 yards)
2008
27 Jan 2008 - 50K road race - Epney
7 Jeremy Mower M40 3,39.37
29 Mar 2008 - 6 hours track race - Crawley
Jeremy Mower M40 75.205Km
18 May 2008 - 100K road race (Anglo Celtic Plate) - Cardiff
Jeremy Mower M40 8,54.19
12-13 Jul 2008 - 24 hour track race - Hull
31 Pam Storey F60 114.350Km (71 miles 94 yards)
23 Aug 2008 - 6 hour track race - Boston
Pam Storey F60 28 miles 223 yards
13-14 Sep 2008 - 55 mile trail race (LDWA Shotley Peninsula Challenge) - Holbrook
Pam Storey F60 20,20.00
27 Sep 2008 - 50K road race - Boddington
3 Jeremy Mower 3,42.36
18-19 Oct 2008 - 24 hour track race - Tooting Bec
32 Pam Storey F60 122.225Km (75 miles 1667 yards)
2009
10-11 Jan 2009 - 24 hour indoor track race - Aarhus, DEN
Pam Storey F60 68 miles 682 yards
25 Jan 2009 - 50K road race - Quedgeley
Christine Campbell F35 5,14.44
22 Feb 2009 - 35 mile road race - Draycote
5 Jeremy Mower M40 4,14.42
08 Mar 2009 - 40 mile track race - Barry
4 Jeremy Mower M40 5,13.39
22 Mar 2009 - 30 mile trail race (LDWA Sevenoaks Circular) - Sevenoaks
Pam Storey F60 9,40.00
28 Mar 2009 - 100K road race (UKA 100K Championships) - Galway, IRL
27 Jeremy Mower M40 8,53.07
02 May 2009 - 36 mile road race (Oxon 36) - 
Pam Storey F60 11,54.00
16 May 2009 - 33 mile trail race (Marlborough Downs Challenge) - Marlborough
10 - Jeremy Mower M40 4,44.50
67 - Nick Cousins 6,19.32
68 - Lee Smith M40 6,19.32
69 - Ian Summers M40 6,19.32
70 - Dom Malsom M35 6,19.32
23-25 May 2009 - 100 mile trail race (LDWA Wessex 100) - Alton
Pam Storey F60 46,51.00
11-12 Jul 2009 - 24 hour track race - Hull
Pam Storey F60 64 miles 901 yards
30 Aug 2009 - 6 day track race - Gothenburg, SWE
Pam Storey F60 187 miles 1407 yards
---
 2010
14 Mar 2010 - 40 mile track race - Barry
4 Jeremy Mower M40 5,03.52
19 Jun 2010 - 100K road race (Anglo Celtic Plate) - Boddington
10 Jeremy Mower M40 8,25.26
14-15 Aug 2010 - 54 mile trail race (LDWA Herts Stroller) - Hitchin
Pam Storey F60 21,30.00
25 Sep 2010 - 24 hour track race - Tooting Bec
35 Jeremy Mower M45 116.400Km
20-28 Nov 2010 - 8 day road race (No Finish Line) - Monaco
41 Pam Storey F60 224 miles 384 yards (360.844Km)
2011
23 Jan 2011 - 50K road race - Gloucester
19 Jeremy Mower M45 3,49.35
27 Mar 2011 - 100K road race (UKA Championships & Anglo Celtic Plate) - Perth
19 Jeremy Mower M45 8,18.34
15 May 2011 - 32 mile trail race (English Trail Championships) - Coleford
8 Jeremy Mower M45 3,41.49
15-17 Jul 2011 - 46 hour track race (World Cup) - Cologne, GER
Pam Storey F60 - 78 miles 14 yards
20-21 Aug 2011 - 12 hour road race (Hell on the Humber) - Humber Bridge
Pam Storey F60 36 miles
23 Sep 2011 - 24 hour road race (Commonwealth Ultra Distance 24 hour Race) - Llandudno
15 Jeremy Mower M45 207.968Km
12-20 Nov 2011 - 8 day road race (No Finish Line) - Monaco
67 Pam Storey F60 159 miles 587 yards (256.751Km)
2012
23 Jan 2012 - 50K road race - Quedgeley
12 Jeremy Mower M45 3,42.14
19 Feb 2012 - 35.2 mile road race - Temple Guiting
10 Jeremy Mower M45 4,29.58
04 Mar 2012 - 40 mile track race - Barry
3 Jeremy Mower M45 5,07.42
12 May 2012 - 33 mile trail race (Marlborough Downs Challenge) - Marlborough
65 - Wayne Mayer M40 6,12.00
66 - Omar Alim M40 6,12.00
78 - Ian Summers M45 6,22.39
87 - Matt Powell M35 6,36.54
92 - Luke Herbert 6,43.16
106 - John McClean M60 7,19.43
22 Jul 2012 - 100K road race (UK Championships & Anglo Celtic Plate) - Redwick
21 Jeremy Mower M45 10,09.06
17-25 Nov 2012 - 8 day road race (No Finish Line) - Monaco
50 Pam Storey F60 221 miles 1053 yards (356.628Km)
2013
24 Feb 2013 - 40 mile track race - Barry
3 Jeremy Mower M45 4,56.02
31 Mar 2013 - 100K road race (UK Championships & Anglo Celtic Plate) - Perth
17 Jeremy Mower M45 8,46.20
12 May 2013 - 33 mile trail race (Marlborough Downs Challenge) - Marlborough
39 - Mark Thrall M45 5,21.46 
43 - Gemma Collier 5,26.03
44 - Ian Summers M45 5,26.03
45 - Richard Moor M40 5,26.03
16-24 Nov 2013 - 8 day road race (No Finish Line) - Monaco
61 Pam Storey F65 273.520Km (169 miles 1685 yards)
466 Nathan Smith 107.233Km
2014
01 Mar 2014 - 46 mile trail race (The Green Man)
38 Mark Thrall 9,58
03 May 2014 - 100K road race (Anglo Celtic Plate) - Gravesend

13 Jeremy Mower M45 8,49.13
14-15 Jun 2014 - 24 hour track race - Gloucester
4 Jeremy Mower M45 196.682Km
2015
08 Mar 2015 - 40 mile track race - Barry
4 Jeremy Mower M45 4,58.20