---
Birmingham League Cross-Country (2nd fixture - Droitwich)
Gloucester Athletic Club secured a fine second place in the second Birmingham League Division 4 cross-country fixture at Droitwich on Saturday. Missing several of their top runners, Gloucester were expecting to finish no higher than fourth or fifth the day, but good runs from Gary Boon and Malcolm Bird, who both made big improvements on their positions in the first fixture, gave the team second place by the narrowest of margins, scoring 185 points, just one point ahead of the third place team, two ahead of the fourth and six ahead of the fifth. Dudley & Stourbridge Harriers won the race with 83 points, and they take over the lead in the Division from Gloucester with a total of 239 points after the two races. Gloucester are now in second place with 324, Stafford third with 347 and Wolverhampton & Bilston fourth with 353. With Hereford fifth on 523, there are now effectively four teams chasing the three promotion spots.
Gloucester were led home by Simon Kellie, repeating his 2nd place finish at Senneleys Park, in 37.51, this time finishing much closer to the race winner, who was again Nigel Share of Wolverhampton & Bilston. Carlo Toledo just lost out in a sprint finish to take 11th place, Mo Hill was 18th, Ian Summers 45th, Gary Boon 47th and Malcolm Bird 62nd.
The B team finishers were John McLean in 86th, Humphrey Phillips, suffering from a bad back, sore foot and strained hamstring, in 89th, Anthony Lake, who improved by ten places for 117th, outsprinting Dick Poole who himself improved by 38 places to finish 118th, John McLean 121st and Arnold Yeomans 148th. In another sprint finish, Andy McKenzie got the better of Martin Chopping for 162nd, 21 places better than the first race, Chopping finishing 163rd. The B team score of 679 was good enough for 2nd on the day, and they remain 2nd overall.
Team Manager Ian Summers said "That was a good result for us considering we had five of our top runners missing. A lot of our runners made big improvements on their positions from the first race, even though there were the same number of finishers overall. The annoying thing was not being able to have Aidan Mercer and Lloyd Pritchard, who both had to run in the County Schools Cross-Country Championship instead."
Gloucestershire League 2nd fixture – 18/11/2000 – Plock Court
The Men finished 4th on the day, improving their overall position to 4th.
The Ladies won on the day and closed the gap on the leaders to just 6 points.
Birmingham League Cross-Country (1st fixture – Senneley's Park)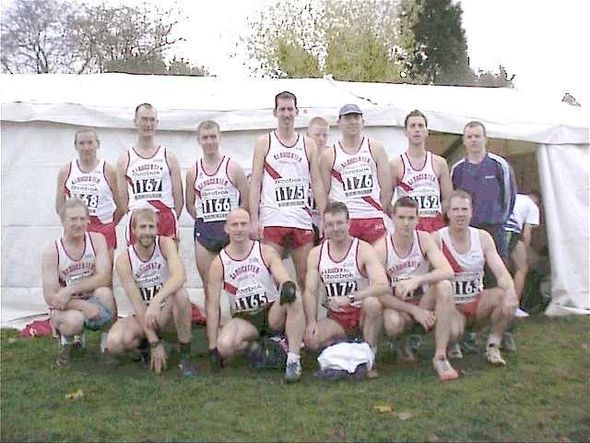 With the reorganisation of the League into 4 divisions, Gloucester AC have to contend with 19 other teams in Division 4. We got off to a great start, winning the fixture with 143 points. As the fixture was a combined one with all divisions competing in conjunction with the Reebok Cross Challenge, we did not get the official results until a week after the race. We knew we had done well, but did not realise we had actually won. The team were led home by a trio of juniors, Simon Kellie finishing 2nd in 40.21, Aidan Mercer 7th in 41.41, Lloyd Pritchard 8th in 41.52, then Mo Hill 18th in 44.08, Ian Summers 48th in 46.53, Gary Boon 60th in 47.33, Keith Short 61st in 47.35, Malcolm Bird 70th in 48.00, Humphrey Phillips 85th in 48.56, Dave Gresswell 101st in 50.21, John McLean 106th in 50.32, Arnold Yeomans 122nd in 52.12, Anthony Lake 127th in 52.40, Neil Scowby (U20) 136th in 53.22, Dick Poole 156th in 55.29, Martin Chopping 161st in 55.55, Pete Marshall 168th in 56.29, Carl Puckett 173rd in 57.46, and Andy McKenzie 183rd in 59.28.
                'A' team results – 1st Gloucester AC, 143; 2nd Dudley & Stourbridge Harriers, 160; 3rd Stafford Harriers, 167; 4th Wolverhampton & Bilston AC, 177; 5th Black Country Triathletes, 200; 6th Hereford Couriers, 271; 7th Stratford AC, 284; 8th Telford Harriers, 340; 9th Lichfield AC, 346; 10th Dudley Kingswinford RC, 362; 11th Shrewsbury AC, 440; 12th Peel RR, 447; 13th Sandwell Valley RC, 470; 14th Sneyd Striders, 476; 15th Cobra RC, 527; 16th Oak Park RC, 645; 17th Aldridge RC, 694; 18th Droitwich AC, 871; 19th Alvis RC, 945; Rugeley & District AC failed to field a complete team. The top three teams after the four fixtures gain promotion to Division 3 next season, so we are well on course at the moment.
                'B' team results – 1st Stafford Harriers, 543; 2nd Gloucester AC, 545; 3rd Telford Harriers, 697; 4th Wolverhampton & Bilston AC, 838; 5th Lichfield RC, 870; 6th Peel RC, 940.
Reebok Cross Challenge
Emily Pidgeon won the U13 Girls races in both Liverpool and Birmingham. Alex Felce, in his first year in the U15 Boys, finished 3rd at Liverpool and 6th at Birmingham.
Gloucestershire League 1st fixture – 28/10/2000 – Dursley
The men finished 6th of 13 teams, with Lloyd Pritchard top finisher in 13th place.
The Ladies were 2nd, 12 points behind Cheltenham.
Richard Farrow won the U11 Boys race in 6.28, 10 seconds clear of a his nearest challenger. Emily Pidgeon comfortably won the U13 Girls race in 8.00, finishing 28 seconds ahead of her nearest rival. In the U15 Boys, Tom Faiers took ninth place in 15.18, whilst in the U17 Boys race, Roland Ilott placed fifth in 15.19, with Adam Davies ninth in 16.17.
Ledbury Chase
Four members started the inaugural Ledbury Chase 13.2mile multi-terrain race, but unfortunately only three finished, Carlo Toledo dropping out feeling very unwell at 3 miles when in the lead and heading for victory. Peter Lloyd took over where Carlo left off and went on to win the race in 1:25.40. Andy McKenzie finished in 2,01.58.
Chepstow Half Marathon
In baking hot conditions, Carlo Toledo took the prize for 6th place in 1:23.30, with Peter Lloyd 13th in 1:25.09 and Dave Gresswell 44th in 1:35.54. Andy McKenzie finished in 2:04.40.
Davenport Equals Mcdonald's Young Athletes League Record
Gloucester Athletic Club's Richard Davenport has added yet another record to his collection, capping a superb season by equalling the McDonalds Young Athletes League Under 15 400m record in the League playoffs. Davenport scorched round in 50.1 seconds to leave the others trailing by over 5 seconds, equalling the record set in the League's National Final in 1981 by Ade Mafe, who went on to reach an Olympic final. At 400m, Davenport now holds the National record, Midlands Championship record, South West Schools Championship record and a share of the McDonalds Young Athletes League record. The only record he has not broken is that of club mate and training partner Ryan Preddy, who still holds the English Schools Championship record. Preddy also holds the McDonalds Young Athletes League Under 15 800m record with 1:57.2, set when he was thirteen, so Gloucester AC now has two names in the League record list.
Gloucester AC's youngsters finished top of the League's Midland South Division 1 this season, earning themselves a place in Sunday's playoff with the winners of the other Division 1s and the bottom teams in the Premier Divisions. The top four in the playoffs would go into the Premier Divisions for next season, and the bottom four into the Division 1s.
Gloucester had a tough task, and were not helped by a collection of injuries and unavailability. In the U17s, neither Liam McGowan, Peter Kellie nor Ryan Preddy were fit to run, all competing just in field events; Adam Davies twisted his foot at the end of his first race, and Mike Short was suffering with very sore knees. The U15s were well represented, but with only three U13s present, there were some glaring gaps, the team being unable to field athletes in several events such as the pole vaults, the U17 100m and 100m hurdles and the U13 4x100 and 4x400 relays, amongst others. However, there were a number of impressive performances; Richard Davenport added a win in the U15 800m to his earlier 400m victory and played a big part in the U15 4x400m relay team who finished over 150m clear of the rest; there were wins in the U15 100m A and B races for National age 14 600m record holder Chris Davies and new member Nick Clark; Nick Shipley had a good run in the U15 100m hurdles; in the U17 hammer James Nunan won the A competition with Peter Kellie a creditable second in the B competition.
Gloucester ended up 8th with 301 points, but in a tight competition were only 35 points behind 4th place. Team manager David Farrow was philosophical about the result. "I knew we would struggle with the injuries we had. We only had 21 athletes there on the day, and we were up against some very big squads from the likes of Tipton, Derby, Nuneaton and Cheltenham, most of whom had teams of around 40. We were actually lying in third place half way through the meeting, but a lot of our non scoring and weak events came in the second half, and all the other teams caught us up. If we had had the injured ones fit, and a couple of others there, we would certainly have gained promotion. We had a lot of gaps, and you cannot afford to give points away to the other teams at this level. We did well considering the number of athletes present, and had some excellent performances, particularly by the U15s. We did give Ryan Preddy a run in the 4x100m relay, and it is heartening to see him back training again after his successful shin operation. Our squad may have been small, but it was of a higher overall standard than the other teams. It's a case of what might have been."
Blaisdon Jelly Leg MT14
Carlo Toledo finished 3rd overall in 1:28.36 to take the 2nd senior mens prize. Ian Summers was 15th in 1:39.10 and Andy McKenzie 93rd in 2:14.08.
Goodrich Fell Race
Beryl Sampson finished 18th overall and 2nd lady, taking the 1st LV40 prize in 49.59. Dave Gresswell was 23rd in 51.13, and Andy McKenzie 58th in 61.29.
BMC, Bedford
400m - 3rd - Richard Davenport (U15), 49.74 (National age 14 best)
As Ryan Preddy has timed 49.98 (11/07/1998), Gloucester AC is the only club in the UK to ever have two Under 15s below 50 seconds, and one of only two clubs to have two below 51 seconds.
Standish Woodland Chase MT10
A dozen members took part in this race with Carlo Toledo taking the 5th place prize in a time of around 61 minutes. Peter Lloyd was 9th.
County 5k Championship
This was held as the 4th Globe Inn 5k. The club had an excellent win in the team event, with the team of Bill Griffiths (11th in 16.07), Mark Ingram (14th in 16.22), Carlo Toledo (18th in 16.34), Peter Kellie (20th in 16.38), Roland Ilott (28th in 17.02) and Ian Summers (34th in 17.19) scoring 125 points to finish ahead of Forest of Dean AC in 2nd with 134 and Severn AC in 3rd with 166. Bill won the V40 County title, and Peter was 1st U17. Also running were Dave Spackman (48th in 18.04), Peter Jones (55th in 18.37), Humphrey Phillips (56th in 18.40), John McLean (57th in 18.43), Anthony Lake (72nd in 20.06), Alex Nicol (89th in 21.26) and Andy McKenzie (98th in 22.21).
AAA National Championships, Don Valley, Sheffield
Under 17s
800m – 1st - Adam Davies, 1:56.50; 5th - Liam McGowan, 1:57.10
Hammer – 4th - James Nunan
Under 15s
100m – 3rd - Richard Davenport, 11.34
400m – 1st - Richard Davenport, 51.40; 2nd - Chris Davies, 52.90
Cheltenham Open
300m - Richard Davenport, 35.9 (UK and European Age 14 Best)
600m - Chris Davies, 83.6 (UK and European Age 14 Best)
1000m - Alex Felce, 2:46.2 (UK Age 13 Best)
English Schools Championships, Don Valley, Sheffield
Junior Boys
400m – 1st – Richard Davenport, 50.31
800m – 5th – Chris Davies, 2:02.99
Intermediate Boys
800m – 3rd – Liam McGowan, 1:58.27; 5th – Adam Davies, 1:58.96
1500m Steeplechase – 4th – Peter Kellie, 4:30.14
Hammer – 3rd – James Nunan, 57.19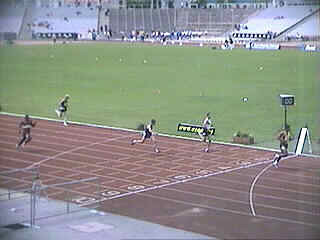 Richard Davenport winning the Junior Boys 400m Final
Worcester Open
300m - Richard Davenport, 36.0 (UK Age 14 Best)
600m - Richard Davenport, 84.0 (UK Age 14 Best - previous best was 84.3 set in 1971); Adam Davies, 81.1 (UK Age 15 Best - previous best was 83.0)
Alternative 5K – Race 3 - track (2/6/2000)
The final race in the series was again won by Stuart Overthrow in 16.04. Thirty runners took part, necessitating two races, with the results being combined at the end. Gloucester AC finishers were 5th Bill Griffiths (V40) 17.10; 8th Bill Bratty (V55) 18.18; 9th Dave Spackman (V55) 18.23; 13th Beryl Sampson (F40) 19.07; 16th Humphrey Phillips (V45) 19.34; 17th John McClean (V50) 19.54; 18th Mark Scowby (U20) 20.40; 19th Peter Jones (V45) 20.42; 22nd Martin Chopping (V45) 22.03; 24th Sue Limbrick (F45) 23.20; 29th Becky Lane (U20) 26.00.
The overall series winners were – Men, 1st Kenny O'Neil (Severn AC, V40), 2nd Dave Lander (Severn AC), 3rd Bill Griffiths (Gloucester AC, V40); 1st V50 Dave Spackman (Gloucester AC, V55); - Ladies, 1st Beryl Sampson (Gloucester AC, F40), 2nd Deborah Southgate (Angels, F40), 3rd Joanne Carter (Angels, F35); 1st F40 Sue Limbrick (Gloucester AC, F45); - Junior Lady, 1st Becky Lane (Gloucester AC).
Eldersfield Beer 4.2 mile – (29/5/2000)
Numbers were well down on last year, with 82 starters, and the slowest winning time in the event's 28 year history (22.03). Bill Griffiths was 7th in 23.19, Bill Bratty 19th in 25.03, Dave Spackman 20th in 25.25, Beryl Sampson 31st in 26.41.
Midlands U20 Championships
Gloucester AC had a good weekend at Solihull on 27th and 28th May – Richard Davenport won the U15 400m gold in a championship record of 51.58, with Chris Davies taking the silver in the same race. The two also competed in the U15 200m, with Richard taking another gold in a pb of 23.70 into a headwind, and Chris taking the bronze, having set a pb of 24.20 in the heats.
Alex Felce took silver in the U15 1500m in a pb of 4:22.97, qualifying him for the English Schools Championships. Adam Davies set a pb of 50.28 to take silver in the U17 400m, with Liam McGowan missing out on bronze by one hundredth of a second with a pb of 50.80. Adam then took silver in the U17 200m in 23.32. Finally, Peter Kellie knocked 15 seconds off his pb to win bronze in the U17 1500m steeplechase.
Whitemead Wander MT10K
This was a really enjoyable race with a beautiful course having been set through the woods at Parkend in the Forest Of Dean. 72 took part, with Beryl Sampson finishing 13th in 39.54, Dave Spackman 29th in 44.06 and Andy McKenzie 47th in 48.26.
Mens Midlands League 1st meeting, Burton on Trent (20/5/2000)
Having won Division 6 last year, the team took a step into the unknown for our first fixture in Division 5. Unfortunately, we had several key athletes missing for this fixture, and with the standard being higher in this Division, we were unsure how well we would do. We managed to cover all events (except the pole vault) with two athletes, with several people having their first go at some of them, such as Jon Cuff and Aidan Mercer in the high jump, Andy McKenzie in the hammer, Jon Cuff and Mike Short in the triple jump and Ian Summers in the 400m hurdles.
James Nunan (16) set a personal best to win the hammer with 42.38m, Jon Cuff strolled round to win the 400m hurdles and also won the 110m hurdles, Adam Davies and Liam McGowan won both the 800m races, Liam also winning the 400m B race and anchoring the 4x400m relay team home to first place. In the end, having two competitors in all events proved its worth, as we finished second of the eight teams with 216 points. First were Burton AC (235), third were Charnwood (214) and fourth Tamworth (191).
Two teams get promoted at the end of the season. If the missing athletes had been available, we would have won the fixture by a large margin. We cannot afford to field a below strength team and risk dropping below second place, so everybody needs to make sure they are available for the remaining fixtures on June24th, July 22nd and August 5th.
County Championships (Incorporated into the West of England Championships) - Bath University
There weren't many from the Club taking part, but County Titles were won in the Senior Men by Jon Cuff in the 400m in 51.4, and in the U20 men by Nick Edwards in the 200m (23.4) and 400m hurdles (56.2), and by James Nunan in the hammer with 50.27, a County record.
Alternative 5K – Race 2 - road  (12/5/2000)
The second race of Lofty's 3-race 5K series saw a win for Stuart Overthrow of Cheltenham Harriers in 15.39. The Gloucester AC finishers were 5th Bill Griffiths (V40) 16.58; 9th Bill Bratty (V55) 18.13; 10th Dave Spackman (V55) 18.17; 16th Peter Jones (V45) 19.15; 17th Humphrey Phillips (V45) 19.27; 18th Beryl Sampson (F40) 19.39; 19th John McClean (V50) 19.43; 25th Andy McKenzie 22.47; 26th Martin Chopping (V45) 23.05; 27th Sue Limbrick (F45) 23.57; 33rd Becky Lane (U20) 26.30.
Blaisdon Beer 10K – (1/5/2000)
Sue and Richard Limbrick organised this race, and it was a success, with 85 finishers. Bill Griffiths was 4th in 35.57, Peter Lloyd 8th in 37.00.
Alternative 5K – Race 1 - cross-country (28/4/2000)
A disappointingly small field of only 27 started this race. Ian Summers has put a lot of work into this 5K series, and it was poor reward for his efforts. The c*!p weather may well have put people off, but they were the losers, as the course was a tough challenge, consisting of 3 laps, each featuring four stream crossings and ten steep, slippery, muddy banks. Those who took part were somewhat taken aback by how hard the course was – definitely not one for wimps (or perhaps that's why the field was so small). Top Gloucester AC finisher was Bill Griffiths (V40) in 5th (19.58), with Beryl Sampson (F40) first lady home in 9th (22.13). Other places were Dave Spackman (V55) 11th, 22.43; Mark Scowby (U20) 13th, 23.32; Bill Bratty (V55) 14th, 23.37; Terry Sysum (V40) 17th, 26.41; Andy McKenzie 18th, 27.00; Sue Limbrick (F45) 21st, 28.39; Becky Lane (U20) 23rd, 31.44.
Tredworth Road Race
Gloucester AC runners took the lion's share of the awards in the annual Tredworth 4.2 mile road race held on Easter Monday morning, winning the U20, V40, V50 and Ladies prizes. Three of the Club's juniors took part, with Aidan Mercer finishing 3rd overall in 23.42, Peter Kellie 7th in 24.14 and Lloyd Pritchard 10th in 25.52. Bill Griffiths, the V40 winner, was 4th in 23.46. The other places were Bill Bratty (V55) 26.01; 12th Dave Spackman (V55) 26.41; 14th Beryl Sampson (F40) 27.28; 20th Mike Storey (V45) 32.16.
Fifteen members of Gloucester AC ran in the 20th London Marathon, and all successfully completed the 26.2 mile course. All times are official times and do not take into account the time taken to cross the start line, which was anything up to 15 minutes.
Ian Summers was looking to get inside 3 hours, and was well on course, going through half way in 1:26, before 'hitting the wall' at 22miles. He was forced to walk for 5 minutes and struggled on for the next two miles, but finished strongly to cross the line in 3:02:33. "That's the first time I've experienced anything like that. It felt as if someone jumped out of the crowd at 22 miles and smashed me in the face with a shovel, it was that sudden. I had to stop, and was staggering about for a while. I drank some of the isotonic drinks at the next drinks station, and eventually recovered enough to be able to run the last couple of miles. It's very disappointing as I was heading for sub 2:50."
Peter Jones, having finally been accepted for the race after nine consecutive rejections through the ballot system, finished in 3:21:15, and enjoyed the atmosphere tremendously.
Doreen Phillips, raising money for the British Diabetic Association, suffered a bad knee injury only four days before the race and was unable to even stand up. After rest and treatment for three days, she felt she was fit enough to run, and, although the knee started to hurt from 8 miles, she got round in 3:26:11. "I was devastated when I got the injury so close to the race as I thought I would not be able to run, having done four months of solid training, so I am very pleased with my time. I am now looking forward to having a go at next year's race. I've damaged my knee ligaments, and have been told not to run again for at least a month."
Judy Faint crossed the line in 3:30:31.
Peter Kirby was next home in 3:30:53. Peter has just moved away from the area to live in Devon, but is retaining a second claim membership of the Club.
Amanda Meechan, starting with the elite women, found the last few miles tough, and finished in 3:41:23.
Peter Thorburn finished in 3:47:12, and was the only one mad enough to be back running again at the Club on the Tuesday after!
Jeff Tyndall and Humphrey Phillips ran the whole distance together, both finishing in 3:50:55. Humphrey struggled over the final 6 miles, but had Jeff to chivvy him on to the finish. "I wanted to do this marathon as it was the year 2000 and Doreen was running it, but I am definitely not doing another one".
John McClean had lost most of the last two months training with a torn hamstring muscle, but went through half way in 1:35 and was going well until 15 miles when he got very bad stomach cramps. He had to stop for some while, but was able to carry on, eventually finishing in 4:07:01.
Mike Storey finished in 4:08:03 and Pam Storey in 4:15:39.
Andy McKenzie, having suffered with 'flu in January and a chest infection in March, had only averaged 15 miles a week in training since the beginning of the year with a longest run of 12 miles. He was not confident of being able to run 26.2 miles non-stop, so he walked at intervals during the race to give his legs a rest, and finished in 4:25:45. "I'm quite pleased with that time, considering my lack of training. I walked a total of 5 miles and finished in the same time as my first marathon three years ago, although some 40 minutes down on last year. Hopefully, not having run the full distance, my legs will recover a bit more quickly this year."
Pauline Williams, in her first marathon, finished in 6:07:35, and really enjoyed the occasion, being on a high for the rest of the day.
Mike Bond was the final Gloucester AC finisher in 6:11:51.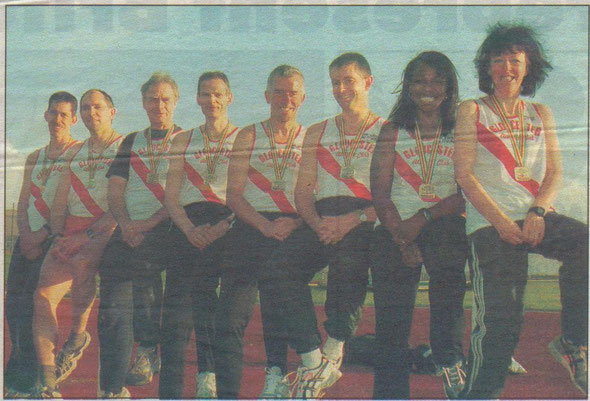 Totton 10K
On 9/4/2000, Cath O'Carroll set a new 10K pb of 42.45 in the Totton 10K, knocking over one minute off her previous best set in the same race last year. 
Chedworth Roman Trail MT10
In the Chedworth Roman Trail 10 mile multi-terrain, Peter Lloyd was credited with 7th place in 65.01, after he and three others who were in a group contesting 4th to 7th positions went off course right at the end, adding nearly half a mile to the distance. Beryl Sampson won 2nd Lady's prize in 39th place in 72.00. Dave Spackman was 46th in 73.06, Andy McKenzie 167th in 88.32 and Sue Limbrick 193rd in 93.00.
Trafford AC Open (2/4/2000)
Against some strong opposition, and in cold, wet and windy conditions, there were wins for Jon Cuff in the U23 100 and 400m in 11.91 and 51.45, Nick Edwards in the U20 100m and 110m hurdles in 11.8 and 15.9, Adam Davies in the U17 200m in 23.4, Chris Davies in the U15 100 and 400m in 11.98 and 53.61, and Emily Pidgeon in the U13 Girls' 600m in 1:58.45.
Cleevewold MT14
Peter Lloyd finished 9th in the Cleevewold 14 mile multi-terrain on 26/3/2000 in 1:42.55.
Young Athletes Open, Bracknell (25/3/2000)
In a competition attracting over 500 competitors, several Gloucester AC juniors showed good early season form. There were wins for Liam McGowan in the U17 800m in 2:01.2, Adam Davies in the U17 1500m in 4:21.6, Richard Davenport in both the U15 100 and 200m in 11.8 and 24.0, and Alex Felce in the U15 1500m in 4:36.6. Emily Pidgeon was 2nd in the U13 Girls' 1000m in 3:26.6.
Gloucester 20 (19/3/2000)
A clash with several other races, including the Bath half marathon, Forest of Dean half marathon, and three or four other 20 milers, meant we had only 132 entrants this year and made only £100 profit. Last year we had 252 and made a profit of £650. This was rather disappointing to say the least, so next year I propose holding the race earlier, on 4th March, to avoid any clashes with other races. The Stafford 20, held on March 5th this year, had over 500 entries, so there is no reason why we shouldn't get 400 or so. The day itself was otherwise a success, with many runners saying how much they enjoyed the course and the picturesque location, and complimenting the Club on its' organisation of the race. The glorious early spring weather on the day helped!
Paul Kinsella won the race in 1:57.31, with Gloucester AC's Carlo Toledo taking 3rd Senior Men's prize in 5th place in 2:03.07; Ian Summers finished 10th in a pb of 2:11.05 – both had run in the cross-country the day before.
Thanks go to Humphrey Phillips, who not only helped me mark out the course, but also kept the drinks stations supplied with water and cleared up the course after the race – we met at Blackbridge at 5:30am on the morning of the race to load up the van with all the cones, warning signs, mile markers, drinks station equipment etc., started course marking at 6:30 and finished at 8:00, just in time for the Community Centre to be opened up. With a 10:00 race start time, the first runners turned up at 8:00, so I needed to be there at that time to take their entries. If someone else had been taking entries, we could have started the course marking an hour and a half later, and not suffered such an early start to the day. Next year I want somebody else there at 8:00 to take entries.
Thanks also go to Andy Gardner, Ian Summers and Pete Jones for marshalling the car park; Pete Jones, Ken Wood, Peter Lloyd, John McClean and Malcolm Bird for marshalling on the course and doing drinks stations; Jeff Tyndall and George Barwood for doing entries and results on the computer on the day; Sandra Ennis, Arthur Birt, assisted by Ron Freeman, for recording times and positions at the finish; Norman Tincello for announcements and lead car; Tracey Summers for handing out the mementoes and controlling the drinks station at the finish; and finally, Doreen Phillips and Sheila Jones, who both did a wonderful job of the refreshments, making and selling rolls, cakes and drinks in the race HQ.
Rhyader Round The Lakes 20
Peter Lloyd took 5th place prize in the Rhyader Round The Lakes 20 mile race in Wales on 18/3/2000 in 2:07.07
Birmingham League 4th fixture - 18/3/2000 – Black Bridge
Sunday 5th March saw a group of us (Ian Summers, Humphrey Phillips, Peter Jones, John McClean, Andy McKenzie, Mark Ingram, Carl Puckett, Dick Poole and Martin Chopping), armed with a chainsaw, spades, saws, loppers and the like, wage war on the undergrowth at Blackbridge to clear out the cross-country course ready for the big race, and add some new sections to the course to make it more interesting and challenging.
By race day, the unseasonably fine weather had dried out the course, and the conditions underfoot were hard and dry. This was a great shame, as it took a lot of the sting out of the course (ask anyone who did the 5K on 28th April!).
Since the problems that beset the Club in 1994/95, the best finish the Club has had in a Birmingham League race was 6th. There have been signs over the last year or so that a big improvement on this was just around the corner, and it finally came to be realised in this, the final fixture of the 1999/2000 season. A great team performance gave us victory on the day, and lifted us into the top half of the table.
In the race, new signing Phil Pollard finished 2nd in 38.58, Mo Hill was 9th in 41.12, his progression from 89th to 50th to 9th places over three races showing how he is getting back towards full fitness; junior member Peter Kellie was 12th, new member Bill Griffiths 15th, Carlo Toledo 25th, Ian Summers 32nd, Gary Boon 47th, Bob Harvey 109th and Andy McKenzie 110th. The team total score (first six) was 95. Sphinx AC and Newcastle AC, the teams in 2nd and 3rd, scored 127 and 130. Mark Ingram, who was 4th in the first race of the season, had to drop out of the race on the second lap when he aggravated a recent knee injury, so the team score would have been even better had he been fit.
This is a tremendous result for the Club, and shows we have really turned the corner. If we can reproduce this sort of form next season, and avoid injuries and illness, no other club will get near us in the League. The key is strength in depth – we need to have 8 or 9 top runners available for each race in case of injury or illness (which we have suffered badly from this winter). We need commitment from people for the four fixtures for this to happen, so please bear this in mind for next season. Clubs are judged by their performance in leagues, whether it is the Birmingham Cross-Country League, the Midlands Men's Track and Field League, or the McDonalds Young Athlete's League, so priority must go to these.
Reading Half Marathon
Six members ran in the Reading Half Marathon on 12/3/2000, with Ian Summers finishing 99th of the 5238 finishers in 1:20.47, a new pb; Gerry McGarr was 201st in 1:25.14, Peter Jones 272nd in 1:27.33, Humphrey Phillips 518th in 1:32.41, and Bob Harvey 1824th in 1:48.27. Doreen Phillips had a bad run by her standards, finishing 786th in 1:36.55, however this still proved good enough to win the 1st Lady Vet 50 prize. With three to score for a team, the Club finished 14th out of 67 teams.
Treat Multi Terrain 10
At the Treat Multi-Terrain 10 near Kidderminster, Dave Spackman finished as 2nd MV55 in 49th place in 72.17. Andy McKenzie was 160th in 87.27.
English Schools Cross Country Championships (11/3/2000)
Peter Kellie was 17th out of 325 in the Intermediate Boys event in 21.23. The winner's time was 20.18.
Gloucester AC win national award
Gloucester Athletic Club has received a major award from The Amateur Athletic Association of England in recognition of the Club's performances in 1999. The prize has been won by the Under 15s for scoring the highest number of points in the whole of the country in track and field meetings during the course of the year. The award came out of the blue, and considering there are some 600 clubs in the country, it is a tremendous achievement for the Club, and is a fitting reward for all the hard work and dedication put in by the coaches, David Farrow, Dave Meadows and Bob Purcell, and also for the efforts of all the athletes and the support of their families. An award ceremony was held on 7th March 2000 in the City Council offices, where the Mayor of Gloucester presented the award, a commemorative silver plate, to the Under 15s captain, Ryan Preddy.
Also gaining recognition at the ceremony were 15 year old Adam Davies, the AAA Indoor Under17 800metres Champion, who received a huge trophy from The Worcestershire AAA for the best performance by a male athlete at the Worcestershire County Championships, and the Senior Men's team, who were presented with their pennant for winning the Midland Counties Men's Track and Field League Division 6 title.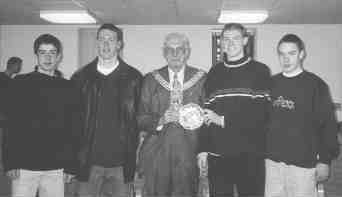 Mayor of Gloucester, Arthur Meredith, presents Ryan Preddy with the silver plate, with (l to r) Adam Davies, Liam McGowan and Mike Short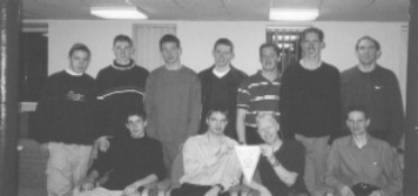 Some of the successful senior track & field team with their pennant for winning the Midlands Men's Track & Field League Division 6 title in 1999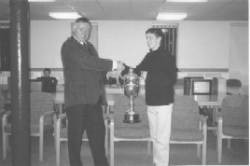 Adam Davies receives his trophy for the Best Performance in the Worcestershire County Track & Field Championships
Wyvern Tough 10
The Wyvern Tough Ten multi-terrain at Weston-super-Mare on 20/2/2000 saw Gerry McGarr finish 67th of the 667 men taking part in 68.19. Gary Boon was 86th in 68.38, Don Meechan 364th in 82.42 and Andy McKenzie 419th in 84.55. Amanda Meechan was 18th finisher out of 151 ladies in 78.06, and Marie Palmer 44th in 87.31.
Welsh AAA Indoors Championships (19&20/2/2000)
In these inaugural championships, Peter Kellie took the bronze medal in the U17 3000m in 9:21.51. Simon Kellie finished 4th in the U20 3000m in 9:07.
IAAF Indoor Grand Prix (19/2/2000)
Both Adam Davies and Liam McGowan were invited to compete in an International U17 400m race featuring the best six in Britain, held as part of the televised CGU Grand Prix event. Adam finished 3rd in 50.39, a new pb for the distance, and Liam 6th in 52.96, having been beset with injury.
Inter Counties Cross Country (12/2/2000)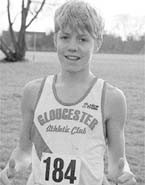 In the Senior Ladies event, Cath O'Carroll was representing the County and finished 243rd in 36.31.
Aidan Mercer was in the U17 Boys race, and was first County finisher in 56th place of the 258 runners in 20.31.
In the U13 Boys race, Alex Felce took 3rd place out of 305 runners in 9.48. This race was also the final Reebok event, and Alex became the Reebok National Cross Challenge Champion by amassing the highest number of points throughout the series.
Midland Counties Indoor Championships (12/2/2000)
Richard Davenport (pictured below) stormed to a magnificent double, winning gold in both the U15 200m and 400m, in times of 23.77 and 53.79 respectively, both pbs. Adam Davies took silver in the U17 200m final in 23.49.
South West Schools Cross Country Championships (5/2/2000)
In the Senior Boys race, Aidan Mercer was 4th in 17.38, with Simon Kellie 6th in 17.42.In the Intermediate Boys, Peter Kellie took the bronze in 3rd place in 12.07; Roland Ilott was 40th in 13.29 and Tom Richards 53rd in 13.49.
AAA National Indoor Championships (22/1 & 5/2/2000)
Chris Davies, in only his second attempt at the distance, took the silver medal in the U15 800m final, and recorded pbs of 7.69 in the 60m and 24.51 in the 200m. Richard Davenport placed 4th in the U15 200m final in 24.12 and 8th in the U15 60m final in 7.60, having recorded a pb of 7.54 in the heats. Adam Davies was the star of the show, taking the gold medal in the U17 800m final in 1:58.83 to become the National Champion.
Gloucestershire League 4th fixture – 5/2/00 – Thornbury
One of the best cross-country courses around saw only Martin Chopping and Andy McKenzie running for the men. Dave Spackman ended up taking silver in the MV50 category, having been unable to run on the day due to illness, so losing his overall lead. Aidan Mercer took the overall U17 Boys gold, and the U17 boys team the team gold. The ladies were lying 2nd overall going into the race, but the leaders could not field a complete team, so Gloucester, represented on the day by Beryl Sampson, Marilyn Barwood and Liz Lee, triumphed in the end, taking gold. Beryl Sampson took bronze in the Senior and gold in the LV40 categories. Team captain Marilyn Barwood took silver in the LV35 Category. Well done to all the winners.
Midlands Cross Country Championships (29/1/00)
The Juniors were the only ones taking part at Wollaton Park, Nottingham, and Alex Felce suffered his first defeat of the season, finishing second in the U13 Boys race. The U17 Boys race saw the Club finish as 5th place team, with Peter Kellie 14th, Aidan Mercer 17th, Lloyd Pritchard 22nd and Tom Richards 77th. Simon Kellie was 22nd in the U20 Boys race.
Birmingham League 3rd fixture - 15/1/00 - Wolverhampton
This was nearly a disaster, as everyone seemed to be ill, injured or otherwise unavailable. We were lucky to get a team at all, and this showed in the result, the Club finishing 10th on the day and dropping down to 9th overall. Carlo Toledo had another consistent run for 24th place, Mark Ingram was suffering from the after effects of the 'flu and could only finish 30th, then the encouraging sight of Mo Hill, who is slowly working his way back towards full fitness, in 50th (he finished 89th at Newcastle-under-Lyme). Malcolm Bird, who should have been recovering from running the Millennium Marathon just two weeks previously, was 78th, Glen Hawkins, who was ill, was 92nd, some 50 places down on where he could have been, and Humphrey Phillips, also ill, was 95th. Bob Harvey, coming back after injury, was 154th. And that was it – just seven running, plus two travelling supporters in Ian Summers (injured) and Andy McKenzie (suffering from 'flu).
Reebok Cross Challenge 4th race - 15/1/00 - Cardiff
With no Under 11 Girls section, Emily Pidgeon (10) had to compete in the Under 13 Girls race, and finished in a superb 5th place.
Alex Felce was suffering from a cold, but still managed to win his Under 13 Boys race, albeit by only 3 seconds, making it four wins out of four, the only athlete to achieve this feat in the whole of the Reebok series.
In the Under 17 Boys race, Aidan Mercer was 12th, Peter Kellie 14th and Roland Ilott 40th.
In the Under 20 Boys race, in a high-class field, Simon Kellie placed 23rd.
County Cross Country Championships (8/1/00), Forest of Dean
Despite a low Club turnout, there were several successes, with Dave Spackman taking 2nd in the MV50 section, Beryl Sampson winning the LV40 section, Joe Ward 1st in the Under 13 Boys and Aidan Mercer 1st in the Under 17 Boys.
Millenium Marathon
Gary Boon and Malcolm Bird both completed the Millennium Marathon in Leyland, Lancashire, on 2nd January, finishing in 3:06 and 3:21 respectively.