---
Gloucester Athletic Club produced the first two local runners at the Pilot Inn 4 mile Boxing Day road race. Luke Herbert looks like being back near to his best after a year of injury as he was only a few seconds outside his PB for the course in coming 3rd overall. Herbert at the moment is only training twenty miles a week a far cry from his normal 50 miles and is confident 2009 will be a prosperous new year for him. Michelle "Gazelle" Stark last week was awarded the "Most improved female athlete" at Gloucester AC's award ceremony and she backed this up in winning her first ever road race. Having joined the club in 2006 Michelle's stock has risen at quite a rate, she has just begun training for the 2009 London Marathon and one day would like to run the Comrades in South Africa where she was brought up. Jeremy Mower is in heavy training at present for the 100km Anglo-Celtic Plate where he will represent Wales still managed a respectable 10th position. Arthur Daley collected yet another age group prize in finishing 1st Vet 55 man.
Gloucester AC results:
Luke Herbert 21:31 3rd
Jeremy Mower  23:38 10th
Arthur Daley 25:16 19th 1st Vet 55
Michelle Stark 27:06 30th and 1st lady
Dave Spackman 31:12 54th
__________________________________________________________________________
Steve Millward from Gloucester AC continued his comeback from injury with 2nd place over 5 miles in Cwmbran, Wales on Boxing Day. On a two lap course with a long hill, Millward was satisfied with a time of 27:25 after a 7 month lay-off.
__________________________________________________________________________
In Poole, Dorset, Emma Jeffery competed in the Round the Lakes 10km road race. Finishing in a time of 46:16 minutes, Jeffery was happy with her performance after missing training recently.
Gloucestershire Cross Country League - Plock Court
On a shortened Plock Court course due to heavy rain overnight, Gloucester AC had their best Senior Mens & Ladies team results this season.
There were also some good individual runs by some of the junior club athletes. In a very close U15 boys race Adam Thrall was 3rd overall, with only 12 seconds covering the first three places.
In the senior ladies race the team was lead home by a Lorraine Ryan who again finished inside the top ten in 7th place. Also improving on her position last time out was Michelle Stark in 18th place. Completing the 'A' team was Gemma Collier in 27th. The team finished 3rd overall, with Chris Campbell improving by over 20 places in 45th and Anne-Marie Edwards in 49th, there is strength in depth in the senior ladies team that is looking good for the future.
The senior men also had a good finish overall taking the 2nd team spot. Luke Herbert finished first for the club in 6th place, followed by brothers Richard DeCamps and Andrew DeCamps, in 12th and 13th position. Club captain Dave Gresswell was the fourth scorer in 23rd place, with Jeremy Mower 35th and Ian Summers 38th completing the 'A' team. Good runs by Arthur Daley in 54th and Paul Nash in 55th also meant that Gloucester scored 3rd Male Vet team on the day.
Junior Ben Jones had a solid run for 58th place. Dave Edwards finished 76th closely followed by club Vet 60 Dave Spackman in 78th place.Mark Thrall was 98th meaning that the Gloucester 'B' team also finished a creditable 8th overall. In his first ever cross country race, and indeed run for the club David Januetta finished 115th.
Birmingham League
Gloucester AC finished 4th overall in the second fixture of the Birmingham & District Invitational League Division 2, on Saturday 6th December at Leamington Spa. This excellent result, also moved them up to 4th overall, with two further fixtures to go, and a slim chance of promotion next year if they can finish in the top three at the end of the season.
Returning from nearly 8 months of injury problems, Steve Millward led Gloucester AC men's team to one of their best finishes in recent years. Millward finished a creditable 11th place overall on a tough course at Leamington Spa. Next home was Peter Kellie in 16th place. Kellie was leading the Gloucester charge until he slowed in the second half of the race as a late night at university the day before took its toll.
Luke Herbert was third home for the club in 20th place. Herbert has also had a tough time with injury over the last year, but is quickly returning to full fitness, and this was an excellent run as he improved on his previous race finish position by over 30 places. Richard DeCamps finished 34th overall, one place down on the previous race, but still showing good form and was one of the first Juniors home. Improving by over 20 places and fourth home was Dominic Malsom, who was hotly pursued round the course by Lee Smith who made up the final scoring position in 41st place. This was Smith's best ever league finish, and shows that the marathon training he has been doing now gives him the strength to hold the basic speed he has always had.
Smith's speed also showed over the last 100m of the race as he held off a late challenge from Club XC Captain, Dave Gresswell. Gresswell led home the 'B' team in 43rd place, followed by vice-captain Ian 'Lofty' Summers. The 'B' team was completed by Alistair Wakefield in 131st, Paul Nash in 140th and club veterans Arthur Daley and Bogdan Jochym. Providing useful back up and last back was the ever dependable Arnold Yeomans. In the 'B' team competition, Glos finished 6th on the day, and held their 5th overall position again showing their good strength in depth.
Michelle Stark also travelled with the team to Leamington to take part in the Midland Women's League race which was run on the same course. In her first race in this league, which contains some of the best women in the Midlands, Stark finished 80th overall out of over 140 finishers. Stark now hopes that long term she will be able to get a team out to compete more regularly in this division, as it has been many years since Gloucester AC ladies were represented at this level.
Swindon 10K
Gresswell takes the honours
Dave Gresswell from Gloucester AC took the Vet 40 title at the Swindon 10km on Sunday, running yet another personal best with 36:07. Despite the harsh weather conditions, Gresswell was always up with the front runners and finished strongly to come home 8th overall from a field of over 400 runners. Matt Wade also ran well to finish 41st overall with another personal best in 40.36 and will surely dip under the 40 minute barrier in the next few months.
Michelle Stark was delighted to run a personal best by more than 2 minutes to finish with 43.22 for 75th and 2nd Lady Veteran 35. Despite this, Stark knows that there is still more to come and is looking to make further improvements on the cross-country over the next few months. Gill Gresswell was pleased to come in under the hour with 58.43 for 342nd, after having time off from running recently.
County Road Race Series Awards - Plock Court Tennis Centre, Gloucester
Three Gloucester AC athletes collected medals:
Jeremy Mower MV45  Bronze
Bogdan Jochym MV55  Silver
Dave Spackman MV60 Bronze
Gloucestershire Cross Country League
Gloucester AC's senior mens team made a move up the league standings with an excellent 3rd place in the Glos XC League race at Blackbridge on Saturday 15th November 2008. Despite missing several strong athletes, the team packed well to snatch 3rd. Leading the charge was Richard de Camps in 14th place, moving through well over the second half of the race. Andrew de Camps was close behind in 23rd, despite running considerably further than his accustomed 800m. Lee Smith was next home in 34th place, his highest ever position in the league. Tom Randles finished in 44th with a rare venture over the mud, with Dave Gresswell in 52nd despite suffering from an intercostal muscle injury over the second half of the race which at times reduced him to a walk. Ian Summers closed the scoring team in 54th on his comeback from injury.
Providing solid backup was Alistair Wakefield in 73rd, Dave Edwards in 109th, veteran over-60 Dave Spackman was 115th, Paul Loveridge displaying a strong sprint finish to come 142nd with Mark Thrall close behind in 143rd. Martin Chopping ran consistent laps to come 157th and was followed in by Tim Evans in 159th.
The senior women continued their excellent form with 6th place team, led home by an excellent run from Lorraine Ryan in 9th place. Belying her lack of experience over the mud, she ran a controlled race to stay in the top ten throughout. Superb packing resulted in Michelle Stark finishing in 28th, Gemma Collier just behind in 29th and Emma Jeffery in 31st, all improving on their placings from the first fixture. Anne Marie Edwards finished the course in 67th and was chased home by 69th Chris Campbell, from a field of almost 100 athletes.
In the male age group races, performance of the day came from debutant Ryan Medhurst in the U11 boys with a fine 4th place. After a cautious start, Ryan moved through the field and was delighted to come home not far behind the race winner. Ryan Hearn ran well to finish 10th in the U13 boys race closely followed by Sam Evans in 14th, who ran well despite suffering from a leg injury. In the U15 boys, Adam Thrall ran another strong race to finish 9th and was backed up by Dougie Bryant in 29th. Ben Gregory continues to improve in the U17 men with 7th.
Gloucester's U15 girls dominated the team race to win comfortably, led by a rejuvenated Amber Watson in 2nd. Becky Summers was 7th and the team was completed by Sam Roberts in 10th. Gabriella Lowe was 16th in U13 girls race with Hannah Jones in 20th. Newcomers Chantelle Chambers and Natalie Whitehouse found the going tough to finish 25th and 42nd in the U11 girls race.
Tewkesbury Guy Fawkes 5
Tewkesbury AC's Guy Fawkes 5 went with a series of bangs for Gloucester AC. Lee Smith overtook Jeremy Mower (Vet 40) in the final stages to finish in his second fastest 5 mile time of 29:55 (23rd) with Mower only 9 seconds behind despite still recovering from running 120 miles in 24 hrs hours  two weeks ago. Mowers finish gave him Silver medal in the County AAA Road Race Series. Alistair Wakefield rocketed off to a personal best of 30:36 and 31st place whilst Matt Wade finished only 14 seconds later.  Wades time of 30:50 gave him 44th place and a personal best.
Paul Nash (Vet 40) exploded over the last half mile to finish in 66th in 32:59 just beating 2nd placed Vet 55 Arthur Daley 33:05 whose experiment with a slower than usual start provided him with even paced miling. Vet 60 Dave Spackman ran a similar race working though the field of 330 runners to finish the flat and fast course in 33:25.
Gloucester's leading lady in this competition, Emma Jeffery, was 5th Lady Vet  in 36:27. Helen Davies running one of her first races in a Gloucester AC vest finished in 38:36.  Bogdan Jochym completed a steady race with 191st in 39:44 helping him to a medal position in the County AAA Road Race series. Dave Janetta completed the fireworks with a personal best by over half a minute of 40:37.
Stroud Half Marathon
Gloucester AC's womens team continued their superb vein of form with a strong showing at the Stroud Half Marathon. Leading the team home was Lorraine Ryan with 1.27.37, a personal best by 20 seconds. Kim Drinkwater was second lady home despite struggling with injury in recent weeks, running a 10 minute personal best with 1.35.12. Gemma Collier followed closely behind with another personal best, coming in with 1.37.01. Michelle Stark was delighted with an 8 minute pb with 1.37.44 and Emma Jeffery finished with 1.37.56 before dashing off on holiday.
The men were led in by Jeremy Mower with 1.24.23 for 97th place overall from a field of 2000 runners. Peter Lloyd was close behind with 1.25.32 and Dom Malsom finished in 1.27.38, despite having run the cross-country the day before in Birmingham. Matt Wade was pleased to run a personal best, dipping under the 90 minute barrier with 1.28.15. Over 60 Dave Spackman put in a typically strong showing to finish in 1.32.37.
BUPA Great South Run
Three members of Gloucester AC took to the wet and windy streets of Portsmouth last Sunday to compete in the 10 mile Great South run. First home was Dave Gresswell in a new personal best time of 59mins 13secs, which placed him 53rd overall, and 3rd place in his age group. Gresswell said "I could not believe it. Having run cross country the day before, I was really not expecting much, so was over the moon with both the time and finish position". Also improving on her run last year was Gill Gresswell, 01:38:21, who ran the race with friend and fellow club member Cath Nicoll.
Birmingham & District Invitation Cross Country League
Gloucester AC Men got off to an excellent start at the Birmingham Cross Challenge in Senneleys Park last Saturday. Competing in Division 2, Gloucester AC managed a 5th place finish hich was the highest team placing in several years.
New club cross country captain, Dave Gresswell, was very happy with the team's performance. Gresswell said " This is one of our best league starts in years, if we can put in the same performance in the remaining three fixtures, we should be safe in Division 2 or maybe even push for promotion!"
Gresswell was particularly impressed by the overall 6th place finish by Pete Kellie, and continuing improvement from Richard De Camps in 33rd. Luke Herbert also impressed in one of his first races back after months of injury problems with 45th. Solid performances from Gresswell himself in 47th, Dom Malsom in 56th and Lee Smith in 72nd, completed the 'A' Team.
Club vice-captain and endurance coach Ian Summers led home the 'B' team to a promising 6th place finish in that category, coming home in 79th, followed closely by Alistair Wakefield in 82nd. Paul Nash finished in 125th and was backed up by solid runs from Paul Challenger in 189th, Paul Loveridge in 197th and Mark Thrall in 200th. Arnold Yeomans came home in 212th place, with Tim Evans in 216th and club chairman Andy McKenzie finishing the scoring with 222nd.
In the age groups, standout performance came from Amber Watson with 4th place in the under 15 girls. She was backed up by Becky Summers in 16th and Sam Roberts in 23rd. In the under 15 boys, Adam Thrall finished in 11th to underline his recent improvements. Sam Evans finished 13th in the under 13 boys and Ben Gregory also managed to finish 13th in the under 17 mens category.
Cardiff Half Marathon
At the Cardiff Half-Marathon, also held on Sunday, Gloucester AC's Lee Smith finished in a personal best time of 1hr21.56 to come 75th from a field of almost 6000 runners
Abingdon Half Marathon
Further evidence of the renaissance in running by Gloucester AC's women was demonstrated by Anne-Marie Edwards at the Abingdon Marathon on Sunday. Despite suffering from achilles problems in the build-up to the race, Anne-Marie finished in a time of 4hrs09.32, a personal best by over 10 minutes. " I was on course for sub 4 hours at halfway but suffered during the second half of the race, until I managed to pick up the pace again over the final few miles and passed lots of runners".
Tooting Bec 24 hour Track Race
Jeremy Mower of Gloucester Athletic Club was one of forty runners who set off in near perfect conditions at 12 noon on Saturday to circle the 400 metre track for 24 hours at the superb south London venue of Tooting Bec athletics track. Unlike a standard marathon where a fixed distance is covered in a certain time, in a 24 hour race the time is fixed and the distance covered determines the end result. A high class field included ten international 24 hour/multi-day runners including William Sichel who has recently given some most valuable advice on nutrition to Mower. Mower managed to cover over four marathons recording 172.35 km (107 miles 164 yards) which is considered a respectable distance for ones debut at this gruelling event and he managed to finish 14th overall beating some more experienced 24 hour runners. His biggest problem apart from blisters, aches and strains was trying to stay awake at night and he said "I think I actually fell asleep about three times whilst walking during the night and each time woke up just as I was about to fall over". Mower had gone into the event with slim hopes of achieving the 200km standard for the Commonwealth Games but after 11 hours realised he was an hour off his schedule so backed off the pace in order to finish in reasonable condition and save himself for another day. Mower will now concentrate his efforts on trying to achieve the 8 hour 45 min Commonwealth Games standard for the 100km in the next few months. In the latest World 6 hour track rankings Mower is 24th and is ranked number one in the UK with a distance of 46.8 miles.
National Road Relays  - Sutton Park, Birmingham (Sat 18th/Sun 19th October 2008)
Rapid Improvement for Gloucester
The senior womens team from Gloucester finished in an excellent 60th place in the National 4-stage road relays, held in Birmingham on Saturday. In their first outing in the national championships for many years, Gloucester continued the rapid progress shown this year.Michelle Stark led the team off on the highly competitive first leg, bringing the team home in 90th place with an 18.52 clocking. Lorraine Ryan took over on second leg and moved superbly through the field with a time of 17.07, gaining 15 places for the team. Kim Drinkwater ran a strong leg to continue the forwards momentum with a time of 18.02 to bring Gloucester through to 64th, moving the team up another 11 places. Gemma Collier had an excellent run to bring the team home in 60th place with a time of 18.21, almost 40 seconds quicker than her run in the Midlands relays held on the same course - "I gave it everything up the final hill and managed to gain a few more places. The whole team ran well and we can't wait to come back next year and finish even higher up".
In the National Young Athletes Road Relays on Sunday, also held at Sutton Park, Gloucester AC's under 15 girls finished in a superb 16th place. Amber Watson led the team out with 13.48, which was good enough for third place on the leg and sixth fastest of the day overall. It was fully 45 seconds quicker than her time at the Midlands YA Relays, which was almost matched on second leg by Sam Roberts who improved 36 seconds on last months time with 15.55. Becky Summers brought the team home in 15.29 with a typically strong run, which was also 26 seconds quicker than last month at the regional championships.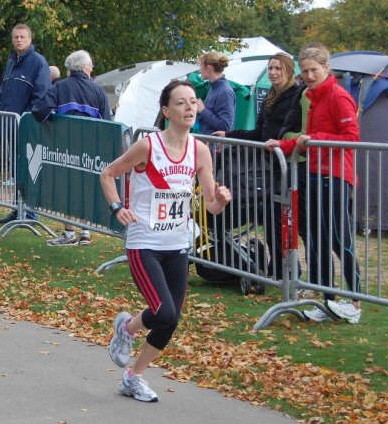 Gloucestershire Cross Country League
Gloucester women on the up
Gloucester AC's senior women achieved the best team result in several years with an excellent 5th place in the first Gloucestershire League cross country fixture of the season. Over a tough course with several challenging climbs and obstacles to overcome, several team members made promising debuts. First home was new recruit Lorraine Ryan in 12th place, moving through the field well on the second lap. Emma Jeffery continued her rich vein of form this year with 31st in a high-calibre field, followed closely by Gemma Collier in 35th with her best result in recent seasons. Michelle Stark held on well in her cross-country debut to finish 43rd, with Chris Campbell in 72nd and Fiona Roberts in 74th completing the strong showing by Gloucester's women. The great team spirit that has been created within this training group bodes well for a strong season.
In the age groups, the standout performance came from Grace Walker with a superb 2nd place in the under 13 girls race, only 2 seconds behind the winner. Gabriella Lowe finished 23rd in the same age group, with Natalie Whitehouse replicating that position in a tough under 11 girls section. Becky Summers ran well to finish 10th in a combined under 15 and 17 girls race, competing against girls up to 3 years older than her. Adam Thrall ran a controlled race to finish 6th in the under 15 boys and Ben Gregory also finished 6th in the under 17 men for a promising cross country debut.
Despite missing several athletes, the senior mens team performed well to finish 6th team and 8th team in the veterans category. Track specialist Richard de Camps showed strong endurance to come home 2nd junior male with 16th overall from a field of more than 160 runners.Lee Smith continued his progression with an encouraging 31st, with Ian Summers moving through on the hills to finish 38th. Paul Nash ran consistent laps to finish 57th and Arthur Daley continued his rehabilitation from injury to finish fourth veteran in the over 55 category and 88th overall. Dave Edwards completed the scoring team with 94th place. Ben Jones finished 103rd despite being unaccustomed to running such distances, with Mark Thrall in 128th, Paul Loveridge in 136th and Arnold Yeomans in 143rd completing the scoring for Gloucester AC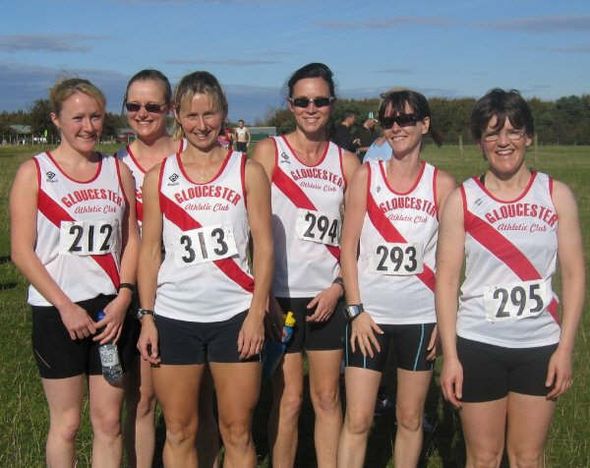 Cirencester 10k
Gresswell in form, Ryan wins first county Gold Medal and Super Spackman is back.
Thirteen runners from Gloucester Athletic Club made up the 491 field at the Cirencester 10km race on Sunday which was also the Gloucestershire 10km Road Race Championship. The new one lap course must have been to Dave Gresswell's liking as he was first home for the club in a new PB of 36:20. Gresswell was 17th overall and afterwards said he was pleased to be back in form just in time for the cross country season which he is now the new Gloucester AC cross country captain. Lorraine Ryan repeated her great run of last weekend at the Midlands Relays to finish 4th lady (66th overall) and won her first county Gold medal as first senior women. Michelle Stark won a county Bronze medal in the LV35 category. Peter Lloyd who had not competed much recently had a good run in 30th place and Alistair Wakefield was pleased that he was close to catching team mate Jeremy Mower until Dave Gresswell told him that Mower had run a 50km race the day before. Some runners were surprised to even see Super Vet 60 athlete Dave Spackman even on the starting line let alone finish 3rd in his age category. Only three weeks ago Spackman's foot was run over at work by a forklift truck, just goes to show that they breed them tough in Gloucester. Amazingly Spackman's foot was just severely bruised and no bones broken as it was squashed by the truck's wheel.
| | | | |
| --- | --- | --- | --- |
| 17th | David Greswell | MV40 (5th) | 36:20 |
| 30th | Peter Lloyd | MV40 | 38:26 |
| 38th | Jeremy Mower | MV40 | 39:11 |
| 47th | Alistair Wakefield | SenM | 39:50 |
| 62th | Paul Nash | MV40 | 40:35 |
| 66th | Lorraine Ryan | SenF (4th) | 40:56 |
| 71st | Dave Spackman | MV60 (3rd) | 41:14 |
| 126th | Michelle Stark | FV35 | 45:04 |
| 130th | Emma Jeffery | FV35 | 45:14 |
| 159th | Paul Loveridge | MV50 | 46:16 |
| 223rd | Bogdan Jochym | MV50 | 49:02 |
| 301st | Christine Parkin | SenF | 52:57 |
| 404th | Gill Gresswell | FV35 | 59:36 |
Boddington 50k
Mower's third in a three horse race.
On Saturday Jeremy Mower ran his 7th ultra race of the year and finished third over 50km at Boddington near Cheltenham and beat his previous best time on the course finishing in 3 hours 42 min 36 secs. However there were only three runners as this was one of two invitational events set up by UK Athletics for athletes to prove their fitness prior to the 100km World Cup in Italy. Mower found himself lining up with World female number one Lizzy Hawker and Jez Bragg the UK's leading male ultra runner. Mower said "After 10km I lost sight of them and then it was really difficult to concentrate as it was like a training run and every now and then I kept loosing focus and dropping off my goal pace. But I was pleased with the time being only thirteen minutes behind Lizzy and to finish in good shape." Mower tackles his first 24 hour race on October 18th and hopes to run 200km in order to qualify for the Commonwealth Games.
Midland Road Relays 2008
Gloucester Athletic Club had one men's team in the Midland Road Relays and for the first time in over ten years had a ladies team. The ladies team made a fine account of themselves finishing 30th out of the 60 finishing teams especially as the team had little experience of competitive road running.
Emma Jeffery ran a solid first leg over the 4.315 km course and handed over to Lorraine Ryan who only joined the club four weeks ago. Lorraine had a fantastic run recording 17min 4sec and in doing so overtaking 18 other runners which was the highest total of the day by any one individual. The third leg was run by Anne-Marie Edwards who was taking time out from her training for the Abingdon Marathon in four weeks time. Gemma Collier ran the last leg overtaking 4 runners and finishing strongly nearly catching a couple more. All the ladies said they enjoyed the experience and felt that they could improve their times as they thought they could push themselves harder as it was difficult to judge the pace as they were not used to running over the distance. All the ladies are coached by Ian Summers and he was more than pleased with their efforts. Gloucester has seen an increase in lady participants over the last year and now has a group of eight ladies who regularly train on club nights.
The men's team was depleted of four of there first choice team and had to call on four veterans who all had good runs as they showed experience can often make up for lack of pace. The men were 51st out of the 80 finishers (105 teams started, but 25 incomplete). Under 20 Richard De Camps had a good run for the first leg but was held up in the mass start. The surprise run of the day was from ultra runner Jeremy Mower who ran his fastest time since 2002 over the distance and recorded the club's fastest leg. Welsh U23 international Andrew De Camps unfortunately had a stitch one mile into the race and struggled over the remaining distance. Keith Short aged 58 showed why he is one of the top 800m runners in his age group in Europe running well over what was a long distance for him. Lee Smith pulled back four places on the penultimate leg and handed over to Dave Gresswell for the final leg. Gresswell had to run most of the race with no one in site and battled hard up the uphill finish and had the club's second fastest time.
| | |
| --- | --- |
| Ladies (4 x 4.315 km) | 30th place in 1:14:39 |
| Emma Jeffery (LV35) | (49th) 18:50 |
| Lorraine Ryan  | (31st) 17:04 |
| Anne-Marie Edwards | (34th) 19:45 |
| Gemma Collier | (30th) 19:00 |
| | |
| --- | --- |
| Men (6 x 5.847 km) | 51st place in 2:10:40 |
| Richard De Camps (U20) | (57th) 21:16 |
| Jeremy Mower (MV40) | (53rd) 21:10 |
| Andrew De Camps (SM) | (49th) 21:49 |
| Keith Short (MV55) | (56th) 23:28 |
| Lee Smith (MV35) | (52nd) 21:42 |
| Dave Gresswell (MV40) | (51st) 21:15 |
Midlands Young Athlete Road Relays (Sutton Park, Birmingham)
Watson leads the way for Gloucester AC
Gloucester AC's youngsters put in an excellent performance at the Midlands Young Athletes Road Relays in Sutton Park on Sunday. In the Under 15 girls, Amber Watson put in a superb performance to come home with a commanding lead over the rest of the field with 14:33, recording the overall second quickest time of the day in the age group. Sam Roberts took over on second leg and ran a solid race to keep the club in contention with a 16:31 leg, handing over to Becky Summers who clocked 15:55 on the final leg to bring Gloucester home in 9th overall, the highest placed team in the county.
In the Under 15 boys, Gethin Richards brought the team home 22nd after the first leg with a time of 14:47, passing on to Adam Thrallwho progressed through the field with a time of 13:56, to move the team up 6 places. Jack Evans ran 13:45 on the final leg to bring the team further up to 14th overall at the finish, with the 6th quickest time on that leg.
Chippenham Half Marathon
Gloucester AC members took part in the Chippenham Half Marathon on Sunday with mixed results. Dave Gresswell finished a creditable 54th out of almost 1100 finishers, but was disappointed with his time of 1:24:45. Terry Onions came home in 1:37:38 for 244th while Bogdan Jochym and Martin Chopping had a great tussle to finish in 1:45:08 and 1:45:50 respectively, to both finish high up in the Vet 50 category. Cath Nicholl was pleased with her run to finish in 2:06:02 and Gill Gresswell ran her second quickest time ever over the distance to run 2:10:32
Michelle Stark had a great run at the Bristol Half Marathon, also on Sunday, finishing in a personal best time of 1.45.10. Her strong run showed the benefits of the talented womens training group currently being assembled at Gloucester AC, while Emma Jeffery had another good run at the 'very hilly' Woodchester Trail race in Stroud on Sunday, results had yet to be published.
Paralympic Games, Beijing
Gloucester AC member Beverley Jones has finished just outside the medals in the Paralympic Games in Beijing. Beverley competes in the F37 category (ambulant disabled, cerebal palsy, one half of the body affected by the palsy). The F37 and F38 compete together as 38 is for minimal palsy effect and the distances are converted to points to work out the medals. Beverley threw 27.27m in the discus to finish 7th, which is an outright personal best and club record, beating her 26.58 set in Singen, Germany in 2007. Her shot was only 14cm short of her F37 club record and 59cm short of her pb and meant she finished 5th in a strong final, where two world records were set.
Beacon 10k
Several Gloucester AC runners achieved personal bests in the Beacon 10k Road Race and the Ladies achieved their highest team placing in this race finishing second to Bourton Road Runners.
Ultra Distance specialist Jeremy Mower gained 12th place with 37:54 unusually losing out to Andy Chapple from Bourton over the final 800 metres. 55th place saw Emma Jeffery leading the Lady's team home to second place with and gaining 44:36 2nd Lady Veteran place. Michelle Stark (46:25) in 71st place ran a steady race overtaking in the last 2k. Anne-Marie Edwards completed the team in 91st with an improvement of over 1 min. finishing in 49:04. Paul Loveridge's 47:33 (V50)  saw him raising his pace over the last kilometer improving his position to 77th after overtaking 4 runners. Bogdan Jochym V55 and Martin Chopping V55 both had a battle over the last gradual uphill 1500 metres and long finishing straight with 48:12 and 48:25.
The challenging course saw Arnie Yeoman finishing in 99th with 50:55 followed Christine Parkin in 110th 52:41. In her first season racing, Christine Campbell LV35 achieved 120th with 54:13 and newcomer to the area Celia Winstanley (LV50), in her second 10k race, took over 3 minutes off her personal best finishing 131st in 62:08. The depth and competitiveness of the Lady's team augurs well for the coming Cross Country season.
This year's final running of the Fitness Four from the Pilot Inn, Hardwicke saw most GloucesterAC participants make significant developments. U17 Ben Gregory realised the value of keeping with the early pacemakers as a slightly relaxed start saw him drift off the pace and although finishing in 11th and first U17 well done on last months time in 26:00. Conversely veteran O/55 Arthur Daley running his second race after a long lay off was dragged to too fast a pace for the first mile but pulled back some of the distance from Gregory by running even pace over the last two miles finishing 12th in 26:07
Gloucester AC's leading lady road runner Emma Jeffery was 2nd lady home in 16th with a time of 27:27 followed by an ecstatic Tim Evans who took over 3 minutes off his previous personal best by finishing 32nd in 29:27. Anne-Marie Edwards came in 44th with 30:38 over a minute faster than her previous time despite, in preparation for the Abingdon Marathon, emphasising stamina in her training.
Two new signings completed the Gloucester AC racers: Andrea Preedy finished 53rd in 33:07 and Lady Vet 0/50 Celia Winstanley broke the 40 min barrier completing the course in 39:11 for 73rd place.
Daley, who has been struggling with hamstring problems, last week ran his first race since May at Club La Santa in Lanzarote. Despite running an even paced race he finished 3rd in a out and back 5k event with 20:38 - his slowest time for that distance for 6 years.
Gloucestershire County Track Relays
Teams from Gloucester dominated the Gloucestershire County Track Relays at the Prince of Wales Stadium in Cheltenham last week in appalling conditions of torrential rain. Winning three out of the four contests and a second place in the other. A composite U20 Severn & Gloucester team won the men's 4 x 100m in 47.3 seconds. The team consisted of Marcel Lynn, Jason Gower, and James Browning from Severn AC and the individual county champion Ashleigh Naylor from Gloucester AC.
Gloucester senior ladies took gold for the second consecutive year in the 4 x 100m at in a time of 54 seconds. The quartet consisting of Alex Purcell, Sarah Williams(U20), Julia Loveridge(U20) and Cleo Lambert(U17) showed the way for the club's up and coming generation.
Under 13s Harriet Hunter and Lurenda Mudd moved up an age group to join Rachel Davies and Melissa Baverstock to make up a 4 x 100m U15 team. Their performance was clocked at 55.7 seconds, a full nine seconds ahead of their nearest and older rivals and were second ladies team overall.
The most comfortable winners on the night were the 4 x 400m men's team from Gloucester winning by 34 seconds from their closest rivals. The time of 3 min 43.8 sec was slower than they hoped for but it was difficult to run in the worsening weather conditions and not having anyone to push them. The team had an average age of 19 and consisted of Andrew De Camps, Richard De Camps, Ben Jones and Dale Price.
Gloucester entered an U15 ladies team of Becky Summers, Sam Roberts, Melissa Baverstock and Rachel Davies in the ladies 4 x 400m race and were beaten by sixth tenths of a second by an U17 team from Bourton. Gloucester AC has a fine young sprint squad coached by Bob Purcell and Paul de Camps has some of the best young 400 and 800 athletes under his wing.
Avon Track & Field League Match 4
Gloucester/Severn AC Composite Team collects more silverware!!
The Gloucester AC and Severn AC composite track and field team have finished the season with a flourish, winning the senior/veteran mens and womens titles at the Avon League for the fifth successive year. Fresh from winning the Midlands Division 3 title, the two clubs have continued to combine well to collect more trophies.
In the mens section there were wins for Andrew de Camps in the A string 1500m and 400m hurdles, Richard de Camps in the 400m with a personal best, Simon Fortnam in the 5000m, Mike Tommey in the hammer and Dale Price in the B string 400m and Javelin. Also weighing in with valuable points were Jeremy Mower, Nick Walker, Paul Loveridge and Garry Hunter.
The senior women comfortably defended their title with several athletes scoring well in a variety of events. Gemma Collier stepped down in distance to finish 2nd in the 100m, 400m hurdles and 3000m and won the B string long jump. Julia Loveridge won the B string over the 400m hurdles and 200m and Kate Yhnell won the discus and finished 2nd in the shot. There were also wins for Paula Whitcher in the masters shot and discus, while Emma Jeffery ran strongly to win the masters 3000m.
In the age groups, Tim Williams dominated in the U17 throws, winning the hammer and gaining 2nd in the discus. Lewis Cavanagh capped off a typically busy afternoon in the U15 boys, with a debut in the triple jump which puts him into the national rankings. Charlie Simmondsand Scott Price also contributed good points in the U15 boys section.
In the U13 girls, Harriet Hunter won the 100m A string and scored well in the 200m and Long Jump, while Lurenda Mudd had a first in the B string 200m and 2nd places in the 100m and 800m. Rachel Davies won the U15 girls shot and had top three placings in the 100m and 200m, as did Sam Roberts in the 800m and Melissa Baverstock in the 100m, 200m and shot.
Jeremy Mower used the Boston Six Hour Track Race as preparation for his 24 Hour Race debut in a few months time. Mower decided to try out a new carbohydrate/ protein drink but two hours in he found he was unable to digest the protein which caused stomach cramps and to add to that he suffered a back spasm which both meant long bouts of walking. However he still covered 39 miles in 6 hours to take second place and also take the race series title for both the Boston & Crawley Six Hour Races with a combined mileage of 85 miles. Mower was disappointed not to win at Boston but admitted that in races that are not too important, you have to test new things that may work in training but not in a race. So Mower came away with two things - a trophy and a valuable lesson.
GLOUCESTER AC'S MEDAL HAUL!
Several of Gloucester AC's athletes made their way to a blustery Bath Open meeting at the University of Bath track on Sunday 17th August 2008. Lewis Cavanagh led the way, winning three Gold medals in the U15 boys 100m, 200m and Long jump with fellow team mate Ashley Phipps winning the Silver in the 100m and bronze in the 200m races.
Harriet Hunter won Gold in the U13 girls 100m and silver in the girls Long Jump to continue her excellent season. Team mate Lurenda Mudd won silver in the U13 girls 200m having narrowly missed out on the medals in the 100m.
Rising stars Joe Morgan and Sam North put in tremendous efforts in the U11 boys Quad Challenge, competing in the standing long jump, 75m sprint, ball throw and the 600m. Joe held off strong competition to come away with the Gold medal having won the ball throw outright! Sam was unlucky to finish just outside the medals, as was Adam Thrall in the Under 15 boys who also put in a great effort but narrowly missed a top three placing.
Standish Woodland Chase (about 10 miles)
Results of Gloucester AC runners out of 122 finishers.
Richard Moor:        18th  1:09:02
Terry Onions:          47th  1:18:29 (4th MV50)
Emma Jeffery:        55th 1:19:59 (5th lady, 1st LV35)
Arnold Yeomans:    75th 1:23:52 (8th MV50)
Isle Of Wight Half Marathon
Gloucester Athletics club's Dom Malsom finished in third place out of 170 finishers in the Isle of Wight Half Marathon. The course is one of the toughest in the country with 692 feet of ascent and unfortunately one of his fellow club members had told him it was not hilly. After completing the first two miles which were flat in eleven minutes he was then confronted by rise after rise and he did tire in the final mile losing out on second place.
Avon Track & Field League Match 3
The Gloucester and Severn composite team put in some good performances in the third fixture of the Avon Track and Field League. Both the senior men's and ladies team were comfortable winners on the day and are both on course to retain there titles for a record sixth consecutive time. Top female performer of the day was under 13 girl Harriet Hunter winning two races and achieving age grade 2 times in recording 13.64 for 100m and 28.46 for 200m which was a rare dead heat. Harriet also achieved age grade 2 when coming second in the 70m hurdles in 12.7 seconds. Top male performer of the day was Gareth Winter from Severn AC who was the only athlete to achieve a Grade 1 rating when coming second in the U17 shot with 14.08m. Winter has recently been receiving some advice from Lorraine Shaw of Gloucester AC which is a fine example of how the two city clubs have been working together this year. Highest points scorer on the day was Severn veteran athlete Nick Walker with 30 points just ahead of Gloucester veteran Jeremy Mower on 26. Walker achieved two first places in the shot and discus, plus two second places in the pole vault and veteran 100m. Walker recorded 3.50m for the pole vault and 12.84 for the 100. Dave Gresswell won the 3000m vets race which was very tactical and Gresswell surprised everyone with a sprint finish to take victory and Jeremy Mower backed Gresswell up winning the vet 'B' race. Andrew De Camps was the outstanding athlete in the men's 800m and only 1.5 seconds off the league record and Richard De-Camps won the 'B' 800. The last race of the day was touch and go as the men's 400 relay team which has been winning Midland League matches was short of a recognized runner so had to use ultra runner Jeremy Mower. Mower handed the batten over to Andrew De Camps about 40m down on the lead athlete. Andrew ran a storming 400m and handed a slender lead to Ben Jones who then extended it by a few metres. Richard De Camps held a five meter lead all the way round and then kicked with 150 to go to win by 20 metres.
Other notable performances were:
Lurenda Mudd, U13G 100m, 14.26, Grade 3
Lurenda Mudd, U13G 200m, 28.9, Grade 2
Marion Loveridge, Hammer, 32.46m
Ashley Phipps, U15B, 100m, 12.15, Grade 3
Ashley Phipps, U15B, 200m, 24.46, Grade 2
Gareth Winter, U17M, Shot, 14.08m, Grade 1
Gareth Winter, U17M, Discus, 37.85m, Grade 2
Andrew De-Camps, Men's, 800m, 1:59.9
Richard De Camps, Men's 800m, 2:03.6
Cranham Boundary Chase 5.8m
In the pouring rain and wind David Gresswell was Gloucester's first finisher in the Cranham Boundary Chase over 5.8 miles of undulating roads with an incredible finish up one of the steepest roads in the county. Gresswell was 3rd in 35:05 beating club mate Jeremy Mower who was 9th in 36:35. Paul Nash made up the team coming 20th in 38:54. Gloucester were fourth team. Ben Gregory was the first junior man in 39:47. Emma Jeffery was first Vet 35 lady in 43:48 ahead of team mate Michelle Stark who was second LV35 in 45:01.
Bugatti 10km
Jeremy Mower finished 19th out of 378 finishers over a tough undulating 10km course from the Bugatti Inn at Gretton near Cheltenham and is now second placed Vet 40 in the County Series. In two weeks time Mower travels to Boston, Lincolnshire to take part in the second of two 6 hour races which make up a series. After winning the Crawley event with 46.8 miles he will be favourite for the overall title. The other Gloucester runners were Bogdan Jochym V50 145th, Martin Chopping V50 169th and Christine Parkin L 295th. A free cool beer and a "burger" were most enjoyable afterwards.
Midland Track and Field League
Gloucester and Severn Track & Field Team won the final match at Tipton and were crowned Division 3 champions of the Midland League but it was a strange outcome before the result was confirmed. Gloucester needed to beat Kettering by 33 match points on the day and early on it looked like this was not going to happen. However enter to the affray the famous Tipton Harriers battling against relegation that turned up with a strong team. The three teams were battling for the top three positions all day. With the Relays and Javelin to go Tipton were in the lead and Gloucester/ Severn five points adrift. Before the official results were announced Tipton believed they had won the match which meant Kettering were champions. Scenes of jubilant celebration by Kettering were seen and their team manager given the traditional soaking in the steeplechase water jump. Gloucester/ Severn just sat with dignity hoping that the other two clubs had got their arithmetic wrong. The final results were read out and Gloucester/Severn were declared match winners by 2.5 points. Kettering were shattered and Gloucester/ Severn elated after having a few minutes earlier having to take some friendly banter from Kettering. Team manager Jeremy Mower was then promptly dispatched to the steeplechase water jump for the same soaking. Mower praised the hard work put in by all the athletes, officials and coaches that made it happen. Mower said "on paper the Midland League had ranked us the weakest team in the Division 3 due to them not taking into account our combined strength but I knew this was wrong and felt we had been given a raw deal and we showed everyone that the City of Gloucester has some of the finest athletes in the Midlands.
Justin Sysum and Wayne Powell got the team off to a good start easily winning both hammer events. The home club forgot that the pair are two of the top throwers in the country and as a result the competition had to be held up as they did not have a tape measure long enough to record the distances. An official had to drive from Tipton to Dudley to obtain a suitable tape measure. The pair then finished the day off the way they started both winning the final event of the day in the javelin.
It was a welcome return for multi eventor Brendan Goss. The former Northern Ireland international back from injury was slightly below par but gained valuable points in the "A" string which meant his fellow field eventors had easier pickings in the "B" events. This was in fact a general theme for the day with the team picking up many firsts in the "B" events showing the great depth that exists in the club. For instance in the steeplechase Simon Fortnam the team's normal "B" runner was only narrowly beaten in the "A" steeplechase event and Jeremy Mower on paper the clubs sixth fastest chaser won the "B" event setting a new Gloucester Vet 40 record.
Andrew De Camps was the only male winner of an "A" track race as he came through with a late finishing surge to take the 400m and he was also a comfortable winner in the 800m "B" race. Tim Dalton was unexpectedly beaten in the 800m "A" race loosing it on the line by the Tipton athletes dip. In fact was a day of to many second places, sixteen in all and with missing the extra bonus point for a win made things hard work for the team. Josh Lilly returned from a long injury lay off to help the cause and was only beaten by a very good Tipton athlete in the 3000. Lloyd Andrews again was in fine form as he won both the "B" 400m hurdles and long jump. Huccelcote rugby player Andrews has shown great determination all season and picked up first places all season in the "B" events. Ollie Cooper lost his Triple Jump spikes but still managed to win the "B" event although a metre off his best. Under 17 Gareth Winter showed maturity beyond his years after two no throws in the "B" discus he managed to get a throw in for 3rd place and then went on to win the "B" Shot. Under 20 athletes Nico Constanti, Richard De Camps, Gareth Howells, and Alex Maton all achieved 2nd places which bodes well for the future. Dave Hoskins found some hurdling form back to take 2nd in the 110m hurdles. Veteran decathlete athlete Nick Walker was a vital scorer in 3rd place in the pole vault. Walker has had to travel to places like Yate and Cheltenham to train at his own expense over the years as Gloucester has never had a pole vault facility. The men's 400m relay team of Tim Dalton, Richard De Camps, Andrew De Camps, Nico Constanti won by a large margin and were less than 3 seconds off the division record which is held by Gloucester/ Severn.
The ladies saved their best performance of the season for this last match. The Lambert sisters Sophie and Cleo did well in the sprint events. Sophie won the "A" race in 13.1 running into a head wind. In the closet event of the day Cleo Lambert was in a three way tie for 2nd place in the high jump. Lorraine Shaw was enjoying herself winning the Shot but was beat by the Corby athlete who set a new division record. Kate Yhnell and Marion Loveridge made it a clean sweep winning both the womens hammer events. Kate went on to win the "B" discus. Sarah Williams, Amy Whitcher and Alex Purcell who have been ever presents over the last few seasons managed to pick up 2nd and 3rd places through out the day. Sarah Willliams recorded her first victory of the season in the 100m hurdles. Julia Loveridge was second in the "B" 400m hurdles during which two athletes walked over the hurdles instead of hurdling. This practice is allowed although not seen in the spirit of the event. An official compliant has gone into Midland Athletics to try to prevent this practice in the future by putting a time limit on all hurdles events at senior level. The ladies 100m relay team came through from last after leg two to 2nd place with two great runs by the Lambert sisters.
In all it has been a fantastic season for the joint Gloucester and Severn team. The team spirit has been second to none and there has been more cohesion between the two clubs than there is in single clubs who have plenty of their own internal political problems. Everyone has turned up to fixtures even if they knew they were only reserve they came with their spikes. The determination has come through as all want to show they are proud to represent Gloucester and to prove doubters wrong who said the clubs could not work together. On confirmation of the final result two days later it turned out Gloucester and Severn had managed to beat Kettering by 34 points which would have given them the league title without the help of Tipton splitting the two teams.
MEN

 

 

 

 

 

 

 

 

Event

Race

Posn

Name

Perf

Race

Posn

Name

Perf

High Jump

A

5

Brendan Goss

1.70

B

5

Gareth Winter

1.45

Long Jump

A

2

Brendan Goss

5.94

B

1

Lloyd Andrews

5.37

Triple Jump

A

3

Brendan Goss

12.71

B

1

Ollie Cooper

11.99

Pole Vault

A

3

Nick Walker

3.20

B

4

Brendan Goss

2.30

Shot

A

2

Justin Sysum

12.05

B

1

Gareth Winter

11.03

Discus

A

3

Justin Sysum

36.00

B

3

Gareth Winter

29.37

Hammer

A

1

Justin Sysum

55.92

B

1

Wayne Powell

55.21

Javelin

A

1

Wayne Powell

53.20

B

1

Justin Sysum

47.40

100m

A

6

Ashleigh Naylor

12.0

B

6

Brendan Goss

12.2

200m

A

6

Ashleigh Naylor

24.4

B

6

Lloyd Andrews

24.8

400m

A

1

Andrew De Camps

51.6

B

2

Nico Constanti

52.1

800m

A

2

Tim Dalton

1:56.5

B

1

Andrew De Camps

1:59.5

1500m

A

3

Richard De Camps

4:18.3

B

2

Alex Maton

4:30.6

3000m

A

2

Josh Lilly

8:44.0

B

2

Gareth Howells

9:34.9

110m Hurdles

A

2

Brendan Goss

18.3

B

2

David Hoskins

22.4

400m Hurdles

A

5

David Hoskins

66.0

B

1

Lloyd Andrews

63.6

3000m S/C

A

2

Simon Fortnam

10:23.1

B

1

Jeremy Mower

11:16.2

4x100m Relay

 

5

Ollie Cooper, Lloyd Andrews, Brendan Goss, Ashleigh Naylor

46.3

4x400m Relay

 

1

Tim Dalton, Richard De Camps, Andrew De Camps, Nico Constanti

3:28.0
WOMEN

 

 

 

 

 

 

 

 

Event

Race

Posn

Name

Perf

Race

Posn

Name

Perf

High Jump

A

2

Cleo Lambert

1.40

B

5

Amy Whitcher

1.15

Long Jump

A

3

Alex Purcell

4.21

B

2

Sarah Williams

4.16

Triple Jump

A

3

Sarah Williams

8.63

B

2

Amy Whitcher

8.55

Pole Vault

A

 

no competitor

 

B

 

no competitor

 

Shot

A

1

Lorraine Shaw

10.96

B

1

Kate Yhnell

8.84

Discus

A

2

Lorraine Shaw

37.48

B

1

Kate Yhnell

19.55

Hammer

A

1

Kate Yhnell

45.34

B

1

Marion Loveridge

37.22

Javelin

A

6

Amy Whitcher

17.54

B

4

Paula Whitcher

15.37

100m

A

1

Sophie Lambert

13.1

B

3

Cleo Lambert

13.8

200m

A

3

Sophie Lambert

27.1

B

3

Cleo Lambert

28.1

400m

A

5

Amy Waite

65.5

B

4

Alex Purcell

67.9

800m

A

5

Sarah Williams

3:11.9

B

6

Amy Whitcher

3:03.7

1500m

A

5

Michelle Stark

6:18.0

B

5

Anne-Marie Edwards

6:38.5

3000m

A

4

Michelle Stark

12:41.0

B

3

Anne-Marie Edwards

14:01.2

100m Hurdles

A

3

Sophie Lambert

19.0

B

1

Sarah Williams

21.2

400m Hurdles

A

5

Alex Purcell

80.8

B

2

Julia Loveridge

1:40.0

4x100m Relay

 

2

Alex Purcell, Sophie Lambert, Cleo Lambert, Amy Whitcher

53.2

4x400m Relay

 

5

Amy Whitcher, Sarah Williams, Cleo Lambert, Amy Waite

4:56.9
C&G Gloucester Half Marathon
Runners swelter in the Summer Heat in contrast to last years floods.
A record field of 475 club and fun runners took part in the C&G Gloucester Half Marathon braving the soaring temperatures.
A leading group of eight runners were ripped apart after 4 miles by the dynamic acceleration of the eventual winner Garry Payne, of George Elliot Striders, who left a chasing group of three other runners including local runner Dennis Walmsley Bourton Road Runners. About 2 miles later Dennis pulled away from the chasers but about a mile later he was overtaken by the eventual second place man Mark Shepherd of Team Kennet.
The first three men across the line were Garry Payne, a Vet 50 in a time of 1:15:44. Mark Shepherd, Senior Man in 1:16:07, and Dennis Walmsley, Vet 45 in 1:17:34.
Leading lady, ultra runner Emma Gooderham, the British 100K champion, came in 17th place in a time of 1:23:29 four places ahead of second placed lady, local runner Stephanie Lane of Bourton road Runners, one minute one second behind. Third placed lady Amanda Deavy of Northbrook AC came in 10 minutes back in 48th place.
Tom Randles of the promoting club, Gloucester AC ran a personal best for the Newent course to finish in 12th place in a time of 1:21:54 beating local rival Stewart Lynas of Severn AC by one second. Tom also won a Senior Men gold medal in the County competition.
There were other successes for the promoting club in the County competition. Emma Jeffery, Lady Vet 35 won a silver medal and Michelle Stark, Lady Vet 35 a bronze.
Runners praised Gloucester AC for their organisation of the event.
Gloucester AC would like to thank their sponsor C&G Cheltenham and Gloucester for their generous support. A donation will be made to Amberley Ridge School for children with special needs Sensory Room Project. Runners who have raised money for this project are reminded to send their cheques payable to Friends of Amberley Ridge School to Wych Elms, Pinfathings, Amberley, Stroud GL5 5JJ. The School will refund entry fees to those runners raising in excess of £50.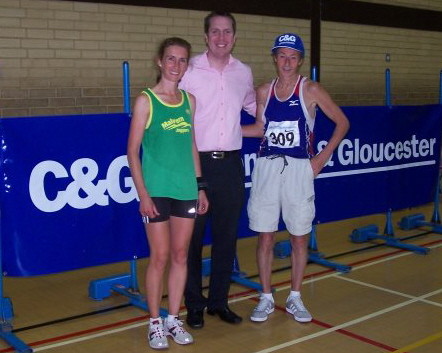 Young Athletes League, Carmarthen
From the fifteen athletes Gloucester took to the Young Athletes League at Carmarthen there were 20 personal bests and 4 new club records. Lewis Cavanagh recorded three wins and a new PB of 11.6 seconds in the 100m. With performances like that he will break into Gloucester's Senior Track Team next year when he becomes eligible to compete as should Becky Summers who won her 800m race by a margin of 13 seconds.
U13 Boys
Tom Beckett. HJ = 1.30m PB + CR, 75mH = 15.5 s PB + C/R. 100m= 14.4 s
Sam Evans. 200m = 32.0 s. Shot Putt = 4.69 PB. 1500m = 5.16:2 PB
U13 Girls
Harriet Hunter. 70mH = 12.6s PB. LJ = 3.79. 75m = 10.4s PB
Lurenda Mudd. 150m = 20.2s PB + CR. Shot Putt = 6.79m PB. 75m = 10.4s PB.
Jade Price. 150m = 23.9s PB. Shot Putt = 4.94m PB LJ = 2.88m PB.
U15 Boys
Lewis Cavanagh. 200m = 24.5s. LJ = 5.57m. 100m = 11.6s PB
Ashley Phipps. 200m = 25.0s. 100m = 11.9s PB
Gethin Richards. 800m = 2.14.1s. 400m = 58.1s PB Javelin = 13.39m
Charlie Simmonds. 800m = 2.59:0 PB
Tim Campion. Discus = 28.41m. Shot putt = 10.90m PB. Javelin 26.55m
Adam Thrall. Discus = 13.36 Shot putt 6.38m PB. 1500m = 4.53:7
U15 Girls
Becky Summers. LJ = 3.59 200m = 29.5s PB. 800m = 2.31:5s
U17 Man
Gareth Winter. Shot putt = 13.70m PB + C/R, Javelin = 36.05m
U17 Ladies
Amy Waite. 200m = 28.8s. 300m = 48.6 s
Rozalia Gombera. 200m = 29.3s. 80mH = 16.6s 100m = 14.2s 
Nike Grand Prix at Trafford: 19th July 2008
Andrew and Richard De Camps were both in action at the BMC/Nike Grand Prix at Trafford, Manchester on Saturday over the 800m distance.   Andrew is running into some sort of good form and was 2nd in his race with a PB of 1:52.52.   Richard finished 4th in his race and was eleven hundredths outside his best in 1:59.13.   Both were a bit unfortunate as their races were near the beginning of the meet when conditions were wet and squally, later in the evening conditions were near perfect.
Summit Medical One Mile Race, Bourton-on-the-Water: 19th July 2008
Second claim Gloucester AC athlete Chris Reynolds (Woodford Green & Essex Ladies) was the convincing winner of the Summit Medical One mile race at Bourton on the Water on Saturday. Emily Pidgeon was narrowly edged out into second by Stroud based Rachel Felton of Shaftsbury Barnet by one second. Lee Smith was the second Gloucester male home in a new PB of 5:06 just holding off veteran runner Jeremy Mower. Under 15 Jack Evans looked impressive finishing in 5:15 ahead of Keith Short who took home first MV55 prize and a County Gold Medal. Short who is a MV55 Great Britain international at 800m was pleased with his run but said he had started off to slow and was actually behind Becky Summers at 400m who was the first U15 lady in 5:50.
1 SM 4:29 Chris Reynolds
12 LU20 4:50 Emily Pidgeon
20 SM 5:06 Lee Smith PB
21 MV40 5:07 Jeremy Mower
25 MU15 5:16 Jack Evans
27 MV55 5:24 Keith Short
45 LU15 5:50 Becky Summers50 MV60 6:00 David Spackman
57 MV55 6:18 Bogdan Jochym PB
Frampton 10K
In near perfect conditions five Gloucester runners ran in the Frampton 10km race. Having run four track races the previous day in the Avon League Jeremy Mower was off his usual pace but finished strongly to finish well up the field in 35th out of the 474 finishers. Michelle Stark continues her improvement as she ran a PB finishing ahead of Bogdan Jochym.
35th 37:23 Jeremy Mower MV40
76th 40:33 Matthew Wade SM
188th 46:42 Michelle Stark LV35
196th 47:08 Bogdan Jochym MV50
332nd 53:39 Fiona Roberts SL
Hammer Group Success
Gloucester AC's hammer throwing squad have been making their presence felt on the national stage in the past two weeks, winning numerous medals and setting countless personal best performances.
Coached by former Commonwealth Champion Lorraine Shaw, the group came away with a gold and silver from the AAA's Championships which incorporated the Olympic Trials. Zoe Derham won the title with a distance of 67.27m and is waiting to hear whether she will be selected to go to the Beijing Olympics. Carys Parry won silver with 65.34m, almost 5m clear of third and cemented her position as UK number two. Bola Ogun completed the success with 51.24m for eighth place.
Further north in Gateshead, at the English Schools Championships, the group claimed gold, silver, bronze and a fifth place. Alex Warner took gold in the Senior Boys with 60.96m, while Mike Tommey threw a big personal best of 52.37m to finish fifth despite being bottom of the age-group. Tim Williams threw 56.99 in the Inter Boys competition to win bronze, narrowly missing out on the silver medal. Kate Yhnell won silver in the Senior Girls category with 48.24m and still has another year left in the age group.
In the recent British Masters Athletics Championships held in Birmingham, Wayne Powell (M35) won gold with 57.18m while Marion Loveridge also won gold in the W45 category with a seasons best throw of 36.82m.
Pilot Inn 10 Mile Road Race
Gloucester Athletic Club ran well at last Saturdays Pilot Inn 10 Mile road race, which this year also incorporated the County 10 Mile Road Race Championships.
First home for the club, in 5th place overall was V40 Dave Gresswell in a new PB of 59min 17sec. Gresswell was amazed with his time, as it was the first time he had broken the 60 minute barrier. He attributed his fast run to his new lightweight racing shoes, and that he had ran the first 3 miles in the company of Cirencester AC's international runner, Wendy Nicholls. Gresswells run was good enough for a county bronze medal in the V40 category.
However, the real highlight of the day was very strong running from Glos AC's up and coming batch of female veteran runners. Emma Jeffery was first back for the club, earning herself a County Silver Medal, and in her first ever 10 mile race, Michelle Stark (1hr 19min) ran herself into County Bronze Medal position for the V35 ladies. Completing the winning women's team, was Cath Nicoll in a new PB time, and continuing her fine run of form since completing the London Marathon earlier this year. This was an excellent performance from the ladies, who have all been training very hard this year.
Male veteran runner Martin Chopping also took time out from organizing this year's Gloucester Half Marathon to run.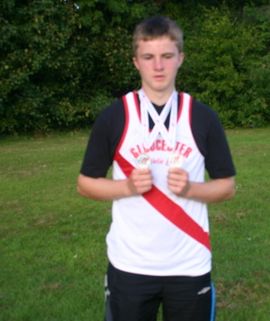 Disability Sport England National Championships - Blackpool 5th/6th July 2008
A Gloucester youngster has recently returned from a record-breaking weekend at the Disability Sport England National Championships which were held in Blackpool. This event provided 12-20 year olds with a chance to compete amongst their peers in a full track and field programme. This event is open to those athletes that have attained the national standard in Regional heats.
Tim Campion, an under 15 athlete from Gloucester AC, won three gold medals in the 100m, shot putt and discus for his category, setting three new national records in the process. Tim, who is blind in one eye and partially deaf, won the discus with a new personal best of 30.77m and followed it up by winning the shot in another pb of 9.85m. He finished off by setting his third national record of the weekend with 13.6 seconds for gold in the 100m. Tim was justifiably proud of his achievements and is looking to finish the season with further personal best performances.
Midland Track & Field League
The Gloucester and Severn Track & Field Team are virtually assured of promotion from Division 3 of the Midland League after the third of the four matches. With one remaining match Yate their nearest rivals for the final promotion spot would have to win the last fixture and Gloucester and Severn would have to finish last which is highly improbable. The city team will fight it out with Kettering for the divisional title in the final meeting. This is a great achievement for city team which made up of athletes from Gloucester AC and Severn AC especially when you consider that they are presently unable to train for the pole vault, long jump, triple jump and high jump due to the poor facilities in Gloucester. Had they enjoyed the facilities that all the other teams in their division have then they surely would have been able to walk away with the league title. The team spirit of Gloucester and Severn team has been great all season with everyone giving their all. A fine example of this was on Saturday when Richard De Camps stepped in for the 800m race at the final moment when it was realized transport carrying some of the athletes was going to be late. Richard ran a courageous race leading all the way only getting pipped on the line. Andrew De camps secured a fine double winning his 800m and 400m both by a good margin. Tim Dalton again was untouchable in his 1500m race and the return of Ryan Preddy in a 400m race was great to see as he clocked secs even though he eased of in the final 30 metres. Another returning athlete was Peter Kellie who won the 2000m "A" steeplechase by 20 seconds and was followed in by team mate Ben Coldray who won the "B" race. Kellie was pleased to get the race out of the way but admitted he was still someway off full fitness. Coldray's run should give him plenty of confidence for the English Schools 1500m steeplechase next week. Justin Sysum and Wayne Powell totally dominated the Hammer both winning "A" and "B" respectively. Sysum had a great day producing PB's in the Discus and Shot as did Under 17 Gareth Winter who won his first Midland League event in the Discus. Veteran Nick Walker was the teams only pole vaulter and finished in 3rd place and he later injured himself in the 110m hurdles but carried on to the finish. The versatility of Lloyd Andrews was important to the team as he competed in five of the technical events and just missed out on a win in the 400m hurdles by tenths of a second.
The city's ladies team is probably the youngest in the division and has held up well against the more experienced teams. Ladies team manager Bob Purcell has been pleased with his team and knows next year they will be a year older and stronger. Former Commonwealth Games Gold medalist Lorraine Shaw turned out due to the late withdrawal of Nikita Morgan (broken wrist) and despite having not picked up a discus or shot for over three years won both the "A" events. Lorraine said that she had enjoyed the day, being part of the Gloucester and Severn combined team and would compete again if her busy coaching schedule allowed. Under 20 Kate Yhnell won three of her four events and won the Hammer by a margin of more than 15 metres. Alex Purcell and Amy Whitcher were the busiest athletes of the day both covering 6 events each and saving their best performance for the triple jump. The three youngest ladies Sarah Williams, Rozalia Gombera and Amy Waite all faired well in the sprint events gaining valuable points.
MEN

 

 

 

 

 

 

 

 

Event

Race

Posn.

Name

Perf.

Race

Posn.

Name

Perf.

High Jump

A

6

Gareth Winter

1.60

B

5

Ollie Cooper

1.40

Long Jump

A

5

Lloyd Andrews

5.85

B

2

Ashleigh Naylor

5.44

Triple Jump

A

4

Ollie Cooper

12.51

B

4

Lloyd Andrews

11.48

Pole Vault

A

3

Nick Walker

3.20

B

 

no competitor

 

Shot

A

2

Justin Sysum

11.97

B

2

Gareth Winter

11.29

Discus

A

2

Justin Sysum

39.24

B

1

Gareth Winter

32.37

Hammer

A

1

Justin Sysum

58.86

B

1

Wayne Powell

57.70

Javelin

A

3

Justin Sysum

49.02

B

4

Lloyd Andrews

31.62

100m

A

5

Ashleigh Naylor

11.5

B

5

Dale Price

12.1

200m

A

5

Ashleigh Naylor

23.4

B

2

Albert Gardiner

23.0

400m

A

1

Ryan Preddy

48.8

B

1

Andrew De Camps

50.9

800m

A

1

Andrew De Camps

1:56.7

B

2

Richard De Camps

2:01.1

1500m

A

1

Tim Dalton

3:56.7

B

3

Richard De Camps

4:28.9

5000m

A

4

Simon Fortnam

16:42.4

B

3

Gareth Howells

17:28.9

110m Hurdles

A

5

Nick Walker

28.6

B

2

David Hoskins

23.3

400m Hurdles

A

6

David Hoskins

71.0

B

2

Lloyd Andrews

64.5

2000m S/C

A

1

Peter Kellie

6:23.1

B

1

Ben Coldray

6:31.8

4x100m Relay

 

4

Jason Gower, Ashleigh Naylor, Dale Price, Albert Gardiner

45.7

4x400m Relay

 

1

Tim Dalton, Andrew De Camps, Ryan Preddy, Albert Gardiner

3:25.8
WOMEN

 

 

 

 

 

 

 

 

Event

Race

Posn.

Name

Perf.

Race

Posn.

Name

Perf.

High Jump

A

3

Sarah Williams

1.35

B

3

Amy Whitcher

1.15

Long Jump

A

3

Alex Purcell

4.28

B

5

Amy Whitcher

3.48

Triple Jump

A

2

Alex Purcell

9.56

B

1

Amy Whitcher

8.85

Pole Vault

A

 

no competitor

 

B

 

no competitor

 

Shot

A

1

Lorraine Shaw

11.21

B

1

Kate Yhnell

8.66

Discus

A

1

Lorraine Shaw

38.65

B

1

Kate Yhnell

21.63

Hammer

A

1

Kate Yhnell

46.96

B

4

Paula Whitcher

16.08

Javelin

A

4

Paula Whitcher

16.97

B

5

Kate Yhnell

11.70

100m

A

3

Sarah Williams

13.8

B

3

Rozalia Gombera

13.8

200m

A

3

Rozalia Gombera

29.2

B

3

Amy Waite

27.9

400m

A

3

Amy Waite

64.4

B

4

Sarah Williams

69.4

800m

A

4

Alex Purcell

3:01.7

B

4

Amy Whitcher

3:21.2

1500m

A

 

no competitor

 

B

 

no competitor

 

3000m

A

 

no competitor

 

B

 

no competitor

 

100m Hurdles

A

4

Sarah Williams

20.9

B

2

Rozalia Gombera

22.5

400m Hurdles

A

3

Alex Purcell

83.4

B

3

Amy Whitcher

90.8

4x100m Relay

 

3

Alex Purcell, Rozalia Gombera, Amy Waite, Sarah Williams

55.0

4x400m Relay

 

3

Amy Waite, Sarah Williams, Amy Whitcher, Alex Purcell

4:46.8
Cheltenham Harriers Mid Summer Open Meet 3rd July 2008
Gloucester AC's youngsters came away with several pb's and numerous strong performances from the first Cheltenham Harriers Mid Summer Open Meeting. Highlights came from Becky Summers in the U15 800m with a 6 second improvement of 2:30.7, Adam Thrall on his return from injury with a 5 sec improvement in the U15 boys 800m where he finished 2nd with 2:19.5. Amber Watson posted a 4 sec pb in the mile with a strong second half to clock 5:09.6 and Sam Evans finished 2nd in the U13 boys 800m with 2:40.8.
In the sprints, Melissa Baverstock equalled her pb of 47.2 in the U15 girls 300m and Gethin Richards timed an impressive 60.2 in the U15 boys 400m, following it up an hour later with 27.4 in the 200m.
Not to be outdone, Andrew De-Camps won the Senior Mens 400m in 51.3 finishing ahead of Midlands 800m Champion James Miller (Cheltenham Harriers). Keith Short ran a strong 5:12.6 in the V55 mile and prolific road racer Dave Spackman took the V60 honours with 6:07.2
Bourton Hilly Half Marathon
Gloucester Athletic Clubs road runners were out in force at the Bourton Hilly Half Marathon on Saturday 28th June 2008. Ran in warm conditions over an undulating scenic course with two long steep uphill sections times were never going to be fast. Ian "Lofty" Summers and Jeremy Mower worked hard together throughout the race. Both started off conservatively and moved up through the field in the last 6 miles. It was an intriguing battle between the long time training partners as Summers is the stronger of the two uphill and Mower is known to be a downhill specialist (Lofty says he's just had his brain removed). At 9 miles Summers made a break of 100 metres as Mower was exhausted from running uphill the previous two miles. Mower said "I just tried to hang onto Lofty for the next few miles and hoped I was in contention for the downhill finish over the last two miles". Mower managed to catch Summers in the last mile and another runner to finish 16th, Summers was 18th and both runners won prizes 3rd and 4th Vet 40 male respectively. Next home for the club was Vet 60 David Spackman who made up the scoring team of three for Gloucester to take second team place behind the home club Bourton Road Runners. Spackman was fifth Vet 60 overall and second Vet 60 in the County Road Race Series.
16th Jeremy Mower (MV40), 1:26:20
18th Ian Summers (MV40), 1:26:47
51st David Spackman (MV60), 1:35:08
98th Stephen Murden (SM), 1:44:02
117th Terry Onions (MV55), 1:47:05
130th Bogdan Jochym (MV55), 1:48:47
160th Michelle Stark (SL), 1:52:11
165th Martin Chopping (MV55), 1:53:55
246th Christopher O'Caroll (MV60), 2:13:36
277 finishers
YOUNG ATHLETES LEAGUE Match 4 at NEWPORT
Result:  1st Bridgend 384.5;   2nd Marlborough 268.5;  3rd Newport: 232.0;   4th Gloucester 120.0
Twenty Gloucester AC athletes took part in the fourth fixture of the Young Athletes League in sunny, but very windy conditions at Newport the previous weekend. Most of those competing either won or were placed in the top three in the events they participated in. The other three teams had far larger teams than Gloucester and were able to score more points by filling up most of the events
In the U17 men Tim Williams and Jimmy Coleman took the honours in the Hammer by a large margin, and also gained valuable points in the other throwing events.
In the U15 Boys Gethin Richards ran a PB in the U15 400m race with 60.4 seconds and Tim Campion threw two PB's in the Discus (26.32m) and Shot (9.11m). There were further PB's set by Scott Price in the Discus (15.03m) and Dan Meheran in the long jump (3.87m). Returning from injury Adam Thrall picked up valuable team points, as did the versatile Charlie Simmonds, both athletes now having competed in five different events over the course of the four meetings.
The U15 Girls Melissa Baverstock and Becky Summers managed to gain valuable points with Becky gaining a PB for her 75mHurdles (16.6 seconds).
U13 Boy Sam Evans gained a PB in shot (4.36m) in one of his three events. Abi Hulls the club's only U17 Lady recorded 14.43 for the 100m. Hannah Jones (U13G) had to endure the wind more than most on the home straight as she recorder 4:46.2 in the 1200m. Harriet Hunter (U13G) shone won all three events she competed in for the fourth meeting in a row. Jade Price (U13G) battled well against the wind in her 150m and 75m races and gained a PB in her Shot (4.89m)
event age-group string position performance name
Shot U17M A 3 9.89 Tim Williams
Discus U17M A 3 25.58 Tim Williams
Hammer U17M A 1 57.82 Tim Williams
Hammer U17M B 1 45.84 Jimmy Coleman
100 U15B A 3 13.3 Ed Kingston
100 U15B B 3 13.7 Tim Campion
200 U15B A 1 25.6 Lewis Cavanagh
200 U15B B 2 27.2 Ed Kingston
400 U15B A 3 60.4 Gethin Richards
400 U15B B 3 74.2 Charlie Simmonds
800 U15B A 2 02:17.8 Gethin Richards
800 U15B B 1 02:21.3 Kieran Meheran
1500 U15B A 2 04:45.0 Jack Evans
1500 U15B B 2 05:05.1 Adam Thrall
80mH U15B A 3 21.5 Charlie Simmonds
Shot U15B A 1 9.11 Tim Campion
Shot U15B B 2 6.08 Adam Thrall
Discus U15B A 2 26.32 Tim Campion
Discus U15B B 2 15.03 Scott Price
Javelin U15B A 2 16.69 Aaron Jones
Javelin U15B B 2 15.71 Gethin Richards
Hammer U15B A 2 15.46 Scott Price
Long J U15B A 3 4.32 Aaron Jones
Long J U15B B 3 3.87 Dan Meheran
200 U13B A 3 33.7 Sam Evans
1500 U13B A 2 05:30.8 Sam Evans
Shot U13B A 4 4.36 Sam Evans
100 U17W A 4 14.4 Abi Hulls
100 U15G A 4 15.2 Melissa Baverstock
200 U15G A 3 30.8 Melissa Baverstock
800 U15G A 2 02:38.7 Becky Summers
75mH U15G A 4 16.6 Becky Summers
Shot U15G A 4 6.05 Melissa Baverstock
Javelin U15G A 4 11.14 Becky Summers
75 U13G A 1 11.0 Harriet Hunter
75 U13G B 3 13.0 Jade Price
150 U13G A 4 26.2 Jade Price
1200 U13G A 3 04:46.2 Hannah Jones
70mH U13G A 1 13.1 Harriet Hunter
Shot U13G A 3 4.89 Jade Price
Long J U13G A 1 4.25 Harriet Hunter
City Team cling on to top place in Division 3 of Midland Track & Field League.
The Gloucester AC and Severn AC composite team remain on target for promotion from Division 3 of the Midland Track & Field League. After narrowly finishing in second place behind the home club Kettering they remain top but only on match point difference. The city team got off to a flying start in the first two events of the day in the lashing rain. The pole vault competition had to be interrupted half way through but this did not put off veteran Nick Walker who won the "A" string and Justin Sysum took second in the "B" string only doing the event for the third time in his career. In the men's hammer it was wins for Wayne Powell and Justin Sysum, they threw so far ahead of the others that it was only a competition between themselves. Nikita Morgan another Lorraine Shaw trained athlete won the women's hammer and this was to be the only "A" string victory for the women all day. The ladies also had "B" wins for Cleo Lambert in the long jump and Julia Loveridge in the 400m hurdles.
Tim Dalton was a class above everyone in the 1500m winning very comfortably in 3:54.8 and more remarkable three quarters of an hour later ran a 3000m in under nine minutes to take second place behind well known athlete John Millington of Tipton Harriers. Lloyd Andrews managed to find his form of 2006 and produced victories in both the "B" 400m hurdles and long jump. In the 400m hurdles Andrews was 10m behind the Corby athlete with 100 to go and finishing strong his dip won him the race by inches. Andrew De Camps returned from University and despite running two fast times could only take second places in the 400 and 800. Nico Constanti won the "B" 400 finishing strong off the final bend. Simon Fortnam was a comfortable 2nd in the "A" steeplechase and backed up by veteran Ian Summers who had an easy win the "B" race. Gareth Howells made his debut and having never ran a 1500 took third place in the "B" race in 4:41.7 and the way he finished the last lap there is more to come from the 17 year old. Sophie Lambert was the top lady performer on the track recording a very respectable 12.7 seconds for the 100 finishing second. Sophie also recorded good times in the 200 and 100 hurdles. A very special mention must go out to Michelle Stark and Fiona Roberts who due to very late unavailabilities they volunteered to run in order the 800, 3000 and 1500. Both ladies picked up valuable points and managed to set PB's in the 3000. The men's 400m was the race of the day with the Gloucester/Severn team putting the slower of their four runners on the first leg with the intention of giving the faster ones something to chase. Ben Jones ran 56.7 on the first leg, Tim Dalton then ran 53.3 to slightly close the gap, then Andrew De Camps ran 50.5 taking the lead, Nico Constanti extended the lead to 20 metres only to pull his hamstring in the final straight. Constanti clutching his hamstring managed to reach the finish winning by 5 metres and running a 52.3 individual lap. Constanti will be out for a few weeks but hopefully will be fit again for the Welsh Schools next month. Bad luck struck again in the men's triple jump, last match Brendan Goss pulled a hamstring, this time round Curtley Phillips turned his ankle and Ollie Cooper bruised his heel. Team Manager Jeremy Mower took the decision to pull both athletes out with two jumps remaining in order prevent further injury.
Justin Sysum was the team's top scorer with 25 points. During the day Justin threw just short of his own hammer PB whilst competing in the pole vault at the same time, he threw near to a PB in the Discus when finishing 1st "B", and to finish the day he threw a PB in the javelin of 49.95 beating his previous by 5 metres. Team managers for the day Jeremy Mower and Bob Purcell were both pleased with the dedication and effort of all the athletes and look forward to the next match at Corby.
MEN

 

 

 

 

 

 

 

 

Event

Race

Posn.

Name

Perf.

Race

Posn.

Name

Perf.

High Jump

A

5

Gareth Winter

1.65

B

5

David Hoskins

1.40

Long Jump

A

3

Curtley Phillips

6.13

B

1

Lloyd Andrews

5.82

Triple Jump

A

4

Ollie Cooper

11.67

B

2

Curtley Phillips

11.39

Pole Vault

A

1

Nick Walker

3.30

B

2

Justin Sysum

2.40

Shot

A

2

Wayne Powell

11.49

B

2

Gareth Winter

11.10

Discus

A

3

Wayne Powell

36.31

B

1

Justin Sysum

35.54

Hammer

A

1

Wayne Powell

57.57

B

1

Justin Sysum

56.04

Javelin

A

3

Justin Sysum

49.56

B

3

Nick Walker

36.57

100m

A

6

Gareth Winter

12.6

B

5

David Hoskins

12.6

200m

A

3

Nico Constanti

23.7

B

5

Curtley Phillips

25.6

400m

A

2

Andrew De Camps

51.3

B

1

Nico Constanti

51.3

800m

A

2

Andrew De Camps

01:56.3

B

3

Richard De Camps

02:05.0

1500m

A

1

Tim Dalton

03:54.8

B

3

Gareth Howells

04:41.7

3000m

A

2

Tim Dalton

08:58.6

B

5

Richard De Camps

09:54.0

110m Hurdles

A

3

Nick Walker

20.7

B

2

David Hoskins

24.0

400m Hurdles

A

4

David Hoskins

68.9

B

1

Lloyd Andrews

63.9

3000m S/C

A

2

Simon Fortnam

10:24.2

B

1

Ian Summers

11:32.6

4x100m Relay

 

6

Gareth Winter, David Hoskins, Lloyd Andrews, Curtley Phillips

48.40

4x400m Relay

 

1

Ben Jones, Tim Dalton, Andrew De Camps, Nico Constanti

03:33.4
WOMEN

 

 

 

 

 

 

 

 

Event

Race

Posn.

Name

Perf.

Race

Posn.

Name

Perf.

High Jump

A

6

Sarah Williams

1.35

B

2

Cleo Lambert

1.30

Long Jump

A

4

Alex Purcell

4.35

B

1

Cleo Lambert

3.95

Triple Jump

A

4

Alex Purcell

9.15

B

2

Sarah Williams

8.61

Pole Vault

A

 

no competitor

 

B

 

no competitor

 

Shot

A

4

Marion Loveridge

7.36

B

3

Paula Whitcher

6.04

Discus

A

4

Nikita Morgan

19.64

B

5

Paula Whitcher

14.40

Hammer

A

1

Nikita Morgan

41.96

B

2

Marion Loveridge

31.72

Javelin

A

6

Paula Whitcher

14.82

B

4

Marion Loveridge

14.50

100m

A

2

Sophie Lambert

12.7

B

3

Cleo Lambert

13.6

200m

A

3

Sophie Lambert

26.6

B

3

Sarah Williams

28.8

400m

A

3

Alex Purcell

67.5

B

3

Amy Waite

66.1

800m

A

5

Michelle Stark

02:59.1

B

3

Fiona Roberts

03:06.0

1500m

A

5

Michelle Stark

06:30.9

B

3

Fiona Roberts

06:41.9

3000m

A

4

Michelle Stark

13:34.8

B

4

Fiona Roberts

14:35.6

100m Hurdles

A

3

Sophie Lambert

19.0

B

3

Sarah Williams

21.4

400m Hurdles

A

4

Alex Purcell

84.6

B

1

Julia Loveridge

90

4x100m Relay

 

3

Sophie Lambert, Alex Purcell, Cleo Lambert, Sarah Williams

52.9

4x400m Relay

 

5

Juia Loveridge, Amy Waite, Alex Purcell, Sophie Lambert

04:57.9
League Division 3 positions after two matches:
Gloucester & Severn 11(752), Kettering 11(750), Yate 8(656.5), DASH 6(587), Tipton Harriers 3(493.5), Corby 3(441)
Pilot 4 Mile Fitness Run
Five Gloucester AC runners avoided a regular training session this evening and tested their fitness at The Pilot (race 2 of 5). Paul Loveridge V45 led our men home in 29:06 followed by Bogdan Jochym V55, 29:22, Martin Chopping V50, 30:20 and Tim Evans V40, 31:01. Christine Campbell, our only lady present, clocked 34:51.
Anglo-Celtic Plate 100km, Cardiff 18th May
Representing Wales in the Anglo-Celtic Plate 100km for a fourth consecutive time Gloucester Athletic Club's Jeremy Mower knocked 33 minutes off his previous personal best for the 100km distance. Mower recorded a time of 8 hours 54 min 19 sec and finished in his highest position in 13th place.
During the race Mower suffered a hay fever attack and had trouble breathing. Mower said "I always take a nasal spray before a race and normally that's enough but the length of the race and the heavy pollen brought on an unexpected attack and I lost some time as I did not recognise the attack coming on to treat it earlier." Mower was pleased that he finished the race strongly and closed the gap on the two runners in front of him.
At present the Welsh Athletics has not set a time standard for the 100km for the Commonwealth Games to be held in 2009 at Keswick, but nine hours has been mentioned so Mower has a good chance of reaching a boyhood dream. Mower will probably move up to do a 24 hour race later in the year for some experience and also to give him a chance of also making the Welsh 24 hour team for the Commonwealths.
The 42 year old from Elmbridge has recorded four personal bests this year at various ultra distances and is hopeful of better things to come as he tries to build his weekly mileage up. One of the key's to Mower's good year has been Sports Therapist Catherine O'Carroll whose treatment and advice has been invaluable. 
Tewkesbury Half Marathon
Thirteen Gloucester Athletic Club runners attended the 26th Tewkesbury Half Marathon held on a modified course, for a race that was dominated by the hot weather and a lack of water on the course.
First home for the club, and in an exceptional 5th position was Dominic Malsom, with a time of 1:21:15. Malsom was very pleased with his placing but the difficult conditions prevented his hopes for a PB. Next home for the club in 21st position was Lee Smith in a time of 1:26:30, closely followed by Ian Summers (Vet 40), finishing 8th in his category in a time of 1:27:14. Smith and Summers worked well together during most of the race, however a small gap developed by mile 8 at the second water station, which Summers was unable to close.
First lady home for Gloucester was Emma Jeffery, who managed a time of 1:46:59 placing her in 288th position.
Two casualties of the race were Martin Chopping and Anne-Marie Edwards. Both suffered badly with dehydration and wisely dropped out of the race.
Other Gloucester finishers were (time/position): John Mcclean (Vet60) 1:42:15 / 196, Terry Onions (Vet 50) 1:46:23 / 289, Bogdan Jochym (Vet50) 1:49:32 / 342, Steve Murden 1:50:37 / 408, Michelle Stark 2:14:09 / 896, Pippa Medcalf (Vet 50) 2:13:50 / 906, Josie Thomas 2:31:23 / 1095.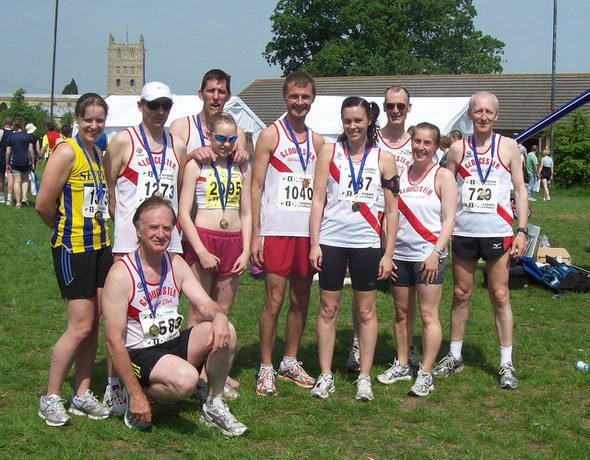 Tewkesbury 5 mile race
Becky Summers was the only Gloucester AC representative for the Tewkesbury 5 mile race held in conjunction with the Half Marathon, however the thirteen year old athlete produced a strong run over the tough course finishing in 33 minutes 57 seconds and 12th overall out of 222 finishers.
County Track & Field Championship 11th May 2008
Gloucester athletes performed well at the Gloucestershire County Track & Field Championships coming away with 36 medals in total.Ashleigh Naylor won both the Junior Men's (JM) 100m and 200m races making the number one junior sprinter in the county. Naylor also added another gold in the Triple Jump (JM) and a silver medal in the long jump (JM). Gloucester's two top male Hammer throwers battled it out for Gold with Justin Sysum getting the better of Wayne Powell just by three metres. With no steeplechase in the county championship Steve Millward proved he has the speed over the flat winning the men's 5000m with a fast time of 15:26.1
Ollie Cooper won the Triple Jump title for a second year in a row and collected silver in the Discus and bronze in the high jump.  U13 Girl Harriet Hunter collected gold medals in both the 100m and long jump and had a silver in the 70m hurdles. Lewis Cavanagh continues to show that he is an athlete to keep an eye out for the future winning both the U15 Boys 100m and long jump.
Ryan Preddy won a very keenly contested 400m in a time of 49.0 seconds showing that he is not far off his best. Other winners were Richard De Camps in the JM 800m., Amber Watson U15G 800m, Arthur Daley M55 5000m, Rachel Davies U15G shot putt, Marion Loveridge F45 shot putt, Scott Price U15B hammer, and Tim Williams U15B hammer.
Stroud Beer Race
Gloucester AC runners took part in the Stroud Beer Race over a very hilly 7.2 mile course which consisted of three loops. First home for the club in a finishing time of 44 min 36 seconds was Jeremy Mower placed 8th out of the 110 finishers. At the first mile Mower was up with the leaders but gradually dropped off as he found the pace to quick, however his strength enabled him to pull a couple of places back in the last mile. This all bodes well as Mower ran the race off some heavy mileage as he prepares to run for Wales on May 18th at Cardiff in the Anglo-Plate 100km Home International race. Second home for the club was Alistair Wakefield (21st) in 48:53, followed by Dave Spackman (28th overall, 3rd Vet 60) in 50:40 and Bogdan Jochym, Vet 50 (69th) in 58:45.
Five Gloucester athletes travelled to Millfield on Monday night for the British Miler's Club meeting and all recorded new personal bests. The BMC use pace makers to enable athletes to run a certain time. Rich De Camps (U20) was supposed to be in a 1:57 race with 57/58 for the first lap but poor pace-making took them through the first 200 in 31 seconds. At 350m De Camps realised that it was too slow and he took it on and won the race in a new PB of 1:59 with negative splits of 61/58. Amber Watson, aged fourteen, was second in her 800m race with a new PB of 2:17.59. After making his debut for the senior men's team two days earlier seventeen year old Ben Jones recorded a new 800m PB of 2:07.70. Gethin Richards, aged 14 years, had a 800m PB of 2:20.7. Adam Thrall, who at 12 years old was the youngest in his 1500m race, came in first place with a PB of 4:46.23.
Sophie Lambert represented her university, Birmingham at the BUSA games last weekend and made the semis - just missing out on a finals place in the 200m in 26.12sec. She then contributed to the 4x100m team which came 5th in the finals.
Andrew De Camps got through to the semis at the BUSA championships and ran 1:54 in the 800m, he was reasonably satisfied as he had been down with a stomach bug the week before.
Midland Track & Field League
The eagerly anticipated Gloucester and Severn composite athletics team finally became a reality at Yate. Competing in the new Midlands Track & Field League Division Three, they stormed to victory in the opening fixture.
The team got off to an excellent start as Wayne Powell and Michael Tommey gained first places in the men's hammer A and B strings - the latter with a new personal best distance.
Nikita Morgan (PB) and Marion Loveridge then took first and second places respectively in the women's A and B competition.
As expected, the throwing events reaped ample rewards for the city unit.
Gareth Winter won the shot putt B event with his first ever throw over 10 metres, as did Justin Sysum in the discus B event and Leigh Pritchard in the javelin B. Their victories were backed up by further second places from Loveridge in the women's shot putt and Beverley Jones in the women's discus.
On the track, Albert Gardiner showed he is on the road to recovery from illness and injury when he held on for victory in the men's 200m before cruising to an emphatic 400m win.
Steve Millward was a comfortable winner in the steeplechase with a PB, as were Lloyd Andrews in the 400m hurdles, Brendan Goss in the 110m hurdles and Richard de Camps in the 800m.
Special praise must go to the ladies who were depleted by non-availabilities, but they all rallied round and finished second ladies team behind a very strong Kettering ladies.
MIDLAND ATHLETICS LEAGUE DIV THREE, YATE: Gloucester & Severn 382, Kettering 364, Yate 355, Dudley & Stourbridge 292, Tipton 258, Corby 173.
EVENTS (A STRING FOLLOWED BY B): 100m Men - 4 Ashleigh Naylor 11.6, 5 Albert Gardiner 12.5; Women - 3 Cleo Lamber 13.3, 2 Rosalia Gombera 13.7. 200m Men - 4 Ashleigh Naylor 23.7, 1 Albert Gardiner 23.3; Women - 5 Cleo Lambert 28.8, 3 Rosalia Gombera 29.1. 400m Men - 2 Nico Constanti 52.6, 1 Albert Gardiner 51.0; Women - 5 Alex Purcell 69.2, 5 Amy Whitcher 76.7.
800m Men - 2 Nico Constanti 2:02.5, 1 Richard de Camps 2:05.1; Women - 5 Emma Jeffery 2:51.1, 4 Ann-Marie Edwards 3:04.2. 1500m Men - 3 Steve Millward 4:16.1, 3 Richard de Camps 4:29.3; Women - 5 Emma Jeffery 5:54.9, 3 Ann-Marie Edwards 6:16.1; 5000m Men: 3 Peter Stephens 16:29.8, 4 Simon Fortnam 17:25.4; 3000m Women - 4 Michelle Stark 14:00.5, 2 Fiona Roberts 14:44.7.
110mH Men - 1 Brendan Goss 17.5 (PB), 3 Nick Walker 24.4. 100mH Women - 3 Sarah Williams 21.6, 2 Rosalia Gombera 22.8. 400mH Men - 4 David Hoskins 64.3, 1 Lloyd Andrews 65.9; Women - 4 Sarah Williams 81.8, 1 Amy Whitcher 86.8; 2000ms/c Men - 1 Steve Millward 6:07.1 (PB), 2 Simon Fortnam 6:44.3.
Shot Putt Men - 4 Wayne Powell 11.25m, 2 Gareth Winter 10.36m (PB); Women - 4 Beverley Jones 8.84m, 2 Marion Loveridge 7.50m. Discus Men - 3 Wayne Powell 37.66m, 1 Justin Sysum 32.46m; Women -3 Nikita Morgan 21.43m, 2 Beverley Jones 20.31m. Javelin Men - 3 Justin Sysum 44.03m, 1 Leigh Pritchard 43.74m; Women - 4 Amy Whitcher 15.29m, 4 Paula Whitcher 14.42m. Hammer Men - 1 Wayne Powell 52.25m, 1 Michael Tommey 45.77m (PB); Women - 1 Nikita Morgan 45.05m (PB), 2 Marion Loveridge 33.58m.
Long jump Men - 2 Brendan Goss 5.91m, 3 Ashleigh Naylor 5.54m; Women - 5 Alex Purcell 4.20m, 3 Amy Whitcher 3.64m. Triple jump Men - 1 Ollie Cooper 12.52m. High jump Men - 4 Brendan Goss 1.65m, 3 Gareth Winter 1.55m; Women - 5 Sarah Williams 1.30m, 3 Cleo Lambert 1.30m. Pole vault Men - 2 Nick Walker 3.15m, 3 Brendan Goss 2.10m.
4 x 100m Men - 2 L. Pritchard, A. Naylor, L. Andrews, A. Gardiner 46.5; Women - 3 A. Purcell, A. Whitcher, R. Gombera, C. Lambert 55.8; 4 x 400m Men - 2 N. Constanti, B. Jones, D. Hoskins, A. Gardiner 3:39.4; Women - 5 S. Williams, M. Stark, F. Roberts, A. Purcell 5:15.5.
National rankings update 21/04/08
The recently released national rankings for indoors athletics show that February was a golden time for Gloucester AC. Veteran Keith Short shows twice in the Over 55 age group 2nd with 2:15.29 in the four lap 800m on 17 Feb 08 in Birmingham, and a 2nd place ranking at 1500 in 4:38.84 on 23 Feb 08 in the Midland masters Championships with a personal best. On the 23rd February Keith Short finished in 3rd place in 800m at the British Masters Indoors Championship Over 55 age group in a time of 2:15.78
Earlier in the month Amber Watson ran 2:20.38 at 800m at the Birmingham Games to gain 5th place in national ranks. On the same date, 3 Feb, Sarah Hopkinson ran 4:29.76 to become 2nd under 20 at 16 years old in the Celtic Cup. This fine performance also gives her 20th rank overall.
Last weekend Gloucester AC and Severn AC held a joint training session two weeks before their first Midlands Men and Ladies Track & Field match where they will compete as a composite team. The event was held as a get to know each other better with athletes and officials invited. As part of the session some time trials were taken to shake off some of the rustiness from the winter. The weather was appalling with rain and strong winds. The two most notable times were by Ashleigh Naylor and Brendan Goss who both recorded 11.5 seconds for the 100 metres into a head wind. Naylor also ran 24.2 sec for 200 metres and Goss 24.6 sec in a rare outing at this distance. New signing 17 year old Ben Jones recorded the fastest 400m of the day in 57.6 sec and Severn AC's Mark James recorded 2:18.8 for 800m which was a good time in the conditions and as he ran it solo.
Jeremy Mower Gloucester AC's Mens Track & Field Team Manager said these are exciting times for the city in Track & Field, for the first time in over a decade we will have on show the best talent in Gloucester all in one team. The new league structure means that men and woman will all compete in one match as one team. Mower is hopeful that some athletes may come back to Gloucester AC or Severn AC now they see that we are together for Track & Field matches. In particular specialists such as hurdlers, pole vaulters and high jumpers are required for both men and women. This of course is mainly down to the fact that Gloucester has had no training facility for these events for over ten years, apart from the time when Severn AC bought a high jump facility only to have it destroyed by fire from vandals only a few months after it was installed. At the time this led to a young Mark Graham dropping out of the sport despite being one of the top high jump prospects in the country. Top ranked 400m hurdler John Cuff was another athlete who quit the sport as he did not have adequate facilities for his event. It has been hard work for the athletes and coaches at both clubs to get to where they are today with such poor facilities. Had things been better who knows Gloucester may have been in the National Leagues by now.
The Weston Prom Runs are an annual series of 9 five-mile races covering two laps of the famous Weston-Super-Mare promenade.  Weston AC is currently celebrating the 25th year of these events for this series.
A particularly strong easterly breeze dominated the race, which was more than evident on the return legs; this did not however thwart the 206 strong runners from competing, nor did this prevent some fine performances by the Gloucester AC runners.
First home for Gloucester AC in 5th place overall was Dominic Malsom (MV35), with a new Vet M35-39 club record of 27:58. This beats the clubs previous record set by Malsom at the Pilot Inn in January this year by an incredible 1½ minutes. Malsom was hotly pursued by Dave Gresswell (MV40) during much of the race; however Malsom's stamina into the head wind over the final 1½ miles allowed a gap of 30 seconds to develop.  Meanwhile Gresswell finished in a very strong 9th overall position in a time of 28:31, just 4 seconds slower than his PB and club record for Vet 40-44.
Lee Smith (MV35) managed his first official sub 30 minute 5-mile race to come in 16th in 29:30, taking almost 2 minutes off his previous PB at this distance, and coach Ian Summers (MV40) keeping a strong sub six minute pace throughout, came in 18th position in a time of 29:39.
The results are testimony to the effort and hard work employed by Summers as endurance coach.
Flora London Marathon
Tom Randles was Gloucester AC's first finisher in the London Marathon beating his only other run at the distance by 21 minutes. Randles training had been going quite well, and he knew he was stronger, fitter and faster than his previous attempt. He was aiming to go under 3 hours, and managed to keep a fairly steady pace throughout. He felt reasonably good and was on course for most of the race, despite the heavy downpour as he reached Canary Wharf, but he started getting slight signs of cramp at about 21 miles, which continued to become stronger and stronger until he had a full blown cramp attack in both legs at 24 miles exactly. Randles was completely immobilised, and struggled to make it to the hoardings. Randles said "Two Marshalls had to massage my calves for 4 minutes with me gritting my teeth and propped up against a lamp post before I could consider carrying on, and I was very concerned about being pulled out, but we managed to get my legs going again, and I ran the last two miles at a reasonable pace, and dug-deep to manage some sort of a sprint finish. I think I would have broken 2:50 comfortably had I not had any problems with the lactic acid build up".
Overall, Tom found the race and atmosphere fantastic, the crowds really helped him, particularly when they were encouraging him to get back into the race during treatment. His family and friends of the other Gloucester runners were very vocal in their support, as his friends who had come along to support him were a huge help when the going got tough. All bodes quite well for the summer race-calendar, as Tom plans to get some speed work in. Randles will be going for the double when he tackles the London Triathlon in August.
Second home for Gloucester AC was Vet 40 Pete Lloyd, who although not as fast as in previous years, still had a good run to finish in 3 hrs 18 mins. Matt Wade finished in 3 hrs 36mins, a time which he more than deserved after a long winter putting in big training mileage in preparation. Two marathon first timers completed the course in very respectable times. Dave Edwards who was inspired by his wife's efforts at the same event last year, ran a sub-4 hour time. Cath Nicoll, who wanted to run the marathon as part of her list of things to do when you turn 40 years old, ran sub-5hours. Nicoll managed to keep an even pace throughout the 26 mile course, and finished strongly in the last few miles as others around her started to struggle. Although all the runners were looking for personal best times, they also all raised money for a variety of different charities.
Local Vet 40 lady Jane Leckebusch who has only recently joined Gloucester AC ran a new PB for the distance beating her previous best by 3 minutes. Jane was pleased with her PB but a little disappointed she did not break 3½ hours due to being held up by slower runners at the start which can always be a problem with the big city marathons. Jane only took up running four years ago and already she is one of the best ladies in the County at the marathon distance. She had been injured recently so her time was very encouraging and no doubt she will break 3½ hours later in the year.
A name from the past running for Gloucester AC for the first time in a number of years was Dave Dowdle. Now a Vet 50 Dowdle is a legend amongst ultra runners. Dowdle still holds the European Record for 24 hours, which was a world record when he set the distance of 274.480 km in 1982.
| | | | | |
| --- | --- | --- | --- | --- |
| Position | Age position | Name | Age | Time |
| 616 | 19 | Thomas Randles | M20 | 2:53:23 |
| 2733 | 412 | Peter Lloyd | M45 | 3:18:36 |
| 501 | 109 | Jane Leckebusch | W40 | 3:32:54 |
| 5137 | 903 | Matthew Wade | M30 | 3:36:31 |
| 5390 | 401 | David Dowdle | M50 | 3:38:08 |
| 8337 | 254 | Terence Onions | M55 | 3:54:23 |
| 8544 | 1636 | David Edwards | M35 | 3:55:16 |
| 6249 | 1041 | Catherine Nicoll | W40 | 4:52:21 |
Chedworth Roman Trail 10
Five Gloucester AC runners took  part in the Chedworth Roman Trail 10 race on Sunday. There were 349 finishers and the first finisher for the club was Dom Malsom in a very respectable 14th place especially after only running the Midland Masters Road Relay the previous day.
Gloucester AC finishers:
Dom Malsom, 14th, 1 hour 6 min
Alistair Wakefield, 32nd, 1:11:23
Paul Nash (Vet 40), 44th, 1:13:13
Terry Onions (Vet 55), 119th, 1:21:11
Emma Jeffery, 156th, 1:24:21
Midland Counties Masters 6 Stage Road Relays
At the Midland Counties Men's Masters 6 Stage Road Relays for athletes aged over 35 Gloucester AC showed that they are no couch potatoes and equalled their 6th placing of last year the highest any Senior Gloucester team has finished in these races for more than ten years. Dom Malsom (Vet 35) got the team off to a good start running the first long leg of 5.38 miles in 31min 3sec. Malsom, better known as an off road runner, brought home in 9th on the first leg in which normally contains the strongest runners. Second leg runner Jeremy Mower (Vet 40) moved the team up into 8th position after the first 300 metres of his short leg, finishing in 17min 42sec for the 2.995 miles and handed over to Lee Smith (Vet 35). Smith had a fine run producing Gloucester's fastest short leg time of 17min 31sec and moved the team up to 7th. Dave Gresswell (Vet 40) was next to take up the challenge and ran a fast long leg of 31min 18sec moving up to 6th. Ian Summers (Vet 40) then ran 17min 37sec to maintain 6th place on his short leg. The pressure was on for Arthur Daley (Vet 55) one of the oldest competitors in the race. Could he maintain Gloucester's best placing with younger runners chasing him down on the final short leg. Daley ran a controlled effort and just before the two mile marker moved Gloucester up to 5th the clubs highest position for many years, but unfortunately the joy was short lived as the Wolverhampton & Bilston athlete managed to pass Daley in the last mile. Daley recorded a time of 18min 54sec and said he was happy with his run especially with the recent hamstring problems he's had. The club were pleased with their efforts in particular as Greswell, Smith and Summers had run the Prague Half Marathon, and Mower had run 46.8 miles in a 6 hour race the week before. The race was ran in conjunction with the Midlands Senior Men's 12 Stage and the Masters from Gloucester were well up with many of  their younger counterparts after 6 legs which shows that with dedication and good training older athletes can remain competitive. This was good reward for Coach Ian Summers for his long hours spent coaching his team mates especially with their speed work.
Gloucester Athletics Club Tour 2008. Hervis Prague International Half Marathon
Gloucester AC were out in force at the Prague International Half Marathon on 29/03/08. The race was part of the clubs annual tour which this year saw them taking in the delights of the Czech Republics capital city.
Race day saw blue sky and warm temperatures, but a very strong headwind around the majority of the course. This coupled with the cobbled, and tram lined streets of the city centre meant that the racing was never easy.
First home for the club, in a fantastic 22nd place overall, and first British finisher, was Steve Millward. Although very happy with his position, Steve felt he could have gone faster if it had not been so windy. As Steve was near the front of the field, the television coverage showed him several times, including the final km, in which he closed and overtook the first placed international lady finisher.
Next home was Dave Gresswell, who just managed to take 3 seconds of his previous best time, which placed him 5th overall in the Vet 40 category. He was closely followed by Lee Smith, who took a massive 2 mins off his pb. Again, Lee was pleased with his time, but remarked that he thinks there is more to come this season, and he hopes to break the 80 minute barrier later this year.
Club coach, Ian Summers, found the course hard and not to his liking, but still managed a creditable run finishing 4th for the club. Nick Cousins had a strong run despite not having the pre-race training that he would have liked due to injury. Club Vet60 John McClean had a good run. Having driven across Europe to Prague, John was understandably a little tired. He was followed in by Neil Scowby, who completed the course in well under 2 hours, which was respectable due to his lack of training due to work commitments.
For the ladies Gemma Collier had a very good run finishing 79th lady. Gemma, who has a background running much shorter distances, found the course tough, but really enjoyed the crowd support and the atmosphere of a big city race.
The club also had two guest athletes on tour. First was Laura Nurse, who has been training with the club this year, while working for a local company. Laura who has previously run for a Spanish club, and Team Bath during her university days, had an amazing run in her first ever half marathon. She finished 10th lady overall, and 1st in the under 25 age group. Also on tour was a member of local club Severn AC, Jason Gresswell, who acquitted himself well.
| | | | |
| --- | --- | --- | --- |
| Steve Millward | 1:11:55 | 22nd place Man | 1st GB |
| Dave Gresswell | 1:19:46 | 69th place Man | 5th Vet 40 |
| Lee Smith | 1:22:00 | 95th place Man |   |
| Ian Summers | 1:23:10 | 119th place Man | 13th Vet 40 |
| Nick Cousins | 1:25:13 | 159th place Man |   |
| Laura Nurse | 1:27:26 | 10th place Lady | 1st u25 |
| Jason Gresswell | 1:40:29 | 973th place Man |   |
| John McClean | 1:40:48 | 889th place Man | 8th Vet 60 |
| Gemma Collier | 1:43:26 | 79th place Lady |   |
| Neil Scowby | 1:55:08 | 2059th place Man |   |
Gloucestershire County Short Course Cross Country Championship
Gloucester Athletic Club veterans continued their domination of the County AAA's Short Course Cross Country Championship winning the event for the third year running. Arthur Daley (V55) led the team home in 10th place with his fastest time over the 4000m event of 14:50. Dave Spackman (V60) beat the wind and rain to power in in 23rd place with 16:32, gaining 2nd over 60 individual despite a cold gain whilst working in Europe. Bogdan Jochym sprinted in 29th in 17:16 ahead of Arnie Yeomans 32nd in 17:24 after battling around the 3 lap course at Plock Court for the honour of completing the team.
Emma Jeffery ran the second fastest time of the day for a Gloucester AC runner finishing 20th in 16:23 gaining 3rd lady prize and becoming Senior Lady Champion in her last year before qualifying as a veteran.
Mower wins the Crawley 6 Hour Track Race
Gloucester Athletic Club's Welsh International Jeremy Mower produced his best ever ultra running performance yet in winning the Crawley 6 hour track race. Mower managed to cover 46.8 miles in the 6 hours and beat his nearest rival Scottish international Bill Watson by nearly three miles in less than ideal conditions. It was constantly windy, a short hailstorm early on and the rain during the last 90 minutes was particularly tough for the tired athletes. Mower and Watson constantly shared the lead for the first four hours when Mower opened up a 200 metre gap and when it began to rain Mower seemed to be unaffected lapping his fellow athletes several times and his last three miles were his quickest of the day.
Mower was elated to win his first ever ultra race and admitted surprise at the distance he had managed to cover. He also went past the 40 mile distance quicker than his personal best set only three weeks ago. This all bodes well for the 100km Anglo-Celtic Plate in May when he runs for Wales against the other home nations. With three personal bests already this year Mower's extra dedication to the ultra distances seems to be paying off and he is aware he may need to do more to meet the qualifying standards for the Commonwealth Games as being ranked number three in Wales may not be enough.
It was quite a Gloucestershire affair as the race was organised by Pam Storey formerly of Gloucester, Mike Storey (Gloucester AC) and Dave McNamee (Cheltenham Harriers) acted as Mower's lap scorers and had helped with the races organisation. Ron Ellis (honorary member of Gloucester AC) also helped out with the running of the event.
Tredworth Road Race
Gloucester Athletic Club's veteran ultra-runner Jeremy Mower showed he still has a bit of speed in his legs over the shorter distances at the Tredworth Easter Monday Road Race. The 42 year old from Elmbridge finished in a surprising 3rd place overall and 1st veteran over 40. His time of 24 min 52 secs was his second fastest time on the 4.3 mile course. Mower sat off the pace for the first two miles and used his strength to come through late on in the race picking up two places. Mower very pleased with his run and he has been doing little speed work but hopes that he did not over do it as he has the Crawley 6 hour Track Race this Saturday which he is hopeful of a top finish.
Easter 10K, White Horse
Six members of Gloucester AC braved the high winds last Saturday at the Easter 10km road race from the White Horse restaurant in Sandhurst, Gloucester. The strong wind probably added about 50 seconds to most athlete's times and accounted for a small field of fifty two runners turning up. Dave Gresswell showed he has had a return to form finishing 5th overall and first Vet 40 in the race. Gresswell had a close battle with John Mansfield of Tewkesbury who he managed to shake off in the final 3 km. It was Gresswell's third fastest ever 10km race and his best time on the Sandhurst course. Had it not been for the wind Gresswell would have certainly ran a PB and got very close to breaking 36 minutes. Jeremy Mower finished 7th overall had a totally different race in contrast to Gresswell finding himself running around the course by himself and he was pleased to go under 38 minutes on the back of a hard training week as he prepares for his 100km race on May, 18th. Arthur Daley ran well despite a tight hamstring and lost out by a few seconds in the Vet 55 category. All three vets were pleased with their form as Gloucester have entered the Midland Vet road relays in a few weeks time, but they were however disappointed with the some of their other club members not turning out as they would have won the men's team prize but were one short. Emma Jeffery had a decent run as she is returning to form after a recent lay off.
Gloucester AC times:
Dave Gresswell, 5th (1st Vet 40) 36:55; Jeremy Mower, 7th (3rd Vet 40) 37:50; Arthur Dailey, 12th (2nd Vet 55) 39:54; Nick Cousins, 17th 41:12; Emma Jeffery, 34th 45:15; Bogdan Jochym, 43rd 48:29
Bath Half Marathon
Gloucester AC athlete Michelle Stark ran the Bath Half Marathon, her second half marathon this month. Reading was obviously a warm up for her Bath effort which produced a PB of 1:51:11 with a 10k time of 53:35. This was a great achievement in beating her previous best time by over 6 minutes.
Michelle said "You might have heard all the bad press the organisers of the Bath Half Marathon received this year. The weather was appalling. We queued for over an hour at one of the park and ride bus stops in the wind and the rain. The parking lot was flooded so every time a car drove past the queue of runners, water washed over our feet soaking shoes and socks.When I did get into Bath everyone was talking about the delayed start. This was because the medical tents weren't ready on time and they hadn't arranged enough buses to bring runners into the centre of bath. I'm sure, like me, there were a lot of annoyed runners who had timed their high energy, low GI, bowls of porridge with an 11am start.
Every coffee shop in Bath was packed with runners. We secured a corner on the floor in Starbucks and had some coffee and a muffin to thaw us out and top up our energy reserves.
But, despite all the hassles - frozen knees, wet socks and a delayed start, I still managed a PB. I am very proud of my 1:51. Six minutes off my previous best. Am now determined to do the next one in under 1:50."
Mower wins Silver Medal at Welsh Ultra Championship
Jeremy Mower of Gloucester AC won the silver medal in the Welsh Ultra Championships at the Barry 40 mile race yesterday which is held at Jenner Park Stadium, the home of Barry Town FC. The event consists of running 161 laps around a tartan track and tackling the Barry weather. This year it threw up two freezing cold hail showers and short rain showers. The event was particularly strong this year with English and Welsh Athletics using the race as part of the selection procedure for their ultra-running teams. At 15 miles Mower was tucked in nicely in 3rd position in the Welsh Championship when he had to pull up as his running shoe was causing a hotspot in the arch of his foot. Knowing this would turn into a blister later on he took 3 minutes out to change shoes which put him half a mile behind the 2nd placed Welsh athlete. Mower put in a huge effort to make up the lost ground and by the Marathon distance moved into the silver medal position. Unfortunately stomach pains then caused Mower to slow down and make three stops costing him valuable minutes. One thing ultra-runners are though is tough and despite the stomach pain and blisters on his two big toes as the changed shoes were not his ultra shoes. Your feet can swell up a whole size when running these distances. Mower hung on and finished strongly to run a new PB in 5 hours 11 min 29 sec, 11th position in the open race and second Welsh athlete. True testament to the quality of the field was that 23 of the 26 starters finished in a race which normally has a higher drop out. Mower was pleased with his medal and time, but most of all pleased that his legs were still in great condition at the end of the race and had plenty more miles in them which bodes well for his next two races the Crawley 6 hour track race in 3 weeks and the 100km Anglo-Celtic Plate race where he should be selected for a fourth time to represent Wales.
Castle Coombe 10K
Dave Gresswell ran the Castle Coombe 10km race finishing 6th overall in 37mins 8secs, his third best time ever, but still 43 secs slower than his PB. He said he was happy as it was early in the season so he had plenty of time to improve. The course was flat, but a bit exposed, and a strong headwind on part of motor race circuit over the three laps meant that a third of the race was into the wind. Not used to running on such a wide race track Gresswell felt it took him one lap to work out the best racing line which cost him some time. Gresswell plans to run the same race in the summer and has set himself a target of improving on his PB.
The annual Severn AC Grocery 4 mile road race saw all Gloucester Athletic Club runners take a prize.
First home was under 17 year old Sarah Hopkinson in 23:55. Sarah, who was ranked in the top five in all the steeplechase events under 3000m last year finished 3rd lady over this flat and fast course.
Track specialist Keith Short defied his name to run over distance as preparation for an indoor 1500 next week and finished 17th in 25:30 as first over 55. Only 12 seconds behind him was an improving Paul Nash, who is recovering from a break in training and picking up veterans prizes in his first year as an over 40 - in this race first over 40.
Less than a minute behind him was Dave Spackman, winner of the 2007 Gloucester AC Road Race Series, who ran a steady race after the previous week's double triumph in the County Road Relays at the same venue. Dave finished in 26:30. 
Gloucester 20
The annual Gloucester 20 mile road race took place from Frampton-on-Severn on Sunday 02/03/08 in lovely weather conditions. This was the tenth time the race has been held over the Frampton course since race organiser Andy McKenzie moved it there from Brockworth in 1999 and built up the field from little over 100 to the 600-700 seen in each of the last three years.
The prevailing light wind made the final few miles a challenge for the 630 strong field, many doing the distance for the first time as a build up to the London Marathon on April 13th, but this didn't deter Bourton Road Runner's Vet40 Mike Smith from leading from start to finish in a creditable time of 1:52:53. His coach, Norman Lane, had hoped to see some faster runners at the race who could have pushed Smith to a sub 1:50 time and perhaps challenge the course record of 1:49:43 set last year by Neil Renault.
Following Smith home in second place was Matt Giles of Stourbridge Running Club in 1:56:33, then Vet40 Alistair Lockey from Bourton in 1:56:48. With Dennis Walmsley in 6th and Andy Chapple in 36th, it was Bourton Road Runners who scooped the first mens team prize ahead of Tipton Harriers. First city man home was Gloucester AC's Tom Randles in 19th place overall in a time of 2:07:57.
The ladies race saw a new course record time of 2:03:28 from Bristol and West AC's international Amy Chalk (nee Stiles), eclipsing the 2:04:17 set by Melanie Ellis back in 2002. Chalk picked up a £50 bonus for her efforts. Second lady was Vet35 Adele Salt from Trentham Running Club in 2:09:16 with Myshola Kirkham of Coventry Godiva third in 2:12:10. The first ladies team prize went to Bath AC with Bitton Road Runners second.
---
Matthew Wade ran a PB of 1:33:10 placing 231st at the Milton Keynes Half Marathon 02/03/08.
Michelle Stark ran 1:58:05 at the Asics Reading Half Marathon 02/03/08.
Anne-Marie Edwards ran 1:52:15 at the Mizuno Liverpool Half Marathon 02/03/08
Dave Edwards ran 1:39:01 at the Mizuno Liverpool Half Marathon 02/03/08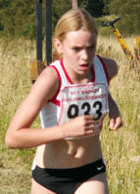 Gloucestershire County Road Relays
All of the three teams entered by Gloucester Athletic Club in the Gloucestershire County Road Relays over a 3.25 mile course last Saturday won Gold medals.
It was an extra special day for the ladies team as it was their first road relay victory for many years. What made it more remarkable was that an under 15 ladies team beat all the other senior ladies teams in the open race as well as the county championship. Once the talented Amber Watson had given them a commanding lead they never really looked back. Handing over to Christine O'Caroll who has only started serious training in recent months, she maintained their position and it was left to the youngest member 13 year old Becky Summers who extended the lead and brought home a special victory. The young ladies were all delighted with their gold medals and more so because they had finished ahead of the senior ladies.
U15 Ladies:
Amber Watson 19:32
Christine O'Caroll 22:36
Becky Summers 20:37
It was a good day for the Summers family as Becky's father and club coach Ian "Lofty" Summers was part of the victorious Vet 40 men's team. Paul Nash and Mark Thrallrunning for their first time in such an event put the city club in second place just behind Bourton Road Runners. Ian Summers than ran a superb third leg putting Gloucester into the lead by over five minutes and handing over to Jeremy Mower who after moving the team up one position in the open race was then able then to ease off the pace for a comfortable victory. 
Vet 40 Men:
Paul Nash 19:29
Mark Thrall 20:21
Ian Summers 18:04
Jeremy Mower 18:21
The third Gold medal which was probably the only one that was not a surprise was that of formidable Gloucester Vet 50 team who have won many county relay medals in recent years. Keith Short (Vet 55) who has won European age group medals on the track gave the Vet 50 team an unassailable lead to the individual Vet 60 County Champion Dave Spackman. A good run by Spackman meant that Gloucester's top Vet 55 road athleteArthur Daley was able to run a relaxed race knowing it was in the bag. Showing that he has no ideas of slowing down Spackman then ran a leg for a Vet 60 Corinthians team which also won the Vet 60 team prize in the open race.
Vet 50 Men:
Keith Short 19:23
Dave Spackman 20:36
Arthur Daley 19:12
Bourton 10K
Steve Millward running his first road race in a Gloucester vest broke the club's 10km record at the Bourton last Sunday. He ran 31 min 29 sec for 6th place, and almost caught 5th place on the line. It was a huge personal best by 80 seconds and he went through halfway in 15:53 in 10th position moving through strongly to 6th with a 15:36 second half.
Millward said 'I knew I was in good shape as training has been going well, and just not had much opportunity to race so I was delighted with a strong showing.' Better known as a track runner and steeplechase specialist the former Cardiff AC athlete who competed regularly in the British League, Millward is looking forward to the summer and hopes to set some new pb's for his hometown club.
Not to be out done Gloucester AC's Emily Pidgeon set a new ladies club record also at the Bourton 10km, finishing 2nd lady in a time of 33 min 26 sec. Eighteen year old Emily's time is the second fastest time recorded by a UK athlete under 20 lady. Only the legendary Zola Budd faster running 32.20 in Phoenix, AZ, USA in 1985.
A number of Gloucester AC athletes had fine performances at the 3rd Indoor Grand Prix at the University of Wales Institute, Cardiff.
Richard De Camps took 1.5 seconds from his 800m PB at Cardiff with a cold and with no track specific training as yet. With Richard's encouraging improved form he should be pushing some of the senior middle distance guys for a place in the new composite Gloucester AC and Severn AC Track & Field team.
Running his first race as a first claim member Steve Millward, formerly of Cardiff AC, set a new PB for the 3000m. Steve was pleased with his PB but with no lap times being given he had not realised the early pace had been too slow and could have run under 8:40.
Welsh U23 international athlete Andrew De Camps ran an excellent time although a couple of seconds outside his PB such are his high standards.
Ben Jones set a new 400m PB by two hundreths of a second.
A relative newcomer to the sport Lewis Cavanagh showed his future potential as he set a new U15 club indoor long jump record of 5.29 metres and ran a respectable 7.70 for 60 metres.
Gloucester's top sprinter in 2007 Ashleigh Naylor ran slightly slower than his recent PB's of 7.33 for 60m and 23.77 for 200m.
Results:
200m Ashleigh Naylor (U20) 24.64
800m Richard De Camps (U20) 2:00.42 (PB)
800m Andrew De Camps (U23) 1:55.72
400m Ben Jones (U20) 55.78
60m Lewis Cavanagh (U15) 7.70
60m Ashleigh Naylor (U20) 7.38
3000m Steve Millward (SEN) 8:49.0 (PB)
Long Jump Lewis Cavanagh (U15) 5.29 (PB)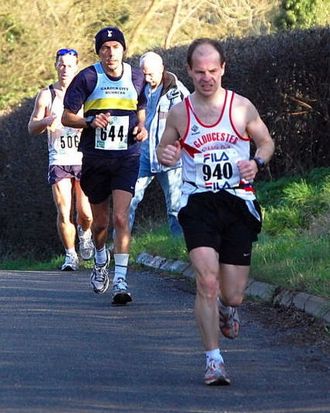 Gloucester 50K
Gloucester Athletic Club's Welsh International ultra runner Jeremy Mower was pleased with his finishing time of 3 hours 39 min 37 secs at the Gloucester 50km race. He took the 3rd Vet prize and went through the marathon distance in 3 hrs 3 min 13 sec. Mower was using the race to guage his fitness and test out new drinks and energy gels before competing in the Welsh Championships over 40 miles in 6 weeks time at Barry. Mower ran a sensible race keeping to his target pace all the way round so he did not over exert himself with more important races to come. In previous years Mower felt he had ran too hard and too often prior to the UK 100km championships and this has affected his performance. This year he intends to concentrate on the 100km distance especially with the Commonwealth Games not far away. Mower is also thinking of moving up to the 24 hour race later in the year.
Mayhill Massacre
Pete Lloyd 35th (01:08:59), Emma Jeffery 185th (01:23:58) and Terry Onions 195th (01:25:10) survived the muddy terrain at the May Hill Massacre at the weekend. Some great photos of the event, runners and officials on the Massacre website. Wish you were there? Actually .......
Birmingham Cross Country League - Daley Asda Answers.
Arthur Daley helped a depleted Gloucester AC team of eight athletes avoid a bottom place finish at Saturdays Division 2 Birmingham League XC Race. Running on a rain soaked course in Wyken Park, Coventry, the V55 runner pulled out all the stops to finish 4th scorer for the 'A' team. Continuing a good run of form, and first home for the club was Dominic Malsom, who finished 51st overall, two places higher than the previous race. XC vice captain Dave Gresswell was next home, closely followed by Lee Smith who had flown back to the UK from a week working in Europe to make the race. The 'A' Team was completed by Alistair Wakefield who made a welcome return to club competition, and Paul Nash in his first XC race since becoming a Vet40 athlete. Bogdan Jochym and Andy McKenzie completed the Glos AC finishers, but unfortunately a lack of numbers prevented the club finishing a full 'B' team. Due to rather cramped conditions in the club bar post race, Arthur Daley suggested a trip to the local Asda for post race refreshments. This was a suggestion that proved to be very successful, as not only did the whole team enjoy a nice warm drink, but Arthur also purchased a new pair of trousers!
The final Birmingham league division 2 race is at Blackbridge, Gloucester, and it is hoped that a full 'A' and 'B' team can take part in this vital final fixture.
Full Glos AC Results:
Dominic Malsom (51st position) 34:42
Dave Gresswell (85th position) 36:17
Lee Smith (89th position) 36:26
Arthur Daley (118th position) 38:04
Alistair Wakefield (131st position) 38:55
Paul Nash (135th position) 39:04
Bogdan Jochym (194th position) 46:45
Andy McKenzie (210th position) 54:16
National rankings update 12/01/08
Gloucester AC's strength at distance running – especially in the Ladies sections - is shown in the recently completed national rankings for athletics.
Emily Pidgeon and Sarah Hopkinson head several lists.
Emily Pidgeon is 22nd at 3000m on the track (9:27) but the same performance places her 3rd in the U20 age group; she is at the bottom of this age group and this new year should see her move up the listings. Emily has also run on the road gaining 17th at 5 mile, 28:4 and 16th at 10k with 33:37 (first under 20 for both events). Back on the track 4:21.08 gives her 6th place at 1500m whilst her run at Cheltenham in July places her second on the 1 mile list. 16:19.49 gives Emily another second place (16th Seniors) at 5000m.
Sarah Hopkinson leads the U17 women's ranking at 1500 with 4:20.8 and the steeple chase over the same distance with 4:50.3 but drops to 2nd when the distance is increased to 2000m (6:32.55). Sarah also leads the 3000m steeple chase list. In all these events Sarah also features in the top 5 for Senior women and has the best UK performance for the 1500m steeple chase.
Amber Watson is 3rd on the 1500m list for U15W with 4:32.14 and team mate Bethany Wells 8th for the U13W with 5:02.4 and just makes the top 20 for 800m with 2:28.4
Melissa Baverstock is the only Gloucester sprinter to make the top 20 rankings with 47.2 giving her 4th place in the national ranks at 300m
Three veteran male athletes ranked in the top 20 and two gained their placings at the County Track Championships in August.
Arthur Daley's 10000m at the county championships ranked him 11th in veteran's O/55 40:16.4 whilst Cross Country vice-captain Dave Gresswell's 36:27.2 in the same race ranks him 17th in the Veteran's O/40.
Keith Short's 2:14.93 in Helsinki ranks him 3rd in the O/55 at 800m with a sub 60sec 400m time giving him 7th place nationally. Despite being a middle distance specialist Keith makes 19th place at 200m with 27.8 and ranks sixth at 1500m (4:48.17)
Three women show that Lorraine Shaw's hammer group are maintaining excellence: Kate Yhnell U17 lady hammer thrower makes 3rd place in her age group with 48.60 and Nikita Morgan achieved 47.24 to make 16th in the U20 women's group. Marion Loveridge places 5th with 39.34 in the O/40 age group.
Jimmy Coleman threw 47.49 at Yate to make 12th in the U15 men whilst Tim Williams is ranked 14th with 54.35 in the under 17 group. Justin Sysum's first appearance in the Midland League at Birmingham in May placed him 9th in the U23 category with 52.02m.
Gloucester New Year 10
The County Road Race Series started off the New Year with the Gloucester Athletic Club's New Year's 10 run over a revised course. Mike Smith, Bourton Road Runners, won by a convincing margin having established a large lead by the 3 mile mark and finishing with 54:11.
The largest field in the events 26 year history saw Dom Malsom lead the Gloucester AC contingent home in 6th place in 58:58 followed by Tom Randles whose 10th place in 01:00:03 will make him a welcome addition to the cross country teams next challenge in the Birmingham League.
A rare run by evergreen Peter Lloyd (3rd M45) 01:02:38 gave him 16th place and again encouragement to strengthen the team in the next endurance race. Paul Nash in his second race as a veteran ran smoothly to finish 41st in 01:06:59.
Catherine O'Carroll (76th) was first lady from Gloucester AC home in 01:10:22, with 84th place being gained by David Spackman making him the first over 60 to finish 01:10:50.
The trio of Gemma Collier L, 01:14:27, Kim Drinkwater L, 01:14:27 and David Edwards M, 01:14:28 all finished fast attempting to be the first runner in the group home.
185th position saw Bogdan Jochym, M55, 01:19:56, have a steady run as a first tryout since injury.
Gill Gresswell (286th) completed her first race around this course in 01:38:54.  306 finished
Gloucestershire AAA – County Cross Country Championships – Blackbridge – 05 Jan 2008
Despite a relatively low turn out of Glos AC club athletes for this event, with runners in Belfast for the national cross challenge, and some saving themselves for the New Year 10 mile race the following day, Glos AC still managed to come away with a nice haul of medals.
Overnight rain, meant that the course, which was un-changed since the previous Gloucester League XC Race, was much heavier going than the December race. Led by Mike Storey and Arthur Daley, a number of club members arrived early to help set out the course which also enabled them to gauge the conditions for the race.
When the racing got going, the junior club members, as always, led the way with gold medal wins for Adam Thrall in the U13 boys race, and Georgie Lowe in the U15 girls. Hannah Jones and Gabriella Lowe picked up silver and bronze in the U11 girls, with Jack Evans finishing 2nd in the U15 boys race.
In the senior mens race it was a trio of veterans representing the club. Dave Gresswell managed to pick up a bronze medal in the V40 age group, but the was bettered by gold medals for Arthur Daley V55 and the evergreen Dave Spackman in the V60 category.
Emma Jeffery was the Glos AC lone representative in the senior womens race, but still managed a top ten place in a respectable 8th.
Three Gloucester AC runners competed in the New Year's day 5 mile event held at the Pilot Inn, Hardwicke. Dom Malsom started the new year by running his shortest race ever. 14:17 gave him 4th place at the halfway turn; he ran the second half 3 seconds faster to finish 3rd. Cross Country vice captain Dave Gresswell still feeling the effects of the club's two sessions of training (as was Melton) over the sand dunes at Merthyr Mawr slowed a little over the final 2 miles but gained one place to finish 7th. Paul Nash competing for the first time as a veteran - O/40 - also moved through the field in the second half to finish 16th in 32:24.